Archive for the 'Photos' Category
Friday, October 6th, 2017
Pixelmator
has been updated for Mac to include support for the new HEIF image standard in macOS High Sierra. Once users have updated to Pixelmator 3.7, they'll also be able to make full use of the new Photo app integration available in Apple's latest desktop operating system.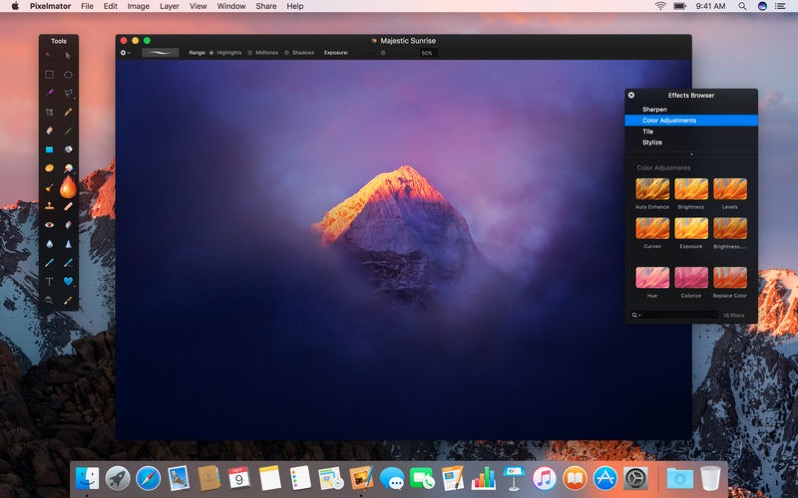 In macOS High Sierra, it's possible to open a photo in a third-party app right from within the Photos Library using the "Edit With..." menu option, after which Pixelmator should appear following the update. Subsequently, any edits made within Pixelmator will be automatically saved back to the Photos library.
Added support for the new HEIF image standard includes the ability to import photos from iPhone 7, iPhone 8, and iPhone X, which save in the more efficient compression format by default. You can find out more about HEIF
here
.
Other improvements in the 3.7 update to Pixelmator include enhanced support for Photoshop PSD files, an improved Repair Tool, and a return of the ability to drag image assets from Photos and Safari directly into Pixelmator.
Pixelmator is
available to buy
on the Mac App Store for $30.
Discuss this article
in our forums
Posted in HEIF, Photos, Pixelmator | Comments Off on Pixelmator 3.7 Update Brings HEIF Image Support and Apple Photos Integration
Monday, September 25th, 2017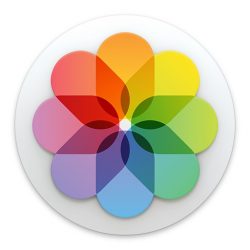 Apple's native Photos application got an update with the release of macOS High Sierra, including new library browsing features, a reorganized editing window, enhanced image recognition, and some additional tools to help make your photos look even better. Keep reading to find out what's new in the Photos app.
Browsing the Photos Library
Apple has tweaked the main Library interface in Photos. Whereas previous versions of Photos let you use tabs along the top of the screen in place of an optional sidebar, Apple has now fully embraced the latter as the main navigation area, and has also added a draggable selection counter to the browser that you use to move or export batches of photos.
The new sidebar is divided into five sections: Library, Devices, Shared, Albums, and Projects. The Library section is where you can select from different browsing options, including Memories, Favorites, People, Places, and a useful new option called Imports, which organizes your photos based on when they were imported into your library.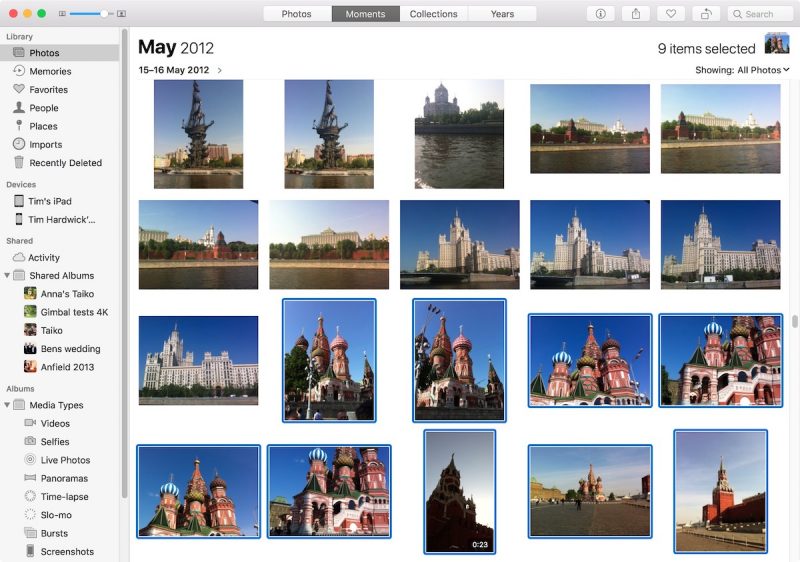 The Shared section contains links to any shared albums you've created, while likes and comments appear in the Activity feed. The Albums section meanwhile contains two collapsible sub-sections called Media Types and My Albums. Media Types contains auto-generated views of your photos filtered by Selfies, Panoramas, Live Photos, and the like, while My Albums contains all the albums you have manually created. Lastly, Projects is where any books, cards, calendars, prints, or slideshows you're working on appear.
The Editing Window
The Photos app also got a reorganized editing window in High Sierra. In addition to the sidebar, there's now a toolbar along the top of the screen with three tabs that let you toggle through three different editing sidebars, making for a less cluttered interface all around. Notice too that the One-click Enhance option is now an icon at the top right of the screen, next to the Done button.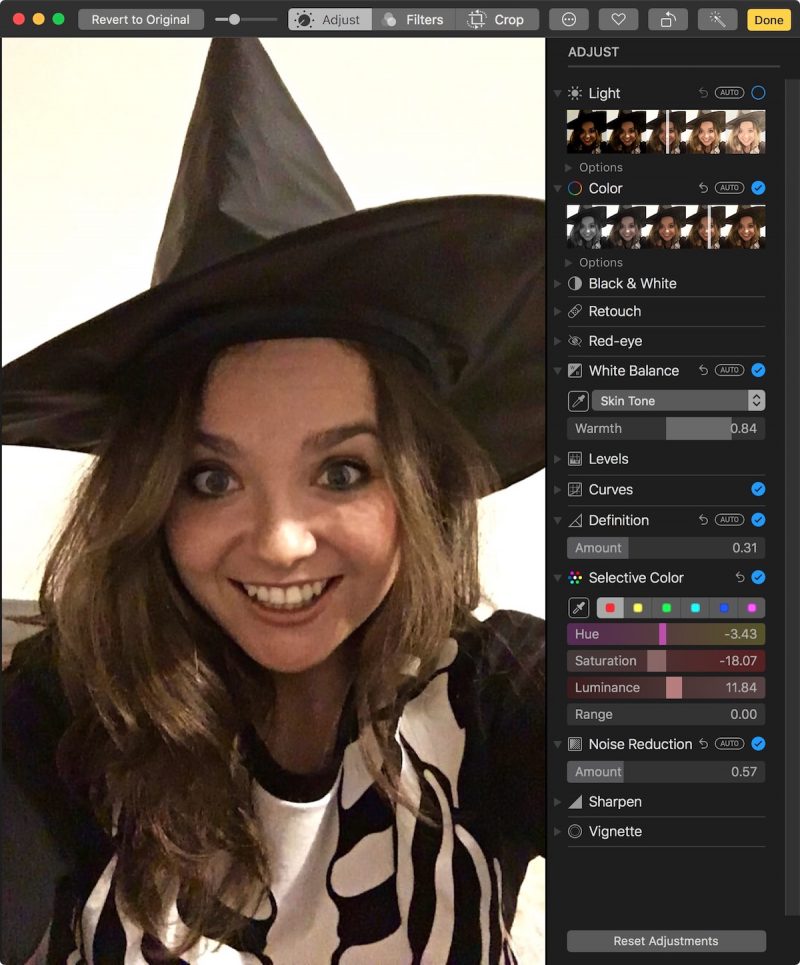 The Crop tab corrals the traditional crop functions in the sidebar, while the Filters tab is home to an enhanced selection of image filter presets, each with three variations to choose from – Vivid, Dramatic, and Black and White.
Selecting the Adjust tab switches the sidebar to all the usual advanced editing tools, including two new ones, Curves and Selective Color. The triangle beside each tool allows you to expand it for more options, or collapse it to make room for others.
Live Photos
Apple has introduced additional tools for editing Live Photos, including the ability to manually select the static image that represents the clip. This is achieved by adjusting the slider at the bottom of the editing window and selecting Make Key Photo.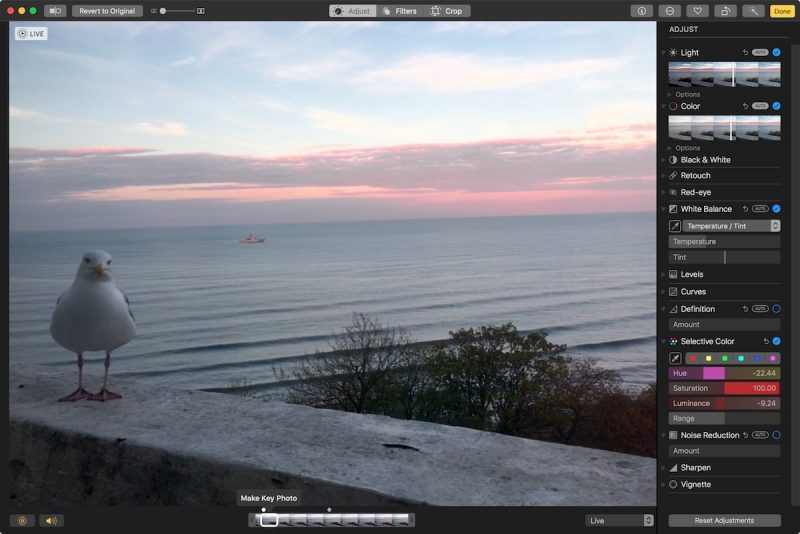 You can also now trim Live Photos, and even apply effects such as a Boomerang-like back-and-forth effect and an ethereal Long Exposure style, similar to when a shutter has been left open for a long time. The icons at the bottom left of the editing window let you mute the clip or turn off Live Photo entirely.
Third-Party Photo Editor Support
Lastly, Apple has enhanced the integration of its native Photos app with third-party apps, which should come as good news to those looking to broaden their editing options.
For example, it's now possible to open a photo in a third-party app right from within your Photos Library. Not only that, any edits that you make within that third-party app are automatically saved back to your Photos library.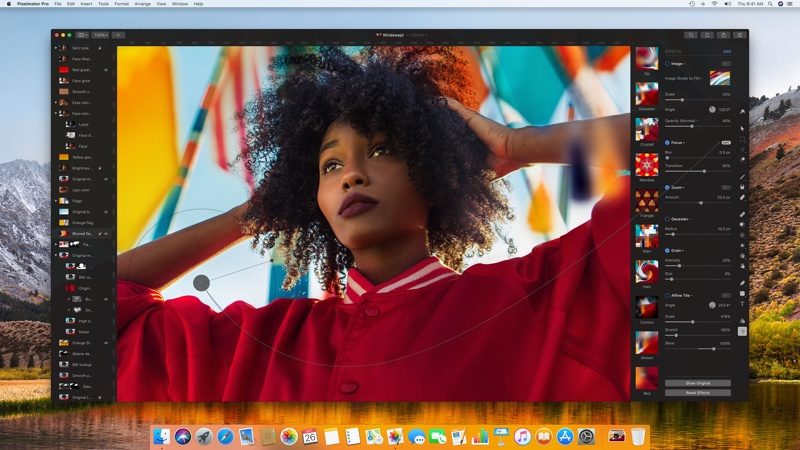 A number of popular third-party apps have already announced their support for Apple Photos, including
Pixelmator Pro
,
Aurora HDR
,
Luminar
, and
Creative Kit
. Several photo printers have also signed up, including Whitewall and Shutterfly. You can find more apps that support Photos by checking out the new dedicated section in the Mac App Store, which can also be accessed from within the Photos app.
Discuss this article
in our forums
Posted in macOS High Sierra, Photos | Comments Off on All the New Features in Apple's Photos App in macOS High Sierra
Thursday, June 22nd, 2017
Since May, Apple has been sharing a series of iPhone 7 photography tutorial videos both on a
dedicated photography how-to website
and its YouTube channel, and today, there are two new tutorial videos, this time featuring the Memories function in Photos.
The two new videos walk users through customizing Memories in the Photos app and then sharing Memories on social networks. Each video is 40 seconds in length and includes quick step-by-step visual instructions.
Apple first started highlighting the Memories feature in both a
full-length iPhone 7 ad
and its first Memories tutorial video, both of which were released yesterday.
Many of Apple's photography tutorials are simple and are aimed at users who are not familiar with the photo taking capabilities of their iPhones. Topics covered include how to shoot a close-up, how to shoot a vertical panorama, how to shoot a selfie with a timer, and how to shoot without a flash. Some also include general photography tips and cover topics like portraits, unique angles, street light, action, and more.
Discuss this article
in our forums
Posted in Apple ads, photography, Photos | Comments Off on Apple Shares Two New Tutorials for Memories Feature in Photos App
Tuesday, June 20th, 2017
Apple today continued on with its line of iPhone 7 advertisements, introducing a new spot called "The Archives," which focuses on the Memories feature that's available in the Photos app.
In the video, available on YouTube, an archivist is shown working in a vast photo archive, carefully selecting and then pasting together physical versions of Live Photos and videos into a montage that's first shown on a projector and then transferred to the iPhone 7.
"Her Dreams" by Luca D'Alberto and "Unchained Melody" by Lykke Li accompany the video, as does the tagline that Apple's been using for all of its recent ads, "practically magic."
Apple has done several ads in this series that focus on the photographic capabilities of the iPhone 7, including "
The City
" and "
Take Mine
," but this is the first ad that has highlighted the Memories feature that's baked into iOS. Memories aggregates photos and videos around selected dates, locations, and people, turning them into slideshows accompanied by music.
Today's ad is also accompanied by a simple tutorial video that outlines how to use the Memories feature, which joins many other iPhone 7 photography tutorials that Apple has been
producing since May
.
Apple's Memories feature is set to see a major improvement in iOS 11 and macOS High Sierra, gaining support for a range of new categories including pets, babies, outdoor activities, performances, weddings, birthdays, and sporting events.
Discuss this article
in our forums
Posted in Photos | Comments Off on Apple Shares New 'The Archives' iPhone Ad Focusing on Memories Feature in Photos App
Monday, June 20th, 2016
One of Apple's first party apps that's getting a makeover in
iOS 10
and
macOS Sierra
is Photos, bringing intensive new facial recognition and "
Siri
intelligence" features to the picture accumulating app. Over the weekend, a Reddit user
discovered a few lines of code
within the framework of Apple's beta of the macOS Sierra Photos app, possibly detailing both the specific facial expressions that the app recognizes and every single searchable object users can find in both Sierra and iOS 10.
In a more detailed
Medium post
, Redditor vista980622 explained that Photos will be able to "recognize and distinguish" 7 total facial expressions after the app scans a user's library and forms a "faceprint" for each individual in a picture. The expressions include greedy, disgust, neutral, scream, smiling, surprise, and suspicious.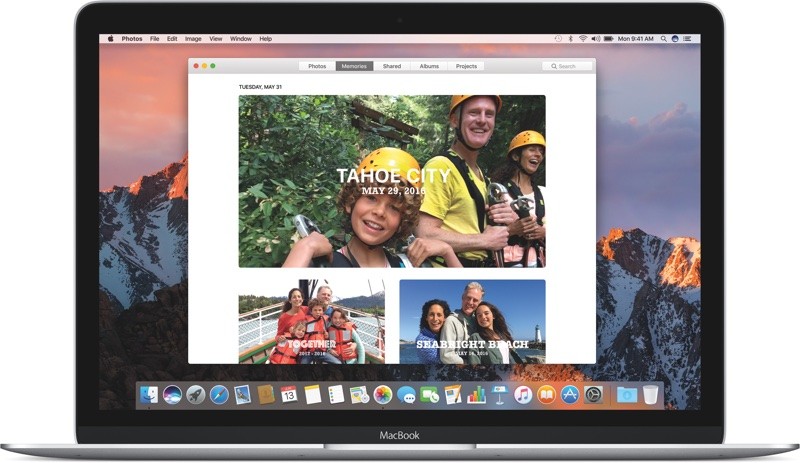 One of the biggest new additions to Photos in iOS 10 and Sierra is "Memories," a new tab that aggregates a user's pictures into logical, organized folders based on the app's new facial and object recognition abilities. vista980622 discovered every category of Memories as well, whose names are said to be "automatically generated using metadata from the photos and tags from analysis of photos."
The category names are as follows:
Memories from areas of interest, Best of past memories, Memories that break out of routine, Celebration in history, Contextual memories, Crowd, Day in history, Holiday in history, Location of interest, Nearby, New contextual memories, New memories, Person's Birthdays, Person's memories, Recent events (calendar, crowd, holiday, people, person, social, trip, weekend), Region of interest, Social group memories, Sometime memories, Special memories, Favourited, Trips, Week in history, Weekend, Year summary, Last week, Last Weekend
Users who have been
testing the first beta of iOS 10
last week mentioned the impressive search parameters of Photos, which intelligently detects and tags every picture for the scenes, objects, and landmarks captured within. In totality, there are 432 of these items that can be searched for by the user, including everyday phrases like "Apartment" and "Birthday Cake," and somewhat obscure inquiries like "Diadem" and "Gastropod."
Additionally, you can search for various landmarks. For example, Photos can respond for search query of "Maho" (beach in Saint Martin), despite Photos is not programmed or trained to understand specific landmarks. Behind the scenes, Photos app first generates a generic categorization for the scene, "beach", then searches through a built-in dictionary for all landmarks that has the name "beach" in its definition. Therefore, cleverly, despite Photos app knows nothing about "Maho" in particular, it is still able to return the right results. The same applies to nature scenes, water scenes and urban scenes.
The full list of 432 searchable objects and scenes can be found in the
Medium post
shared on Reddit. As discovered within the first beta of iOS 10 and macOS Sierra, the comprehensive list is far from confirmed as accurate. All the same, many of its terms do match up with another Redditor's
successfully executed searches
, as well as the words they claimed
failed to generate
any concrete results.
Previous Coverage:
See iOS 10's New Photos App in Action
Discuss this article
in our forums
Posted in iOS 10, macOS Sierra, Photos | Comments Off on New Photos App Detects 432 Total Searchable Objects and 7 Facial Expressions
Thursday, February 25th, 2016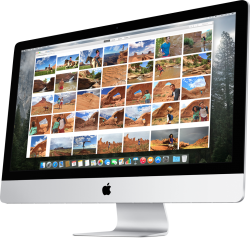 Apple is working on enhancing the Photos app in both iOS 10 and OS X 10.12, reports Japanese site
Mac Otakara
. The apps will reportedly be updated with new features to put them on par with the now-discontinued iPhoto 9.6.1 for Mac and iPhoto 2.0.1 for iOS.
It is not clear exactly what features will be added to the apps, but
Mac Otakara
says iPhoto 2.0.1 included tools for editing EXIF information and touch-based brushes for adjusting brightness and other parameters on only specific parts of a photo. Similar editing tools could be added to the iOS version of Photos.
On OS X, the Photos app will see improvements, but
Mac Otakara
says Aperture-level functions will not be added to the app.
We don't have much information about OS X 10.12 and iOS 10 as of yet, but a recent rumor has suggested
Siri integration
will be a headline feature in OS X 10.12. Siri on the Mac has been a long-desired feature and the personal assistant will likely be able to do things like adjust system settings, answer quick queries, and open apps.
OS X 10.12 and iOS 10 will likely be coming in the fall months, but we can expect to see a preview of the software at
WWDC 2016
, which is typically
held in June
.
Discuss this article
in our forums
Posted in iOS 10, OS X 10.12, Photos | Comments Off on iOS 10 and OS X 10.12 to Feature Improvements to Photos App