Archive for the 'Patent' Category
Friday, December 29th, 2017
Two days ago, we reported that Energous had
received FCC certification
for the company's first-generation WattUp Mid Field transmitter, which powers up devices at a distance of up to three feet away. As noted by
VentureBeat
, this week also saw two new Apple wireless power patent applications published by the U.S. Patent and Trademark Office.
While the patents don't confirm anything on their own, rumors have floated
since 2015
that Energous has been
working with Apple
on a truly wireless charging solution for future mobile devices, so they may offer an idea of what users can expect, should the rumors prove accurate.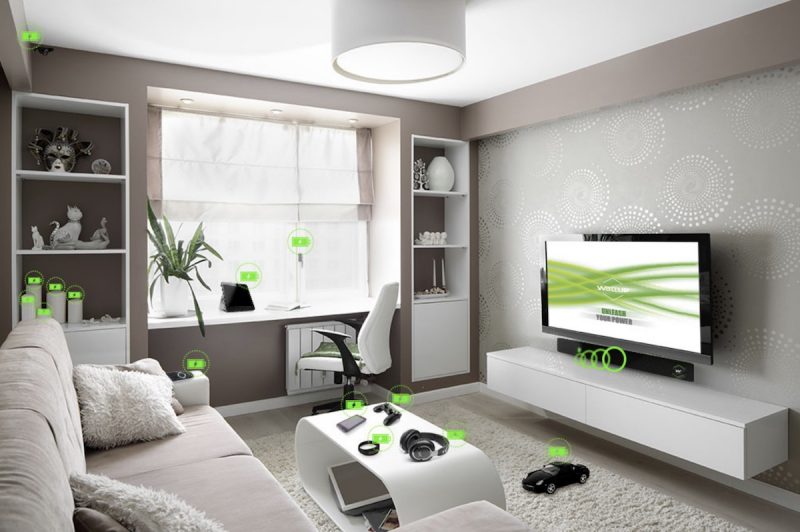 The first patent, covered by
Patently Apple
, describes a way of creating custom schedules for a charger capable of sending power to multiple devices such as phones, laptops, tablets, and watches over a "wireless power transfer link". The power profiler works so as to remember the order of priority for charging the devices – if the user wants their Apple Watch to be fully charged before their iPad, for instance.
In another example, the user can set more nuanced preferences for charging priority, by requesting, say, that their watch is charged first but only if their iPad has at least 25 percent battery power; or requesting that their iPhone takes charging priority over all else during the evening, but only if their calendar indicates that they will be out of the office the next morning.
The second patent is less detailed, but describes a wireless power transmitting device that can function as a standalone adaptor, or send power a wireless charging mat, and in some embodiments, can be hidden in furniture or incorporated into a vehicle interior, in order to charge a "wireless power receiving device". The receiving device is described as being capable of pausing wireless power transmission and sending information back to the power source if necessary.
Both patents were filed in June of this year, have not yet been granted, and as with all Apple patents, may never appear as consumer devices, but the power scheduling systems described above may yet prove to be the link to Energous' wire-free solutions. Whether Apple decides 2018 is the year to build upon the contact-based wireless charging capability it introduced with the iPhone 8 and iPhone X remains to be seen.
Discuss this article
in our forums
Posted in iPhone 8, iPhone X, Patent, wireless charging | Comments Off on Apple Patent Filing Describes Wireless Power Transfer System That Can Prioritize Devices
Tuesday, November 28th, 2017
Apple today was
granted a patent
originally filed in August 2016, describing a method in which users would be able to control a Mac computer -- and potentially other devices -- using a "non-tactile three dimensional (3D) user interface" (via
Patently Apple
). The patent's inventor credits go in part to
Amir Hoffnung
and
Jonathan Pokrass
, two current Apple employees who joined the company from PrimeSense after
Apple acquired it November 2013
.
Some of PrimeSense's tech, which was originally used in Microsoft's Kinect devices on Xbox platforms, now resides in the front-facing
TrueDepth camera of the iPhone X
, and the new patent hints at a potential future where this technology expands in function to Macs as well. Instead of recognizing faces, Apple's patent describes a Mac that recognizes a "gesture by a hand," allowing users to interact with the computer without tactile inputs like a keyboard, mouse, or trackpad.

Images via United States Patent and Trademark Office
The patent includes a variety of gestures that users would use to control the 3D user interface, including what are called "push," (figure 2) "wave," (figure 3) and "up" (figure 5) interactions, which are all grouped into a category of "focus gestures." According to the patent, some of these could be used to perform basic app interactions, like scrolling through a menu, as well as change the state of the system from locked to unlocked.
Gestures described herein include focus gestures and unlock gestures. A focus gesture enables the user to engage (i.e., take control of) an inactive non-tactile 3D user interface. An unlock gesture enables the user to engage a locked non-tactile 3D user interface, as pressing a specific sequence of keys unlocks a locked cellular phone. In some embodiments, the non-tactile 3D user interface conveys visual feedback to the user performing the focus and the unlock gestures.

Examples of unlock gestures include an "up" gesture (e.g., raising hand 30 a specified distance), a sequence of two sequential wave gestures, and a sequence of two sequential push gestures, as described in detail hereinbelow.
Apple has previously been granted patents related to 3D sensing and gesture controls, but the company has yet to release a product that takes advantage of these features. Some of these previous patents included gesture controls on
iPads and iPhones
as well as on
Magic Keyboards
, which would allow users to gain access to virtual buttons and potentially streamline certain elements of the user interface.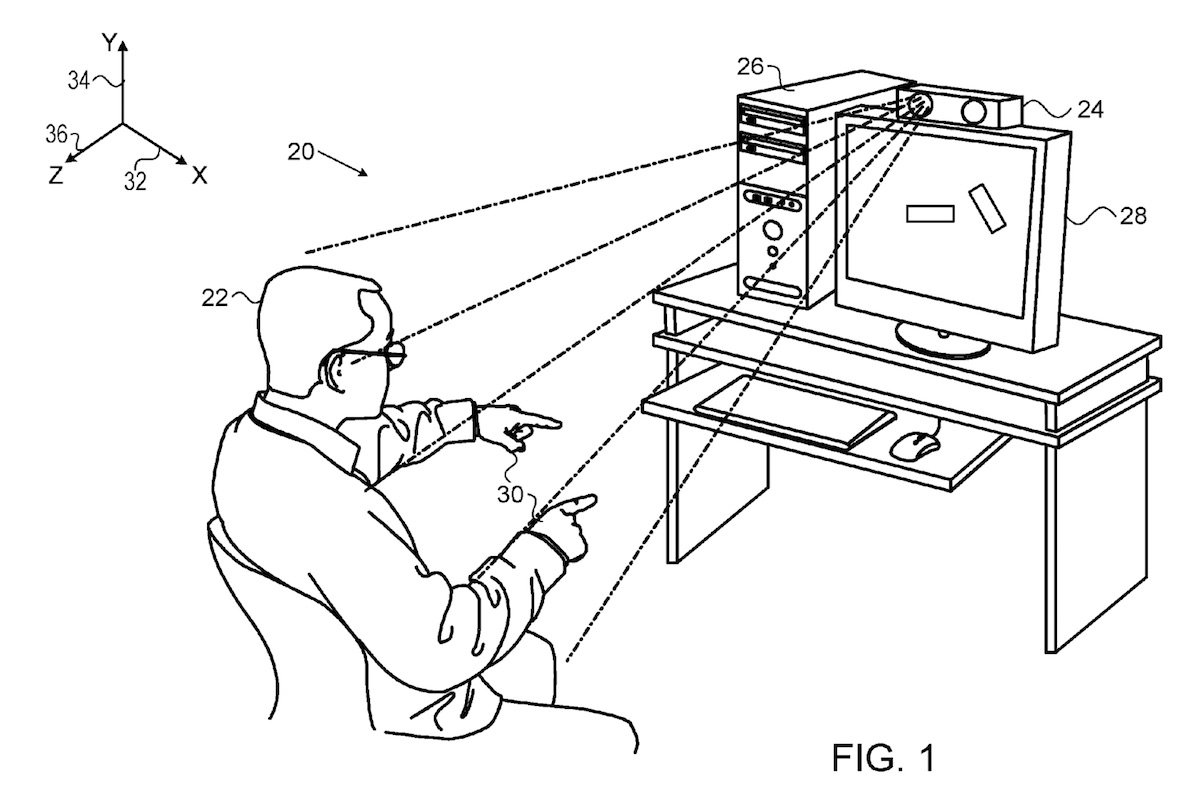 Of course, with Face ID already launched on iPhone X, it's predicted that Apple will look into adding the facial recognition software into future iMacs and MacBooks before it focuses on a new unlocking system. It's also unclear whether the new 3D user interface patent would include both pieces of technology -- 3D gestures and Face ID -- to further augment a Mac's unlocking process.
As with any patent, the technology in question might not make it to an Apple product in the near future, if at all, but it is an interesting glimpse into what Apple might be planning to do with PrimeSense's technology down the line.
Discuss this article
in our forums
Posted in Patent | Comments Off on Members of Apple's PrimeSense Team Patent Method of Interacting With Mac Using Hand Gestures
Tuesday, October 10th, 2017
Apple is investigating designs for Apple Watch bands that self-adjust to fit the wearer's wrist using an integrated tensioner mechanism (via
AppleInsider
). A patent application granted on Tuesday by the U.S. Patent and Trademark Office describes multiple designs that utilize such a system, which could one day replace magnetic clasps, velcro, and other fasteners used in current bands.
Titled "
Dynamic fit adjustment for wearable electronic devices
", the patent begins by highlighting the cumbersome nature of existing fastening methods, which can be inconvenient to adjust or require special tools to achieve the desired fit, and often fail to offer fine-grained adjustment.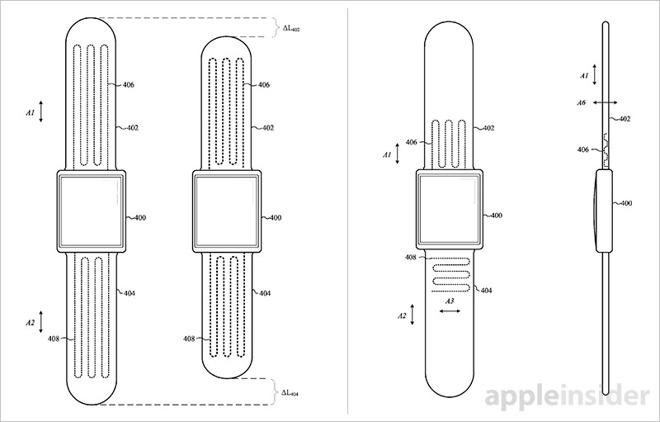 The patent goes on to note that not only can a sub-optimal fit be uncomfortable, it also risks decreasing the sensitivity of onboard biometric sensors and reducing their measurement accuracy. These potential problems are often exacerbated by sweat and motion during exercise, the document notes.
A number of possible solutions are offered, using variations of a built-in tensioner mechanism that adjusts automatically or at the wearer's request, tightening or loosening as required. Variations include embedded shape memory wire, internal ratcheting apparatus, gas or fluid bladders, retractable band elements, and even extendable portions of the device housing.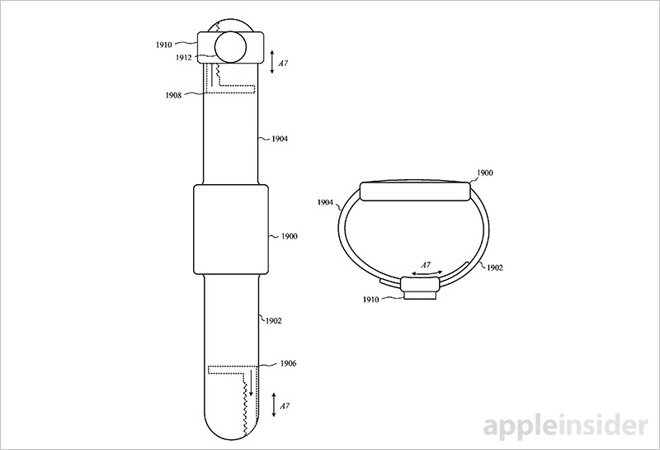 As always with patents, it's not known whether the inventions will ever be used in Apple's consumer product line-up, but the designs clearly relate to potential future models of Apple Watch or watch band, the latest being the Sport Loop with hook-and-loop fastener.
Discuss this article
in our forums
Posted in Apple Watch, Patent | Comments Off on Apple Exploring Self-Adjusting Apple Watch Band Designs
Wednesday, July 26th, 2017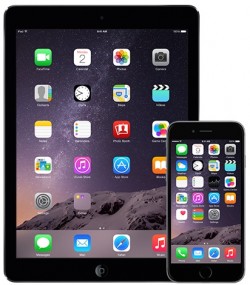 U.S. District Judge William Conley today ordered Apple to pay $506 million to the University of Wisconsin's Alumni Research Foundation for infringing on a patent related to computer processing technology used in its A7, A8, and A8X chips, reports
Reuters
.
The $506 million total is nearly double the $234 million in damages that a Jury
ordered Apple to pay
back in 2015, with Conley adding an extra $272 million. According to Conley, Apple owes additional damages along with interest because Apple continued to infringe on the patent until it expired at the end of 2016.
The lawsuit in question
dates back
to 2014, when the Wisconsin Alumni Research Foundation accused Apple of
infringing on a patent
titled "Table based data speculation circuit for parallel processing computer," that was originally granted in 1998 and covers a method for improving processor efficiency.
A jury ruled that Apple's A7, A8, and A8X processors infringe on the patent, and the university has also filed a second lawsuit covering Apple's A9 chips, which has not yet been ruled on.
Apple plans to appeal the judge's decision.
Discuss this article
in our forums
Posted in lawsuit, Patent, Patent lawsuits | Comments Off on Apple Ordered to Pay $506M to University of Wisconsin in A7/A8 Patent Dispute
Tuesday, July 18th, 2017
Apple and Qualcomm have been embroiled in a bitter legal battle since the beginning of the year, and though the fight has escalated in recent weeks, Qualcomm CEO Steve Mollenkopf today told
Fortune
that an out of court settlement is not out of the question.
"There's not really anything new going on," Mollenkopf said speaking at the Brainstorm Tech conference in Aspen. About the Apple dispute, he explained "those things tend to get to resolved out of court and there's no reason why I wouldn't expect that to be the case here."
Mollenkopf went on to say that he has no specific news of a settlement and that nothing new has happened in the case. "I don't have an announcement or anything so please don't ask, he told
Fortune
. Mollenkopf
made a similar statement
back in February, but that was before the legal battle between the two companies intensified. At that time, he also said he didn't expect a public fight, something Apple and Qualcomm have
not been able to avoid
.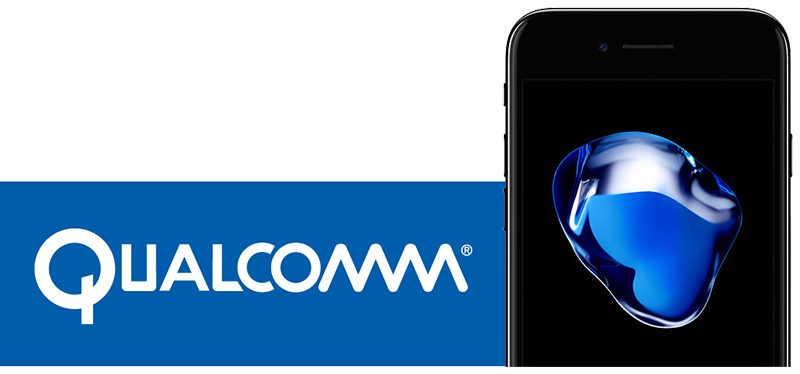 Today's interview suggests Qualcomm is still open to settlement talks, but whether that will happen remains to be seen. If Apple and Qualcomm do not settle, we can expect a legal battle that will continue on for several years.
The fight between Apple and Qualcomm
started in January
, after the FTC complained that Qualcomm had engaged in anticompetitive patent licensing practices. Apple
sued Qualcomm
for $1 billion just days later, accusing the company of charging unfair royalties for "technologies they have nothing to do with" and refusing to pay quarterly rebates.
According to Apple, Qualcomm has overcharged it by billions of dollars by "double-dipping" with unfair patent licensing agreements, while
Qualcomm claims
its innovations are "at the heart of every iPhone" and that the royalties are fair.
Qualcomm went on to
countersue Apple
in April, accusing the company of breaching licensing agreements, making false statements, and encouraging regulatory attacks against Qualcomm, which prompted Apple to
stop making royalty payments
to Qualcomm entirely until a court can determine the proper amount due.
Apple in late June
expanded its lawsuit
against Qualcomm, and at the beginning of July, Qualcomm filed a separate patent lawsuit against Apple and asked the International Trade Commission to
block imports
of select iPhone and iPad models.
Discuss this article
in our forums
Posted in lawsuit, Patent, Patent lawsuits, Qualcomm | Comments Off on Qualcomm CEO Says Out of Court Settlement With Apple Could Happen
Tuesday, June 27th, 2017
A new patent filed by Apple in 2015, and published today by the United States Patent and Trademark Office, shines some light on what the company could be working on in regards to sleep tracking technology and its
recent acquisition of Beddit
. Called "
Adjusting alarms based on sleep onset latency
," the new patent describes in detail a system that could receive data from devices like an iPhone, Apple Watch, or a Beddit-like flat, flexible sensor, and intelligently track user behavior to help them get their best night sleep possible (via
AppleInsider
).
The patent explains that most people have typical bedtime habits recurring every night, such as going to the bathroom, shutting blinds, taking a shower, etc. These "sleep ritual activities" directly affect each person's "sleep onset latency," or the amount of time it takes you to fall asleep after first lying down and attempting to go to sleep. The problem with most modern alarm apps is that they can't understand a restless night's sleep, or a lengthy sleep onset latency period, and Apple's new patent tries to address these issues.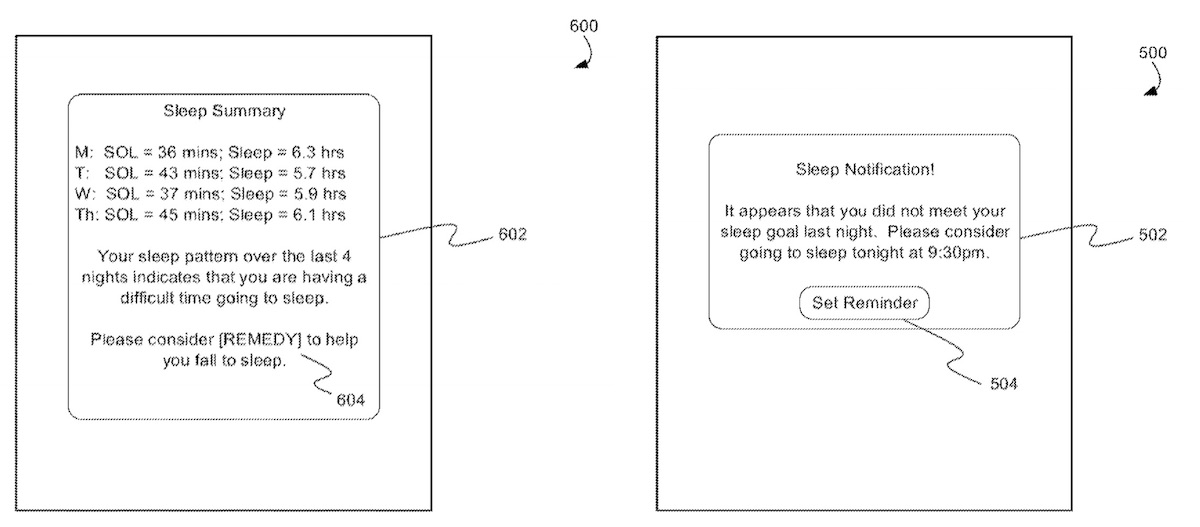 The first step is for the sensors to determine your sleep ritual activities, and Apple's patent has a few ways to go about doing that. One is by using sound data, so when the device detects someone brushing their teeth, taking a shower, "or any other activity that generates an identifiable or unique sound," the sleep tracking system can start accumulating data for that night's sleep because it knows you're about to try to rest. Other tips related to sleep rituals for Apple's sleep tracking system include user movement, light/dark levels in a room, and even app usage.
In some implementations, sleep logic can identify sleep ritual activities based on application usage. For example, the user may have a habit of using specific software applications installed on computing device immediately before going to bed. The user can check calendar application. The user can set a wake up alarm using alarm clock application.

The user can use social media applications, news applications, a game application, an e-book reader application, and/or other applications before going to sleep. Sleep logic can monitor application usage before the predicted sleep time (e.g., 1 hour before, 0.5 hour before, etc.) and determine which applications the user uses before the user's predicted sleep time. Sleep logic can store the detected application use activities as sleep ritual activities in sleep ritual database.
Taking this information into account, once you actually try to go to bed, the sleep tracking system will begin looking at how long it actually takes you to fall asleep (heartrate and breathing are mentioned), remembering your sleep ritual activities and calculating how they affected your sleep onset latency. Apple's theoretical system would also understand when you're obviously not asleep, like if you're currently on your iPhone on another connected device, and adjust tracking accordingly.
All of this data then feeds into how the system would be able to automatically adjust pre-set alarms because of a potentially inconsistent sleep pattern. The basic idea of the patent simply adds on sleep latency duration to the following morning, so if the system tracked that it took you 45 minutes to fall asleep, and you have an alarm for 7:00 AM, it would wake you up at 7:45 AM.
Of course, that risks some users getting a later start on their day than they are comfortable with, so Apple's patent has a wide range of features that can prevent you from not waking up later than you intend to. The system would recognize calendar data, so if you have an appointment at 7:30 AM, your 7:00 AM alarm wouldn't be adjusted. Likewise, travel time to your first appointment of the day would be taken into account.
Similar to nighttime rituals, the system is said to also track how long your morning rituals last over time. Using this data, it'll also be able to figure out the best wake up time, so if you have a long morning ritual, your alarm might go off earlier than someone whose morning ritual is faster. Over time, all of the data gathered by the sleep tracking system would help users "feel more rested" throughout their day, according to Apple's new patent.
Particular implementations provide at least the following advantages: the mobile device can help the user feel more rested by automatically adjusting an alarm or suggesting an earlier bedtime based on the determined sleep onset latency to ensure that the user gets enough sleep; the mobile device can automatically determine sleep onset latency using various sensors of the mobile device; the mobile device can automatically identify sleep patterns that may be adversely affecting the user.
Additionally, Apple's patent even discusses an in-depth "nap function" for sleep tracking. In the user interface (seen below, image right), you would set up a nap schedule, determine when you want to wake up, and press and hold on the iPhone's display to begin your nap. The system would know the sleep onset latency because of this applied pressure, so when you first apply your finger to the display, it'll know the period has begun, and when you begin to release pressure (i.e. doze off), it knows you've begun napping.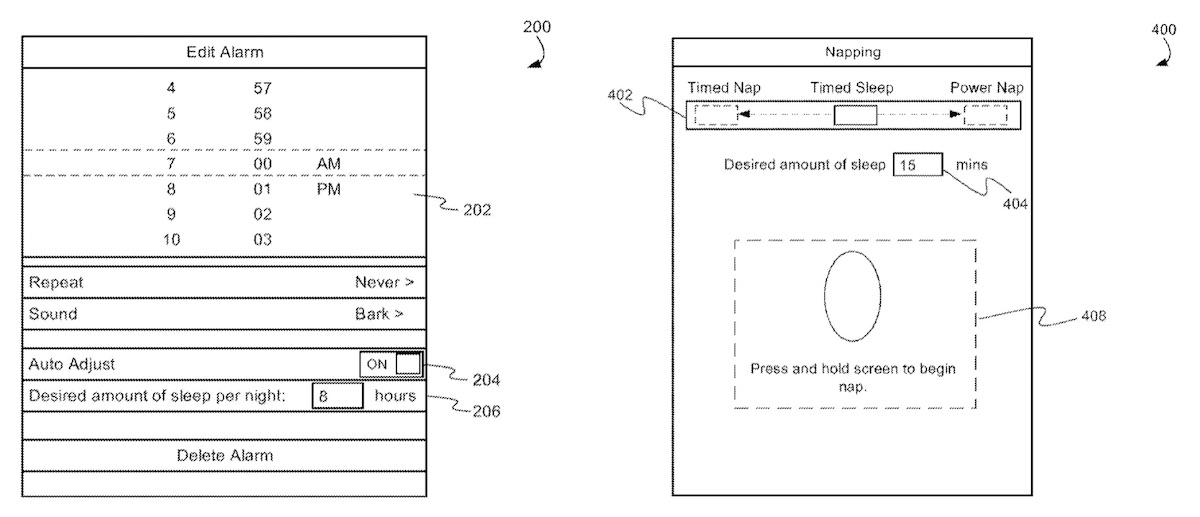 An alternative "power nap function" describes a way for a device -- here a "wearable device such as a watch" is specifically mentioned -- to wake you up when the system determines that you've entered and stayed in a deep sleep for a period of previously-determined time. After figuring out when your heart rate and breathing rate have reached the "deep sleep threshold" for a period of time, the system would begin waking you up, so you can "realize the benefit of sleep without the grogginess that is experienced when a user is awakened from a deep sleep."
The specific kinds of sensors referenced in the patent -- including light- and sound-based sensors -- are implemented in modern iPhones, but it's unclear whether a sleep tracking system described in today's patent would simply be an addition to an existing Apple device, a new iteration of a product like Beddit, or a combination of both. Apple slowly began expanding its sleep tracking support with
"Bedtime" in the iOS 10 Alarm app
, but that feature simply tracks the hours between when a user manually inputs a bedtime and when they silence the morning alarm, with no ability to understand how long the user is actually sleeping.
Of course, it's still unclear exactly what Apple intends to do with Beddit's technology, and today's patent comes with the usual warning to take everything detailed in it with a grain of salt. For a closer look at Beddit, check out the
technology behind the flexible sensor
, as well as our own
review of Beddit's sleep monitor
.
Discuss this article
in our forums
Posted in Beddit, Patent | Comments Off on New Apple Patent Describes Sleep Tracking System With Bedtime Ritual Sensing and Power Nap Function
Thursday, May 11th, 2017
A patent application
published
by the United States Patent and Trademark Office today details a new Apple service where users could make inquiries and talk with the company's AI assistant
Siri
through Messages (via
AppleInsider
). The new patent is similar to a filing the USPTO
published late last year
, but now includes deeper integration with audio, video, and image files.
Similar to
chatbots in Facebook Messenger
and other texting services, Apple's patent describes a Siri that could perform her current duties without the user having to speak aloud, which could be helpful in certain public situations.
The "Intelligent Automated Assistant in a Messaging Environment" could respond to text, audio, images, and video when sent to it by the user, which Apple said would result in "a richer interactive experience between a user and a digital assistant." The patent gives a few examples of a conversation held between Siri and a user in Messages, with the user asking questions regarding calorie content in food, upcoming meetings, and even asking Siri to text a friend.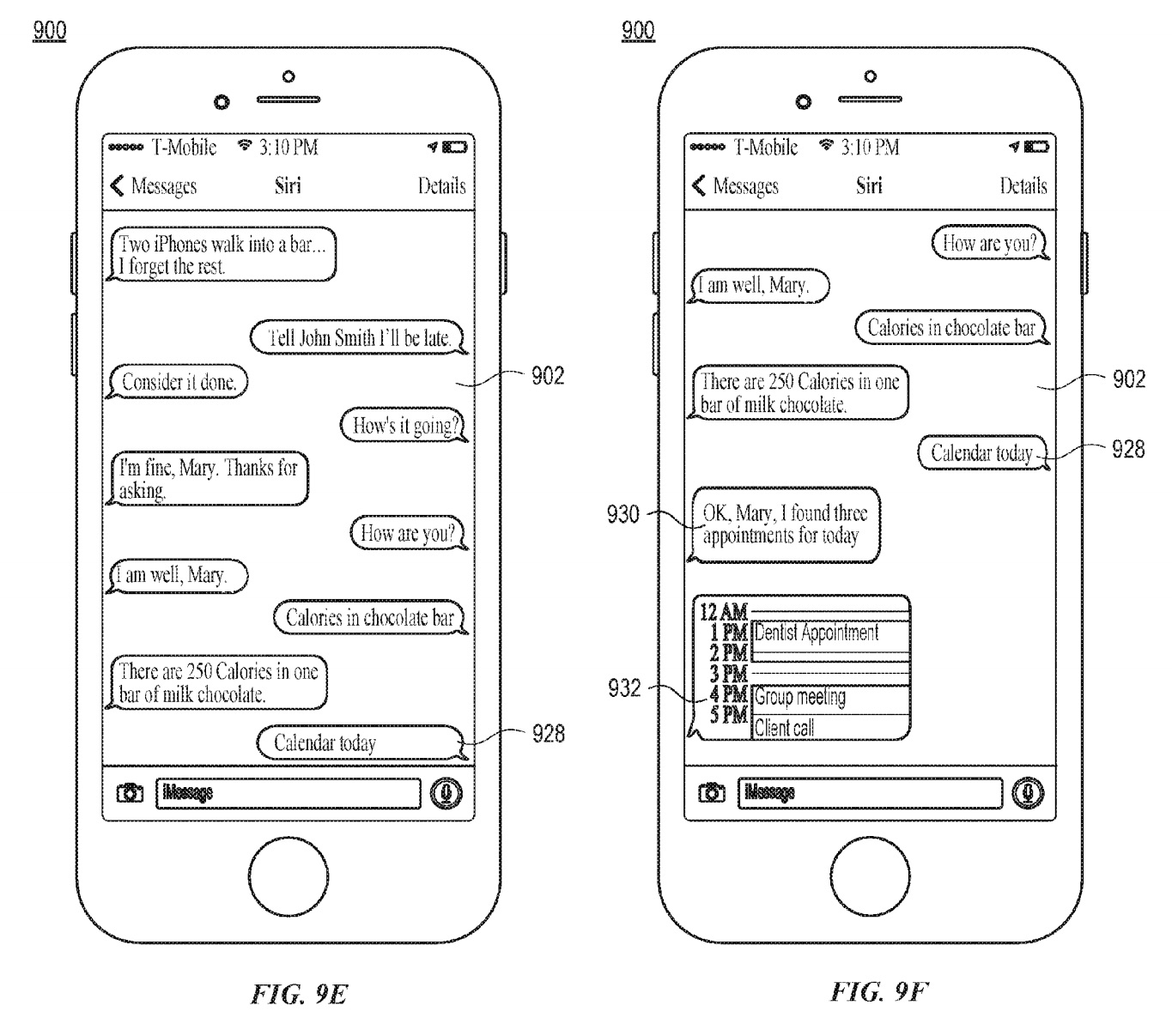 Interesting applications include a thread where a user texts Siri a picture of a car or a bottle of wine, and Siri sees the images and can intelligently respond to the user's inquiries about them. For the car, the user asks Siri for details on pricing for a specific model using only an image, and Siri searches the internet and returns the relevant MSRP information.
The bottle of wine image is used as an example to show Siri's memory functions, where a user asks Siri to remember their favorite wine, which she can resurface at a later date. Siri sees the wine image, reads the label, and can then respond to a user's question in text format about the brand and even year it was made.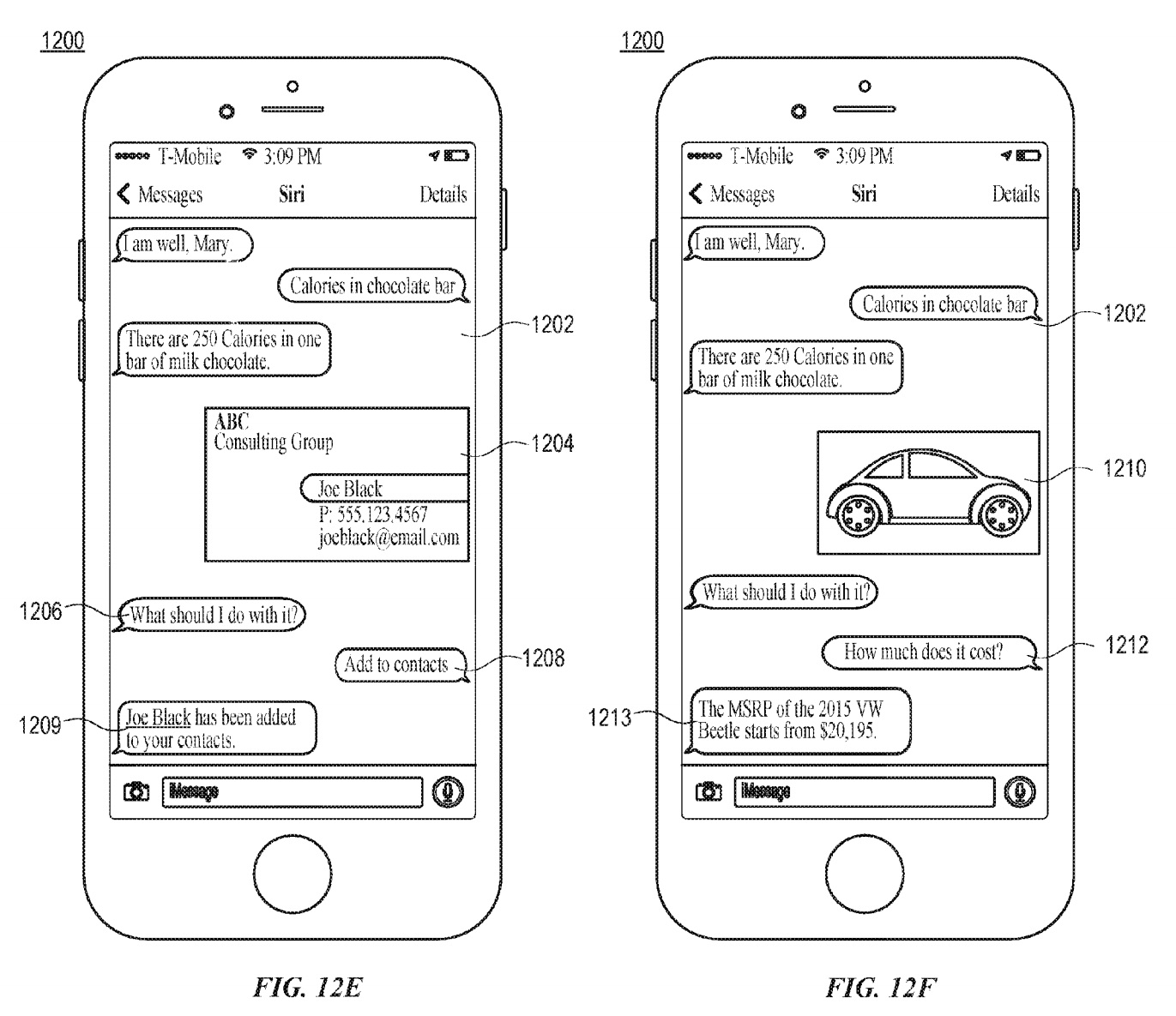 Other image-related inquiries include "Where is this place?" and "What insect is this?", to which Siri would respond "This is the country Algeria" and "This is an earwig," respectively. Audio and video could also be recognized by Siri, including simple Shazam-like questions related to songs and the content of shared videos.
Apple points out in its patent that thanks to the chronological format of texting, users would be able to "review previous interactions" with Siri, unlike how current Siri conversations disappear immediately after they conclude. Subsequently, Siri would be able to use that history to become smarter and "define a wider range of tasks."
The messaging platform can enable multiple modes of input (e.g., text, audio, images, video, etc.) to be sent and received. As described herein, this can increase the functionality and capabilities of the digital assistant, thereby providing a richer interactive experience between a user and a digital assistant.

A digital assistant in a message environment can thus enable greater accessibility to the digital assistant. In particular, the digital assistant can be accessible in noisy environments or in environments where audio output is not desired (e.g., the library). Moreover, the chronological format enables a user to conveniently review previous interactions with the digital assistant and utilize the contextual history associated with the previous interactions to define a wider range of tasks.
The patent includes a description where Siri would be "a participant in a multi-party conversation," allowing group chats to use Apple's AI simultaneously. Apple gives an example where one user asks Siri to list nearby Chinese restaurants to begin making the group's dinner plans, and then another user responds by asking Siri to whittle down the list to only include the cheapest places. One user's personal Siri can even be asked to remind other participants of the upcoming dinner.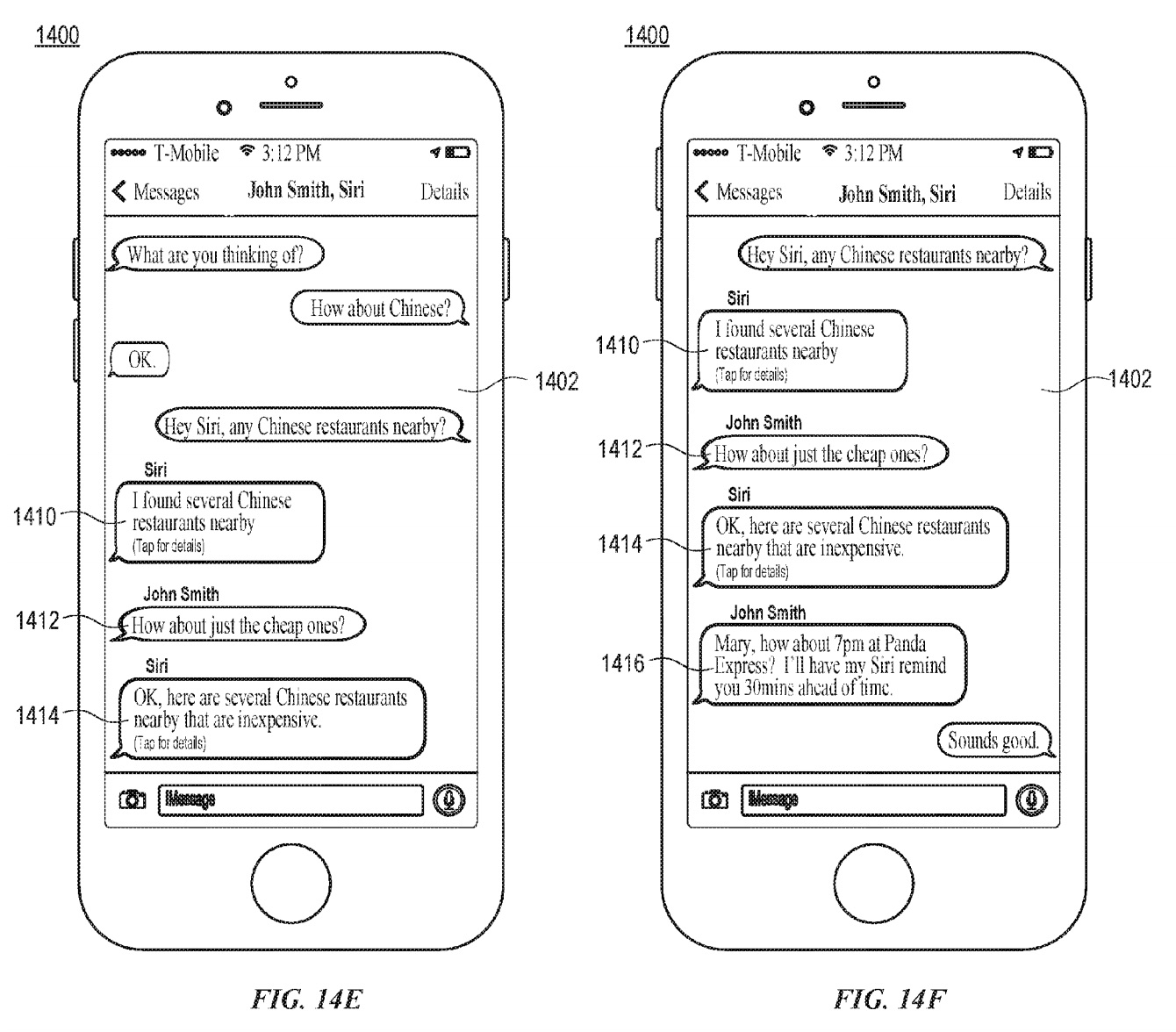 Apple is believed to be working on an "
enhanced Siri
" that might launch in
iOS 11
this fall, but the exact specifications as to what would make the new Siri "enhanced" have never been divulged. A questionable rumor in March stated that
deep Siri integration is coming to Messages
in iOS 11, but the source of the news --
The Verifier
-- doesn't have a previous track record of reporting accurate rumors.
Chatbots are
certainly growing
in popularity
so it wouldn't be too surprising if Apple introduced some kind of text-based Siri interface, particularly considering the multiple patents the company has published on the topic. Still, as with all patents it's best to look at Apple's new filing as an intriguing insight into what the company might be working on for the future, rather than proof of an impending launch.
Discuss this article
in our forums
Posted in Patent, Siri | Comments Off on Chatbot-Like Siri Patent Includes Intelligent Image, Video, and Audio Recognition Within Messages
Tuesday, May 2nd, 2017
Apple is exploring an electronic tagging solution to make it easier for Apple Watch users to track their calorie and nutritional intake as part of a healthy lifestyle, as shown in a patent newly granted by the U.S. Patent and Trademark Office.
Many of today's healthy eating and diet-based food apps require users to manually input nutrition information into their mobile devices, whether by scanning barcodes with their phone's camera or inputting nutritional figures unit by unit. It's the sort of repetitive and time-consuming exercise that often causes users to give up on their diet-tracking, but Apple's invention offers a much more convenient solution.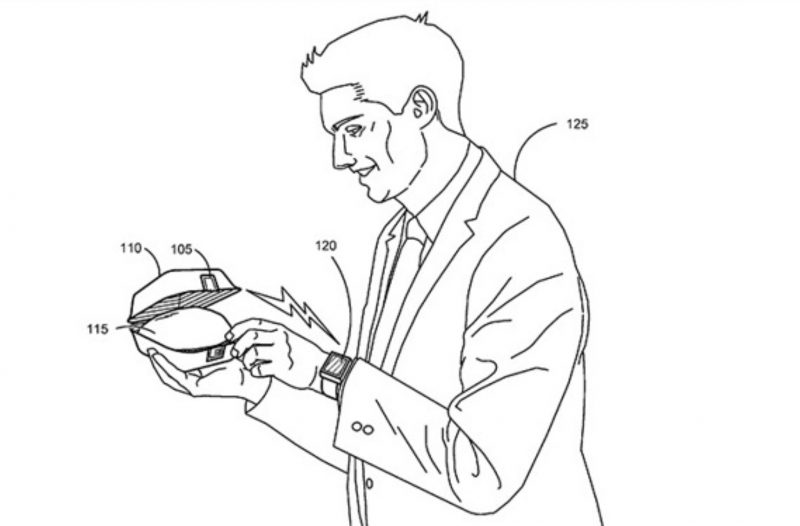 Titled "Electronic tag transmissions of custom-order nutritional information", the patent describes a system that allows food vendors to encode nutritional information into radio frequency identification (RFID) tags on the fly. The tags can be generated to accompany multiple-item orders at a food counter, as an attachment to the food packaging or as part of a purchase receipt. The tags can then be used to automatically transmit the nutrition data to the customer's NFC-capable device, such as an iPhone or Apple Watch.
In one example detailed in the patent, an RFID tag combines the multiple variables that make up a customer's bespoke food order – such as the bread, cheese, meat, and sauces in a hamburger – to generate accurate nutritional information for the end user. Once these details are transmitted to the user's mobile device, a health monitoring app subtracts the numbers from a daily calorie intake limit as defined in advance, allowing for a more measured, less bothersome way of recording eating habits.
If such a system ever come to market, its success would depend on the wide adoption of the technology by all kinds of food vendors – a difficult undertaking that suggests Apple's aims may not be so grand. As noted by
AppleInsider
, it's possible the RFID tagging could be used in company cafeterias and restaurants for the benefit of employees – in
Apple Park
, for example.
Apple has increased its focus on health and medical technology that integrates with its mobile devices in recent years, with iPhone and Apple Watch being at the center of its plans. HealthKit framework debuted in 2014, allowing developers to build health monitoring software that integrates with Apple's Health app, while Apple's open source framework ResearchKit was made available to developers in April 2015, enabling them to create their own iPhone apps for medical research purposes.
Discuss this article
in our forums
Posted in health and fitness, Patent | Comments Off on Apple Exploring Electronic Tagging Solution For Easily Tracking Dietary Intake
Monday, April 10th, 2017
A new patent filed by Apple last year, and published recently by the United States Patent and Trademark Office, details a future iteration of the
AirPods
charging case that could simultaneously recharge the wireless headphones as well as an iPhone or Apple Watch. In the patent, Apple has visualized an AirPods case that, when placed flat on a surface, could turn into an Apple Watch charging pad thanks to a "wireless power transmitting component" (via
Patently Apple
).
This would allow the AirPods case to double as a portable charging battery, providing power to both the AirPods internally and a separate device externally. The patent depicts multiple ways for the case to detect if an external device is ready to receive transmitted power, including an optical sensor, a mass sensor, or a mechanical interlock or button. When any of these methods are activated, the case would begin charging the external device, which also could include
MacBook
s.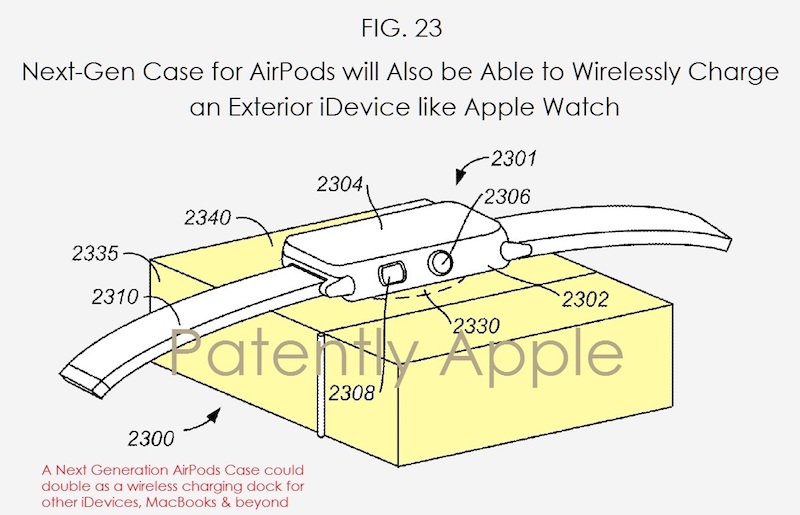 Image via Patently Apple
"Such devices can include, for example, portable music players (e.g., MP3 devices and Apple's iPod devices), portable video players (e.g., portable DVD players), cellular telephones (e.g., smart telephones such as Apple's iPhone devices), video cameras, digital still cameras, projection systems (e.g., holographic projection systems), gaming systems, PDAs, as well as tablet (e.g., Apple's iPad devices), laptop (e.g. MacBooks) or other mobile computers. Some of these devices can be configured to provide audio, video or other data or sensory output."
Additionally, a future version of the AirPods case could have an entirely waterproof design, providing even further protection to the AirPods when they're placed within the charging case for long periods of time. Apple's patent depicts ways that the AirPods charging case could have simple water resistance, or could include a full waterproof seal that would be able to survive submersion up to 100 feet for 30 minutes.
Apple notes that In various embodiments the liquid-tight seal shall be rated between 3 (spraying water) and 6 (powerful water jets) while in some embodiments the liquid-tight seal shall be rated between 4 (splashing water) and 7 (immersion up to 1 meter). In various embodiments the liquid-tight seal shall be rated between 5 (water jets) and 8 (immersion beyond 1 meter) while in some embodiments liquid-tight shall mean the seal will protect the electronic device against liquid ingress up to 100 feet for 30 minutes.
Wireless charging has been rumored for this year's upcoming
iPhone 8
, which is said to most likely use
Apple's in-house wireless charging methods
-- like the Apple Watch's inductive charging -- and not an
extended-range solution
. If the company integrated an inductive charging pad right onto the AirPods case, it would be an interesting mobile solution for users to juice up their Apple Watch or iPhone, but the amount of power that the AirPods charging case could hold remains unclear.
Discuss this article
in our forums
Posted in AirPods, Apple Watch, iPhone 8, Patent | Comments Off on New Patent Describes Waterproof AirPods Case That Could Double as iPhone or Apple Watch Charger
Tuesday, March 7th, 2017
Apple was awarded a patent today that details a method of detecting faces in a digital video feed through the use of depth information.
Published by the U.S. Patent and Trademark Office, the
document
describes how face detection algorithms could identify the presence of faces in a live video when people in the scene are located at different distances from the camera.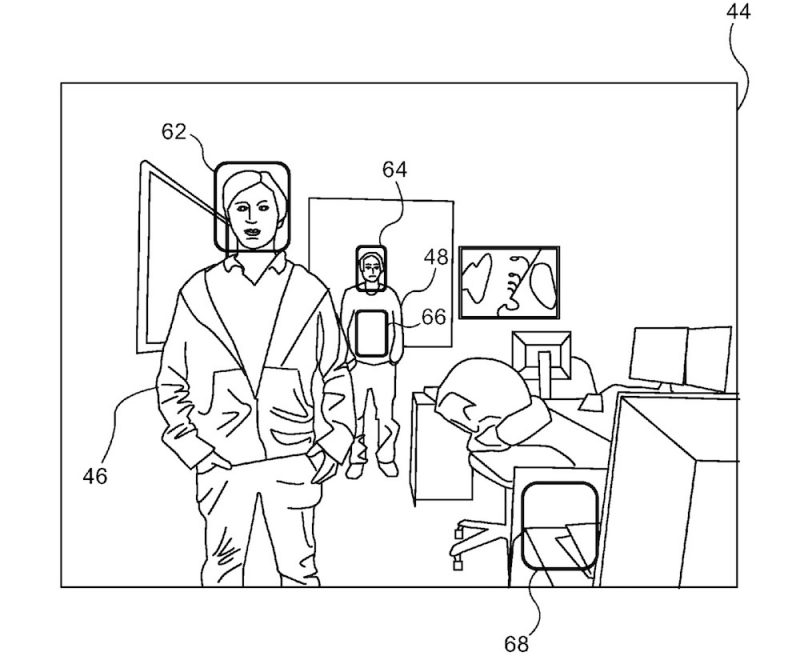 To reduce processing overhead and minimize error rates, the system applies depth information to existing face detection algorithms used in photography and intelligently scales the face window sizes according to their depth coordinates – i.e., the further away a face is from the lens, the smaller the capture frame around it.
The method utilizes a special infrared light to project an optical radiation pattern onto the scene, which is then converted into a depth map. As noted by
AppleInsider
, the depth mapping system referenced in the patent is based on motion tracking technology developed by Israeli motion capture firm PrimeSense, which Apple
acquired in 2013
.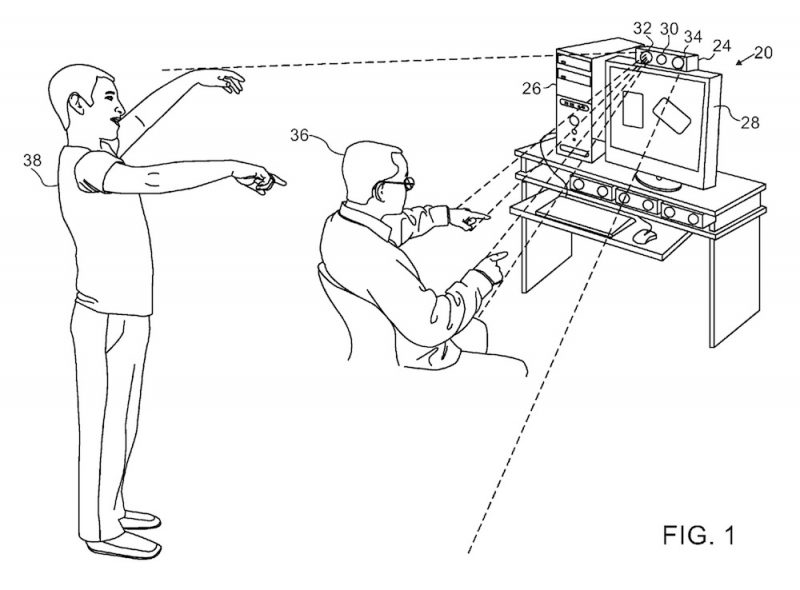 While the system is able to recognize faces in general, it lacks the ability to identify differences between individual faces, so this isn't a bio-recognition solution in itself, but it could become a crucial enabling step in a wider authentication system.
Apple is said to be developing a "revolutionary"
front-facing camera system
for the upcoming "
iPhone 8
". The technology is rumored to consist of three modules to enable fully-featured 3D sensing capabilities. While there's no way to know for sure if this particular patent describes one of those modules, the upgraded camera system is said to be fueled by PrimeSense algorithms.
Discuss this article
in our forums
Posted in iPhone 8, Patent | Comments Off on Apple Face Detection Patent Hints at Possible PrimeSense Tech Headed For 'iPhone 8'