Archive for the 'Overwatch' Category
Sunday, November 5th, 2017
New rumors surfaced this weekend suggesting Blizzard's first-person shooter
Overwatch
could be launching soon on Mac. A
Reddit user on r/macgaming
(via
MacGamerHQ
) managed to download an unlisted installer for
Overwatch
on Mac -- titled "Overwatch-Setup.zip" -- by apparently altering the download link for the PC version of the game available on the
official Battle.net website
.
The installer is
properly signed by Blizzard
and launches Battle.net -- an app that centralizes all of the player's Blizzard games into one place -- with
Overwatch
appearing in the "Games" tab. Redditor
Heyoni
shared a
few images
of
Overwatch
appearing in Battle.net on their Mac, but as of now the game is not able to launch and delivers an error message when "Play" is clicked.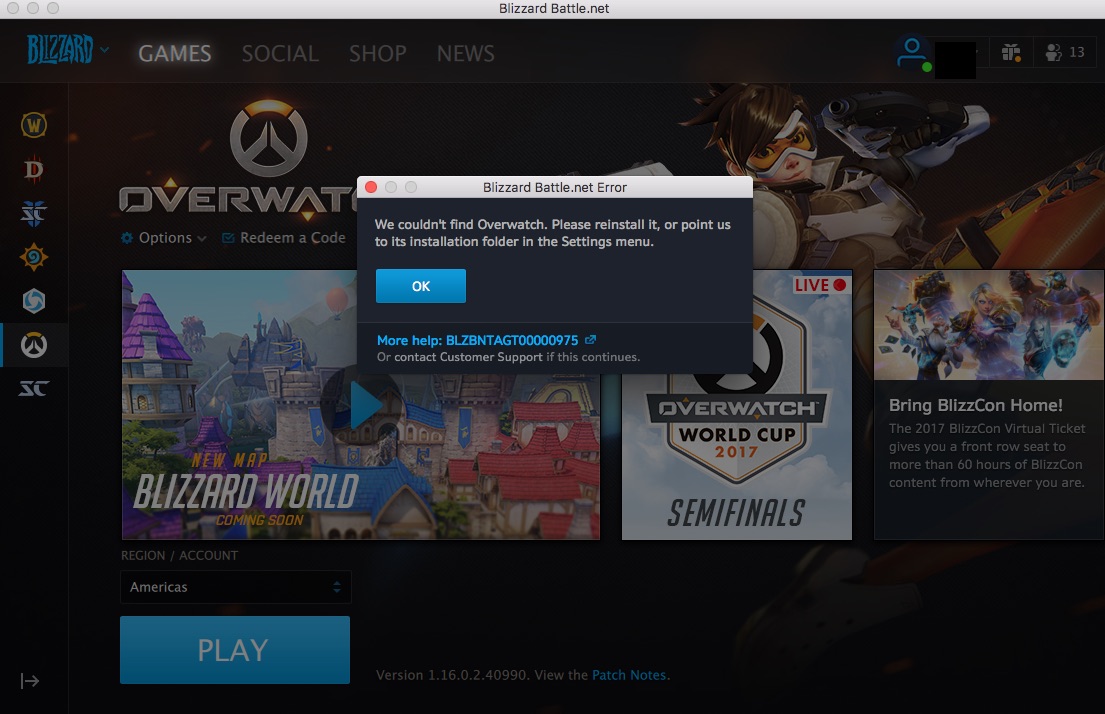 Image via Heyoni on Reddit
The Reddit thread discussing the news theorized the potential for this being a bug, or that it could be a hint for an upcoming announcement related to
Overwatch
's debut on Mac. Blizzard just wrapped up its annual
BlizzCon
event, in which it unveiled a new support class for
Overwatch
named Moira, a new map called Blizzard World, and a new character cinematic focusing on Reinhardt. During the event, no news was given regarding
Overwatch
expanding to Macs.
Unfortunately, a comment made by an
Overwatch
engineer in a new interview suggests Blizzard is still not planning on launching the game for Mac anytime soon. Tim Ford, the lead software engineer for gameplay systems on
Overwatch
, told
Gadgets 360
that Blizzard has "no plans" of launching
Overwatch
on Mac. Ford said this is due to "several technology decisions" Apple has made on Macs, which make it "a little difficult" for Blizzard to create a Mac version of the game.
With Overwatch being available on the PS4, Xbox One, and Windows PC, it's one of the rare Blizzard games that's not on the Mac. It's odd considering that every other Blizzard title has graced Apple's line of computers. Ford explained why Overwatch will not be making it to the Mac.

"We have no plans of giving this game on the Mac," says Ford. "There are several technology decisions that Apple has made that has made it a little difficult for us to release Overwatch in the way we want it to be consumed, and that is why we haven't pursued it."
Before
Overwatch
launched in May 2016, Blizzard said a Mac version was
not a priority
because it was "just too challenging" at that point to support Apple's platform, due to the "technology behind Macs." Then, in May 2017, Blizzard vice president Jeff Kaplan said the company is keeping an "
open mind
" about bringing
Overwatch
to Mac gamers, it just needs the "priorities of our development process to line up with the capabilities of the platform."
As news of the Mac installer spread online,
Polygon
reached out to a Blizzard representative, who stated that the
Overwatch
development team has "nothing to announce at this time" regarding a Mac launch for the game. For now,
Overwatch
is available to play on Windows PCs, PlayStation 4, and Xbox One.
Discuss this article
in our forums
Posted in Blizzard, Overwatch | Comments Off on New Rumors of Overwatch on Mac Surface, but Blizzard Engineer Says Still 'No Plans' for Launch
Wednesday, May 17th, 2017
In a new
Q&A video from Wired
, Blizzard vice president Jeff Kaplan responded to a list of user questions on Twitter, all centered around the company's popular first-person shooter
Overwatch
, which is currently available on PC, Xbox One, and Playstation 4. Ahead of the game's release, the company said that any development on Mac was
not in the works
and that focus would be on the other platforms.
Now, in
response to a user asking if the game will ever be on Mac
, Kaplan has said that Blizzard is "open minded" about bringing
Overwatch
to
MacBook
s and
iMac
s, although such development doesn't appear to be a priority.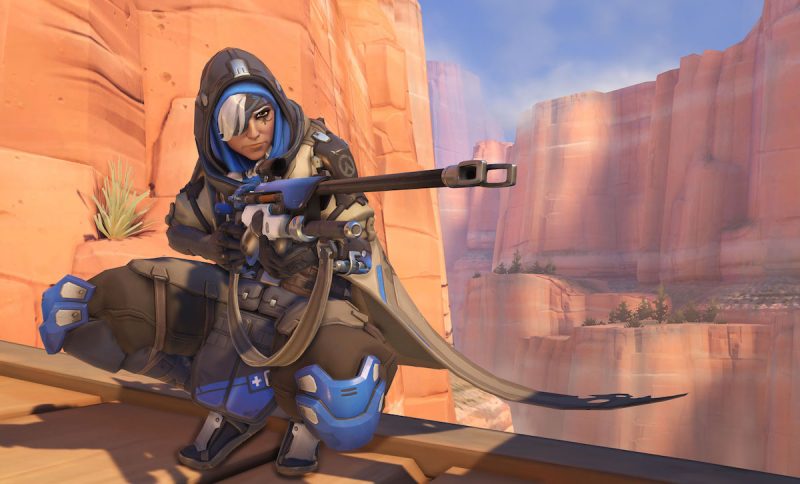 User's question: Hi I was just wondering and I'm sure this question is kinda of annoying. Will Overwatch be coming to mac?

Kaplan's answer: I will not say that it's definite...that we will never be on Mac. We are open minded to it, we just need the priorities of our development process to line up with the capabilities of the platform in order for it to become a reality.
Kaplan's response is a bit non-committal, neither confirming nor denying whether players will ever be able to purchase
Overwatch
for the Mac, but it is at least nice hearing that the team behind the game continues to consider all platform options moving forward. It remains unclear what specific Mac-related limitations might be preventing Blizzard from pushing forward in Mac development on
Overwatch
, but from Kaplan's comments it appears that the team wants to ensure the game's quality before it would publish it on Apple's computers.
Blizzard has supported Apple devices for many of its previous games, including bringing
Hearthstone
to
iOS
and
Mac
, as well as launching
Heroes of the Storm
on Mac.
Overwatch
runs best with a consistent frame rate due to its fast-paced gameplay, particularly during competitive season games, but some lower-end PCs have been able to run the game with concessions in graphics and resolution.
The Mac-related question appears at 12:45 in
Wired's new video
.
Discuss this article
in our forums
Posted in Blizzard, Overwatch | Comments Off on Blizzard VP Jeff Kaplan Says Company is 'Open Minded' About Bringing Overwatch to Mac
Saturday, November 7th, 2015
While game developer Blizzard has a long-standing history of bringing its games to OS X in addition to Windows, the developer today confirmed at its BlizzCon fan convention that it will not be bringing its new game,
Overwatch
, to OS X,
according to Polygon
.
Overwatch
game director Jeff Kaplan confirmed the news, acknowledging that the company has longstanding support for Apple's computers. However, Kaplan says the company focused its efforts on Windows due to the "technology behind Macs."
"Currently with the technology behind Macs and the way Overwatch runs it's just too challenging for us at this point to support it," Kaplan said. "Our focus right now is entirely on PC, Xbox One and PlayStation 4."
Kaplan didn't specify what Mac technology was making it challenging for Blizzard to make the game for OS X, but Apple's support for graphics technologies such as Metal and OpenGL may be part of the reason. Some of the early developers who committed to Metal,
such as Adobe
, have backpedaled a bit as they work with the new technology. Apple has also been criticized for
not adopting
the most recent versions of OpenGL, which is also heavily relied upon in modern game development
Most recently, Blizzard
launched
free-to-play multiplayer online battle arena game
Heroes of the Storm
for Mac OS X on June 2, 2015.
(Thanks, Teyla!)
Discuss this article
in our forums
Posted in Blizzard, Mac Gaming, Overwatch | Comments Off on Blizzard's Upcoming Game 'Overwatch' Won't Be Coming to OS X