Archive for the 'Night Shift' Category
Monday, March 27th, 2017
Night Shift
, the feature first introduced in iOS devices with iOS 9.3, has expanded to the Mac with the release of 10.12.4.
For those unfamiliar with Night Shift, it's designed to cut down on the amount of blue light you're exposed to during the evening by shifting the display of a Mac to a more yellow tone. Blue light is said to have a harmful effect on your circadian rhythm, making it harder to fall asleep and stay asleep.
Studies suggest that eliminating blue light exposure at night might help you sleep just a bit better, but it does significantly change the look of your display. Many Mac users have been using blue light reduction software
f.lux
for years now, but with Night Shift, there's no need to install an additional app because it's an operating system feature.
Subscribe to the MacRumors YouTube channel for more videos.
Turning On Night Shift
Night Shift's controls can be a little bit difficult to find when you go to use the feature for the first time. The Night Shift options are located in the display section of System Preferences.
(more…)
Posted in macOS Sierra, Night Shift | Comments Off on How to Use Night Shift in macOS Sierra 10.12.4
Wednesday, March 2nd, 2016
Apple has made some changes to
Night Shift
in
iOS 9.3 betas 4 and 5
. The most notable change is the disabling of the feature when in
Low Power Mode
. The toggle switch in both the Night Shift settings and Control Center are now grayed out in Low Power Mode.
The new change has generated some
complaints
since it seems that users will want to use both features in the evening hours.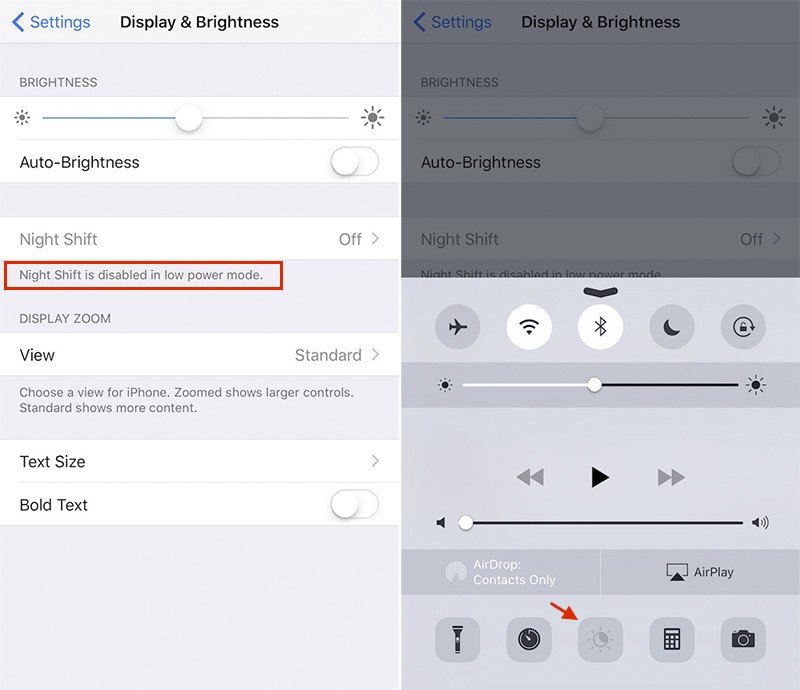 Night Shift is now disabled in Low Power Mode on iOS 9.3 betas
Meanwhile, tapping the Night Shift icon in Control Center no longer brings up a contextual menu with "Turn On For Now" and "Turn On Until Tomorrow" options. Instead, the toggle now manually activates Night Shift until the next trigger in your automatic schedule, such as sunset, sunrise, or a specific time.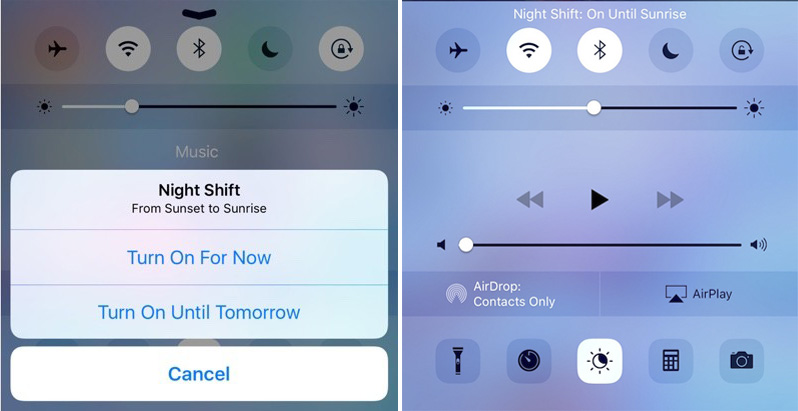 Night Shift no longer has a contextual menu in Control Center (right)
Similarly, there is a new "Manually Enable Until Tomorrow" toggle in the Night Shift settings that keeps the feature turned on until the following morning's sunrise, or another specified time. This means the toggles in Settings and Control Center, which can also disable Night Shift, are essentially the same in this beta.
Also in the settings, the color temperature slider has also been moved to the bottom of the menu. The "Cooler" and "Warmer" labels have been changed to "Less Warm" and "More Warm," while the small blue and orange circle markers have been removed. New fine print says "warmer temperatures can reduce eye strain."
Night Shift is a major new feature in iOS 9.3 that,
when enabled
, automatically changes the color temperature of an iOS device's display to reflect the time of day. The feature helps to limit your exposure to blue light in the morning and night, which makes the display easier on your eyes and can improve your circadian rhythm.
Apple seeded the
fifth beta
of
iOS 9.3
to developers and public testers on Tuesday. The software update will likely be public released this month. To read about and share other changes, head over to our
iOS 9.3 Beta 5 Bug Fixes, Improvements, and Changes
topic in our community discussion forums.
Discuss this article
in our forums
Posted in Control Center, iOS 9.3, Low Power Mode, Night Shift | Comments Off on Night Shift Beta Tidbits: Disabled in Low Power Mode, Control Center Changes
Thursday, January 21st, 2016
With the iOS 9.3 beta, Apple
introduced
a new feature called Night Shift. It's designed to cut down the amount of blue light an iOS device puts out in the evening, as Apple noted that studies have shown that blue light can negatively impact sleep by altering the body's circadian rhythm. Today, reddit user nickjosephson
spotted
a Night Shift toggle in Control Center on Apple Canada's
iOS 9.3 preview page
.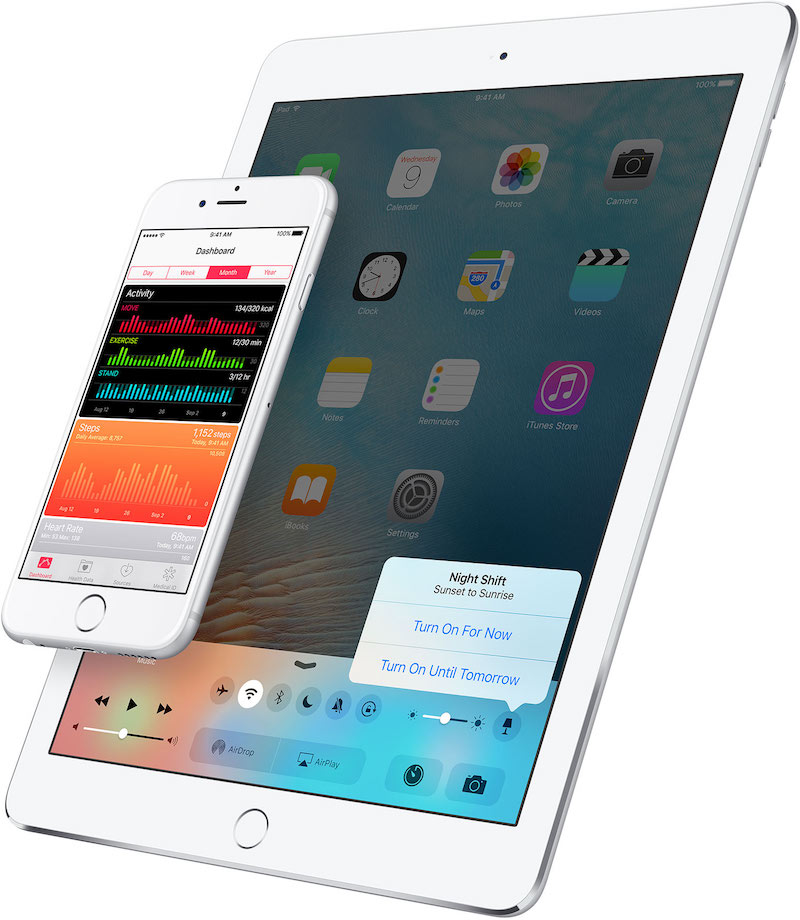 The Night Shift toggle sits next to the brightness slider in Control Center with two options available: "Turn On For Now" and "Turn On Until Tomorrow." While the toggle is shown on an iPad Air, it's likely the new feature works on iPhones as well, though it's unclear where the toggle would fit on the iPhone's smaller Control Center.
The Night Shift toggle is not featured on the
American version
of the iOS 9.3 preview page, which instead shows Apple News' "For You" section. Apple News is not yet available in Canada, which is the likely reason why the images are different.
Night Shift
can be activated
on 64-bit iOS devices running iOS 9.3 by toggling it on in the Display and Brightness section of the Settings app. Users can either create their own Night Shift schedule or allow iOS to turn it on after sunset and turn it off at sunrise.
The Night Shift toggle is likely to make its debut in a future beta of iOS 9.3. The next beta is expected in the coming weeks.
Discuss this article
in our forums
Posted in iOS 9, iOS 9.3, Night Shift | Comments Off on Apple Canada's iOS 9.3 Preview Page Hints at Night Shift Toggle in Control Center
Thursday, January 14th, 2016
With iOS 9.3, Apple introduced
Night Shift
, a feature that is designed to cut down on nighttime blue light exposure from iOS devices to encourage better sleep. Its similarity to the popular
f.lux app for Mac
did not go unnoticed, especially since Apple put a stop to an f.lux for iOS app just two months before Night Shift debuted.
The developers behind f.lux have now
published an official response
to Apple's Night Shift feature, calling Apple's move to address nighttime exposure to blue light a "big commitment and an important first step." They ask Apple to take its support a step further by implementing the tools that would allow for an App Store version of the f.lux app.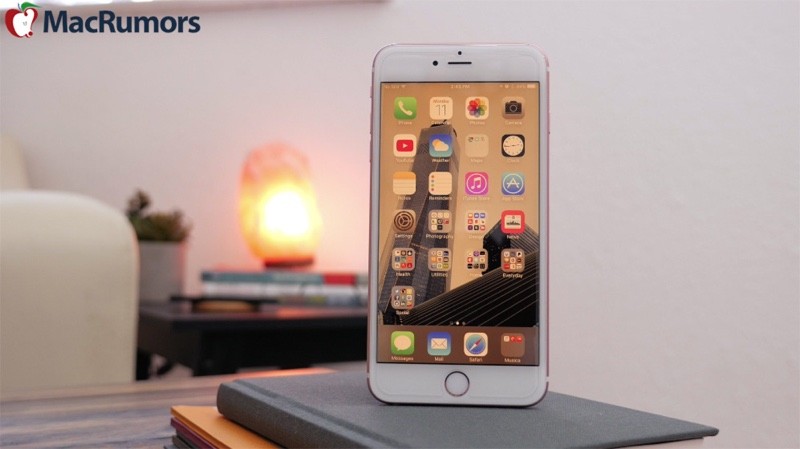 We're proud that we are the original innovators and leaders in this area. In our continued work over the last seven years, we have learned how complicated people actually are. The next phase of f.lux is something we cannot wait to ship to the world. [...]

Today we call on Apple to allow us to release f.lux on iOS, to open up access to the features announced this week, and to support our goal of furthering research in sleep and chronobiology.
F.lux for the Mac has been available for years and is popular in the Mac community with users who want to avoid blue light at night. Research has suggested that bright light exposure (especially the blue wavelength) at night can interrupt the circadian rhythm, causing sleep problems and other harmful effects on the immune system. While there's been a Mac solution to blue light for some time, no such tool has been available on a non-jailbroken iOS device.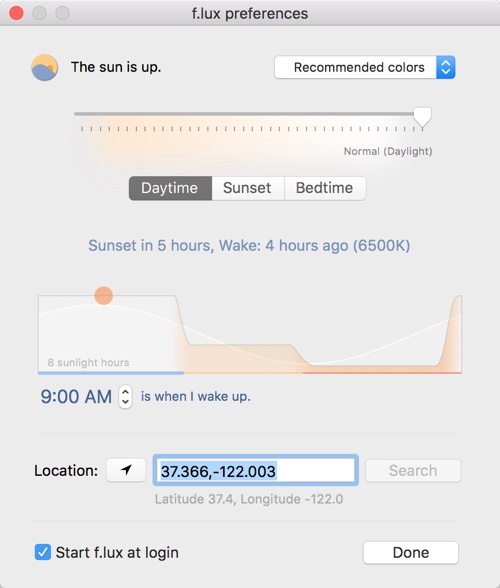 F.lux for Mac
In November, the developers behind f.lux attempted to bring an official iOS version of f.lux
to the iPhone and the iPad
using an app side-loaded onto iOS devices via Xcode, but Apple quickly
put a stop to it
and told f.lux that asking customers to side-load apps onto their iOS devices violates the Developer Program Agreement.
F.lux's developers are not able to create an official App Store version of f.lux for iOS devices without Apple's help because the APIs to control display temperature are not provided by Apple. The version of f.lux that was briefly available used private APIs that would prevent it from being approved for release in the App Store.
Night Shift mode is currently available to developers and public beta testers who are running iOS 9.3. The feature will see a public release this spring when iOS 9 launches.
Discuss this article
in our forums
Posted in F.lux, iOS 9.3, Night Shift | Comments Off on Developers Behind F.lux Call on Apple to Allow F.lux App for iOS Devices
Thursday, January 14th, 2016
Night Shift, a major new feature iOS 9.3, is a display-based setting that lets you "warm up" an iPhone or iPad's screen at night to cut down on blue light exposure. Similar to
f.lux on the Mac
, Night Shift will automatically change the color temperature of an iOS device's display to reflect the time of day.
With Night Shift, an iPhone or iPad screen will look bright white with a blue-based lighting scheme during the day, but as the sun sets, that bright white will fade into a warm yellow that's easier on your eyes and your circadian rhythm.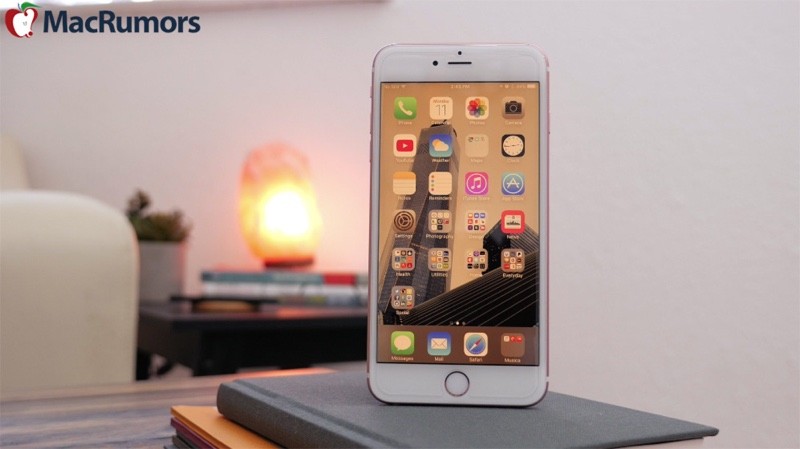 What's the Deal With Blue Light?
Blue light, which is the light on the spectrum that makes our computer, tablet, and phone screens look so crisp and bright, is great during the day because it mimics a bright morning. Blue wavelengths wake us up, boost our attention, and let us know it's time to start the day.
At night, blue light is less desirable because that's the time when our bodies should be getting ready to wind down for sleep. Studies
have shown
that looking at a bright blue screen during the evening hours can confuse the body's biological clock and disrupt our natural circadian rhythm (the ~24-hour light and dark schedule everyone runs on) by suppressing melatonin production, making it harder to fall asleep. All light disrupts the circadian rhythm, but blue light has been proven to be the most disruptive.
On the Kelvin scale used to determine color temperature, an iPhone 6 display measures in at about 7100°K, while an iPad Air 2 display is slightly warmer at 6900°K. In terms of blue light output, that's equivalent to the amount of light you're exposed to on a bright, cloudy day outdoors. Blue light is also harder on the eyes, especially in an indoor room that's lit with a dimmer yellow light.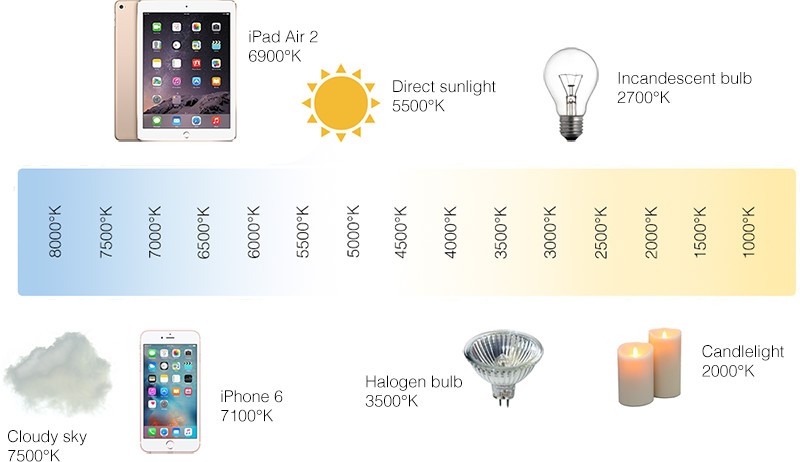 In a nutshell, your iPhone and iPad might be keeping you up at night, and Apple's solution to that problem is Night Shift.
Activating Night Shift
Night Shift mode works by shifting the iPhone or iPad's display from a blue tint to a much more yellow tint, either on demand, automatically at sunrise and sunset, or on a custom user-set schedule. Night Shift is turned on in the Settings app.
(more…)
Posted in iOS 9, iOS 9.3, Night Shift | Comments Off on How to Use Night Shift Mode in iOS 9.3