Archive for the 'Musical.ly' Category
Wednesday, August 23rd, 2017
Social video app
Musical.ly
has been updated to version 6.0.1 today, bringing a few notable additions like a refresh to the overall design of the app, a new section that suggests videos users might like to watch, and updates to profile pages (via
Variety
).
Musical.ly, which launched in 2014, rose in popularity thanks to its focus on user-created lip-sync videos. The app allows anyone who downloads it to pick from a library of songs -- now
sourced through Apple Music
-- then record, edit, and share a short video to the app, and to other social media sites.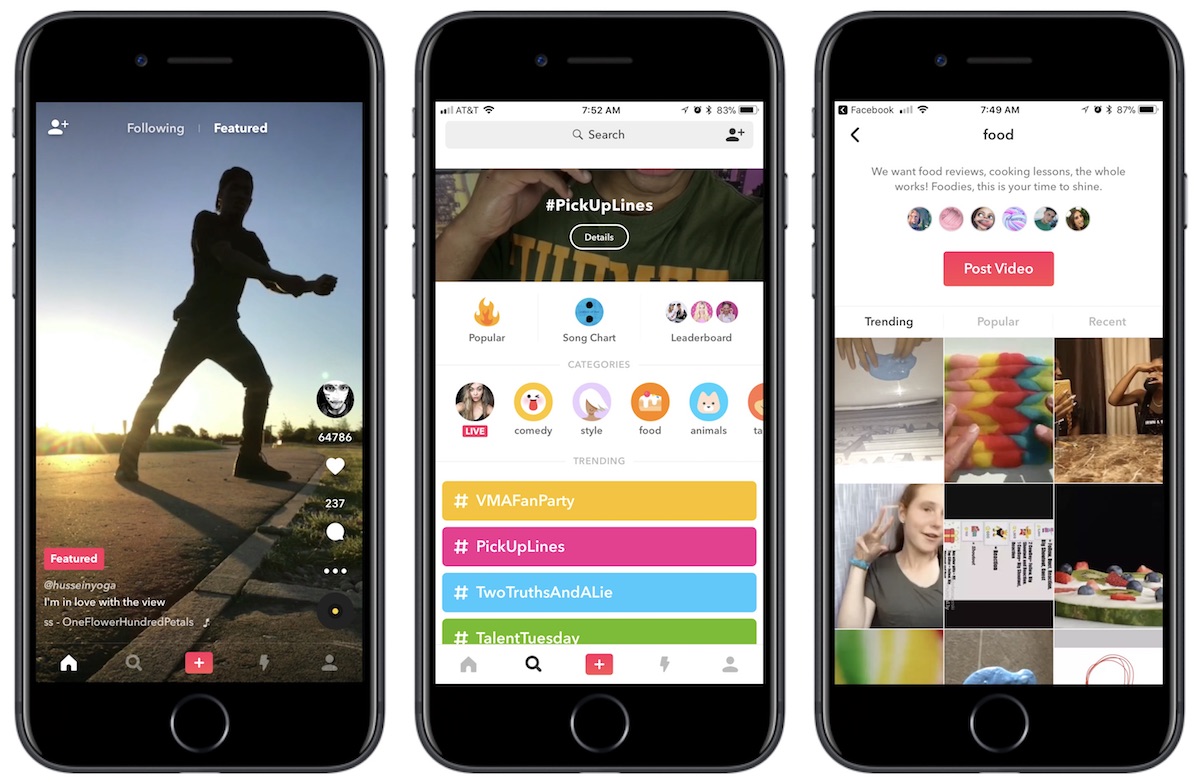 That core concept remains, and users can now upload a profile video that lasts about six seconds to represent themselves when others visit their profile on Musical.ly. The app has also added Twitter as a site where users can share their clips, coming in addition to YouTube and Instagram.
Musical.ly is also host to a large collection of videos that its 215 million users can browse and watch, spanning genres like comedy, beauty, fashion, sports, vlogs, food, and animals. Original short-form videos have also been created through
partnerships
with NBCUniversal, Hearst, and Viacom.
This expansion of its video platform side has led to the new video curating feature, called "similar musical.lys" in the app's new update. The changes are an effort to expand the app's user base beyond its teenage-focused demographic, according to Musical.ly president Alex Hofmann, with the video recommendations aimed at new users who might download the app to watch videos, but not have had much use for Musical.ly's other social and video creation features.
The No. 1 goal of the new app design is to make "a wide range of content more accessible," Hofmann said. The new "similar musical.lys" section recommends videos that are similar to videos you've watched using an algorithm that incorporates several factors, including a computer-vision system that tries to determine what a video is about.

"We want to make this about personalization," Hofmann said. "If someone comes in and they're a 40-year-old guy who watched basketball videos, they will get value in the same way as someone who comes in at a younger age."

Earlier this year,
Apple partnered with Musical.ly
to provide Apple Music content as song snippet options within Musical.ly, and in exchange the company agreed to promote Apple Music within its app. The deal allowed Apple Music subscribers to listen to full songs directly within Musical.ly, and also expanded the number of countries where Musical.ly is available from 30 to 120.
Musical.ly
is available to download from the iOS App Store for free [
Direct Link
], as well as on the Google Play Store.
Discuss this article
in our forums
Posted in Musical.ly | Comments Off on Musical.ly's iPhone App Gets Redesign, Profile Videos, and Similar Video Suggestions
Saturday, May 20th, 2017
Popular entertainment social network
Musical.ly
is in talks with media companies including Viacom and NBCUniversal to make original programming, according to people familiar with the matter (via
Bloomberg
).
The company is said to be seeking content for its music video sharing platform that is "participatory and interactive" rather than feeling heavily produced, with a view to broadening its appeal beyond music, to potentially include comedy and sports.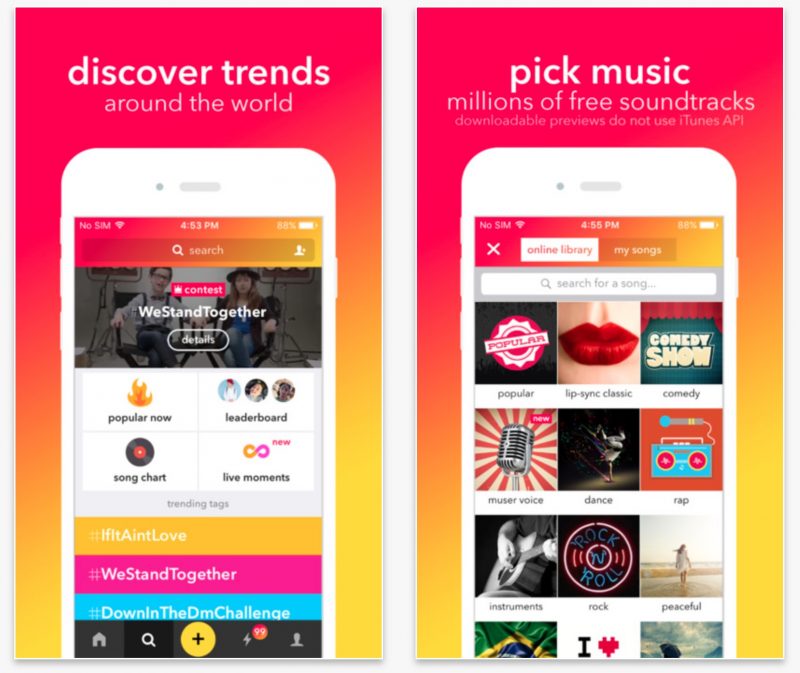 Founded in August 2014, Musical.ly has surged in popularity among U.S. teenagers, and claims over 100 million users globally. The app allows users to filter, edit, and broadcast short video clips with song snippets, some of which are provided by
Apple Music
as
part of a licensing deal
in exchange for promoting the streaming service within the app. The Shanghai company also owns live streaming app Live.ly, group video chat Squad, and video messaging app Pingpong.
Musical.ly follows
Facebook
,
Snap
,
Twitter
,
YouTube
, and
Apple
in the race to produce original video programming online, with digital companies seeking to aggressively compete in the growing digital media market.
NBCUniversal has already partnered with Musical.ly for the 2017 Billboard Latin Music Awards and is reportedly in talks with the startup to develop more Hispanic-focused entertainment. Hearst's
Seventeen
magazine also recently announced its intention to make a video series focused on fashion and beauty for Musical.ly.
In related news, Musical.ly is set to launch a new feature next week that will allow users to create face masks, similar to the lenses or filters used on Snapchat and
now Instagram
, according to the people who spoke to
Bloomberg
. Called Face.ly, the feature will be like Bitmoji, which lets users create animated avatars of themselves. The long-term plan involves Face.ly becoming a separate app, if the feature proves popular with teens.
Discuss this article
in our forums
Posted in Musical.ly | Comments Off on Musical.ly in Talks With Viacom and NBCUniversal to Create Original Programming