Archive for the 'Major News' Category
Friday, December 30th, 2016
With the launch of the
iPhone 7
and MacBook Pro, 2016 has been a mixed year for Apple. The iPhone 7 was released without a headphone jack, an unpopular choice that's now been somewhat ameliorated by the launch of the AirPods, and the MacBook Pro has been plagued by battery issues, graphics problems, and complaints about the high price of the device.
Subscribe to the MacRumors YouTube channel for more videos.
Apple also saw its first decline in iPhone sales in 2016, but 2017 could potentially turn things around for the company. We're expecting the biggest iPhone revision we've seen since the iPhone 6 and 6 Plus launched in 2014, plus we're also expecting major iPad changes, refreshed desktop Macs, and software improvements.
iPhone 8 - September 2017
Rumors about the 2017 iPhone started ramping up before the iPhone 7 was even released, so there's a lot of information out there, and at this point, quite a bit of it conflicts, so it's difficult to get a clear picture of what Apple is planning for the iPhone's 10th anniversary.
If you read all of the rumors and suss out some common themes, there are a few concrete details that hint at what likely to see in the next-generation iPhone. We're assuming it's going to be called the "iPhone 8" due to design changes that are more radical than we'd expect for an "iPhone 7s," but it's entirely possible Apple will go with another name.
It looks like there's going to be at least three iPhone models, and one of those will have an OLED display. It's sounding like we're going to get one premium OLED iPhone somewhere in the neighborhood of 5 inches, with either a flexible curved display that wraps around the edges like the Samsung Galaxy S7 Edge or an edge-to-edge display more in line with the current design of the iPhone 7.
(more…)
Posted in 12-Inch MacBook, Apple TV, Apple Watch, iMac, iPad Pro, iPhone 8, Mac mini, Mac Pro, MacBook Air, Major News, Retina MacBook Pro | Comments Off on What to Expect From Apple in 2017: iPhone 8, 10-Inch iPad Pro, Refreshed iMacs, and More
Tuesday, December 27th, 2016
Apple's product lineup has expanded over the past couple of years with the addition of the Apple Watch, a third notebook line, and most recently AirPods, and while 2016 turned out to be a bit of a disappointment for some with the Mac in particular seeing many models go the entire year without an update, there were still a number of significant updates.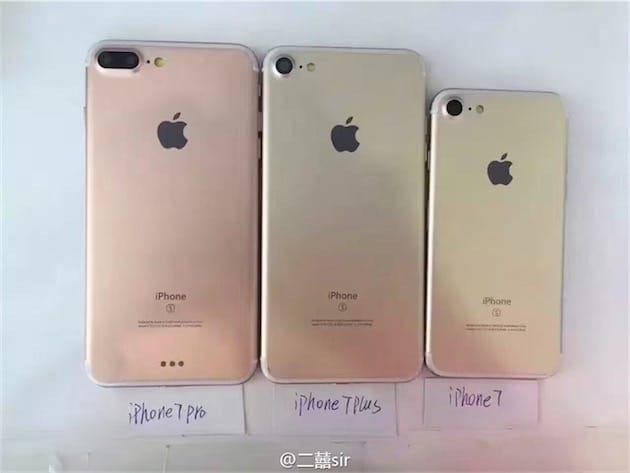 July 2016 mockups showing iPhone 7 and two variations of iPhone 7 Plus
As we reach the end of the year, it's worth a look back at some of the more notable and accurate rumors and leaks from 2016 to see how the sometimes long and winding road of rumors led to the product launches we eventually saw.
(more…)
Posted in 12-Inch MacBook, AirPods, Apple Watch, iMac, iPad Air, iPad Pro, iPhone 7, iPhone SE, LCDs, MacBook Air, Major News, Retina MacBook Pro | Comments Off on 2016's Biggest Apple Leaks: iPhone, Macs, Apple Watch, iPad, and More
Tuesday, December 20th, 2016
In a post to an employee message board
obtained by
TechCrunch
, Apple CEO
Tim Cook
assured employees that the company is still committed to the Mac and that "great desktops" are coming. Apple's desktop computers haven't seen an upgrade in at least 433 days.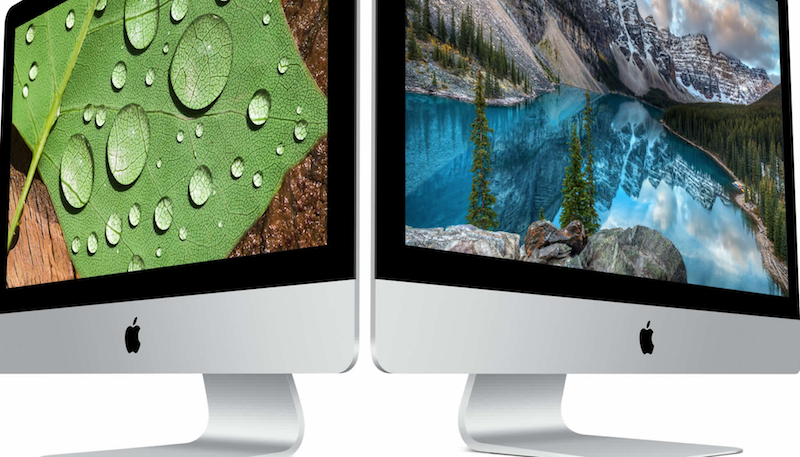 Some folks in the media have raised the question about whether we're committed to desktops," Cook wrote. "If there's any doubt about that with our teams, let me be very clear: we have great desktops in our roadmap. Nobody should worry about that."

Cook says that the desktop is "very strategic" to Apple because the performance desktops can provide is "really important" to a lot of people and "critical" for some people. He says the current
iMac
is the best desktop Apple's ever made and its 5K display is the best desktop display in the world.
In regards to its future roadmap and how Apple employees can help push the company forward, Cook says that "you can rarely see precisely where you want to go from the beginning." Instead, Cook argues that "pulling strings" to see what's coming next is one of Apple's strengths, noting that the creation of Apple Watch led to the creation of ResearchKit, which lead to the creation of CareKit. Cook concludes the post by saying the company doesn't do things for a return on investment, it explores new things because it's exciting and might lead somewhere.
The lack of refreshed Mac hardware
can be attributed
to a combination of Apple waiting on chipmakers and suppliers to ship their new products and the Cupertino Company's renewed focus on iPad.
Apple's desktop Macs haven't seen upgrades in over a year. The iMac's last update was 433 days ago, the Mac Mini's last update was 795 days ago and the
Mac Pro
's last update was 1,097 days ago.
Discuss this article
in our forums
Posted in iMac, Mac mini, Mac Pro, Major News, Tim Cook | Comments Off on Apple CEO Tim Cook: 'We Have Great Desktops in Our Roadmap'
Wednesday, December 14th, 2016
One month after
debuting
in the Netherlands, Apple's specialized Apple Support app has gone live in the U.S.
App Store
,
reports
TechCrunch
. The app gives Apple users an easy way to get support for their devices on the go.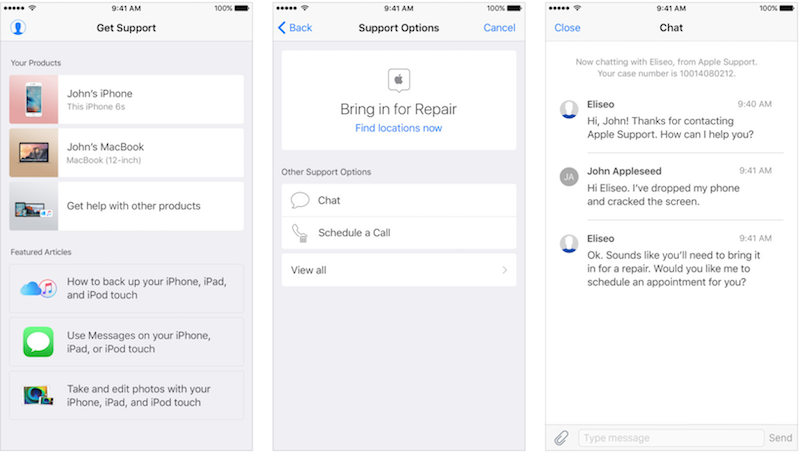 The app is designed to mimic Apple's dedicated support website, providing a list of Apple devices owned by the user and giving them access to documentation for those devices. The app also allows users to schedule repairs in an Apple retail store or natively chat with Apple's support staff. Once they conclude their chat session, users can see their recent support history.
The Apple Support app was
first rumored
 last November, when Sonny Dickson debuted screenshots of the app early in its development.
Apple Support
is available in the App Store for free. [
Direct Link
]
Discuss this article
in our forums
Posted in Apple Support, Major News | Comments Off on 'Apple Support' App Launches in U.S. App Store
Tuesday, December 6th, 2016
Earlier today data from market research firm IDC
said
that Apple Watch's share of the wearables market fell to 5% as fitness trackers "reigned supreme." In an
email responding
to a
Reuters
inquiry about the report, Apple CEO
Tim Cook
said Apple Watch's sell-through rate hit a new high recently.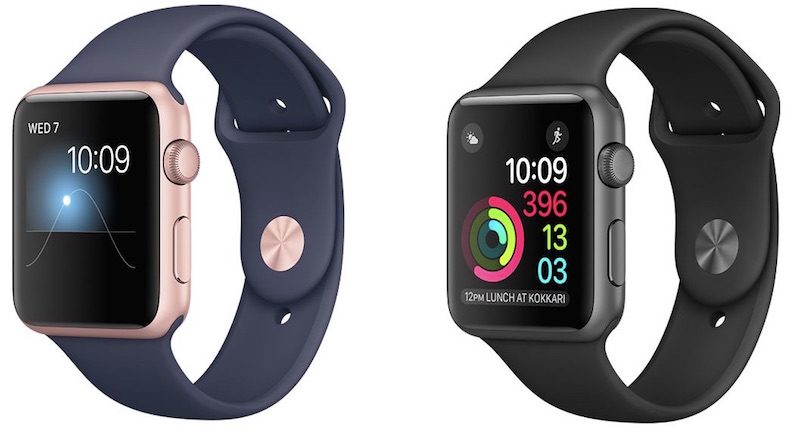 "Sales growth is off the charts. In fact, during the first week of holiday shopping, our sell-through of Apple Watch was greater than any week in the product's history. And as we expected, we're on track for the best quarter ever for Apple Watch," he said.
Cook added that Apple's data shows that the Watch "looks to be one of the most popular holiday gifts this year." The IDC report estimated that Apple shipped 1.1 million Apple Watch units in the third quarter, down from 3.9 million shipments last year during the same quarter.
IDC attributed the decline to an "aging lineup" and an "unintuitive user interface." Apple addressed those concerns with the
Apple Watch Series 2
, but the model's launch date in mid-September hampered its impact in the third quarter.
While Cook told
Reuters
that Apple's sell-through rate was high, he has not yet responded to Reuters' request for specific sales figures. Apple doesn't disclose Apple Watch sales figures, instead grouping it into its "other products" category, which also includes iPod and
Apple TV
, in earnings results.
Discuss this article
in our forums
Posted in Apple Watch, Major News, Tim Cook | Comments Off on Tim Cook Says Apple Watch Set New Sales Record in First Holiday Shopping Week
Tuesday, November 22nd, 2016
Apple tonight updated its website with a
brand new page
teasing a one-day
Black Friday
shopping event. Apple didn't offer Black Friday deals last year, opting to allow third-party retailers like Best Buy and Target to offer deals instead.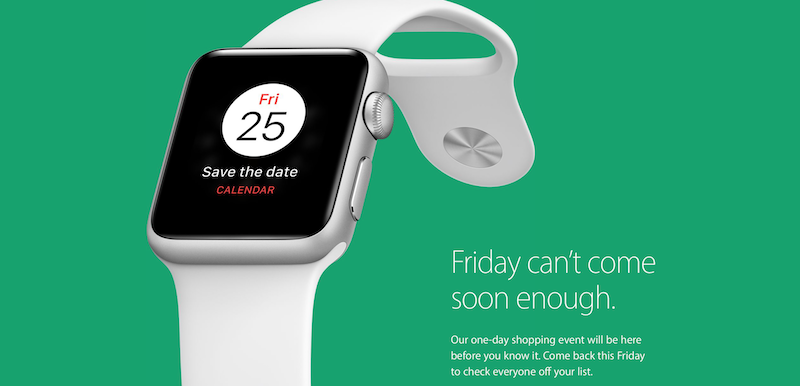 Friday can't come soon enough.

Our one-day shopping event will be here before you know it. Come back this Friday to check off everyone on your list.
Last year, Apple SVP of Retail Angela Ahrendts said the company was backing away from Black Friday promotions
because
"being good to your employees will always be good for your business."
On its Black Friday website, Apple says that its one-day shopping event will include free shipping on in-stock items ordered by 5 PM. You'll also be able to take part in the event with the Apple Store app and in-store. Those interested in visiting an Apple retail store on Black Friday
will need to check their local Apple store's extended holiday hours
because there will not be uniform opening and closing times.
Apple has also provided easy links to four holiday gift collections curated by the company, including "Apple gifts," "Music gifts," "Photography gifts" and "Games & Toys."
It's unclear what kind of Black Friday promotion the company will use this year. In the past, Apple has
offered gift cards
worth variable amounts with the purchase of Apple products. For instance, purchasing a Mac would yield a $100 gift card. However, in its European stores Apple has also opted for
more traditional discounts
.
Discuss this article
in our forums
Posted in Black Friday, Major News | Comments Off on Apple Teases One-Day Black Friday Shopping Event
Thursday, October 27th, 2016
Apple's
"Hello Again" event
kicks off at 10:00 AM Pacific Time today, with Apple expected to make several Mac-related announcements headlined by a
revamped MacBook Pro
with an OLED "Magic Toolbar" or "Touch Bar" and
Touch ID
support.
We're also expecting to see new
MacBook Air
models with USB-C ports, and perhaps some other new Macs as well. On a separate note, Apple is also said to be introducing a
new "guide" app
for
Apple TV
and iOS devices to help recommend TV shows to users across content providers.
Apple is providing a
live video stream
on its website and via Apple TV.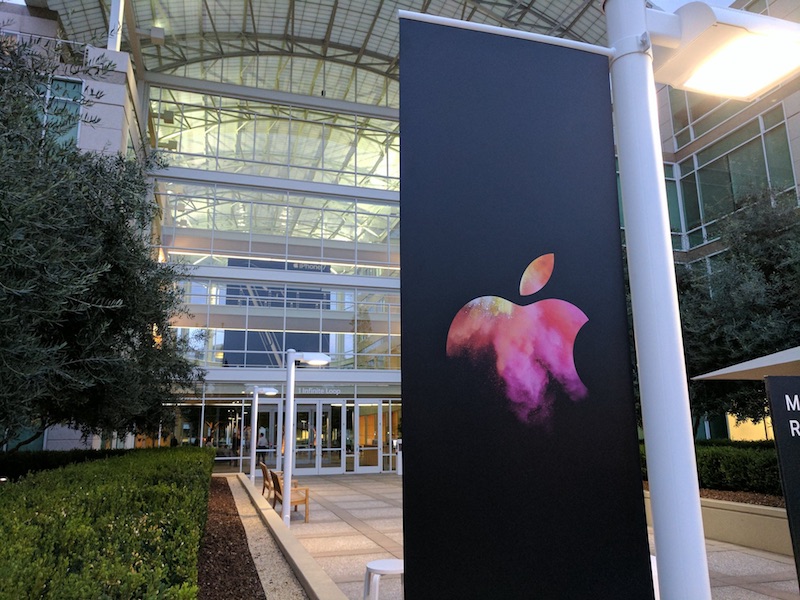 Photo via Dieter Bohn
In addition to Apple's video stream, we will be updating this article with live blog coverage and issuing Twitter updates through our
@MacRumorsLive
account as the event unfolds. Highlights from the event and separate news stories regarding today's announcements will go out through our
@MacRumors
account.
Apple's online stores around the world are
currently down
in advance of the event.
Live Updates - No need to refresh

Loading live updates...
Discuss this article
in our forums
Posted in Major News, October 2016 event | Comments Off on Live Coverage of Apple's 'Hello Again' Mac Event
Saturday, October 22nd, 2016
KGI Securities analyst
Ming-Chi Kuo
has released a new research report outlining his expectations for next Thursday's "Hello Again" event where Apple is expected to make a number of Mac-related announcements.

In line with long-standing rumors, Kuo believes the highlight of the event will be a redesigned
MacBook Pro
in both 13-inch and 15-inch sizes, adopting an OLED touch bar and
Touch ID
sensor, USB-C, Thunderbolt 3, and the same butterfly keyboard design introduced on the MacBook in 2015. Kuo also adds several new tidbits to the rumor mix:
Our new predictions also include: (1) Intel's (US) Skylake processor; (2) the same panel resolution but better display quality and energy efficiency thanks to an oxide panel; (3) a new option of 2TB SSD storage capacity; (4) adoption of a similar processor as Apple Watch to control the OLED touch bar more energy-efficiently in the new MacBook Pro models; and (5) a Type-C & MagSafe-like adapter rolled out by Apple or a third-party supplier, given positive reviews for the MagSafe charging design.
Beyond the MacBook Pro, Kuo says Apple will also be introducing a "13-inch MacBook," a claim he has
shared previously
. Rather than being a slightly larger version of the current 12-inch MacBook, however, this is likely to be a
MacBook Air
, which would align with
other rumors
claiming that only the 13-inch MacBook Air will be seeing an update with new USB-C ports.
On the desktop side, rumors have indicated that Apple is working on
updated
iMac
models with discrete AMD graphics options, as well as a new standalone external 5K display, but Kuo says those products will not be ready until the first half of next year. It is still possible, however, that Apple could announce them at next week's event.
We also expect Apple to launch new iMacs (21.5-inch and 27-inch) and Cinema Display (27-inch) in mid- 1H17. We cannot say for certain whether Apple will announce the new iMacs and Cinema Display on October 27 as the shipping schedule is not imminent.
Apple's event is being held at the company's Cupertino campus and kicks off at 10:00 AM Pacific Time on Thursday.
MacRumors
will have full coverage both here on the site and on our
@MacRumorsLive
Twitter account, and Apple will be offering a
live video stream
of the event.
Discuss this article
in our forums
Posted in 12-Inch MacBook, iMac, LCDs, MacBook Air, Major News, Ming-Chi Kuo, Retina MacBook Pro | Comments Off on New MacBook Pro and 13-Inch 'MacBook' Coming Next Week, iMac and Display Not Ready Yet
Tuesday, October 18th, 2016
Apple still plans to announce its new
MacBook Pro
"in the month" with shipments to begin at the end of October, according to new information shared by Japanese site
Mac Otakara
.
Citing a "reliable Chinese supplier," the site says that Apple will launch both 13 and 15-inch models, continuing to offer the machine in the same sizes available today. Apple is also expected to launch a new 13-inch
MacBook Air
, but will not debut a new 11-inch MacBook Air machine.
Subscribe to the MacRumors YouTube channel for more videos.
Both the new MacBook Pro models, which will replace existing models, and the new 13-inch MacBook Air are said to include USB-C ports and Thunderbolt 3 support.
Previous rumors and
part leaks
have suggested the upcoming MacBook Pro will include four USB-C ports, doing away with an SD card slot, an HDMI port, USB-A ports, and a MagSafe connection.
It is also expected to feature a redesigned, thinner body with a flatter keyboard, an OLED display touch panel that replaces the physical function keys at the top of the keyboard, and
Touch ID
support.
Mac Otakara
often shares accurate information sourced from the Asian supply chain, but the site does not have a flawless track record and has gotten some details wrong in the past. Other
more reliable
rumors have also pointed towards an October launch date, however.
With the month coming to an end in just two weeks, it is unclear if there will be an event to announce the new machines. There have been no hints of an event and no invites have been sent out, so it's possible Apple will debut the machines more quietly, with just a press release.
Discuss this article
in our forums
Posted in MacBook Air, Major News, Retina MacBook Pro | Comments Off on New MacBook Pro Still Planned for October, USB-C MacBook Air Also in the Works
Monday, June 20th, 2016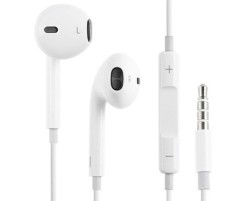 Apple's
iPhone 7
and iPhone 7 Plus will be manufactured without a 3.5mm headphone jack, leading to speculation about the accessories that will be included alongside the two devices.
Lightning-equipped EarPods and wireless EarPods are two rumors that have been bandied about, but a new report from Japanese site
Mac Otakara
suggests Apple may ship the iPhone 7 with standard 3.5mm headphones and a 3.5mm jack to Lightning adapter to allow them to connect to the new devices.
Mac Otakara
's information comes from sources at Computex Taipei 2016 and the reliability of those sources cannot be confirmed. Shipping EarPods with a 3.5mm jack included seems like an unusual choice for Apple, even if an adapter is included in the box.
At Computex Taipei 2016, many manufacturers showcased their new Lightning audio adaptors, and it seems there has been rumors that the headphones to be included with the new iPhone 7 series will still come with its own headphone jack as usual, and that a Lightning headphone jack adaptor will also be included in the package.
Past rumors
, including
one from Mac Otakara itself
, have suggested Apple will introduce a new EarPods design that connects to the iPhone via Lightning or Bluetooth, something that would better ease the transition away from the 3.5mm jack than an adapter. We've only heard a few rumors about the EarPods, though, so Apple's exact plans remain unclear.
Mac Otakara
's report also reiterates claims 256GB of storage will be an option and suggests the iPhone 7 will feature speaker holes on both the right and left sides of the Lightning port, filling the space left by the headphone jack. Rather than introducing stereo sound, the site believes the two speakers will be "on a monaural system."
Rumors about the fate of the space left by the removal of the headphone jack have been mixed. Early rumors pointed towards
two speakers
for stereo sound, but
later rumors
and
design schematics
have cast some doubt on whether the iPhone 7 will feature dual speakers.
A lot of the information we're hearing about the iPhone 7 is mixed, making it difficult to narrow down the exact features we can expect to see, but the removal of the headphone jack is one of the most consistent rumors we've seen about the device. Other expected features include an
iPhone 6s
-style design with relocated antenna bands, faster LTE and Wi-Fi, a more water resistant casing, and dual cameras for the larger iPhone 7 Plus.
Discuss this article
in our forums
Posted in iPhone 7, macotakara.jp, Major News | Comments Off on iPhone 7 Rumored to Ship With Standard 3.5mm EarPods and Lightning Adapter