Archive for the 'iOS Blog' Category
Friday, April 24th, 2015
If you are one of the lucky few to
receive your Apple Watch on launch day
, you are probably excitedly going through the steps to setting up and customizing your device. With a completely new operating system to get used to, we've got a couple of tips for getting your Apple Watch ready for daily use.
Apple Watch Overview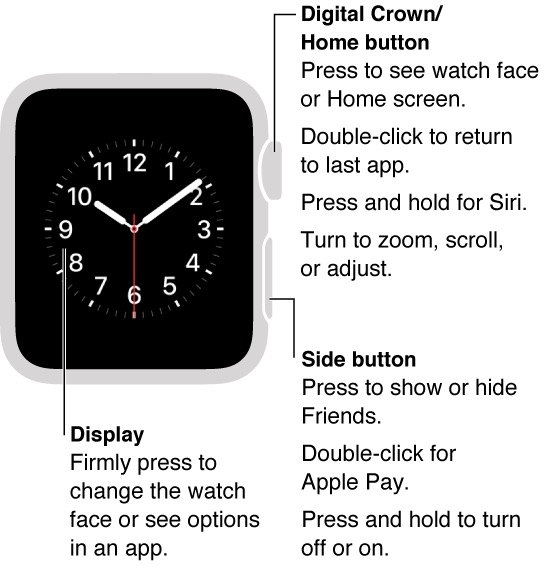 Apple yesterday
released a user guide
for its wrist-worn device that provides a detailed overview of the case for those who aren't yet familiar with various features. For starters, you can easily identify the Digital Crown/Home button on the side of the watch case. Press it to go to the Home screen while viewing an app, or to display the watch face.
You can also double-click the Digital Crown to access your most recently used app. To activate Siri, press and hold it. Zoom in and out or scroll by turning the crown.
The side button, which sits just below the Digital Crown is used to show or hide friends, turn on or off Apple Watch, and access Apple Pay (with a double-click).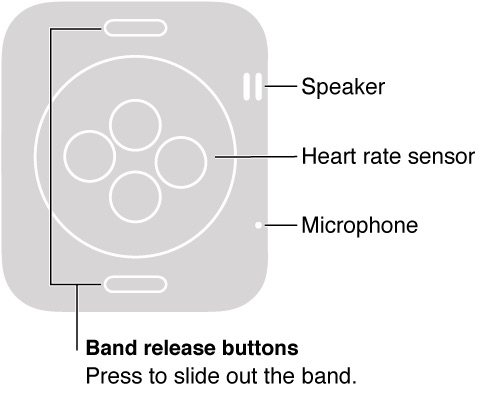 The back side of the case houses the speaker, heart rate sensor, and microphone. You will also be able to remove your watch band by pressing the band release buttons on the back of the case.
(more…)
Posted in iOS Blog | Comments Off
Friday, April 24th, 2015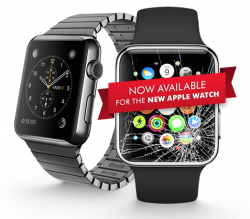 Alternative insurance protection plan service SquareTrade today
confirmed support
for both the Apple Watch Sport and mid-tier Apple Watch models. The plans sit near the cost of
AppleCare+ for the Watch
, but cover accidental damage done to the device, unlike the additional charge required in AppleCare+.
The
SquareTrade Apple Watch plans
offer customers options with and without deductibles. So, for example, the Apple Watch Sport plan ranges from $59 to $69 (with deductible) and $129 to $159 (with no deductible). Similarly, the mid-tier Apple Watch models stretch from $79 to $149 (with deductible) and $169 to $239 (without deductible).
Both Watch tiers are 2-year plans covering malfunctions as well as accidental damage. The company believes that one of the most likely points of risk for the Watch will be "among others, drops and falls from nightly charging stations." But it assure customers that anything beyond intentional damage, loss, or theft will be covered by the plan.
"We don't mean to dampen all the excitement about the Apple Watch, but inevitably the klutz in us will come out. Just like smartphones, the Apple Watch accompanies us everywhere and is susceptible to the wear and tear of daily life," said Jessica Hoffman, vice president of global communications for SquareTrade.
The company has even gone so far as to create a "Wrisk" Predictor Lifestyle Quiz that
aims to predict
which Apple Watch model is most suitable for each customer's lifestyle. The company created the so-called Wrisk Factor to detect and perceive the risks for the wrist-worn device.

AppleCare+
, in comparison, sees its two-year plans priced at $49 (plus $69 deductible for accidental damage) for the Sport and $69 (plus $79 deductible for accidental damage) for the mid-tier Watch, with the only gradient pricing range increasing with the added option of a combination iPhone/Apple Watch plan. AppleCare+ also provides a $1500 plan for the Apple Watch Edition, but SquareTrade appears to have opted out in focusing on those higher-end customers for its new Watch protection plans.
Posted in iOS Blog | Comments Off
Friday, April 24th, 2015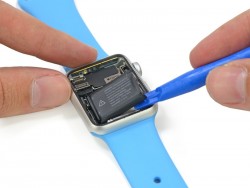 Apple has
outlined
that the Apple Watch battery is designed to retain up to 80% of its original capacity at 1000 complete charge cycles, which gives the watch's battery a lifespan of about two-and-a-half to three years based on fully charging the wrist-worn device once per day.
Comparatively, the MacBook and iPad can receive up to 1000 complete charge cycles while retaining up to 80% of original battery capacity. iPhones receive up to 500 complete charge cycles, and iPods receive up to 400 complete charge cycles.
A teardown of the Apple Watch earlier today revealed a small
205 mAh battery
inside the device, which lasts up to
18 hours based on mixed usage
and up to 72 hours in Power Reserve mode. The battery is covered under Apple's limited 1-year hardware warranty, while
out-of-warranty battery service
is also available for $79 plus an applicable $6.95 shipping charge if required for the Sport, Watch and Edition models.
Posted in iOS Blog | Comments Off
Friday, April 24th, 2015
Amid the fanfare of the Apple Watch launch, a few eagle eyed employees at
Team Android
today
discovered
an unusual easter egg within Google Maps. Visiting these
specific coordinates
on the outskirts of Rawalpindi, Pakistan,
Team Android
found an image of the Google Android mascot urinating over the Apple logo to be imbedded within the map itself.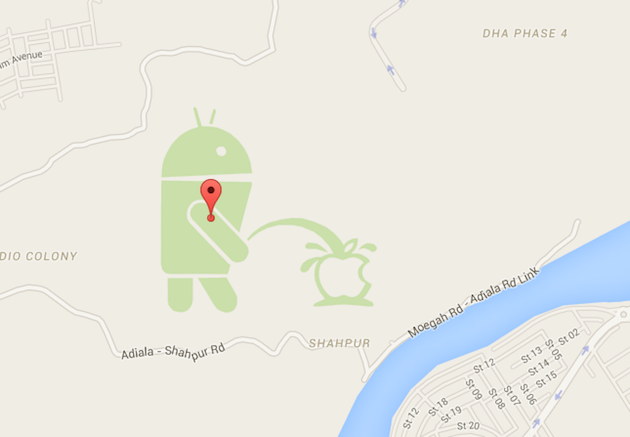 It's yet to be made clear who exactly created the image and placed it within Google Maps and, as
Engadget
points out, whether Google is even aware it exists at all at this time. While the two companies have been known to be rivals in the past, especially concerning their own individual
Apple Maps
and
Google Maps
services, today's development is an interesting new addition to their long history.
Posted in iOS Blog | Comments Off
Friday, April 24th, 2015
As many users in the United States slept Thursday night, Apple began slowly emailing Apple Watch pre-order customers with a confirmed April 24 delivery date about a "
Personal Setup
" program designed around the Watch.
Aimed to visually guide new users through the Apple Watch's setup process and beyond, the Personal Setup program is a video session with an Apple employee where the company does its best to answer every question a user has about the wrist-worn device.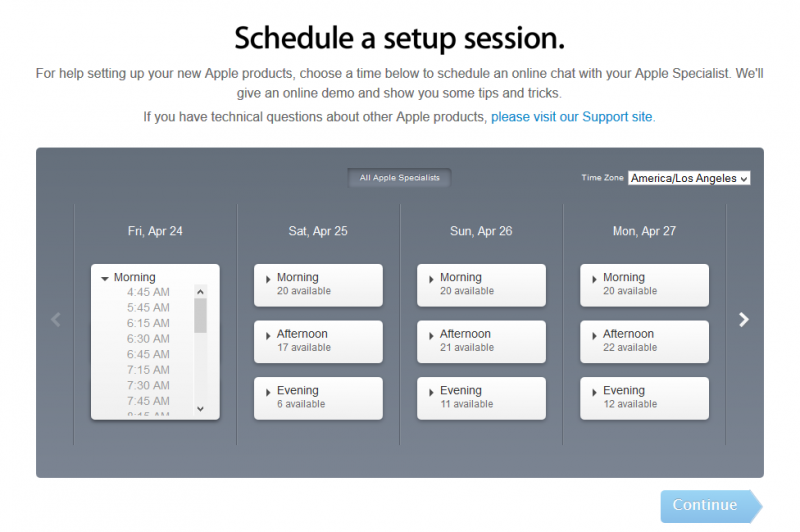 As with in-store try-on appointments, the Personal Setup video session requires a scheduled appointment, with dates as of writing ranging from early Friday morning all the way through the evening on May 7.
Your Apple Watch will be in your hands shortly. Once it is, we can help you get started right in the comfort of your own home with online Personal Setup. It's a video session* where we show you how to set up Apple Watch with your iPhone, walk you through some key features, and answer your questions. We'll also point out some great apps, and help you personalize your device.

Of course, you can always visit an Apple Store and request a Personal Setup session with a Specialist.

Thank you for choosing Apple.
Interestingly, the times of each appointment fluctuate everywhere from 10 minutes to an hour, so it appears Apple may be letting customers choose a time they think is best for their own personal setup and knowledge of the Apple Watch, although the company has yet to confirm the max length a session can go.
While the email from Apple does make mention of visiting a retail location, the move does fall in line with retail chief Angela Ahrendt's
recent move
of keeping the Apple Watch launch as brick-and-mortar free as possible.
The first Apple Watch deliveries should begin making the rounds in just a few short hours in the United States, with
worldwide deliveries
already resulting in some
positive first impressions
and
teardowns
of the wearable.
Posted in iOS Blog | Comments Off
Friday, April 24th, 2015
Early Apple Watch models were found to
have a hidden diagnostic port
used to allow Apple engineers to diagnose problems with the devices, but reports at the time were unsure if the feature would be included in models shipping out to consumers. Apple Watches have now arrived in Australia, giving us our first opportunity to further investigate the diagnostic port.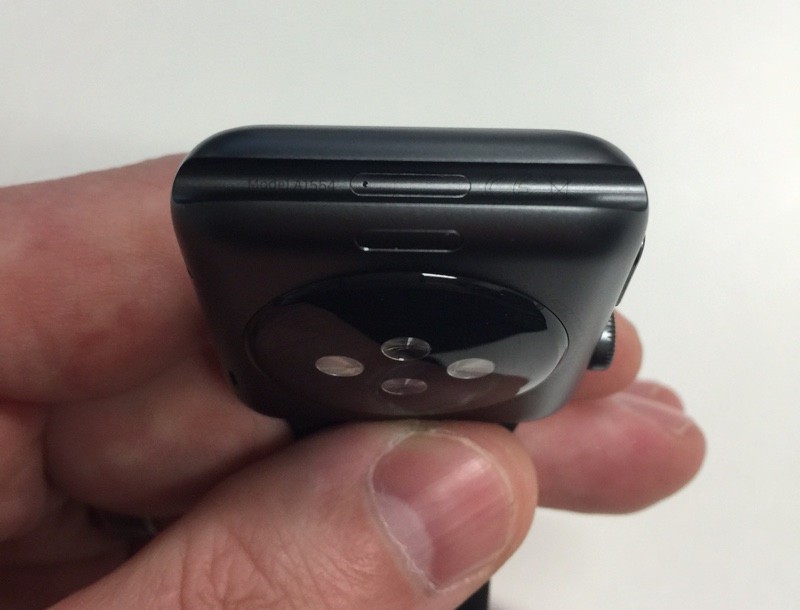 MacRumors
reader MrLaforge has received his Space Gray Apple Watch Sport and has taken
high-quality pictures
of the casing, giving us a look at what appears to be the diagnostic port hidden underneath a cover. The port's cover looks a lot like the SIM card slot on an iPhone 6, and it appears that it might open in a similar way, giving Apple employees a way to run diagnostics on the Apple Watch when it's brought in for service.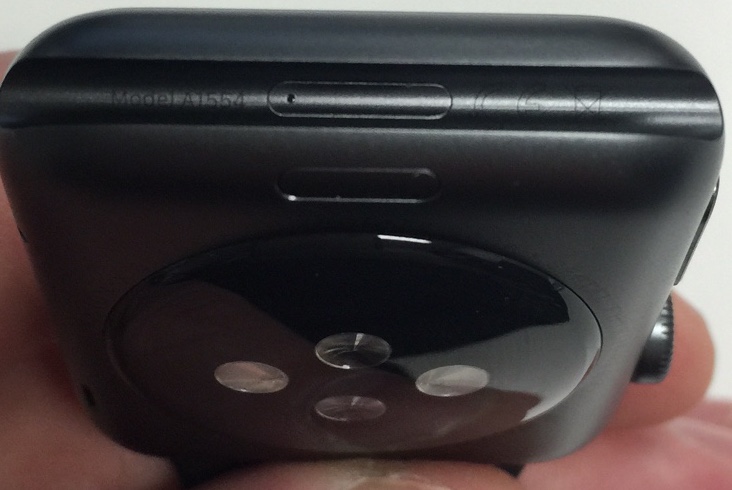 The same covered diagnostic port was
also present
in Apple Watches provided to media sites for Apple Watch reviews earlier this month. At Apple Stores, devices on display have the same ports, but they remain uncovered, presumably to make it easier for employees to continually monitor and adjust settings on the devices.
A
report from TechCrunch
has speculated that this diagnostic port could also potentially be used for smart band accessories in the future, but it is unclear if that is something that Apple is planning on introducing.
Posted in iOS Blog | Comments Off
Thursday, April 23rd, 2015
Earlier this week, Apple
began sending out emails to iOS developers
, offering them a chance to purchase a 42mm Apple Watch Sport with a Blue Sport Band guaranteed to ship by April 28, 2015. Apple had a limited number of devices to provide to developers, and used a lottery system to determine who would get the chance to purchase one of the available watches.
Developers who registered for a chance to buy one of the watches with a guaranteed delivery date and won the lottery have just begun receiving emails with purchase instructions. Apple is asking winners to complete a purchase by 5:00 p.m. local time on April 27 to take advantage of the shipping date.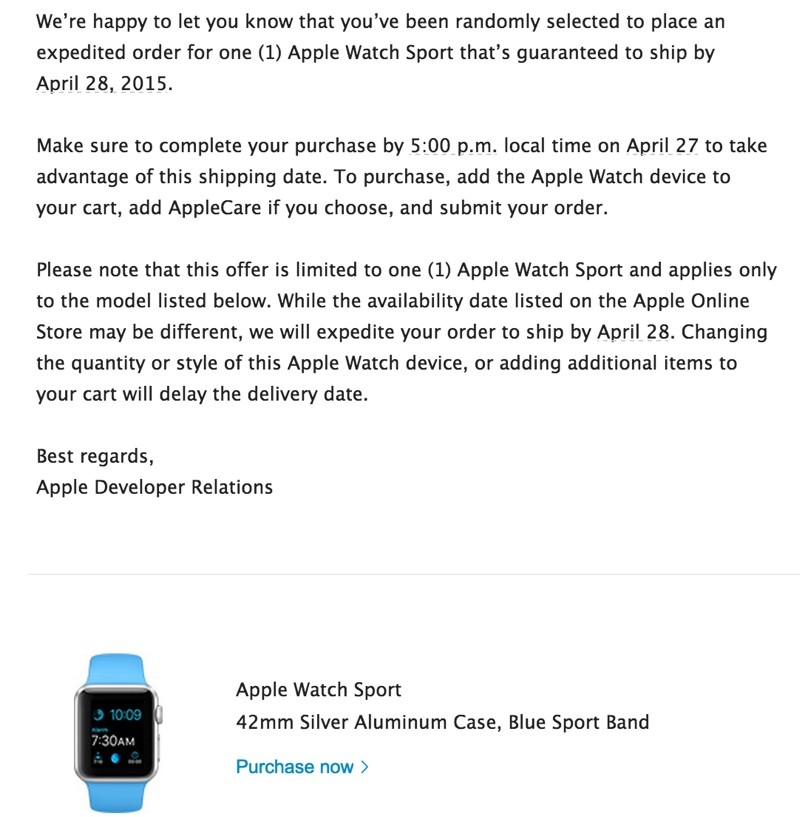 It's not known why Apple only offered 42mm Apple Watch Sport models with Blue Sport bands, but it can be assumed that the combination may have been one that the company had an ample supply of. Apple is providing developers with watches in an effort to give them devices to test Apple Watch apps on.
A guaranteed April 28 ship date means developers who purchase one of the available devices will receive an Apple Watch just a few days after customers who pre-ordered receive theirs.
Posted in iOS Blog | Comments Off
Thursday, April 23rd, 2015

Apple today updated TestFlight with support for WatchKit apps on Apple Watch and minor stability and performance improvements.
TestFlight is a beta testing service that enables developers to seed pre-release versions of their apps to select individuals for testing.
The official App Store for Apple Watch apps went live earlier today.
Posted in iOS Blog | Comments Off
Thursday, April 23rd, 2015
Boating and navigation app
SeaNav US
[
Direct Link
] reported this morning that Apple is
no longer welcoming
the app on the App Store due to the mention of Pebble support, or "any other mobile platform", within the app's description.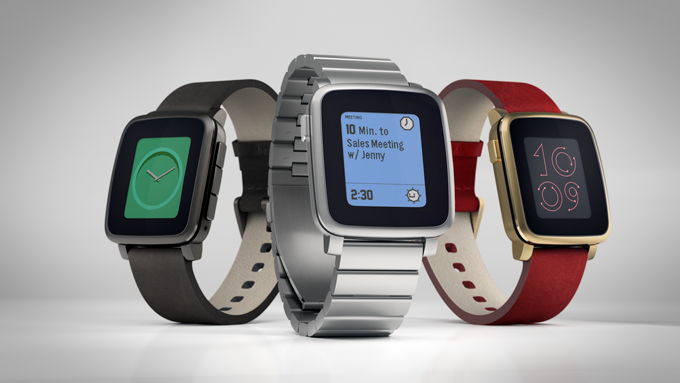 SeaNav notes that its iOS app has been previously approved by Apple with no fuss, and have only faced roadblocks after receiving the rejection email this morning. The app supported Pebble for "nearly 2 years" before today, and the company says the app's most recent update has "no changes to our support for the Pebble", hinting that the
impending launch
of the Apple Watch could be the main culprit of the crackdown on SeaNav.
We have just had the latest version of our SeaNav US iOS app rejected by Apple because we support the Pebble Smartwatch and say so in the app description and meta-data (we also state in the review notes that "This application was approved for use with the Pebble MFI Accessory in the Product Plan xxxxxx-yyyy (Pebble Smartwatch)". See copy of rejection reason below.

SeaNav US has previously been approved by Apple with no problem, we have had Pebble support in SeaNav for nearly 2 years and there are no changes to our support for the Pebble in this version. What are Apple doing? Have they gone Apple Watch crazy? What can we do?
App Store review guideline 3.1 has covered the prohibition on mentioning competing platforms for some time, but until now developers have generally not had issues with Apple rejecting apps for mentioning Pebble support. With the Apple Watch ready to launch, however, Pebble may now be considered a competing platform.
Apple has been known to deal swiftly with apps it
deems questionable
on the App Store in the past, but today's news is definitely interesting given the reason for rejection and the launch of the Apple Watch tomorrow. SeaNav US should be able to resubmit the app after removing all mentions of the Pebble smartwatch from its marketing materials and App Store page, but it certainly leaves an interesting question for the future of Pebble-supported iOS apps, especially Pebble's dedicated iOS app, presuming SeaNav's rejection was not the result of a reviewer misunderstanding Apple's intended application of the guidelines.
Posted in iOS Blog | Comments Off
Thursday, April 23rd, 2015
One of the main conveniences of the Apple Watch is that it provides at-a-glance information without needing to take your iPhone out of your pocket, whether you are stuck in a meeting, walking down the sidewalk or watching Netflix on your couch. For a task as simple as checking the weather, the ability to simply look at your wrist will make Apple Watch weather apps very appealing for a lot of users.
Many developers have been quick to jump on the opportunity to release weather-related Apple Watch apps, including CARROT Weather, The Weather Channel, Weather Underground, Yahoo Weather, AccuWeather, Weather Nerd, Thermo Diem, NOAA Radar Pro and more. While the apps all share a common thread of providing weather information, each have unique designs and features that are worth trying out.

CARROT Weather for Apple Watch
Earlier this week,
CARROT Weather
received its first-ever update with Apple Watch support, bringing its humorously twisted 24-hour and 7-day forecasts to the wrist. Tapping on a section brings up a color-coded interface with more detailed weather information, including the current temperature, type and chance of precipitation, wind speed, humidity, barometric pressure and more. CARROT Weather is
$2.99 on the App Store
.
The Weather Channel
will also be releasing an updated version of their app to support Apple Watch, enabling users to view current weather conditions, hourly forecasts with temperature and precipitation visuals, and weekend forecasts. The app also offers customizable real-time notifications for rain, snow, lightning and severe weather on your wrist, and features a live radar based on your GPS location. The Weather Channel app is
free on the App Store
.

Weather Underground for Apple Watch
Weather Underground
for Apple Watch provides current conditions, 10-day forecasts, severe weather alerts, radar imagery and more on the wrist, with Force Touch navigation for quick access to hourly, ten-day forecasts and saved locations. The app can also notify you about the latest National Weather Service severe weather alerts in the United States. Weather Underground is
free on the App Store
.
Yahoo Weather
for Apple Watch features a sleek design that provides the current temperature at a glance, alongside the current weather conditions, type and chance of precipitation, wind speed, barometric pressure, sunrise and sunset times, and more. Yahoo Weather is
free on the App Store
.

Yahoo Weather for Apple Watch
AccuWeather
for Apple Watch features MinuteCast, which provides minute-by-minute precipitation forecasts for the forthcoming two hours hyper-localized to your exact street address or GPS location. The app keeps you up to date with other current weather conditions based on your location, including temperature, the forecasted high and low for the day, wind speed, and times for sunrise or sunset. Breaking weather notifications in the U.S. can also be enabled. AccuWeather is
free on the App Store
.
More Weather Apps for Apple Watch:
This roundup will be updated with more popular Apple Watch weather apps as they become available.
Posted in iOS Blog | Comments Off