Archive for the 'iOS Blog' Category
Wednesday, April 23rd, 2014
During Apple's
earnings call
today, Apple shared new details on the state of the iPad, including information on sales expectations, the launch of Microsoft Office for the device, the education market, and the use of the tablet compared to competitors.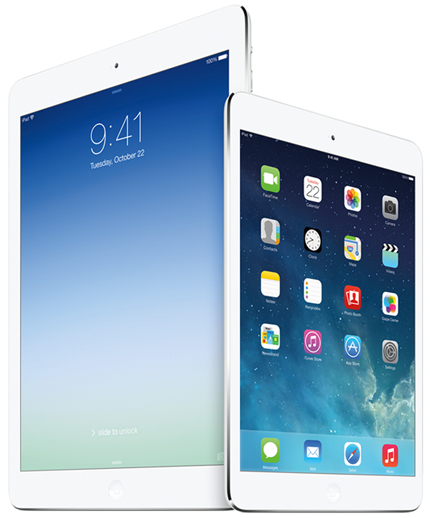 While the company's 16.35 million in iPad sales fell short of analyst expectations, Apple notes that sales came in at the high end of its internal expectations. Company executives cited two main factors: an increase in iPad channel inventory in the March 2013 quarter which artificially increased sales and that was "significantly" reduced this year; it also mentioned that it ended the December 2012 quarter with a substantial backlog of iPad mini orders that didn't shipped until 2013. The company added that it hit iPad supply/demand balance earlier in the launch cycle this year.
Apple also noted that two-thirds of people activating an iPad in the last six months were new to the device, while half of people registering an iPhone had never owned one before. Citing research from App Annie and Chitika, the company stated that the iPad generated four times the mobile web traffic as all Android tablets combined, and that two-thirds of US consumer that planned to purchase an iPad in the next 3 months would be purchasing an iPad.
CEO Tim Cook commented on the
recent launch
of Microsoft Office for the iPad, stating that the addition of the productivity suite "helps" and that it would have been financially beneficial for Microsoft to release the program "earlier". Overall, Cook noted that customers were "responding well" to Office in a field of many alternatives that were brought to the market, including Apple's own iWork suite for the iPad as well as competitors from other developers.
Cook also noted that Apple has a 95% share in the education market and that the company's focus was on getting more iPads into classrooms. He says the iPad is "the fastest growing product in Apple's history", and that the company is determined to stay focused on the things "we do best" and said that the company focuses on
getting the details
the right as opposed to simply being the first to launch.
Apple is expected to introduce
updated models
of the iPad Air and Retina iPad Mini this year, with
some rumors
suggesting that the company will add a larger "iPad Pro" to its tablet lineup in the near future.
Posted in iOS Blog | Comments Off
Wednesday, April 23rd, 2014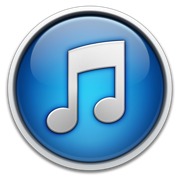 During its
financial results call
covering the first calendar quarter and second fiscal quarter of 2014, Apple shared details on the success of its iTunes Store, which has become an increasingly important revenue source for the company in recent years, mainly due to the popularity of the App Store.
Last quarter, Apple's customers spent a total of $5.2 billion on iTunes purchases, up 24 percent year over year. That's also up from $4.7 during the
first quarter of 2014
. Cumulatively, Apple's App Store has seen 70 billion total app downloads, up from 65 billion in January.
Apple has 800 million iTunes accounts, most with credit cards attached, an important fact in light of Apple's potential interest in
entering the mobile payments market
. Back in June of 2013, Apple announced 575 million customers had iTunes accounts, marking a massive growth increase.
Overall, Apple shared via its financial results report that it posted revenue of $45.6 billion and net quarterly profit of $10.2 billion, or $11.62 per diluted share, compared to revenue of $43.6 billion and net quarterly profit of $9.5 billion, or $10.09 per diluted share, in the year-ago quarter.
Posted in iOS Blog | Comments Off
Wednesday, April 23rd, 2014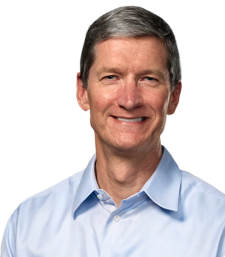 In an
interview with The Wall Street Journal
following the release of Apple's
financial results
for the most recent quarter, CEO Tim Cook stated that the company's stock was "undervalued" and that the expansion of the share buyback program "shows how much confidence [Apple] has in the future of the company."
Apple announced an increase of its capital return program to $130 billion, from an announced $100 billion last year, with the company expecting to complete the program by the end of 2015. Apple will take on additional debt both domestically and internationally to finance the program.
The company will also institute a 7-for-1 stock split in June, with shareholders of record on June 2 receiving an additional six shares of stock for each share they own on June 9, and a dramatic reduction in the price of each share to match. Apple CEO Tim Cook said that the company was undertaking the split to make it easier for all potential shareholders to afford to invest in the company.
Apple's board approved an 8% increase in the company's quarterly cash dividend, up to $3.29 from $3.05, and Cook said the company anticipates annual increases in the dividend going forward.
Posted in iOS Blog | Comments Off
Wednesday, April 23rd, 2014
According to Chinese and Taiwanese media sources, Apple
again
is contracting with Catcher Technology to supply metal casings for the company's future smartphones, including the rumored iPhone 6. First noticed by
GforGames
, these reports were published this week in the
Taipei Times
and
The China Post
.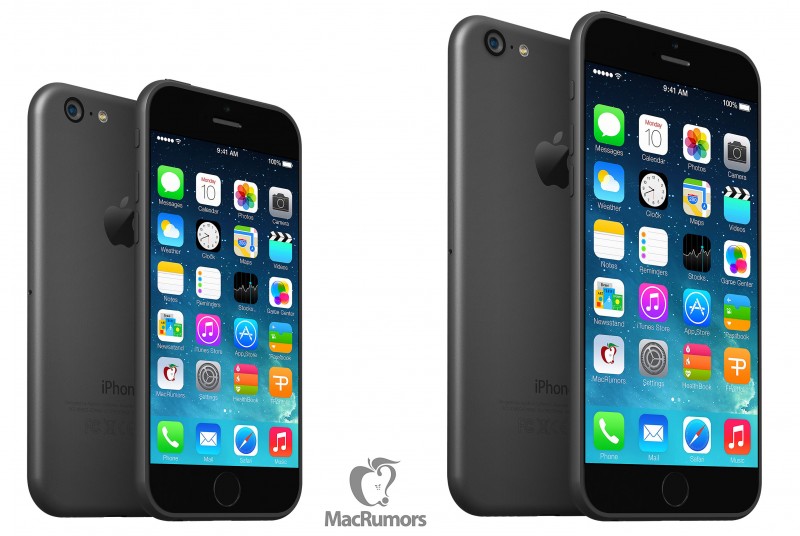 Most notably, Catcher is predicted to supply Apple with 10.5 million iPhone 6 casings and 20 million casings for other iPhone models in 2014. These figures are thought to represent 15 percent of the total casings needed for the iPhone 6, suggesting Apple could ship as many as 70 million iPhone 6 units by the end of the year.
Barclays Capital made a similar prediction, noting that Catcher is expected to boost its production between 20 and 40 percent to meet demand for the iPhone 6 in the midst of tight supply. Apple is one of Catcher's larger clients, contributing approximately 40 percent to the supplier's revenue.
Barclays said it expects Apple's next-generation smartphone to be launched in the second half of the year and that shipments of the new model will be 35 to 40 percent higher than the previous one.

Catcher is likely to receive between 10 and 20 percent of the casing orders for the new iPhone, which should help lift its earnings in the second half of the year, Barclays said in a report.
Recent analysis suggests interest in a large-screen iPhone 6 is high in both
North America
and
China
, where demand for the iPhone 5s is waning and interest in the iPhone 6 is on the rise. The iPhone 6 is expected to debut this fall with a 4.7-inch display, Apple's A8 processor, an improved Touch ID fingerprint sensor and iOS 8.
Posted in iOS Blog | Comments Off
Wednesday, April 23rd, 2014
Popular messaging service Viber today
updated
its iOS app to version 4.2, bringing a redesigned user interface for iOS 7 in addition to various new features. The app now includes multiple media sharing that allows users to send multiple photos and videos at once, in addition to the ability to block users and send longer video messages. A cross platform typing indicator has also been added.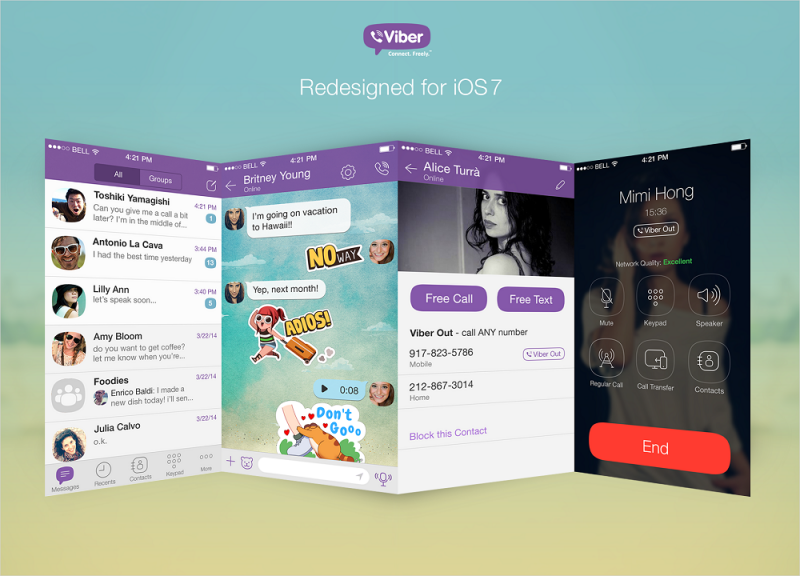 - Completely redesigned for iOS 7! The new look and feel is consistent with the aesthetic of iOS 7 that iPhone users have grown accustomed to.
- Multiple media sharing in one flow. No more back and forth media sharing! Now you can send and edit up to 10 photos and videos at a time!
- Block list. Users can now block contacts they do not know and those that they do not wish to be contacted by. To learn more about managing your block list, click here.
- Send longer video messages. You can now send videos of up to three (3) minutes long.
- Typing indicator. Know when your contacts are typing a message to you on Android tablet, Linux, Mac, PC or Windows 8.
- Bug fixes.
According to the
most recent statistics
, Viber has over 105 million monthly active users and receives 550,000 sign ups daily. The service was
acquired
by Japanese Internet company Rakuten in February for $900 million, and
launched
a new desktop application for Mac and PC last February.
Viber
is a free download for iOS devices and can be downloaded through App Store. [
Direct Link
]
Posted in iOS Blog | Comments Off
Wednesday, April 23rd, 2014
Following a
concept
that showed off a possible look at the iPhone 6 based on recent
leaked info
, French website
Nowhereelse.fr
[
Google Translate
] and graphic designer Martin Hajek have once again teamed up to showcase renders for an "iPhone 6s" and "iPhone 6c", which are based off of Apple's current iPhones and alleged iPhone 6 design drawings
posted
by Japanese magazine
MacFan
.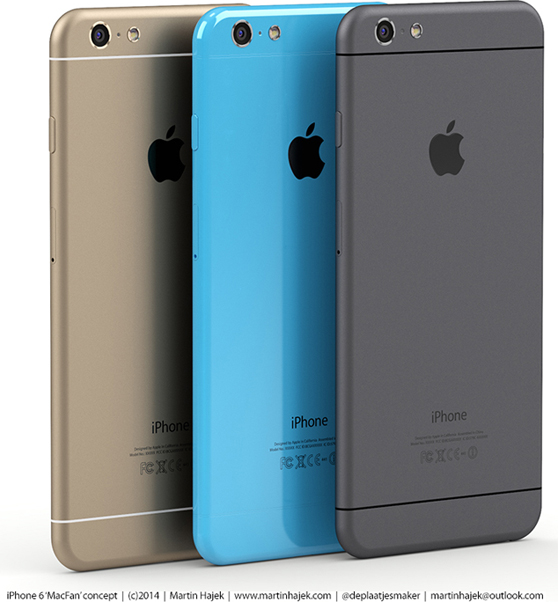 The renderings show iPhone 6s devices in gold and space grey colors, which retain the same tint as seen in the corresponding iPhone 5s models but adopt the thin, rounded profile that has been
rumored
for the iPhone 6. Like the previous renders, the power button is located along the upper right side of the device, with the iPhone 6s sporting rectangular volume controls similar to that of the fifth-generation iPod touch.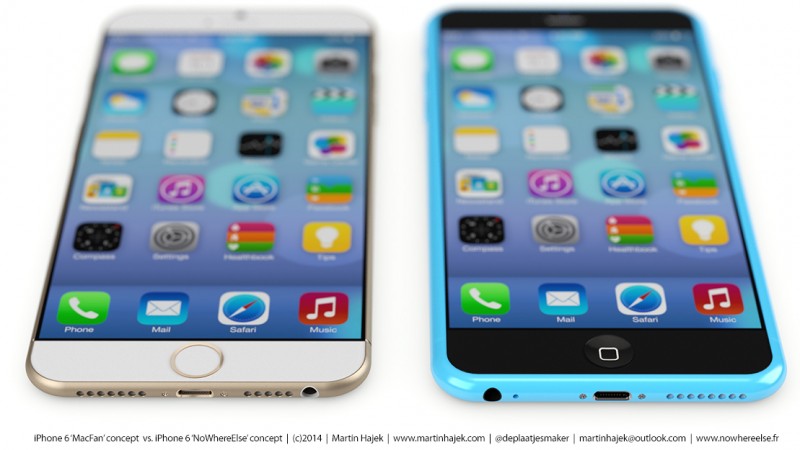 Renders for an iPhone 6c concept are also shown, which depict the device in the same blue colorway adopted by the iPhone 5c. Like the iPhone 6s, the iPhone 6c appears to have the same rounded profile with similar button placements, but is shown with a glossy plastic enclosure instead of an aluminum one. The concept is also similar to
iPhone 6c renderings
done by designer
Ferry Passchier
, who we commissioned to rethink the rumored design of the iPhone 6 as if it were modeled after the iPhone 5c with colorful plastic backings.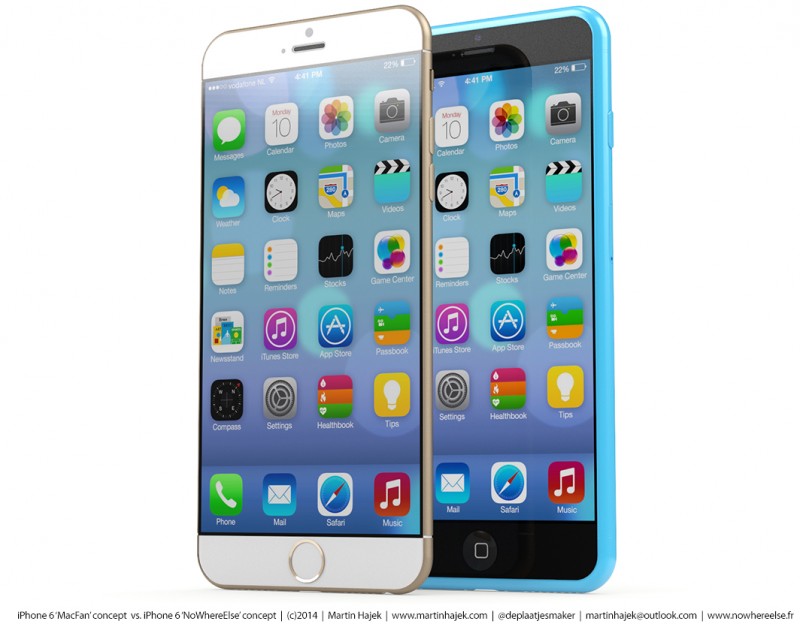 Apple is expected to launch the
iPhone 6
later this year in two different sizes of 4.7 inches and 5.5 inches.
Recent reports
have noted that the smaller 4.7-inch version will ship in the third quarter of 2014, while the larger version may ship later this year or early next year due to issues with the device's
display
and
battery
.
Along with a larger screen, both models of the next-generation iPhone are
said to feature
a thinner profile, new A8 processor, Touch ID fingerprint sensor and an improved camera with optical image stabilization. According to a
claim
from Jefferies analyst Peter Misek, Apple is also negotiating with carriers to increase the price of the iPhone 6 by $100.
Posted in iOS Blog | Comments Off
Tuesday, April 22nd, 2014
Logitech today
announced
a new version of its Logitech Ultrathin keyboard cover for the iPad Air, iPad mini, and iPad mini with Retina display, offering a new design that includes a flexible multi-angle slot that allows the iPad to be adjusted to different viewing angles.
The Logitech Ultrathin improves the flexibility and design of its predecessor with an even thinner and lighter keyboard cover and new flexible multi-angle slot that allows you to magnetically clip your iPad into the perfect viewing angle.
Like previous versions of the keyboard, the new Logitech Ultrathin is just a fraction of the weight of the iPad, measuring in at 6.4mm thick. It is designed from aluminum to match Apple's iPads and the keyboard includes iOS shortcuts and keys spaced for optimal typing.
Alongside the updated version of the Ultrathin keyboard, Logitech has also announced several new protective cases for Apple's iPads, including the
Hinge
, the
Big Bang
, and the
Turnaround
.

Logitech Big Bang, Turnaround, and Hinge
The Logitech Hinge is an ultra flexible case designed to offer a wide array of viewing angles, while the Big Bang is an ultra-protective, rugged case designed to protect the iPad from drops, spills, and scratches. The Turnaround, like the Hinge, is a multi-angle stand that also allows the iPad to be rotated from portrait to landscape mode and folds up into a stylish clutch.
All of Logitech's new products can be preordered from the
Logitech website
, at the following price points:
-
Ultrathin for iPad Air
- $99.99
-
Ultrathin for iPad mini/Retina mini
- $89.99
-
Big Bang for iPad Air
- $99.99
-
Big Bang for iPad mini/Retina mini
- $79.99
-
Hinge for iPad Air
- $59.99
-
Hinge for iPad mini/Retina mini
- $49.99
-
Turnaround for iPad Air
- $59.99
-
Turnaround for iPad mini/Retina mini
- $49.99
Posted in iOS Blog | Comments Off
Tuesday, April 22nd, 2014
Nike is said to be
trimming its Fuelband team
as the company moves its efforts away from hardware in order to focus on its NikeFuel and Nike+ software. What is next for Nike for may be a partnership with Apple to produce a Nike fitness app that could pair with Apple's iWatch hardware, theorizes
GigaOm
.
If Nike exits the physical wearable market, as now seems likely, Apple will be the primary sensor maker for Nike's future wearable apps given the length and depth of the two companies' close ties. Although there are a handful of Nike apps available for Android, there is no app (on any other mobile platform aside from iOS) that supports NikeFuel, which Nike describes as the "heart of the Nike+ ecosystem." In many ways, this is the culmination of a process that's been taking place between the two companies for the better part of a decade: Nike will design the fitness app experience, and the hardware will be made by Apple.
In arguing for a Nike and Apple tie-up,
GigaOm
points out the long history between the two companies, which includes the 2006 Nike+iPod product, which paired a Nike sneaker first with an iPod Nano and later with the iPhone 3GS and iPod Touch second generation. Most recently, Nike was a featured partner in the iPhone 5s launch, releasing its M7-compatible Nike+Move app shortly after the smartphone's launch last September.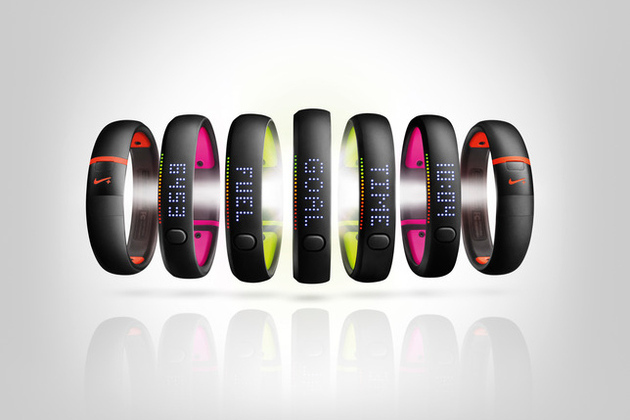 Nike earlier this year also announced plans to open up its Fuel fitness system to third-party developers as part of its
Nike Fuel Lab initiative
. Though not mentioned as being included in the program, one of these Fuel Lab partners theoretically could include Apple. In this scenario, Apple would bring the hardware expertise that Nike lacks, while Nike has the name recognition among the fitness crowd and slick marketing that Apple could leverage.
Apple is rumored to be releasing its iWatch with a late 2014 target launch date. Recent
predictions
from KGI Securities analyst Ming Chi Kuo suggests the iWatch could be Apple's most important product of the year, surpassing even the highly anticipated iPhone 6.
Posted in iOS Blog | Comments Off
Tuesday, April 22nd, 2014
Apple today was awarded a patent by the U.S. Patent and Trademark Office (via
AppleInsider
) that describes technology to partially disable a phone when the user is driving. The patent details several different lockout mechanisms that block functions like texting and SMS in order to reduce distracted driving.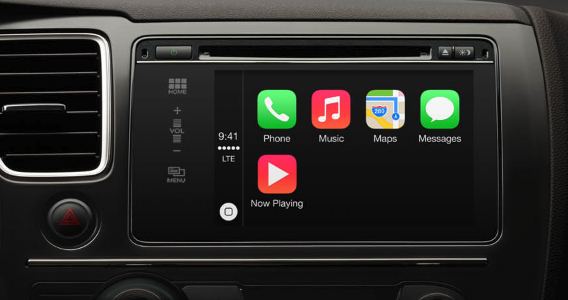 U.S. Patent No. 8,706,143
describes two main methods to block select iPhone features. The first method requires no input from the car and uses the iPhone's accelerometer and other on-board sensors to determine when a user is driving. Another method uses direct input from a car, which sends a signal to the iPhone that blocks a user from text messaging and using other mobile phone functions while behind the wheel.
The lock-out mechanisms disable the ability of a handheld computing device to perform certain functions, such as texting, while one is driving. In one embodiment, a handheld computing device can provide a lock-out mechanism without requiring any modifications or additions to a vehicle by using a motion analyzer, a scenery analyzer and a lock-out mechanism. In other embodiments, the handheld computing device can provide a lock-out mechanism with modifications or additions to the vehicle, including the use of signals transmitted by the vehicle or by the vehicle key when engaged with the vehicle.
The technology would contain a provision that would allow a phone to be used in a car by the passenger. This feature uses visual input and sensor data to determine whether a person is in the driver's seat or sitting in the passenger seat of the car .
As with all patents, this is proposed technology that may or may not make its way into a future device. Apple's in-car efforts now focus on the Siri-controlled CarPlay, which provides voice-controlled access to Maps, phone, messages and music.
The in-car technology initially debuted as a factory-installed option in new 2014 luxury models from Ferrari, Mercedes-Benz and Volvo and will be available as an aftermarket add-on via
Pioneer
and
Alpine-branded receivers
. It also will debut in
2015 Sonata models
from Hyundai.
Posted in iOS Blog | Comments Off
Monday, April 21st, 2014
Apple is expected to introduce
a large-screened iPhone 6
with a 4.7-inch model arriving this fall and a 5.5-inch version debuting early next year. Though this large iPhone may cannibalize iPad mini sales, Piper Jaffray analyst Gene Munster does not believe this shift in sales will have a net effect on Apple, reports
CNET
.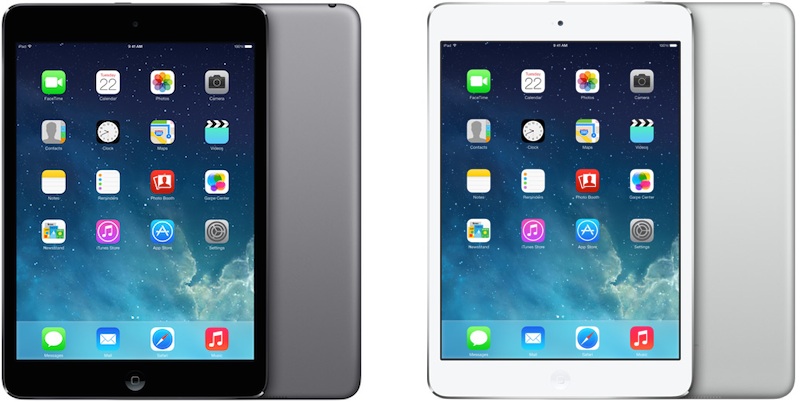 In a Monday note to investors, Munster argues that many iPhone owners will accelerate their upgrade to buy the iPhone 6 instead of the iPad mini, while other customers will purchase a bigger iPhone and pair it with an iPad Air. The net effect on Apple is an equal amount of sales even though the distribution among iPad and iPhone models may change with the debut of a larger iPhone.
We note that even at a 5" screen size, the viewable area of an iPad Mini at 7.9" would still be 150% larger than the iPhone 6. Net-net we believe any potential cannibalization would be roughly neutral overall to the model as we believe in some situations users might accelerate their phone update instead of buying an iPad Mini and keep an old phone, while in other cases we might see consumers that purchase an iPhone 6 decide to purchase an iPad Air instead of Mini to increase the utility difference between the devices.
Similar to
other analysts
, Munster believes Apple will report earnings at the higher end of its own guidance for the second quarter of 2014 with revenues of $44 billion, iPhone sales of 38.5 million units and iPad sales of 21 million units. Munster predicts the current quarter, which will end in June, will be slow for Apple with only 5 percent year over year growth.
"We continue to believe that June numbers are too high given our expectation that there will be no new products in the quarter. We note that given the company's history with guidance, the high-end of Apple's guide is all that matters and we expect the company's high-end of guidance to imply no more than 5% y/y revenue growth. Most importantly, while iPhone will benefit from China Mobile in the first full quarter of iPhone availability, we believe that iPhone unit sales may remain in the low single digits in Jun-13 ahead of the iPhone 6 launch."
Apple will announce its earnings for the second fiscal quarter (first calendar quarter) of 2014 on Wednesday, April 23. The earnings release usually is released around 4:30 PM ET following the close of regular stock trading. The conference call to discuss the earnings report is scheduled to follow at 5:00 PM Eastern / 2:00 PM Pacific.
Posted in iOS Blog | Comments Off