Archive for the 'iOS Blog' Category
Friday, January 30th, 2015
Apple's iOS and Mac App Stores were today updated with new "Get Productive" sections, offering discounted prices on many popular productivity apps for iOS devices and Macs.
In the
iOS App Store
, the 19 discounted apps include
Fantastical 2
for
iPhone
and
iPad
,
Workflow
,
Clear
,
Duet Display
,
Calendars 5
, and more. Apps are available for up to 60 percent off their regular prices.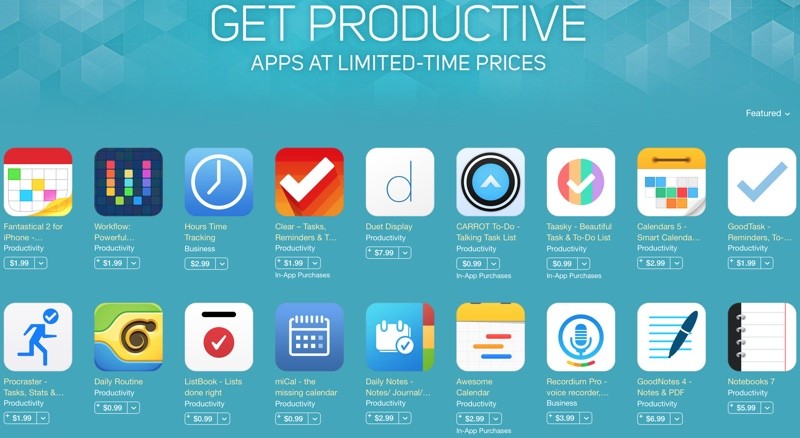 In the Mac App Store, there are 20 apps available at discounted prices up to 75 percent off, including popular offerings like
Day One
,
Byword
,
iA Writer Pro
,
iTranslate
,
mSecure
,
iStudiez Pro
,
Notability
, and more.
Apple has also named
ProCam 2
as its App of the Week, and as a result, the camera and photo editing app is available at no cost, instead of at its regular $1.99 price. [
Direct Link
]
The iPad version of the app,
ProCam XL 2
is also free. [
Direct Link
]
Posted in iOS Blog | Comments Off
Thursday, January 29th, 2015
Elgato recently
announced
that it is recalling some of its Smart Power 6000 mAh battery packs, as they can overheat while recharging. The company sent out notices to app users today, letting them know about the recall.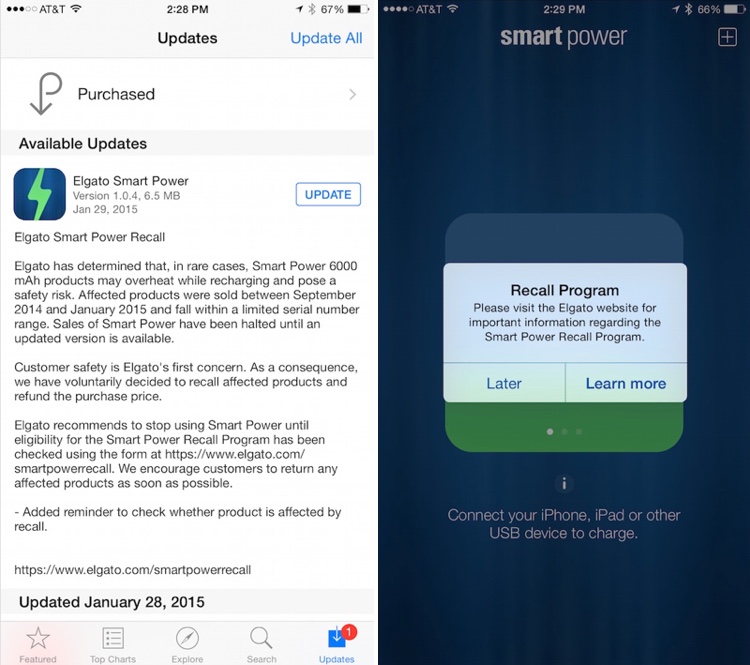 For those unfamiliar, the $99 Elgato Smart Power battery pack is a compact 6000 mAh external battery that integrated with an iOS app, a neat feature that allowed users to wireless monitor the charge level of the device and receive notifications when the battery was low or needed recharging.
MacRumors
went hands-on
with the Smart Power back in December and found it's app integration to be highly useful.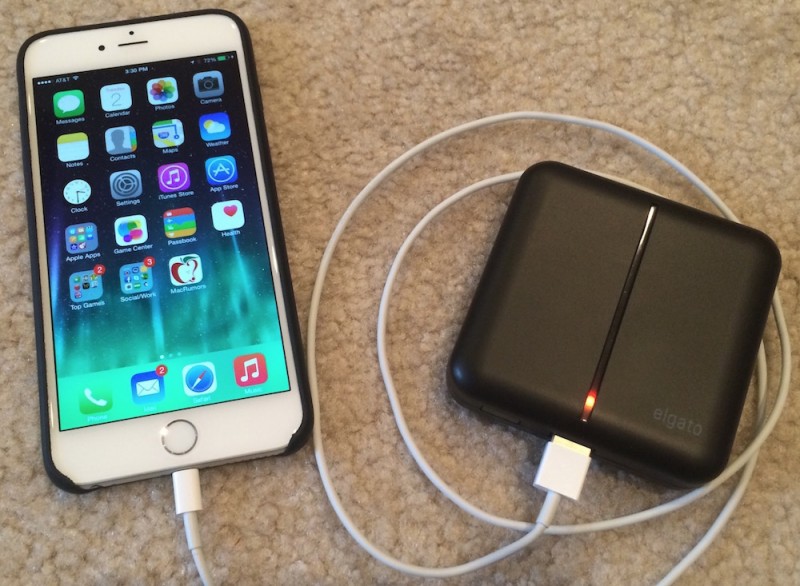 According to the company, affected Smart Power battery packs were sold between September 2014 and January 2015 and "fall within a limited serial number range." Affected customers can check if their product is affected by entering their serial number on
Elgato's website
.
Elgato has ceased selling the Smart Power until it can release an updated version, and all current owners of affected products will receive a full refund. The company recommends that users cease using their battery packs until they're able to check whether they have a product with overheating issues, and Elgato also encourages all customers to return affected products "as soon as possible."
Posted in iOS Blog | Comments Off
Thursday, January 29th, 2015
Facebook for iOS is
gaining a major new feature
today, which is designed to provide Foursquare-style recommendations on the places that users visit. Called Place Tips, the tool will offer up posts and photos that a user's friends have shared at the same location that's being visited.
For example, when visiting a restaurant, if a Facebook friend has previously been to the same spot, Place Tips will display any photos and posts that were made at that location, letting users know what might be good to order or what to avoid.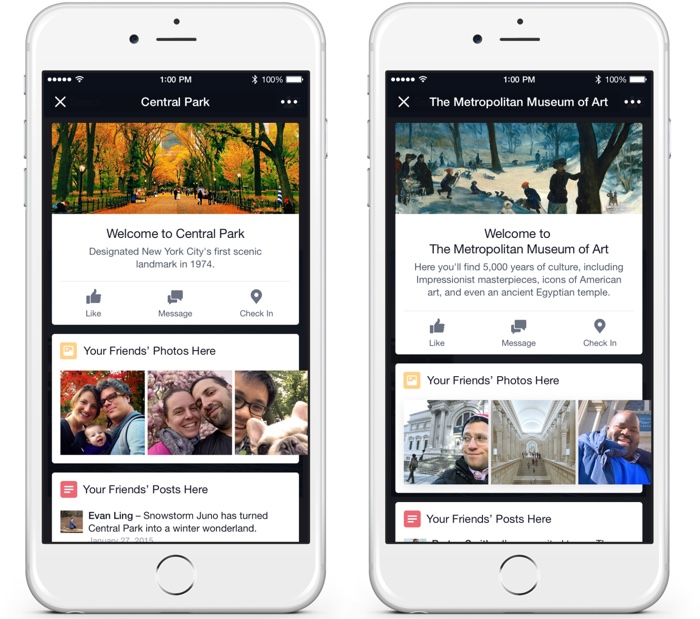 From friends' recommendations to information about the places and things that interest you, Facebook helps you connect with the world around you. To better show you this content at just the right place and time, today we're launching a new feature called place tips. Place tips will show you fun, useful and relevant info about the place you're at. Tapping on place tips won't post on Facebook or show anyone where you are.
As of today, iPhone users may begin seeing Place Tips at the top of their news feeds within the iOS app. Tapping on a tip will display cards with information about the location as well as posts and photos from friends. Place Tips are sent out to users who have given Facebook permission to access their location, and it can be
disabled
in the Settings menu. The feature uses a combination of cellular networks, Wi-Fi, GPS, and Facebook Bluetooth beacons to determine user location and deliver information.
For the time being, Place Tips will be limited to specific areas where Facebook is testing the feature in New York. Users visiting areas like Central Park, Brooklyn Bridge, Times Square, and more will be seeing the notifications.
Facebook
for iOS can be downloaded from the App Store for free. [
Direct Link
]
Posted in iOS Blog | Comments Off
Thursday, January 29th, 2015
Following Apple's earnings call on Tuesday in which Tim Cook
stated
the company "saw more new customers to iPhone than we've ever seen before," research firm Consumer Intelligence Research Partners (CIRP) today
released
(via
Fortune
) a report delving into the specifics of the Android-to-Apple switching statistics revealed by Apple.
Expectedly, the report - which surveyed 500 Apple device customers inside the U.S. only - notes most Apple iPhone users returned to the company with the newest iteration of the iPhone last year. But the rate of Android switchers migrating platforms to the iPhone 6 or 6 Plus wasn't much changed.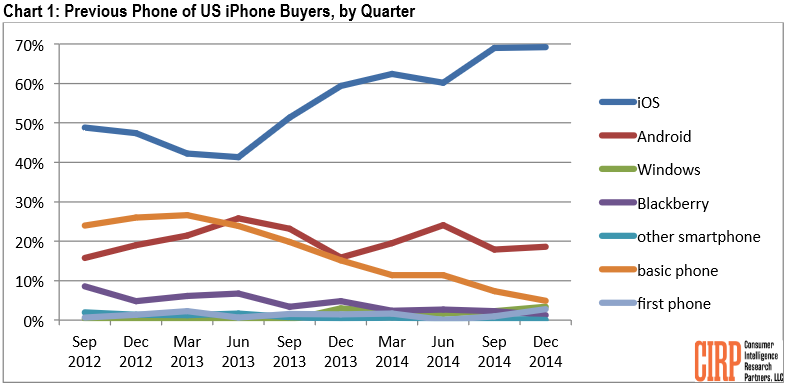 CIRP notes that the rate of Android switchers has "varied seasonally, yet remained relatively consistent," and this quarter's U.S. numbers have the firm speculating the biggest rate of Android-to-Apple switching occurred outside of the U.S.
"Apple CEO Tim Cook indicated the iPhone 6 and 6 Plus 'experienced the highest Android switcher rate in any of the last three launches.' The US switch rate for the iPhone 6 and 6 Plus launch did increase relative to the iPhone 5S/5C launch a year ago, and was about the same as the iPhone 5 launch in 2012. This week, Apple emphasized the international strength of the iPhone 6 and 6 Plus launch, so it appears that Apple enjoyed a much higher rate of Android switching outside the US than in the more mature US market," said Mike Levin, Partner and Co-Founder of CIRP."
Given Apple's strong position in the smartphone market in the U.S., where there is a strong base of iPhone-to-iPhone upgrades and fewer from Android-to-iPhone, CIRP's report probably isn't too far off from fact. Apple's smaller presence in emerging markets like China, where it has been
seeing very strong growth
thanks to a
few notable
partnerships
and
store openings
in the country has likely fueled some overseas brand switching among previously loyal Android users.
Posted in iOS Blog | Comments Off
Thursday, January 29th, 2015
Microsoft today
launched
its official Outlook app for iOS, which allows users to easily view and organize their email inbox, calendars, attachments, and more under one unified view. The app works with Microsoft's own Outlook.com and Office 365 services, while iCloud, Gmail, and Yahoo Mail are also compatible. Outlook for iOS also features quick gestures, as users can simply swipe to delete, archive or schedule messages.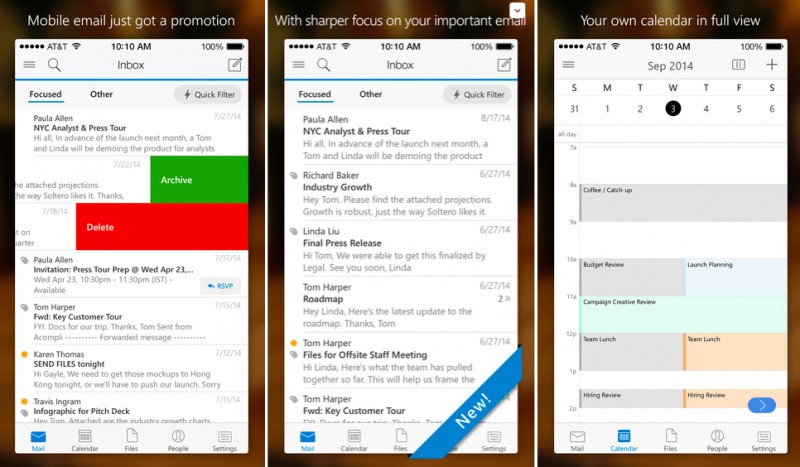 Now, with Outlook, you really can manage your work and personal email on your phone and tablet – as efficiently as you do on your computer. And, because we know that everyone has their own, unique way to manage email, Outlook offers customizable swipes and actions, so you can tailor the experience just the way you like it. Beyond email, the new Outlook app offers integrated calendaring that makes scheduling a meeting or sharing your schedule a single tap away.
Outlook for iOS is the first app developed by Microsoft after its
acquisition
of email startup
Accompli
, which also previously developed an email client app for iOS and Android. Microsoft has stepped up its efforts in the realm of mobile productivity in the past year,
bringing
Office to iOS last March and launching updates that added
printing capabilities
and
third-party fonts
.
Microsoft Outlook
is a free app for iOS devices and can be downloaded through App Store. [
Direct Link
]
Posted in iOS Blog | Comments Off
Wednesday, January 28th, 2015
Back in March of 2014,
iSkelter
launched the
SlatePro TechDesk
on Kickstarter, which was designed with built-in docks and cutouts to accommodate Apple devices like iPhones, iPads, and MacBooks.
The desk was highly successful, leading the company to create a
range of furniture products
aimed at MacBook and iPhone users, including the new SlatePro TechDesk Special Edition. The SlatePro TechDesk Special Edition is a new version of the original SlatePro desk, introducing an entirely revamped design and several additional features like felt pockets and a dry erase board.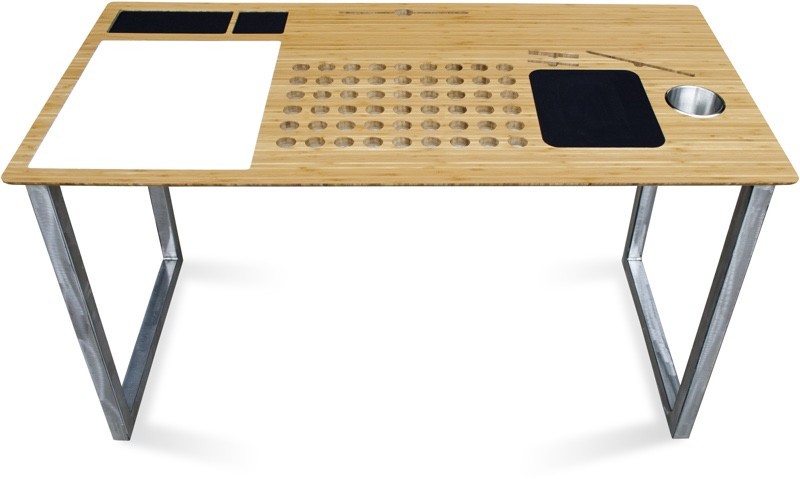 Like the original SlatePro TechDesk, the new edition's main attraction is its built-in air vents for keeping laptops or desktop computers cool and its cutouts that are able to house an iPhone and an iPad. Design wise, the Special Edition SlatePro takes on a more popular U-shape with steel legs and a hazelnut bamboo surface.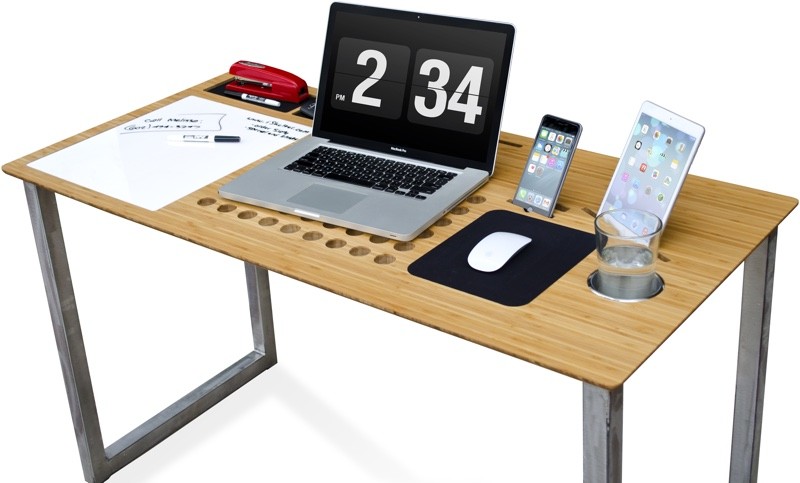 The filing rack has been replaced with a set of recessed felt trays able to hold accessories, pens, and more, and there's now a stainless steel cupholder instead of the original wood. With the hazelnut bamboo and a new beveled edge, the updated version has a much sleeker look. Finally, there's a large dry erase board built directly into the desk for taking notes.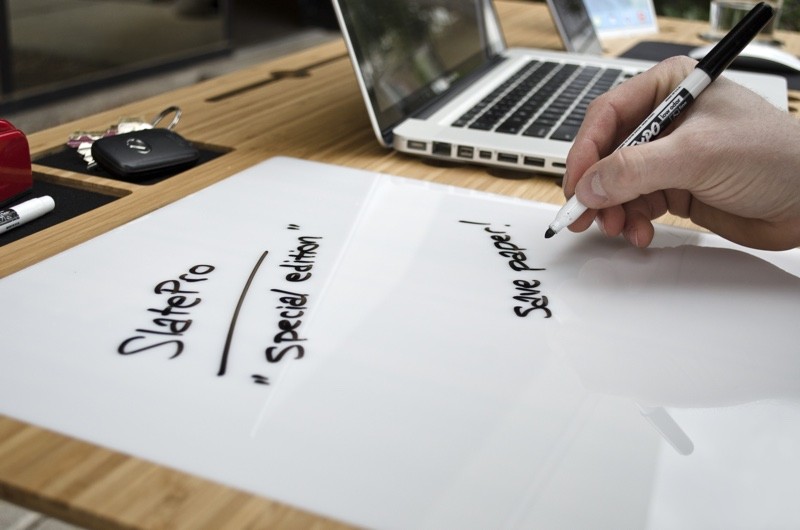 When ordering a SlatePro, it can be customized with a variety of options. Users can choose a left or right setup, and opt to remove any of the available features like the ventilation holes, dry erase board, display docks, mousepad, or drink holder.
The SlatePro TechDesk Special Edition is currently on sale and can be purchased from the
iSkelter website
for $598. The original SlatePro TechDesk is
available for purchase
at prices starting at $498. iSkelter also produces a range of lap desks and device docks, with prices that start at $30.
Posted in iOS Blog | Comments Off
Wednesday, January 28th, 2015
Following the release of
Pushbullet for iOS, Mac, and Safari
, we have been testing out the new software to see how well it keeps notifications, links, photos and other files in sync between devices. Pushbullet is the marriage of
AirDrop
,
Notifyr
and other OS X Yosemite features in one package, but is it a worthwhile alternative? Find out our first impressions in our hands-on video ahead.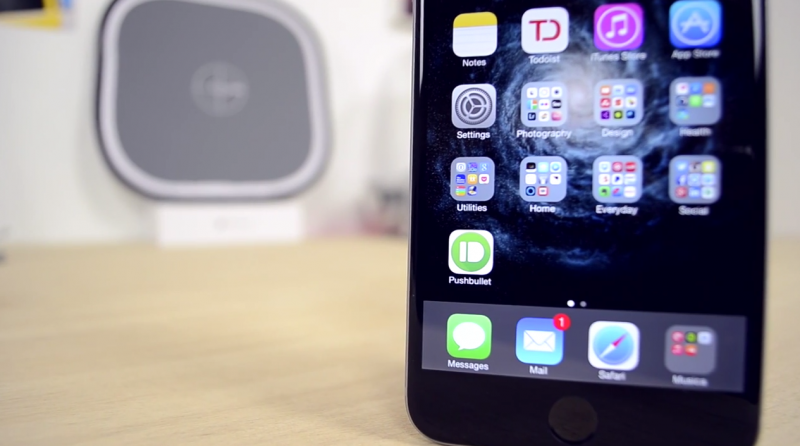 The process of setting up Pushbullet takes just a few minutes. Depending on which platforms or web browsers you want to send and receive links and files between, download the Pushbullet apps or extensions that you need and make sure that iOS to Mac notifications and universal copy and paste are enabled in each app's preferences. iOS and Mac apps are available alongside
Safari, Chrome, Firefox and Opera extensions
.
You can optimize your experience further by going into the Mac app's preferences and checking off specific apps that you would like to receive iOS notifications from. For instance, if you already receive mail notifications on your desktop, then you probably don't need Pushbullet pushing the same mail notifications from your iPhone. Notification settings can be configured for both stock and third-party apps.
Pushbullet for iPhone has four tabs: Pushbullet, Contacts, Channels and Settings. The main launch screen allows you to compose a message, add links, attachments or maps, and send it to another device you have set up Pushbullet on. Contacts displays a list of your paired devices, contacts and subscriptions. Channels provides push notification feeds that you can subscribe to. Last, the Settings tab gives you a few options such as your choice of Safari or Chrome for opening links and Apple Maps or Google Maps for opening addresses.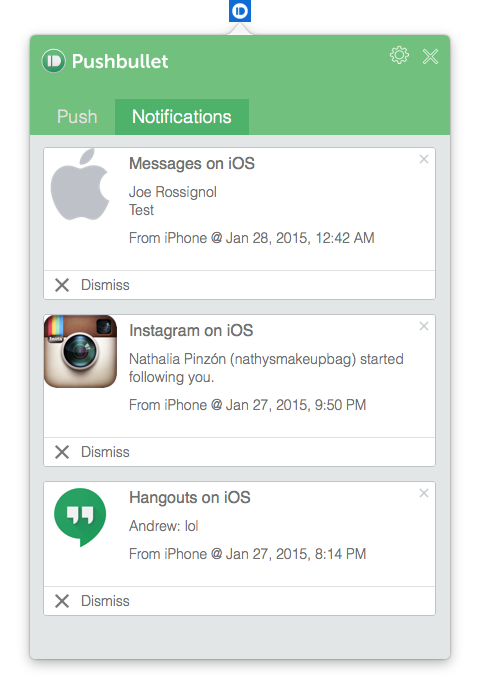 While much of its core functionality is already possible through other apps and services, Pushbullet for the most part has proved to be a faster and more reliable solution for quickly sending notes, links, files and more between a smartphone and computer or vice versa. Channels also provide a great way for receiving notifications from a particular source so that you can stay informed at all times.
Overall, Pushbullet is a worthwhile recommendation for iPhone, iPad, Mac and Safari users that are looking to move lots of content between devices.
Pushbullet for iOS
[
Direct Link
],
Pushbullet for Mac
[
Direct Link
] and the Safari extension are all free to download, making the software an even more valuable option for multi-device users.
Posted in iOS Blog | Comments Off
Wednesday, January 28th, 2015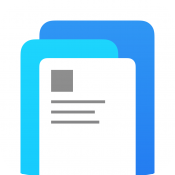 Facebook today updated its
Paper
app to version 1.2.5, adding several improvements to the app's photo management capabilities. It's now possible for users to access their "Favorited" photos album on iOS for faster sharing of preferred photos, and the Camera Roll in the app organizes photos by date.
The "Favorites" album was introduced with the iOS 8 Photos app revamp and houses all of the images that a user favorites via tapping the heart icon on individual pictures within the app.
Today's
Paper
update also includes performance enhancements that are designed to make various features within the app run faster, including photo uploads.
We've been working to perfect your experience with Paper. In this release, we've focused on making it even faster and easier for you to share photos, in addition to fixing a few issues you've let us know about. Thanks for your feedback!

Here's what's new and improved:

- Camera Roll organized by date. When selecting media to share in the composer, photos and videos are now organized by the date they were taken.
- Share your Favorited photos. Quickly share photos from the new Favorites album introduced with iOS 8.
- Faster performance. We've improved the responsiveness of several parts of Paper including posting a photo.
First introduced in
January of 2014
, Facebook's
Paper
app is a news creation and curation tool that pulls in content from a user's Facebook news feed and other well-known publications, organizing it into a magazine-style layout for easy reading. Many people have come to prefer
Paper
over the standard
Facebook
app to read through their news feeds.
Facebook's
Paper
app can be downloaded from the App Store for free. [
Direct Link
]
Posted in iOS Blog | Comments Off
Wednesday, January 28th, 2015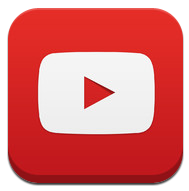 YouTube yesterday
announced
it has begun using
HTML5
video by default for all playback on its website, marking a substantial step in its gradual move away from Flash. The company states the new default will work in most popular web browsers including Safari.
Richard Leider, Engineering Manager for YouTube, reiterated on the adaptability of HTML5 over Flash and the use of the former's capabilities beyond a simple web browser. With YouTube's extension to devices like gaming consoles, and even the Apple TV, the benefits of dropping Flash became far more apparent over the years.
Over the last four years, we've worked with browser vendors and the broader community to close those gaps, and now, YouTube uses HTML5 by default in Chrome, IE 11, Safari 8 and in beta versions of Firefox.

The benefits of HTML5 extend beyond web browsers, and it's now also used in smart TVs and other streaming devices.
The new shift to HTML5 will allow better video streaming in adjustment to shifting network conditions, quicker video playback, easier access to 60 FPS HD and 4K content, with updates to encrypted media extensions that will allow the service to overall be "faster and smoother."
Despite having long dominated web video and other interactive content, Flash has been under fire for years over to performance and security issues. Back in 2010, Steve Jobs
famously wrote
an open letter, his "
Thoughts on Flash
," to address the ongoing controversy over Apple's refusal to support Flash on its iOS devices. After summing up a series of shortcoming of Flash, Jobs end his letter by suggesting "Adobe should focus more on creating great HTML5 tools for the future, and less on criticizing Apple for leaving the past behind."
Posted in iOS Blog | Comments Off
Wednesday, January 28th, 2015
The U.S. Federal Communications Commission on Tuesday issued a
public enforcement advisory
that warns hotel chains and other commercial establishments about intentionally blocking or interfering with Wi-Fi hotspots. The FCC's Enforcement Bureau claims that interfering with Wi-Fi hotspots is illegal and that it will take appropriate action against violators by imposing substantial fines.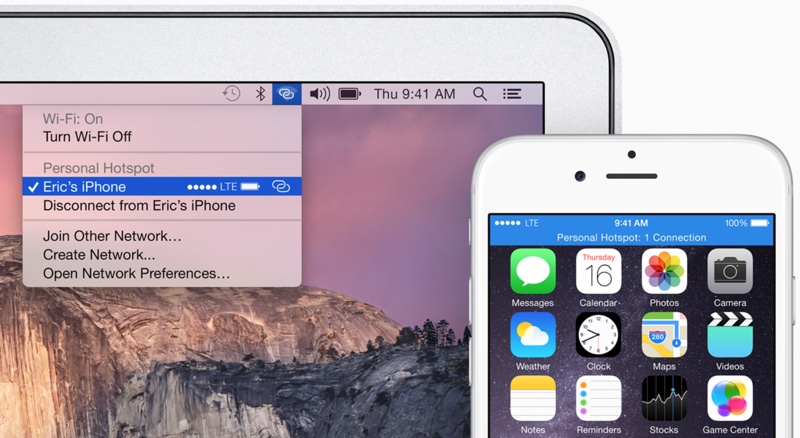 The warning follows an FCC investigation in which the government agency discovered a so-called "disturbing trend" where hotels and other commercial establishments were purposefully blocking wireless customers from connecting to their Wi-Fi hotspots. Marriott Hotels was found to have "deployed a Wi-Fi deauthentication protocol" to block customers from accessing Wi-Fi and agreed to pay a $600,000 fine.
iPhone users have long resorted to Personal Hotspot to turn their cellular data connection into a Wi-Fi network for the purpose of tethering a Mac or other connected device. Apple made Personal Hotspot more convenient in iOS 8 with
Instant Hotspot
, a new feature that automatically detects when an iPhone is within close range of an iPad or Mac and displays the device in the list of available Wi-Fi networks.
Posted in iOS Blog | Comments Off