Archive for the 'iOS Blog' Category
Friday, July 3rd, 2015
After the launch of Apple Music earlier in the week, many users began searching and following their favorite artists on Apple's new social platform Connect, which aims to showcase new songs, videos, and pictures to fans of artists like Pharrell, Dr. Dre, and more, directly within the app. The process that artists have to take to create content for their fans was unknown, until today, when app developer and indie musician of the band Airplane Mode, Dave Wiskus, posted a
detailed summary
on his blog of the steps needed to make a post on Apple's new social platform.
Wiskus hoped that Apple's promise of Connect at WWDC meant a more level playing field between the musician and app developer worlds within the iTunes marketplace, and that "giving musicians any control at all over their brand identity on the iTunes Music Store," would create a more stress-free and inviting platform for musicians, especially independent ones. So, Wiskus and his band
Airplane Mode
decided to put Connect through the ringer: debuting a
brand new track
on the service and seeing if the fans' connection is as front-and-center as Apple intended.
The musician's first thoughts of the upload process are summed up in one word: "clunky." Wiskus found he needed the song he wanted to post to be in My Music in the iOS Music app, so for a brand-new, unreleased track, he had to sync it off his computer and then search for it on iOS.
GarageBand updates
for iOS and Mac released earlier this week also support uploads to Connect, but it is unclear if the format and process of using those apps was even more awkward or if Wiskus was unaware of these options.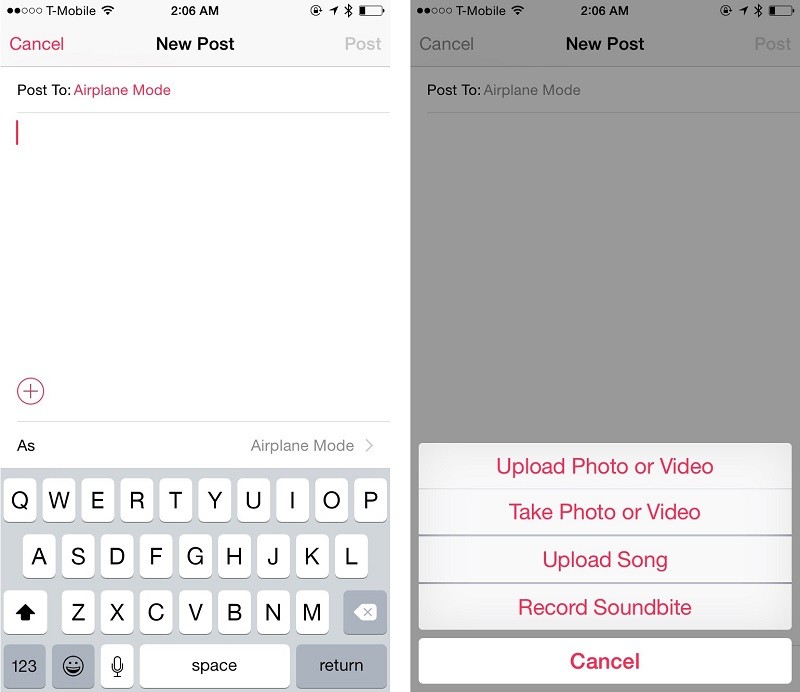 In the next step -- giving musicians the ability to edit song artwork and track details -- Wiskus also had troubles with finishing up the post, the "Done" button staying grayed out and refusing to let him finish up and send it out to fans. After trying basic troubleshooting like backing out and making sure all the required fields were filled in, he discovered the problem: "I had to edit the artist name, add a space, and then remove the space. Then I could post the song. Of course."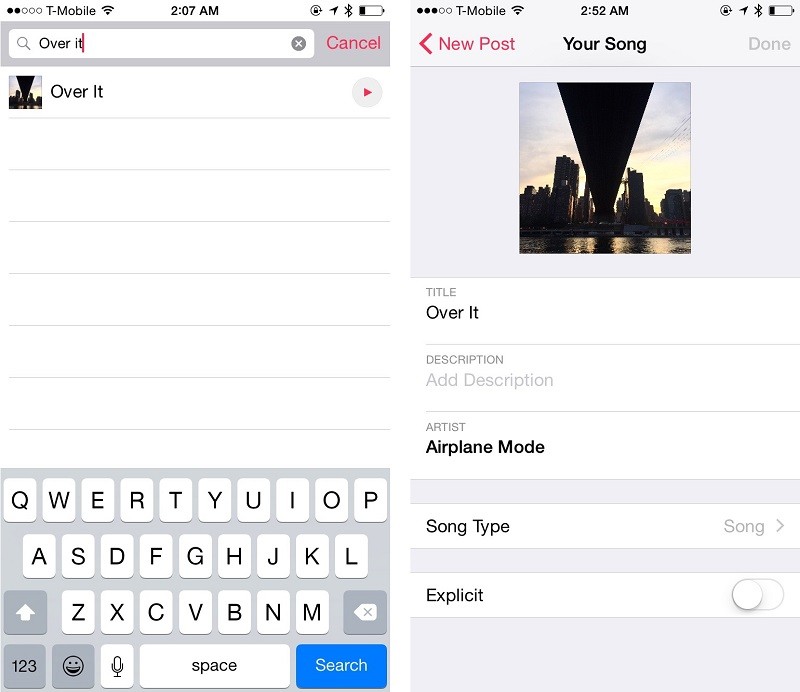 He also wondered how someone would delete a Connect post should there be a mistake, but eventually discovered that each post on the service can be brought up in a single post view with a "Delete" option. The issue being that since the entire post is treated as an interactable, tappable cell, "it's not obvious" for users who may need to delete something in a hurry. But the musician noted that the biggest personal drawback is the complete lack of any in-depth fan interaction for his band once the content is actually uploaded to Connect.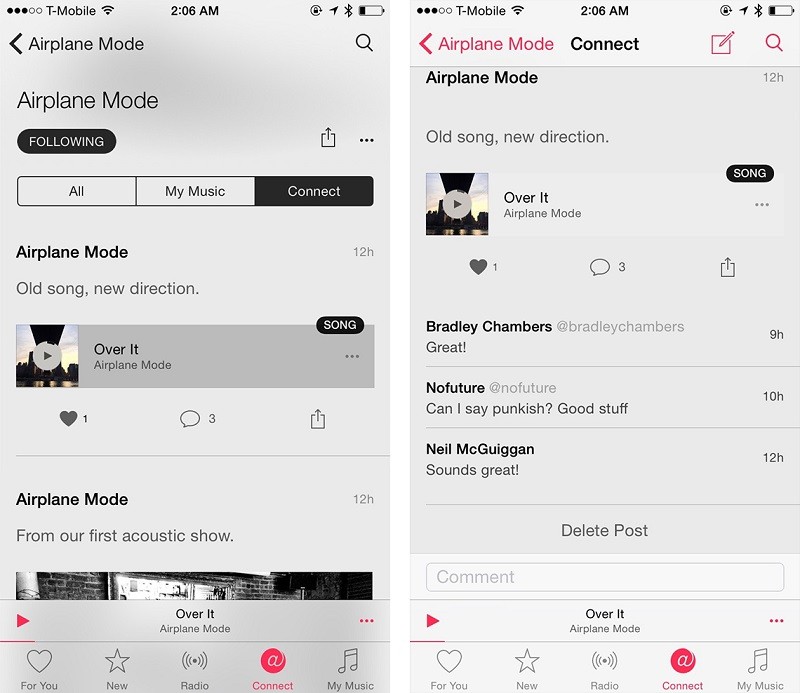 But the worst offense of all is this: I can see no way to invite people to follow us on Connect. I can share the link. I can even tweet about it. Yet there's no way to know how many followers we have, encourage people to follow us, or directly engage with anyone who hasn't already purchased a song from us on iTunes. That feels broken. Somehow people were able to comment, which is great, but it makes me sad that I feel no sense of… well, connection. And I really, really want that connection.

Someone asked why I believed that Connect would ever be better than Ping, Apple's previous attempt at socialifying iTunes. Ping's mistake was that it tried to connect listeners to each other, as a way of discovering new music. Apple Music has re-thought that problem in some very interesting ways, and early indications are that the new approach works. For the social component, Connect wants to be about connecting artists with their listeners, but at the moment, it falls short.
While Connect lacks any of these basic features that services like Twitter and Facebook provide in abundance, Wiskus encourages Apple to begin consulting with bands who have both made it and use social media successfully every day, and the ones who haven't yet but know the tools they need to make it there.
The indie musician makes multiple good points, especially in the lack of any in-depth social networking features on the service. Taking his band's
new post
as an example, Airplane Mode's post for the new song "Over It" got 7 loves and 4 comments, but the band can't determine its own follower count or the amount of people that actually interacted with the post.
Lacking as well is any interaction on a user's name or handle, which aren't clickable on iOS or Mac and PC, leaving musicians with no real way to browse their fan community in any meaningful way. But, as Wiskus notes, the service has laid the groundwork for a possibly richer version of itself in the future. "These are early days," the musician notes, "And there's hope."
Posted in iOS Blog | Comments Off on Apple Music Connect's 'Clunky' Posting Process Detailed by Indie Artist [iOS Blog]
Thursday, July 2nd, 2015
Apple's new subscription-based music service launched earlier this week, and even if you've taken advantage of Apple's free three-month trial to see if it is worth your dime and time, there are a few things you may not have discovered yet about its features.
While our
Getting Started guide
gives an overview of how to get up and running, this article gives more details on some of the things you can do with Apple Music and how to make it work for you. If you've noticed any other features we haven't listed yet, feel free to let us know in the forums.
Add a Nickname to Your Profile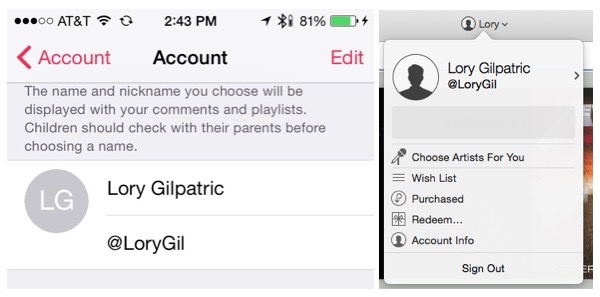 You could stick with your full Apple ID name, or change it to something that fits you better. Apple lets you add a nickname to your ID, which will be displayed on playlists and comments. Nicknames are unique, so the earlier you grab one, the better.
On iOS:


Open the Music app and tap on any of the main section icons in the bottom toolbar if you're not already on a main page.


Tap the silhouette profile icon in the upper left corner of the main screen.


Tap your name. Then tap the Edit button to add a nickname.


In iTunes:


Click on the arrow next to your name, and then click on your Apple ID.


Enter a nickname in the fill-in form.


Start a Station Based on a Song or Album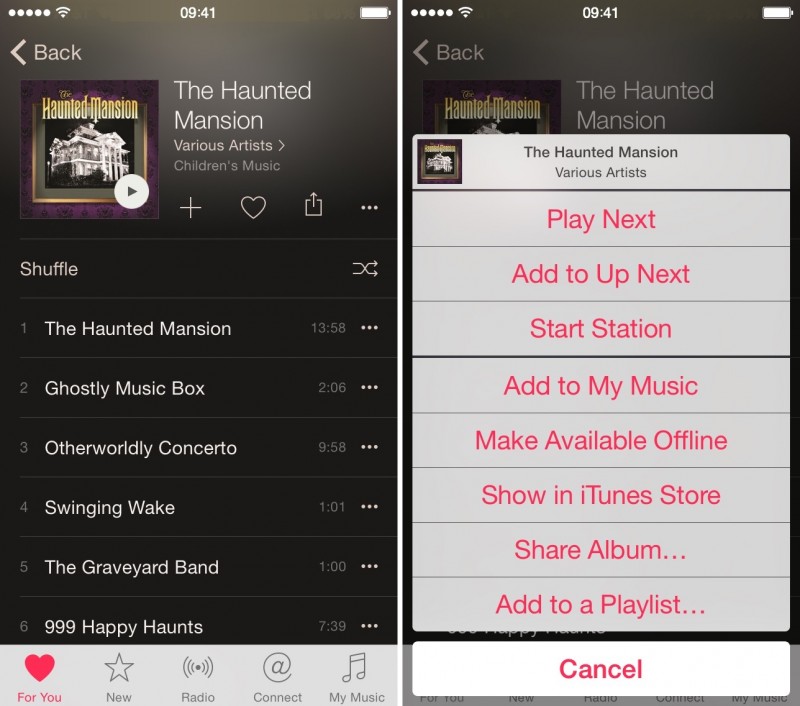 You can start a new station based on a song or album in either your music library or Apple Music. Tap the three dots next to the song or album to call up additional options. Then, tap "Start Station" on iOS or "New station from artist or song" on OS X to begin listening to tracks.
(more…)
Posted in iOS Blog | Comments Off on Apple Music Tidbits: Nicknames, Playlist Management, and More [iOS Blog]
Thursday, July 2nd, 2015
Beats 1
is a multi-genre radio station for iPhone, iPad, Mac and PC that plays a wide variety of songs from indie and popular artists alike, but there is currently no way to identify tracks that have already been played. To solve that problem, web apps developer
Callum Jones
has created an unofficial Twitter account that live tweets songs as they are played on Beats 1 Radio (via
The Next Web
).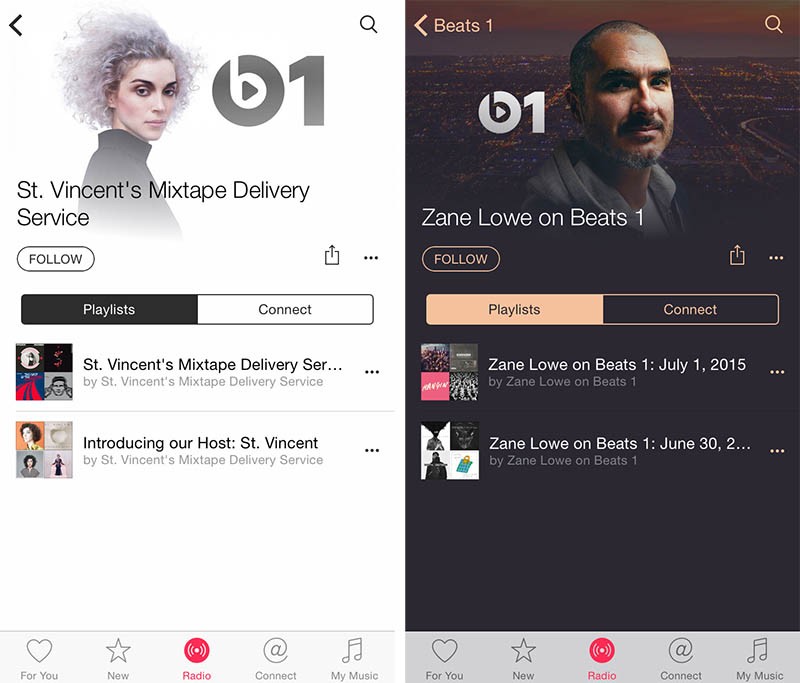 Beats 1 does offer archived playlists of tracks aired during featured shows
The new Twitter account is aptly named "
Beats 1 Plays
" and makes a single tweet each time a track is played on Apple's live 24/7 global radio station, including the name of the song and artist with a #Beats1 hashtag. Simply
follow the account
on Twitter and you will no longer have to worry about missing out on what is playing while you are not tuned in.
Beats 1 does offer archived playlists of songs that aired during the radio station's featured shows anchored by DJs such as Zane Lowe, Julie Adenuga and Ebro Darden. To access those playlists, open Apple Music, tap on the Radio tab, open the Beats 1 radio station, scroll down and select a featured show and tap on the Playlists tab.
Posted in iOS Blog | Comments Off on 'Beats 1 Plays' Live Tweets Songs Played on Beats 1 Radio [iOS Blog]
Wednesday, July 1st, 2015
Apple Music made its worldwide debut in over 100 countries on June 30, with a free three-month trial available for customers to try the streaming music service. Apple requires having a valid payment method associated with your iTunes account to enable the trial, such as a credit card, and both Individual Plan and Family Plan subscriptions are set to automatically after the trial. For those that only want to try the Apple Music trial, learn how to turn off automatic renewal below.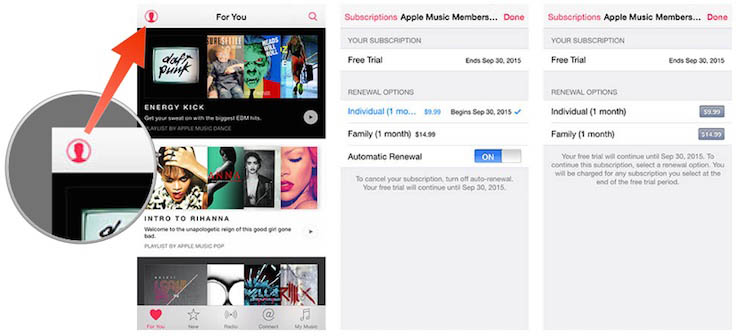 How to Disable Automatic Renewal
Tap on the Account icon in the top-left corner of any tab.

Tap on "View Apple ID" and sign into your iTunes Store account.

Tap on "Manage" under the "Subscriptions" menu.

Tap on your Apple Music Membership, which should currently be "Active."

Toggle off "Automatic Renewal" under the "Renewal Options" menu. Confirm the action.

Turning off automatic renewal will enable you to try out Apple Music on iPhone, iPad and iPod touch without the streaming music service renewing after the free three-month trial period expires. To reenable a recurring Apple Music subscription, simply follow the steps above and toggle on automatic renewal again. Your settings will also be applied to to the iTunes version of Apple Music on Mac and PC.
Posted in iOS Blog | Comments Off on How to Disable Automatic Subscription Following Apple Music Trial [iOS Blog]
Wednesday, July 1st, 2015
Olloclip
is today introducing
a new line of "Studio System" accessories
designed to work with its existing Olloclip lenses, further enhancing the iPhone's photographic capabilities. The system, available for the iPhone 6 and 6 Plus, includes a Studio Case, a Finger Grip, a Kickstand, tripod mounts, and Cold-Shoe Adapters for attaching accessories like microphones and flashes to the iPhone.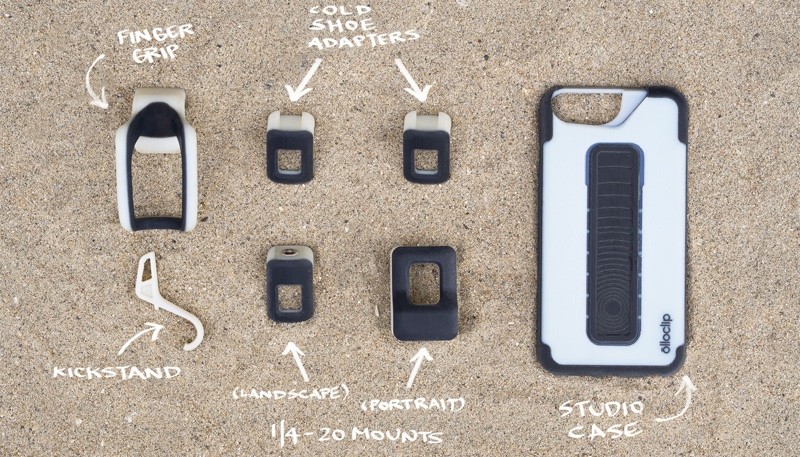 A rugged protective case is the key piece of the Studio System, because it includes a built-in mounting solution that can accommodate the other Studio parts. Once the Studio Case is attached to the iPhone, an adjustable and removable Finger Grip slides onto the back of the case, fitting neatly into the rail grooves.
The Finger Grip is designed to allow for smoother, less bumpy photos and video, and it can also be used as a stand, as can an additional Kickstand. Cold-Shoe Adapters attach to the side of the case to hold equipment like microphones or flashes, and the whole system can work with tripods, grips, and handles using the two included 1/4-20 clips, with one each for landscape and portrait modes.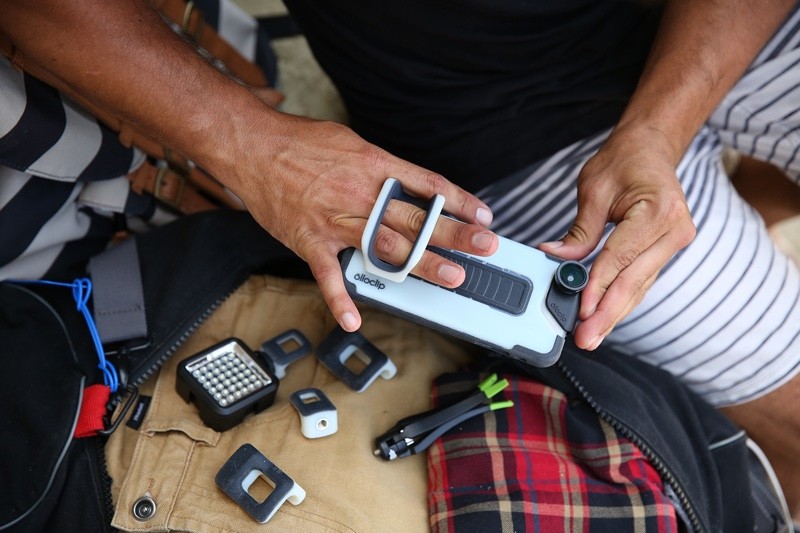 The olloclip Studio system combines an all-new, more-protective case design with an integrated mounting solution (patent pending) and a series of mobile photography accessories. Both the case and accessories are designed to intuitively work together the moment you pick them up. Unlike many of today's modular mobile grip systems, olloclip's Studio components work together seamlessly, so photographers can focus on quickly capturing the opportunity in front of them and not on building a rig.
Because Olloclip is entering a new product category with the Studio System, the company has decided to return to its roots - Kickstarter. Olloclip started out on Kickstarter back in 2011, and since then, demand for its accessories has grown as the iPhone has become a more popular photography choice, replacing point and shoot cameras.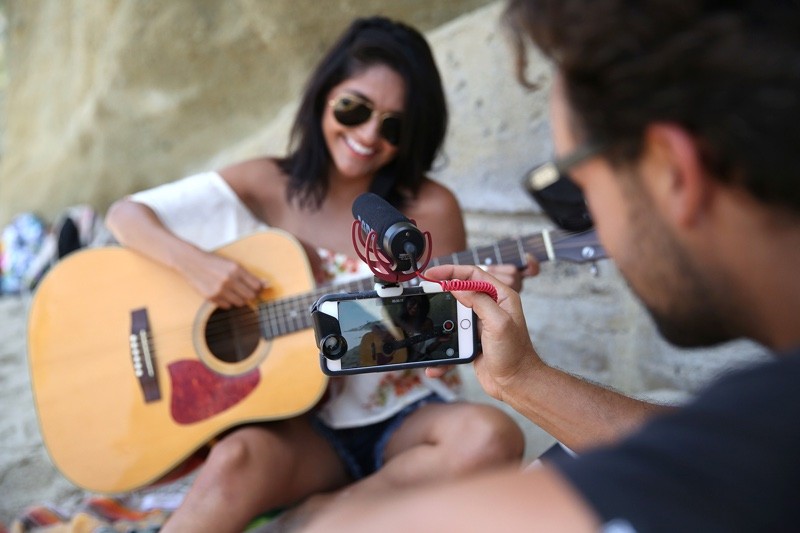 The Studio System is
debuting on Kickstarter
, and Olloclip tells
MacRumors
that it made the choice to use the crowdfunding site in order to gauge customer interest and get feedback on its new accessories. For example, Olloclip will choose colors for the Studio Case based on customer feedback.
According to Olloclip, its new Studio System was designed in response to both customer and retailer demand, and it's something customers have requested for quite awhile. In the future, Olloclip plans to introduce additional accessories that can work with the new Studio System based on what customers ask for.
Olloclip is offering
several different reward options
for the Studio System. The most inexpensive tier includes the Studio Case and a Kickstand for $35, while the whole Studio Case and Accessory Kit are available for $60. Additional tiers include the Studio System and various Olloclip lenses.
To thank the people who support the new system in its early days, reward tiers are being offered at 30 to 40 percent off retail price. Olloclip expects to ship rewards to backers in September of 2015, at the end of the month.
Posted in iOS Blog | Comments Off on Olloclip Debuts New 'Studio' Mobile Photography System to Accompany Lenses [iOS Blog]
Wednesday, July 1st, 2015
Earlier today, Apple launched their much anticipated
Apple Music
streaming service. The iPhone app includes dedicated tabs called "For You", "New", "Radio", "Connect", and "My Music". The first two tabs offer areas for music discovery, while "Radio" provides themed stations as well as Apple's own Beats 1 Radio. Meanwhile, the last tab, "My Music" provides you with access to the rest of your existing music catalog as well as any new songs you might add from Apple Music.
The "Connect" tab, however, is a new service from Apple which is described as a place where "musicians give their fans a closer look at their work, their inspirations, and their world." Similar to a social network, it allows users to "follow" their favorite artists and see additional content.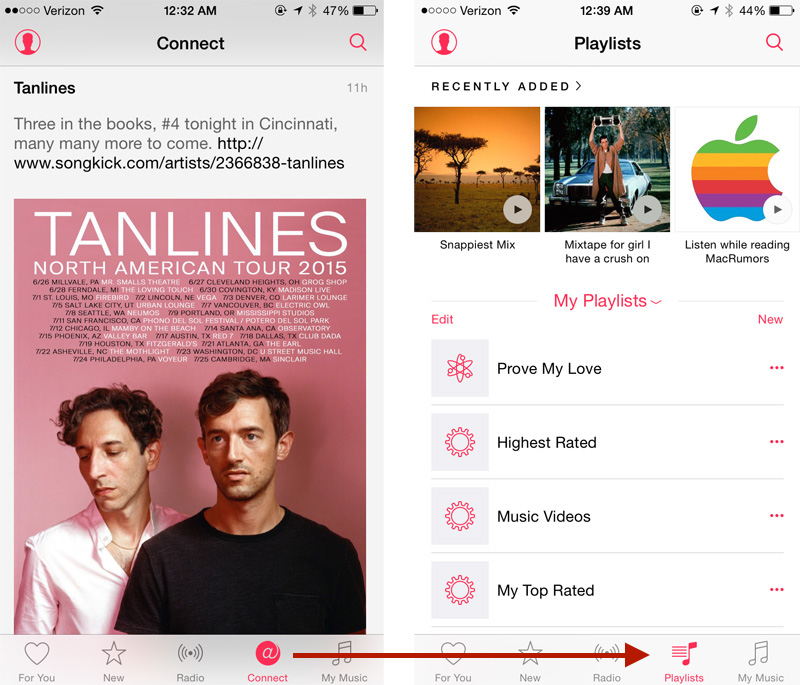 If "Connect" doesn't interest you,
MacRumors
reader Eric points out a handy tip to replace the "Connect" tab with a dedicated "Playlists" tab which he describes as "much more useful".
Under Settings -> General -> Restrictions, Apple allows you to disable "Apple Music Connect" which removes the Connect tab and provides the alternate Playlist functionality.
Thanks Eric
Posted in iOS Blog | Comments Off on Replace the 'Apple Connect' Tab with a 'Playlists' Tab in Apple Music [iOS Blog]
Tuesday, June 30th, 2015
One of the upcoming segments on Beats 1 radio is called "Requests," and it appears this broadcast will feature songs that have been requested from Beats 1 listeners around the world. According to a tweet from the
Beats 1 Twitter account
, users can request a song by calling in to the station.
The
Apple Music Tumblr site
has a page that's
dedicated to requests
, listing phone numbers around the world for listeners to call to request a song. In the United States, the number for making a request is 1-310-299-8756, or 1-877-720-6293 for toll free.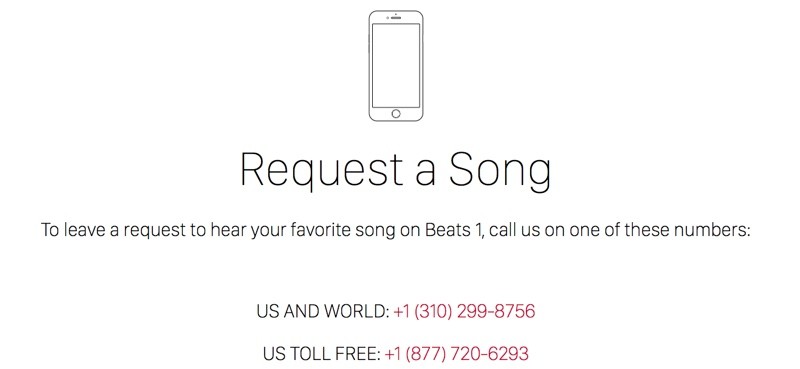 Hi - In a few hours we turn the show over to you. Hit us w/ your requests for @ilovetmills: http://t.co/9uRuyaRchl #Beats1Requests

— Beats 1 (@Beats1) June 30, 2015
There are also
phone numbers listed
for Canada, the U.K., France, Japan, Germany, Brazil, Mexico, Dominican Republic, Australia, Italy, Ireland, and New Zealand.
"Requests" will play at 5:00 p.m. Pacific Time, and the segment will be hosted by
Travis Mills
, who is located in Los Angeles. Mills' show will come on following Ebro Darden, who goes live at 3 p.m. Pacific Time. It is not clear if the requests that Beats 1 is asking for will be limited to the "Requests" segment or if they'll also be played at other times on Beats 1 radio.
Beats 1 radio debuted today
at 9:00 a.m. Pacific Time in hundreds of countries around the world. It provides 24/7 live music and will also include news segments, interviews, and more. Beats 1 radio is part of Apple Music, which also includes a new on-demand streaming service (free for three months) and Apple Music Connect, Apple's new artist-focused social networking feature.
Posted in iOS Blog | Comments Off on Beats 1 Radio Accepting Song Requests from Listeners [iOS Blog]
Tuesday, June 30th, 2015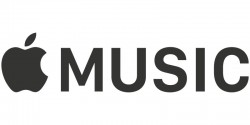 Today marks the official worldwide launch of
Apple Music
, a subscription-based streaming music service and Spotify rival for iPhone, iPad, iPod touch, Mac, PC and, later this year, Apple TV and Android.
Apple Music, arguably the company's biggest music initiative since opening the iTunes Store in 2003, requires updating to iOS 8.4 on iPhone, iPad and iPod touch or downloading iTunes 12.2 for Mac and PC.
Apple Music
Apple Music is an all-in-one streaming music service, live global radio station and social platform for artists to connect with fans. The service costs $9.99 per month, the same price as virtually all streaming music competitors, although Apple is offering a free three-month trial period to encourage customers to try it out. Apple Music is available in over 100 countries, including the United States.
Apple Music provides unlimited streaming of almost the entire iTunes Store catalog of music without needing to purchase songs or albums individually. Instead of paying $1.29 per song download, for example, subscribers have millions of songs at their fingertips for essentially the cost of an album. A family plan through iTunes Sharing for up to six members is also available for $14.99 per month.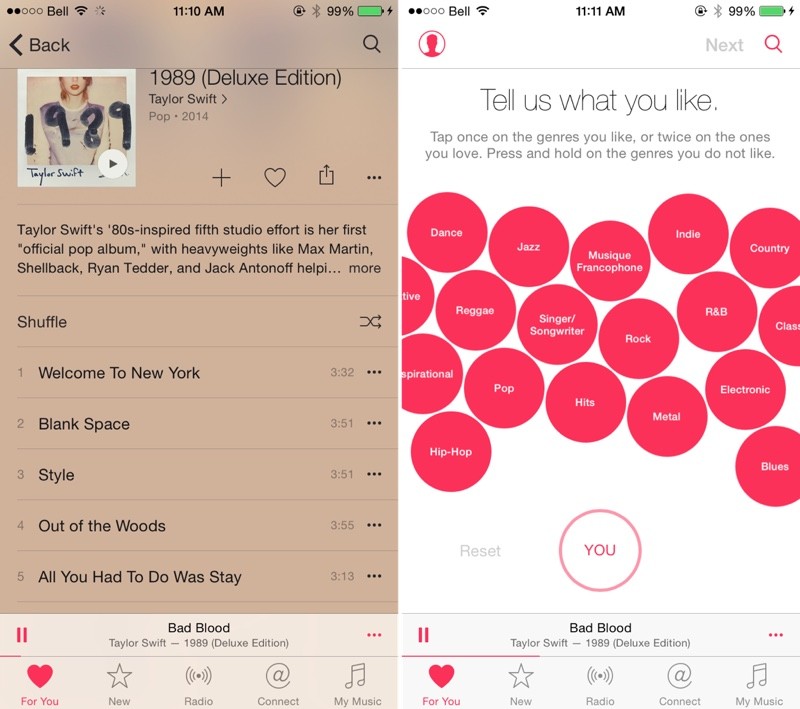 Built into the stock Music app on iOS 8.4 and iTunes on Mac and PC, Apple Music provides side-by-side access to both your downloaded iTunes songs and albums and streaming music library, which should prove to be a more convenient option than third-party apps such as Spotify, Google Play Music and Rdio for most Apple users. Apple succinctly describes it as "the best ways to enjoy music — all in one place."
Apple Music is largely based upon Beats Music, which Apple acquired alongside Beats Electronics for $3 billion last year. For example, the app features human curated playlists and recommendations from artists and music experts for improved personalization over algorithmically created playlists.
While customers do not own their Apple Music collection, the service offers unlimited online streaming over Wi-Fi or a cellular data connection, and the option to download songs or albums for offline playback. As long as a customer continues paying for their monthly subscription, they retain on-demand access to the iTunes Store catalog and their personal playlists.
Just like iTunes Match, Apple Music can scan your iTunes music library and upload any tracks not already included in Apple Music, making them seamlessly available to stream on all of your devices. iTunes Match will remain available as a standalone service priced at $25 per year for those who don't want to subscribe to Apple Music, but Apple Music users won't need to pay for both services.
Right now, Apple Music and iTunes Match can only handle iTunes libraries of up to 25,000 tracks (songs purchased from the iTunes Store don't count toward the limit), although Eddy Cue has said Apple is working to increase the limit to 100,000 tracks later this year as part of iOS 9.
Apple has existing deals with major record labels, including Universal Music Group, Sony Music Entertainment and Warner Music Group, and has also reached agreements with over 20,000 indie labels through Beggars Group and Merlin, meaning that Apple Music should have in the range of 37 million tracks available right now. Comparatively, market leader Spotify has some 30 million tracks available.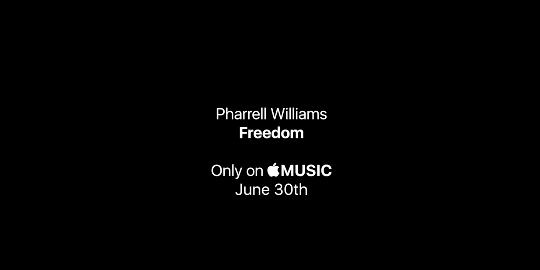 Apple has partnered with artists to offer exclusive content through Apple Music, in an attempt to differentiate the service from competitors. The company kickstarted those efforts by making Pharrell's new single "Freedom" and Dr. Dre's album "Chronic" exclusive to Apple Music, while pop artist Taylor Swift's most recent best-selling "1989" album has landed on Apple Music before any other streaming service.
(more…)
Posted in iOS Blog | Comments Off on Getting Started With Apple Music and Beats 1 on iOS, Mac and PC [iOS Blog]
Monday, June 29th, 2015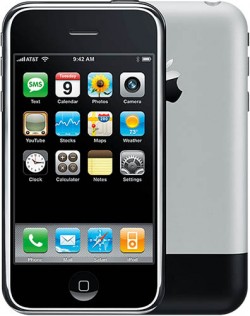 Eight years ago today, the smartphone market changed forever. On June 29, 2007, Apple released the original iPhone with a sleek form factor and revolutionary multi-touch screen and significantly disrupted an industry then dominated by companies such as Nokia, BlackBerry, Sony and Motorola.
The original iPhone was exclusive to AT&T in the United States before launching in the United Kingdom, France, Germany, Portugal, Ireland and Austria in November 2007. The 8GB model initially cost $599 on a two-year contract until Apple dropped the price to $399 in September 2007, far more expensive than today's starting price of $199.
The eighth anniversary of the original iPhone's release takes place just one day before the worldwide debut of Apple Music, another launch that could prove both historic as Apple attempts to enter the crowded streaming music market alongside Spotify, Pandora, Google Play Music, YouTube and other players. Fittingly, many people will try Apple Music for the first time using an iPhone.
Apple has since sold hundreds of millions of iPhones around the world and launched ten models in eight years, ranging from the iPhone 3G and iPhone 3GS to the iPhone 6 and iPhone 6 Plus.
Posted in iOS Blog | Comments Off on Apple Released the iPhone Eight Years Ago Today [iOS Blog]
Friday, June 26th, 2015
Casetify
, a company that makes customizable iPhone, iPad, and MacBook cases, has also begun selling
Apple Watch bands
, which can be printed with any design. Available for both the 38 and 42mm Apple Watches and in two finishes, bands can be customized with photographs or artwork or ordered from Casetify's pre-designed artist collection.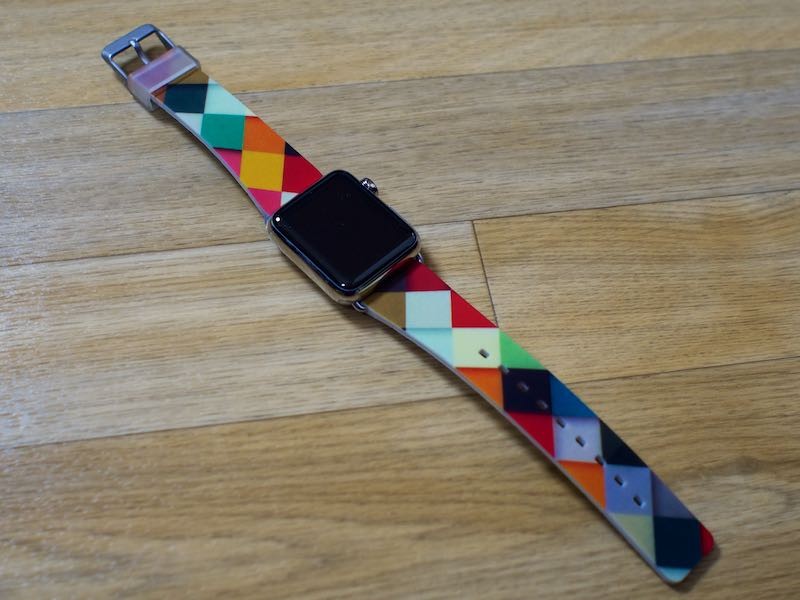 Fit
Casetify's Apple Watch bands are made from polycarbonate and are closest in nature to the Apple Watch Sport bands. I've been wearing a 38mm Casetify Apple Watch band for just over a week and while it is comfortable, the material of the band is not as soft, flexible, or as thin as the fluoroelastomer the Apple Watch Sport bands are constructed from.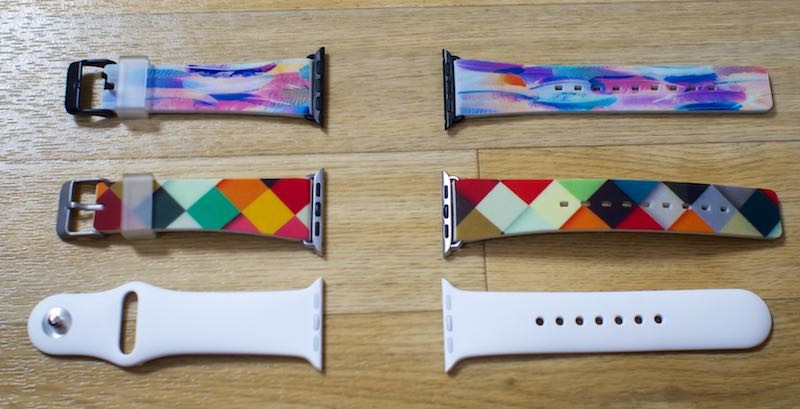 Bands come in two sizes, one for each watch. The 38mm band fits wrists sized 140 to 200mm, while the 42mm band fits wrists sized 150 to 210mm. The underside of each band is ridged, with the Casetify logo printed on each side.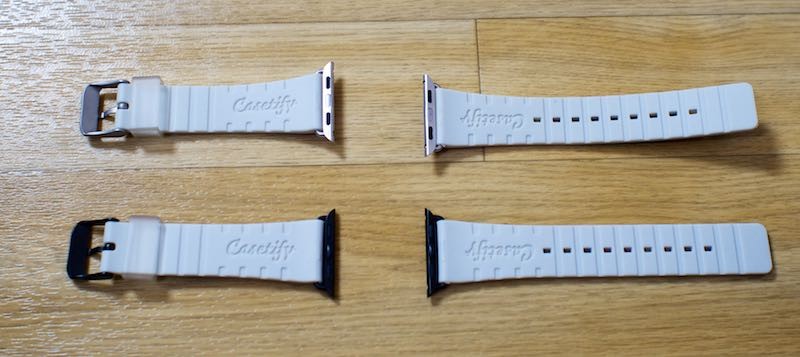 At about an eighth of an inch thick, Casetify's bands seem to be approximately a third thicker than the Apple Watch Sport (there's maybe about a millimeter of difference between the two). That's not a huge thickness disparity, but it is noticeable when wearing the Casetify band after wearing a Sport band, especially on a small wrist.
(more…)
Posted in iOS Blog | Comments Off on Review: Casetify's $70 Apple Watch Bands Can Be Customized With Any Design [iOS Blog]