Archive for the 'iOS Blog' Category
Sunday, May 19th, 2013
Anatolia News Agency reports
that Turkish prime minister Recep Tayyip Erdoğan visited Apple yesterday as part of a tour of Silicon Valley companies ahead of the country's move to purchase 10.6 million tablets for its schoolchildren. Erdoğan also visited Microsoft's Bay Area outpost and Google during his trip.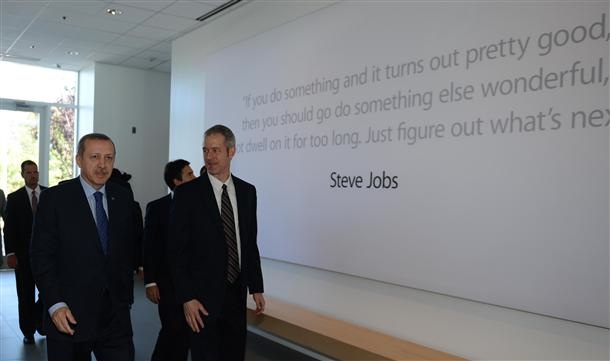 Turkish prime minister Recep Tayyip Erdoğan (left) visits Apple
The meeting at Apple was just the latest of numerous interactions between Apple executives and Turkish government officials as Apple seeks to win the massive tablet contract. A number of Apple executives including vice president for education John Couch
traveled to Turkey
back in February to meet with Turkish president Abdullah Gül, while Gül had visited Apple in May 2012.
Ahead of the education tablet bid, Apple is in the midst of a significant push into the Turkish market, having
launched
the iTunes Store for music and movies there last December and
begun hiring
for future retail stores in the country.
(Thanks, Paul!)
Posted in iOS Blog | Comments Off
Friday, May 17th, 2013
Gameloft
is offering up two of its most popular games for free this weekend. Both
N.O.V.A. 3 - Near Orbit Vanguard Alliance
and
Gangstar Rio: City of Saints
can be downloaded at no cost for the first time ever.

Originally released last year, N.O.V.A. 3 is a first person shooter with impressive graphics and a science fiction theme. Like many of Gameloft's games, it includes a multiplayer mode that supports 12-player battles and voice chat to communicate with friends in real time. Our sister site
TouchArcade
has a review of both the
single player
portion of the game and the
multiplayer component
.
Gangstar Rio: City of Saints was released in late 2011 and is Gameloft's version of
Grand Theft Auto
. The game, which takes place in Rio de Janeiro, Brazil, provides players with more than 60 missions to complete across five different neighborhoods.
TouchArcade
reviewed
the game when it was released and found that Gangstar Rio offered a robust open-world crime game experience, despite a weak storyline.
Both games are universal and free through the weekend.
-
N.O.V.A. 3 - Near Orbit Vanguard Alliance
[
Direct Link
]
-
Gangstar Rio: City of Saints
[
Direct Link
]
Posted in iOS Blog | Comments Off
Friday, May 17th, 2013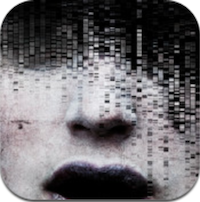 Haunting Melissa
, from Hooked Media Digital and "The Ring" producer Neil Edelstein, is an app that aims to deliver movies on mobile devices in an entirely new way.
Much like a TV show on iTunes, the film is broken up into segments that can be unlocked by sharing a user's viewing experience on Facebook, purchasing each episode within the app for $1.99 or paying $6.99 to $14.99 for the entire film. In an
interview
with
Bloomberg
, Edelstein declined to comment on how many episodes would be available.
Edelstein also said that Hooked Media Digital wanted to find a way to present movies and TV on mobile devices as studios have struggled to account for the rise of mobile video.
"The way stories are consumed has changed, so we set out to alter how stories are told," said Neal Edelstein, founder of Hooked Digital Media, in an interview. "It's terrifying to studios the drain that these devices have placed on the industry, so we have to find a new way to harness them."
Although the film could have been released in Apple's iTunes Store, providing it through an app gives Hooked Digital Media greater control over the way the content is delivered. It also gives the studio the ability to add additional story elements at any time, providing users with a unique film viewing experience. In 2011, "The Godfather" director Francis Ford Coppola
experimented with similar technology
in theaters.
Haunting Melissa
is a universal app that is available for free in the App Store. [
Direct Link
]
Posted in iOS Blog | Comments Off
Thursday, May 16th, 2013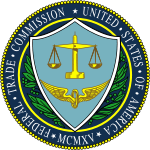 The U.S. Federal Trade Commission has
begun sending educational letters
to app developers to make them aware of upcoming changes to the Children's Online Privacy Protection Act (COPPA) that was
updated back in December
.
The
two letters
[
PDF
,
PDF
] inform developers that the restricted collection of personal information of kids 13-and-under has been expanded to include photographs and video and audio with a child's image, among other things. Previously, only identifying information such as the child's name, address, and telephone number was restricted.
Please note that we have not yet evaluated your apps or your company's practices to determine if they comply with COPPA as it is now – or as it will be starting July 1, 2013. We are sending you this letter to both alert you to the upcoming COPPA Rule changes and to encourage you to review your apps, your policies, and your procedures for compliance.

The revised COPPA Rule requires all developers of apps that are directed to children under 13 – or that knowingly collect personal information from children under 13 – to post accurate privacy policies, provide notice, and obtain verifiable parental consent before collecting, using, or disclosing any "personal information" from children.
App 'platforms' like Apple's App Store and Google Play are explicitly exempted from the law and stores are not required to verify that apps are in compliance with the law; instead, it's up to individual developers to verify compliance.
Thanks Jules!
Posted in iOS Blog | Comments Off
Thursday, May 16th, 2013
eBay today
released
updates to its iPhone and iPad apps, offering a redesigned user interface that includes multiple search views, an improved bidding process for ending auctions, and new shopping cart functionality.
With the new shopping cart, users can add multiple items to the cart and purchase them at the same time with a single payment. The app also features larger photos and better search results, with the iPad version of the app sporting new photo editing tools.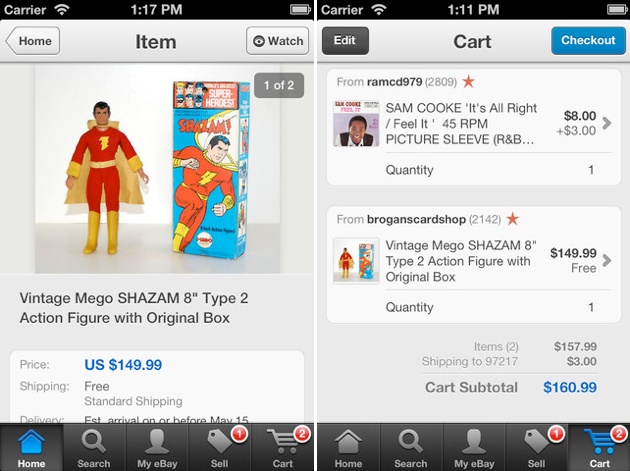 The iPhone app has also gained an interesting new function, allowing users to scan in their drivers licenses with the iPhone's camera to quickly create new accounts.
- New and improved look and feel
- Checkout multiple items at a time with the new eBay Shopping Cart (US and UK only)
- Tap the grid icon at the top of search results to see larger photos (iOS 6 required)*
- Scan your drivers license for fast and easy eBay registration (available in select US states)
- Improved last minute bidding
- Selling support for Spain
- Many bug fixes and enhancements
Both the iPhone and iPad eBay apps can be downloaded from the App Store for free.
- 
eBay for iPhone
[
Direct Link
]
- 
eBay for iPad
[
Direct Link
]
Posted in iOS Blog | Comments Off
Wednesday, May 15th, 2013
Google has
updated
its
Google Play Books
iOS app following its keynote address at Google I/O this morning, adding support for user uploaded PDF and ePub files.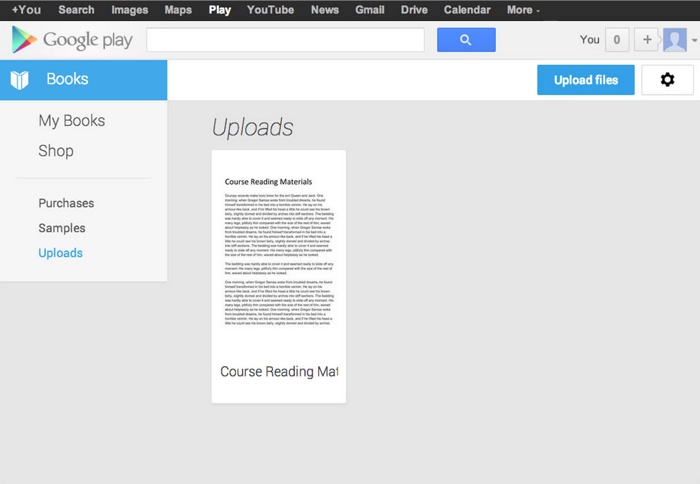 Google Play, the world's largest eBook collection, just got bigger. Now, you can upload your own files to Google Play Books to access on Android, iOS, and the web. Whether you're a student with a backpack full of PDF printouts or an avid reader with hundreds of pages held captive on your computer, relieve your back and start adding files today!

After uploading your files, you can enjoy reading them with all the nice features available: bookmarks, highlights and notes, dictionary and more. What's more, your reading progress, highlights etc are synced to the cloud, so if you have multiple devices, you can easily pick up reading anywhere!
The Google Play Books app has also been redesigned to add a Read Now section, featuring books that have been recently purchased, upload, or read. This update also brings both stability and performance improvements.
Apple has long supported the ability to upload both
ePub
and
PDF
files through iTunes so the new version of the Google Play Books app brings it up to speed with iBooks.
Google Play Books
is a universal app that can be downloaded from the App Store for free. [
Direct Link
]
Posted in iOS Blog | Comments Off
Wednesday, May 15th, 2013
DirecTV today
updated its iPhone app
with the ability to search channels and discover new entertainment with voice commands. The app allows users to view search results on the TV (via a supported DirecTV DVR) or on the iPhone.
Similar to how one would interact with Apple's Siri, the app allows DirecTV customers to ask questions like "what action movies are on tonight?" or to make requests like "record True Blood" or "show me comedy movies." The app also allows searches for programs by title, channel, actor, time frame, genre and more.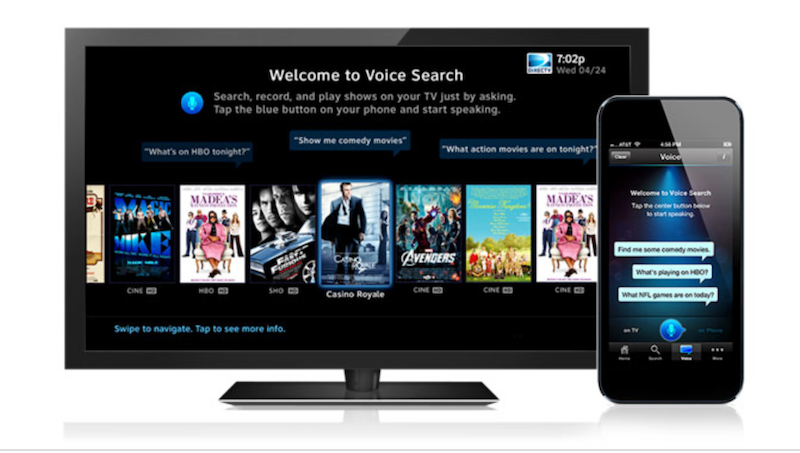 What's New in Version 2.5.0

NEW IN THIS VERSION

Search and discover entertainment with the power of your voice.

- Just talk as you would to a person and the app finds what you're looking for.
- Search for programs by mentioning title, channel, keyword, actor, time frame, genre and more.
- Switch to TV mode to see your dialogue and search results on your TV screen. HD DVR (HR24+) required. Your phone and HD DVR must be connected to same Wi-Fi network.
- See personalized recommendations as soon as you switch to TV mode.
DirecTV for iPhone
is a free download on the App Store. [
Direct Link
]
Posted in iOS Blog | Comments Off
Wednesday, May 15th, 2013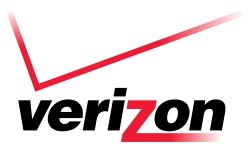 Verizon is offering a $100 discount on iPhone 5 upgrades to certain current Verizon customers,
reports Gotta Be Mobile
.
The change makes the iPhone 5 available for $100 with a two-year contract, one of the lowest prices we've seen for the device. However, Verizon said the discount is only being offered to certain "basic phone customers [who] are interested in moving to a smartphone".
The carrier did not elaborate on what qualifies customers for the deal and it also stressed that not every basic phone customer will be getting the offer, only those that it has identified as those who are interested in potentially upgrading to the iPhone 5.

The promotion will last until the end of next month which means that it will last through Apple's WWDC developer conference which is set to kick off in the middle of the month.
Apple is expected to release a new model of the iPhone at some point this summer or fall.
Posted in iOS Blog | Comments Off
Wednesday, May 15th, 2013
Mophie today announced the
Juice Pack Plus
, a new 2100mAh battery case for the iPhone 5. The case is the third that the company has released for the iPhone 5, though this new $120 case has the largest battery of the three.
The $80
Juice Pack Helium
has a 1500mAh battery, and the $100
Juice Pack Air
has a 1700mAh battery.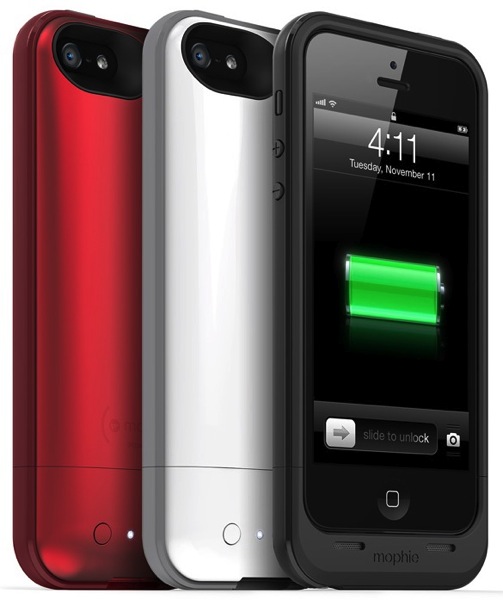 The mophie juice pack plus is made for the user who puts their iPhone 5 through the paces morning to night, maxing out features, apps, video, email and web browsing while on-the-go. The case features a 2100mAh battery, translating to an added 120 percent of extra battery life and offers the most power of mophie's battery case solutions for the iPhone 5 to date. For protection, the juice pack plus' dual-injected sleeve is engineered with a shockproof band and anti scratch guides to help buffer the impact of falls.
Like the other cases, the Juice Pack Plus uses a microUSB cable to charge.
The Mophie Juice Pack Plus is available for $120 in black, white and PRODUCT (RED)
from Mophie's website
and elsewhere.
Posted in iOS Blog | Comments Off
Wednesday, May 15th, 2013
Limelight
, from
9:42am
, is a new iPhone app that is designed to allow users to create a comprehensive movie database filled with films that they have watched and films they want to watch in the future.
Unlike similar movie library apps like
TodoMovies
, Limelight focuses on social interactions, allowing users to follow one another to share movie recommendations among friends. It is similar to
Goodreads
, the social cataloging site that lets its users share book recommendations and reviews.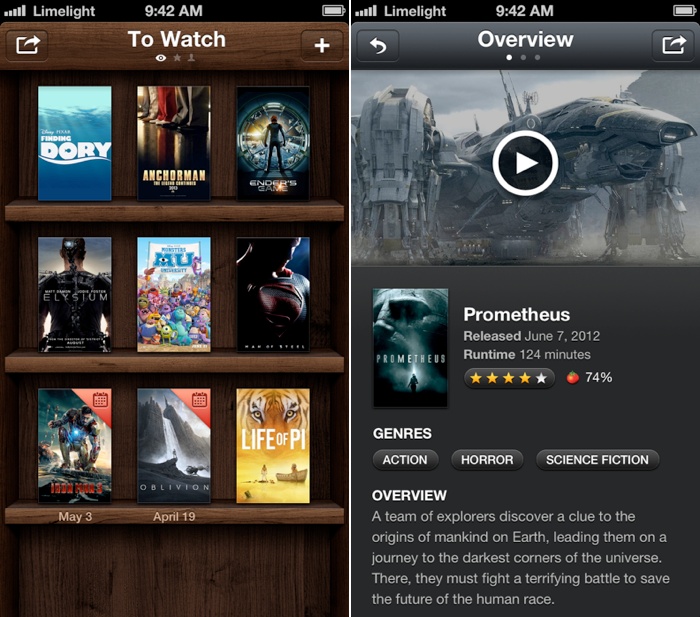 While Limelight does not support in-depth reviews, it does provide users with a 5-star rating for movies along with Rotten Tomatoes scores. It also offers movie trailers and pulls cast information from
TheMovieDB
.
In addition to showing movie choices from followed users, the app displays movies in categories like popular, upcoming (to be released), in the theater, and top rated. There is a curated Editor's Choice list filled with top movie picks to further facilitate content discovery.
With Limelight, you can:
- Organize your entire movie library
- Keep track of movies you want to watch, and when they're released to theaters
- Follow your friends libraries, so you can always find something good to watch tonight
- Rate movies you've already seen. Let your friends know if you liked it or not!
- Browse thousands of movies. Find new movies to watch, and rekindle memories of ones you have already seen. You can get lost for days!
- Watch beautiful trailers in our custom video player designed specifically for movie trailers. Did we mention that you can use AirPlay, too?
Limelight
is an iPhone-only app that can be downloaded from the App Store for $0.99. [
Direct Link
]
Posted in iOS Blog | Comments Off