Archive for the 'iOS Blog' Category
Thursday, December 12th, 2013
Rockstar Games'
Grand Theft Auto: San Andreas
is now available for download in the App Store, after being
announced
back in late November. First introduced back in 2004 for the PlayStation 2,
GTA: San Andreas
was the third 3-D game in the series.
GTA: San Andreas
is an open-world game that encompasses the fictional areas of Los Santos, San Fierro, Las Venturas, and the areas in between (which have been based on areas in San Francisco, Nevada, and Los Angeles). The game includes remastered graphics with enhanced shadows, a larger draw distance, and a richer color palette, along with enhanced character and car models.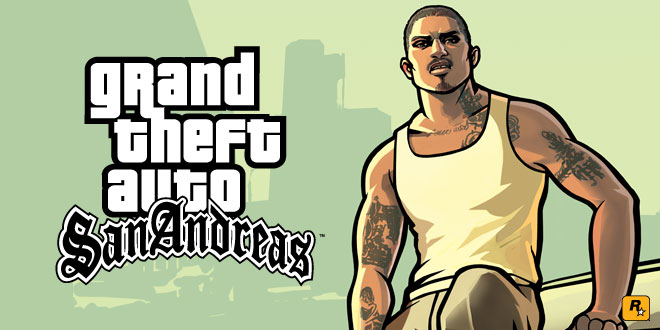 Like other Rockstar games released for iOS,
GTA: San Andreas
has been redesigned to incorporate touch controls and it also includes support for iOS 7
game controllers
.
Grand Theft Auto: San Andreas features:
- Remastered, high-resolution graphics built specifically for mobile including lighting enhancements, an enriched color palette and improved character models.

- Enhanced for the iPhone 5 series and iPad 4th Gen and above with dynamic detailed shadows and real-time environmental reflections.

- Physical controller support for all Made-for-iOS controllers.

- Cloud save support for playing across all your iOS devices for Rockstar Social Club Members.

- Dual analog stick controls for full camera and movement control.

- Three different control schemes and customizable controls with contextual options to display buttons only when you need them.
Grand Theft Auto: San Andreas
can be downloaded from the App Store for $6.99. [
Direct Link
]
Posted in iOS Blog | Comments Off
Thursday, December 12th, 2013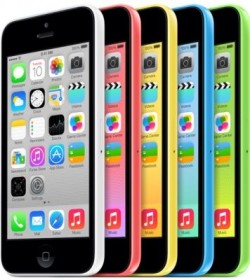 Walmart will begin a holiday sale on Friday that will see the retailer drop price of Apple's iPhone to just $27 with a two-year contract, reports the
Los Angeles Times
. Though the iPhone 5c is normally priced at $99, Walmart and other retailers have been selling the phone at a discount since shortly after its September launch.
Walmart
initially
sold the iPhone for $79, but back in October, the company
dropped
the price on the iPhone 5c to just $45, undercutting other retailers pricing schemes. During Black Friday, Walmart offered an even
better deal
, providing a $75 gift card along with an iPhone 5c purchased for $45.
Holiday price drops on electronics are not unusual, but iPhone 5c pricing has been aggressive since the launch of the phone. Apple has reportedly even
reduced production
of the iPhone 5c due to more than adequate stock. While the iPhone 5s was
constrained
at launch and for many weeks afterwards, supplies of the iPhone 5c have remained plentiful.
Walmart will also be discounting the iPhone 5s to $127 on contract, a significant discount from the standard $199 price, and offering a $50 gift card with the purchase of a $299 16 GB original iPad mini.
Walmart's sale will begin on Friday, December 13 at 8 AM and last until December 24.
Posted in iOS Blog | Comments Off
Wednesday, December 11th, 2013
Spotify today
announced
the introduction of new free listening tiers for its mobile customers, with separate options available for both tablets and smartphones. Previously, Spotify limited its free listening to desktop users, requiring a $9.99 monthly subscription for music access on mobile devices beyond Spotify's free radio streaming.
On the iPad, the
Spotify
app will function similarly to the current free desktop version of the app, permitting users to search for specific tracks, build playlists, and listen to content for free.
On the iPhone, Spotify's service is built around shuffling, much like similar services from Pandora and iTunes Radio. Customers can search for a specific artist or song, but will be required to shuffle through an artist's catalog to access the music. Pre-compiled playlists can also be accessed, but unlimited search and listen access is not available.
- Your music: Listen to all the playlists you've created and playlists from the people you follow. Spotify lets you discover new music, save, shuffle and share.

- Your favourite artists: Want to listen to a certain artist? Just hit shuffle play, sit back and listen to their entire catalogue. Don't settle for something similar. Don't settle for just one track from the artist you want to hear every 20 minutes.

- Discover great new playlists: Going for a jog or to the gym? We've got the playlist to help you go the extra mile. We know you just want the perfect music for a specific moment in time – and we've got you covered. There's something for every mood, genre or moment.
The difference between the iPhone app and the iPad app comes from Spotify's decision to treat the iPad as a PC. Subscribers who pay Spotify's $9.99 per month fee will have exclusive access to offline playlists along with the ability to select specific songs for playback.
Along with new free listening options on mobile devices, Spotify today also announced that it has added the full catalog of Led Zeppelin albums and expanded to 20
new markets
around the world.
Spotify's free services will be available beginning today. The
Spotify
app can be downloaded from the App Store for free. [
Direct Link
]
Posted in iOS Blog | Comments Off
Wednesday, December 11th, 2013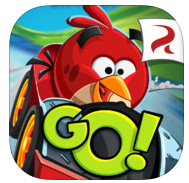 Rovio has officially released
Angry Birds Go!
for iOS, bringing a 3D kart racing game based off of the popular
Angry Birds
franchise to mobile devices. The game includes many of the usual bird and pig characters from the Angry Birds series participating in downhill kart races with various tracks and power ups, and also includes the ability to perform kart upgrades. A variety of game modes are present as well, with
Angry Birds Go!
also bringing support for Hasbro's interactive "
Telepods
" toys that
debuted
alongside
Angry Birds Star Wars II
.
Welcome to downhill racing on Piggy Island! Feel the rush as you fling those freewheeling birds and piggies down the track at breakneck speed – with plenty of twists and turns in a thrilling race to the finish line! But beware! Look out for hazardous roads, mischievous opponents riding your tail and special powers to put the race leader behind the pack. Plus, go from soapbox car to supercar by upgrading your ride! Ready…Set…Angry Birds Go!

FIRST-EVER 3D ANGRY BIRDS WORLD! See the birds and pigs from every angle as Piggy Island comes alive in this rich and colorful 3D world!

RACE AS THE BIRDS OR PIGS! Jump behind the wheel and race as Red, Chuck, Terence, Stella, King Pig, Moustache Pig and many other favorites!

MASTER THE TRACKS! Plenty of racetracks, stunt roads, air courses and off-road races – each throwing big and unexpected challenges your way!

AWESOME SPECIAL POWERS! Smash your opponents off the road and take that winning position thanks to unique special powers for each character!
The title was first
teased
back in June, with
additional information
about the game released this past August.
Angry Birds Go!
is a free download for iOS devices, and also features in-app purchases. [
Direct Link
]
Posted in iOS Blog | Comments Off
Tuesday, December 10th, 2013
Twitter
for iOS was today
updated
to version 6.0, adding a refreshed design that incorporates a revamped navigation bar with new icons for easier access to DMs. The Discover feed, previously accessible from the navigation bar, can now be accessed along with the Activity feed by swiping in Timelines.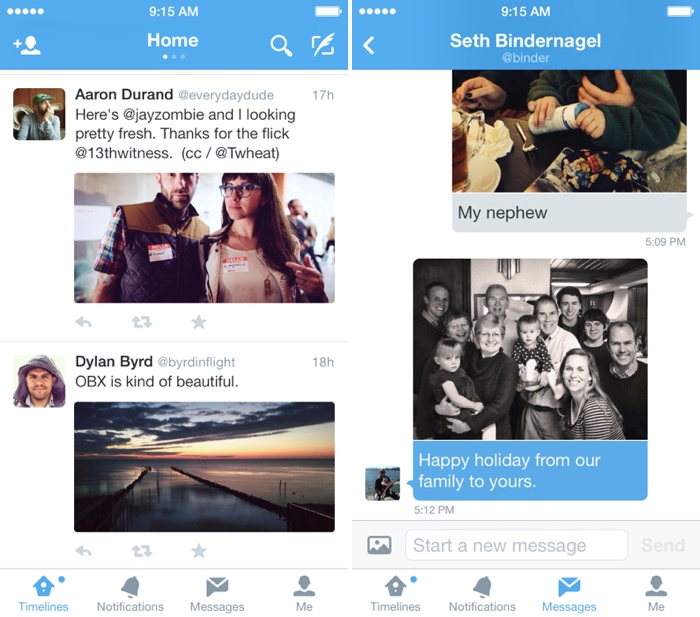 Along with a new look,
Twitte
r for iOS now allows users to send and receive photos via Direct Message and it includes several new notification options. Search has also been improved, showing results from followed and nearby users and Safari Reading List support has been added.
New design.
- Refreshed look and feel. Home, Activity and Discover now available by swiping in Timelines. Easier access to DMs.

Share photos in Direct Messages.
- Send and receive photos via DMs.

Notifications from your network.
- Choose to view replies, retweets, and favorites from only the people that you follow.

Search got even easier.
- Access tweets from people you follow and near you, directly from search results.

Safari Reading List support
- Save web articles to read later with Safari Reading List.
Twitter
for iOS can be downloaded from the App Store for free. [
Direct Link
]
Posted in iOS Blog | Comments Off
Tuesday, December 10th, 2013
A consumer group is campaigning for a recall on an infant bouncy chair that comes equipped with an iPad stand, reports
AllThingsD
. The Campaign for a Commercial-Free Childhood (CCFC) is calling on parents and supporters to sign a petition directed at Fisher-Price Vice President David Allmark asking parent company Mattel to stop selling the
Fisher-Price Newborn-to-Toddler Apptivity Seat for iPad
.
The Apptivity seat, which is priced at $80, has an adjustable three-position seat designed to fit both infants and toddlers.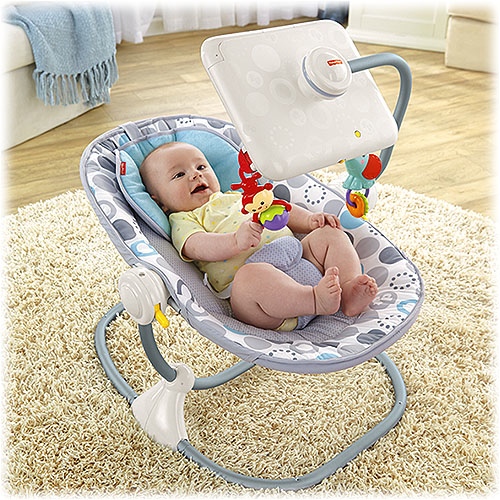 If you insert and lock your iPad® into the mirror's case, the visual display provides another way to stimulate and engage baby while protecting your device from baby's sticky fingers and preventing unintentional navigating to other apps.
According to the CCFC, which backs the American Academy of Pediatrics recommendation discouraging screen time for kids under age two, the iPad blocks the baby's view of the world and encourages parents to leave infants alone with iPads.
There are so many awful screen products for babies these days, but the Fisher-Price Newborn-to-Toddler Apptivity™ Seat for iPad® device is the worst yet. It's a bouncy seat for an infant – with a place for an iPad directly above the baby's face, blocking his or her view of the rest of the world. And because screens can be mesmerizing and babies are strapped down and "safely" restrained, it encourages parents to leave infants all alone with an iPad. To make matters even worse, Fisher-Price is marketing the Apptivity Seat - and claiming it's educational - for newborns.
"It is wrong to create a product whose very existence suggests that it's fine to leave babies as young as newborns alone and with an iPad inches from their face," says CCFC, while urging consumers to support the petition demanding the product be removed from store shelves. Josh Golin, associate director for the group, says the toy is the "worst of the worst."
Currently, the CCFC's
petition
had garnered nearly 2,000 signatures. The group is hoping for a total of 3,000 signatures
Posted in iOS Blog | Comments Off
Tuesday, December 10th, 2013
Imangi Studios
' hit game
Temple Run 2
received a significant update today, adding a new water feature, holiday artifacts, and a limited-time playable Santa character.
Temple Run 2
now includes a water slide, which players navigate by tilting their devices left and right to dodge rocks. As with regular gameplay, swiping is used to change direction and duck under logs.
The game also includes several holiday additions, such as a Santa character unlocked with 60 gems that can be purchased or earned through gameplay. There are also holiday artifacts like presents and stockings to unlock, along with Santa hats for each character. Our sister site
TouchArcade
has posted a video showing some of the new features in the game.
Enjoy the holidays with this HUGE update! We've added:

- A water slide!!
- Run as Santa!! You can unlock Santa for gems!
- Santa hats for your characters! Just find all the Christmas artifacts to unlock!
- Christmas artifacts to find on your runs!
- Mysterious masks to add to your artifact collection!
- And more objectives!

Merry running!
First
introduced
in January of 2013,
Temple Run 2
, the successor to the original
Temple Run
game, has been highly successful. Just two weeks after launch, the game was
downloaded
more than fifty million times, making it the fastest downloaded mobile game in history. Since its debut, the game has received several updates, adding new content like
playable characters
and artifacts.
Temple Run 2
is a universal app that can be downloaded from the App Store for free. [
Direct Link
]
Posted in iOS Blog | Comments Off
Tuesday, December 10th, 2013
Ahead of a significant expansion of its new iTunes Radio product, Apple has hired Michael Pallad to run its iTunes Radio international ad sales team. Pallad was most recently the head of sales for Cumulus Media, the new holding company for what used to be Clear Channel's radio properties. The hire was
reported by AdAge
.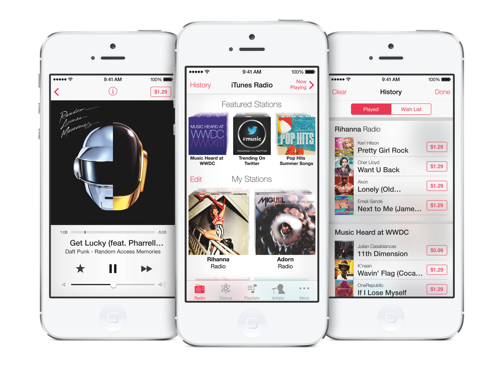 Mr. Pallad started with Apple on December 2 and spent last week at the company's Cupertino, CA, headquarters getting oriented, the people said. Radio industry email newsletter Tom Taylor Now had previously reported that Mr. Pallad may be leaving Cumulus Media to join Apple.

Apple did not immediately respond to a request for comment. Mr. Pallad will report into the iAd organization led by VP and former Yahoo exec Todd Teresi.

Mr. Pallad's appointment suggests that Apple plans to make a stronger play at the $1.56 billion U.S. digital radio advertising market, as estimated by eMarketer. One media buyer said the executive should gain traction quickly among agencies.
The AM/FM radio advertising market is worth more than $15 billion this year and spending on digital radio is expected to more than double over the next several years.
iTunes Radio, currently available only in the United States, is
expected to expand
to the United Kingdom, Canada, Australia, New Zealand and a number of other countries early next year. Before the iTunes Radio launch, Apple was
looking to fill an number of iAd related positions
and signing up new advertisers. It's likely this is continuing with the imminent international rollout.
Posted in iOS Blog | Comments Off
Tuesday, December 10th, 2013
FOX and development house
TinyCo
plans to release a Family Guy iOS game next year, according to a press release issued today. Details are scarce but the development team is working with Family Guy writers and the original voice actors from the show.
The game will feature an original story "influenced by the show's 212-episode catalogue as well as current events". The game will be free-to-play, though it will likely have in-app purchases or some sort of virtual currency.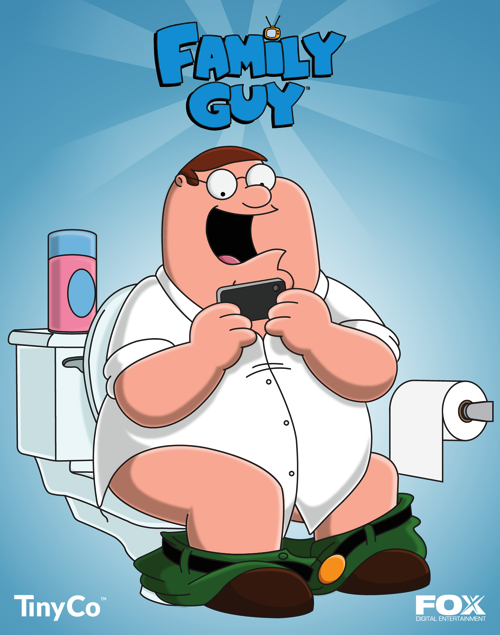 "It's really fun!" said Peter Griffin, Family Guy character since 1999. "Plus, if you play it for more than three hours it counts as going outside!"

In the game, players will be able to adventure throughout Quahog, recruiting (and sometimes confronting) their favorite Family Guy characters along the way. TinyCo is working directly with the Family Guy show writers to develop the game's story and dialogue, ensuring that players will enjoy an authentic experience complete with original animation and endless antics that you'd expect from the citizens of Quahog.
There is no indication whether Brian Griffin, the Griffin's family dog who passed away in a recent episode, will appear in the game or not. More details will be forthcoming.
Posted in iOS Blog | Comments Off
Monday, December 9th, 2013
Square
today unveiled a newly redesigned Square Reader, which is approximately 45 percent thinner than the previous version and more accurate at reading credit and debit cards thanks to a new slightly wider but tapered design.
As noted by
Wired
, Square's new ultra thin card reader was developed under the direction of Jesse Dorogusker, who was Apple's Director of Engineering for iPhone, iPod, and iPad Accessories up until 2011, when he left to become Square's VP of Hardware.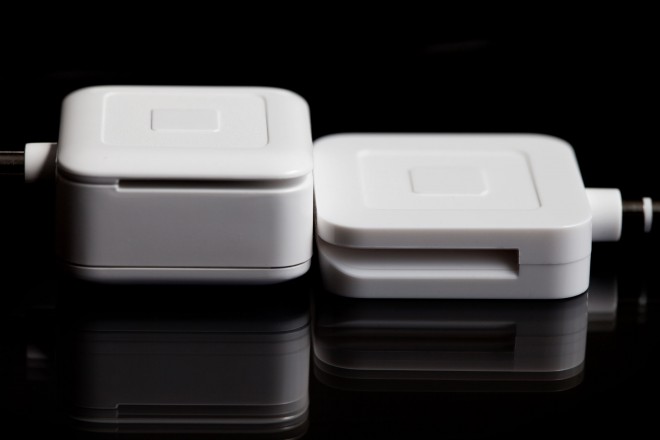 Before leaving Apple, Dorogusker headed the development of Apple's Lightning connector, the two-way plug that replaced the 30-pin connector in Apple products beginning with the iPhone 5.
To develop the thinner card reader for Square, Dorogusker was forced to move away from stock components and develop proprietary hardware such as a new custom read head that is able to read two bands of data from the magnetic stripes on credit cards, resulting in greater swipe accuracy.
Dorogusker and his team concentrated on improving the "feel" of swiping, incorporating additional tension in a spring that attaches to the read head for a more satisfying credit card swiping experience. They also developed a custom chip, allowing the team to shrink the Reader's size while improving its performance.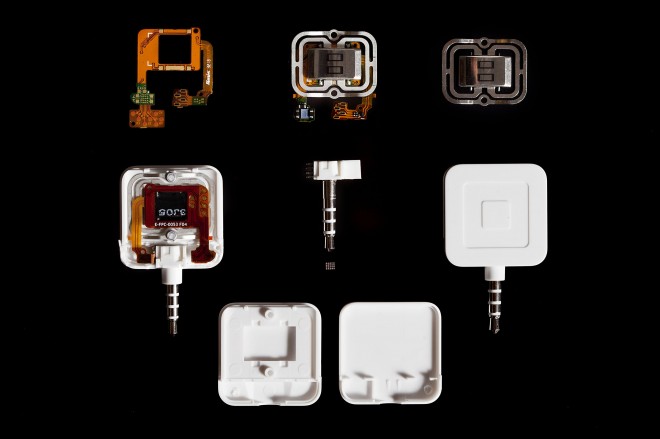 In terms of the design of the internals, though, the chip offered another fantastic advantage: an opportunity to ditch the Reader's battery. The old version relied on a coin cell, which added around two millimeters to the overall thickness of the device. With their own chip, though, Square was able to be much more efficient in their use of power, to the point that they could draw all they needed from the smartphone via the audio jack. As a result, the new Reader dropped the battery and two millimeters along with it. "For the nerds on the team, that is crazy awesome," Dorogusker says.

It shows how a smart approach to a single component can yield all sorts of advantages. "It cascades through," Dorogusker says. "Designing our own electronics got us better performance, got rid of the battery and got rid of our biggest field issue all in one go."
Wired has a
full rundown
on the design process behind the new Square Reader, which is well worth reading.
The new Square Reader can be purchased from retail stores beginning next year, but it is immediately available for free from the
Square website
. The accompanying
Square Register
app can be downloaded from the App Store for free. [
Direct Link
]
Posted in iOS Blog | Comments Off