Archive for the 'iOS Blog' Category
Thursday, August 21st, 2014
Walmart will begin offering the 16 GB iPhone 5c for $0.97 with a two-year contract during the next 90 days,
reports
Engadget
.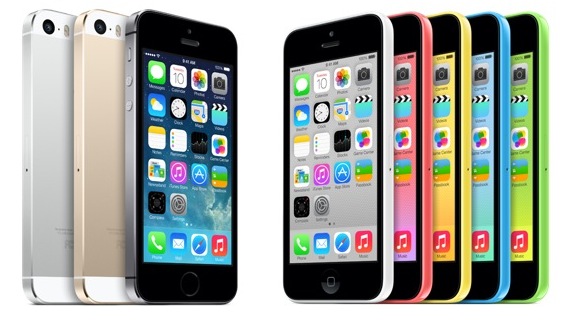 The move by the retailer
follows a permanent discount
of the 16GB iPhone 5c to $29 in June, as Walmart will offer the special pricing to customers on AT&T, Sprint, Verizon, and US Cellular. The company is also dropping the on-contract price of the 16GB iPhone 5s to $79, down from $99.
It is likely that these new price drops are being done to get rid of existing inventory before the introduction of the
iPhone 6
, which will be
unveiled
on September 9 and likely go on sale about a week later. The 4.7-inch iPhone 6 is expected to be launched first, as the release of the 5.5-inch version may be delayed due to
production issues
. Both versions are likely to incorporate a
faster A8 chip
, a
new camera system
, an
improved Touch ID fingerprint sensor
, and
iOS 8
.
Posted in iOS Blog | Comments Off
Wednesday, August 20th, 2014
Best Buy is running a
one-day sale
on all of its iPad Air models, discounting the prices by $75 across the board. With the discount, the price on the
entry-level 16 GB Wi-Fi only iPad Air
is $424.99, down from $499, while the price on the
entry-level 16 GB Wi-Fi + Cellular iPad Air
drops down from $629 to $554.99.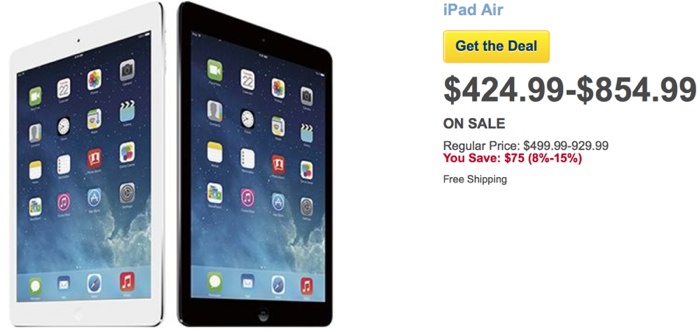 While these aren't the lowest prices that we've ever seen on Apple's iPad Air models, they are the most significant discount that's been offered in the past few months. Best Buy also offers $50 off all iPad models
through its educational site
, which means students can get an iPad Air for as low as $374.99.
According to our Buyer's Guide, the iPad Air is rated as "Caution" because it's approaching the end of its product cycle. Apple is said to be working on a second-generation iPad Air with Touch ID and an A8 processor that may debut in October. Best Buy's current iPad Air deal is still an excellent way to get an iPad Air at a low price, especially for customers who will not mind the absence of Touch ID.
Best Buy's iPad Air deal is good for one day only and will expire after today.
Posted in iOS Blog | Comments Off
Tuesday, August 19th, 2014
Apple has added two new locations to its
Maps Flyover feature
in iOS, including Yosemite National Park in California and Wellington, New Zealand. The new additions to Flyover allow users to take a close 3D look at the areas, zooming in on important buildings and landmarks.
Flyover data for Yosemite National Park comes as Apple prepares to launch OS X Yosemite, the newest version of its Mac operating system. As of OS X 10.9 Mavericks, Apple began naming its operating system updates after major California landmarks and with OS X Yosemite set to be released to the public later this year, it makes sense to add Yosemite's Flyover data to Maps.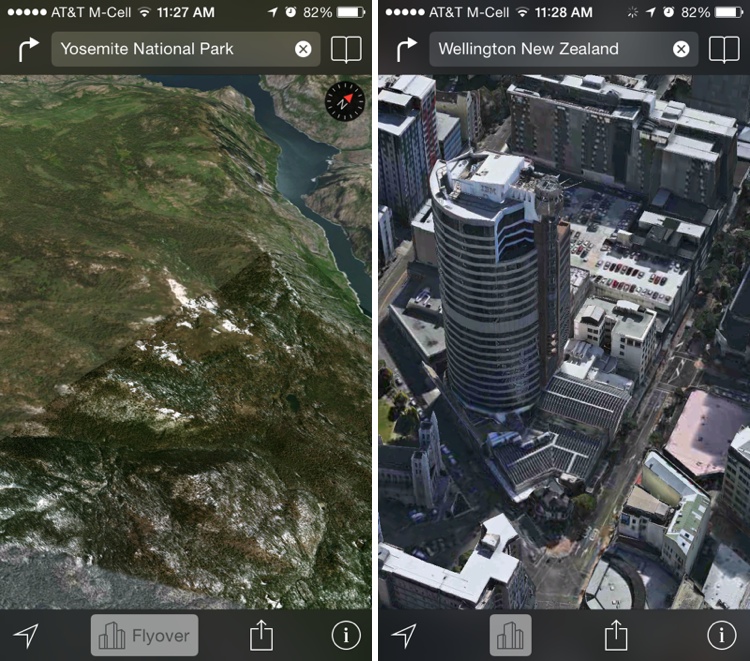 With the addition of two new locations, Apple now provides Flyover data on more than 90 parks and cities around the world, with a full list available on its
iOS 7 Feature website
.
Over the last several months, Apple has been hard at work improving its Maps app. Users have reported
significant improvements
in Apple Maps data, with errors being fixed quickly and new Points of Interest popping up. Apple also made
notable updates
to Maps in China, Japan, and other countries earlier this year.
Posted in iOS Blog | Comments Off
Tuesday, August 19th, 2014
According to
supply chain sources
, LG Display will be the largest supplier of display panels for Apple's upcoming iPhone 6 handset. As relayed by
G 4 Games
, the Korean company allegedly beat out rivals Samsung, Sharp, and Japan Display to earn the top supplier spot. A
March report
had claimed Apple was working with LG, Japan Display, and Sharp on the panels, but a
May follow-up
indicated Sharp had been dropped over quality issues as Apple turned to Taiwanese company Innolux to fill out its display supplier group.

The original
Feng.com report
does not provide details on the number of panels being produced by LG and the other display manufacturers, but analysts
predict
Apple is preparing to manufacture up to 80 million iPhone 6 units by the end of the year.
While the next-generation iPhone is expected to ship in both 4.7-inch and 5.5-inch versions, it
is unclear
whether the rumored sapphire crystal display will make its way into all iPhone models. A
recent report
from the
Wall Street Journal
suggested supply constraints may limit sapphire to more expensive, higher-end models.
These details and more likely will be revealed during Apple's expected
September iPhone event
. Apple is rumored to be unveiling its iPhone 6, with the 4.7-inch version going on sale shortly after the announcement. The larger 5.5-inch model could launch alongside the smaller model or up to several months later.
Posted in iOS Blog | Comments Off
Monday, August 18th, 2014
Flappy Bird
creator Dong Nguyen is preparing to launch a new iOS game in the near future, called
Swing Copters
.
Previewed exclusively
by our sister site
TouchArcade
,
Swing Copters
adopts the ultra tough
Flappy Bird
-style gameplay, adding new mechanics and a fresh skin.
In
Swing Copters
, players are tasked with navigating platforms with swinging hammers while climbing upwards towards the sky, a deviation from the original side-scrolling gameplay in
Flappy Bird
. According to
TouchArcade
editor-in-chief Eli Hodapp,
Swing Copters
emulates the "one more try" gameplay of
Flappy Bird
while being even more "brutally difficult."
That five point run that I busted out at the start? That's the best I've done so far, and that two minutes worth of video is basically my magnum opus as of this writing. Swing Copters is hard. Just getting through the gates themselves would be tricky enough, but adding in the swinging hammer things below them is just ridiculous, particularly as you're desperately trying to control your guy as he wildly swings from one direction to the other.

...But, like Flappy Bird, I love it. It feels like it's got all the same qualities that made Flappy Bird so sticky for me. Once you see even the smallest bit of success in the game, you can't help but play again, and again, and again, always trying to (in my case, anyway) top that amazing five point flight.
Back in March,
Flappy Bird
creator Dong Nguyen
promised
that the once popular game that spawned thousands of clones would return to the App Store in August. It is unclear whether
Swing Copters
is Nguyen's replacement for
Flappy Bird
or if
Flappy Bird
will also return to the App Store at some point.
Flappy Bird
's incredible success in early 2014 prompted Nguyen to
pull the game from the App Store
in February, after the attention and media requests became overwhelming. At the height of its popularity,
Flappy Bird
was generating upwards of $50,000 per day. Nguyen also expressed concern over the response he was getting from parents and children, causing him to believe the game was simply
too addictive
. One woman reportedly told him he was "distracting the children of the world."
Nguyen has said that he would ensure that any future version of
Flappy Bird
would be "less addictive." He also suggested it would include multiplayer gameplay, but
Swing Copters
does not appear to include multiplayer capabilities at this time.
Swing Copters
is set to be released this Thursday, August 21. The game will be a free download with a $0.99 in-app purchase to remove ads.
Posted in iOS Blog | Comments Off
Monday, August 18th, 2014
The Television Academy this weekend announced
the winners
for the
2014 Creative Arts Emmy Awards
, recognizing the technical side of television in honoring the outstanding "behind-the-scenes crafts essential to television production." Apple was among the winners announced during a ceremony held Saturday night in Los Angeles.
Apple, along with Park Pictures production company and TBWAMedia Arts Lab ad agency, was awarded an Outstanding Commercial Emmy for its holiday "Misunderstood" advertisement. In the commercial, a family participates in a traditional Christmas celebration while a younger member records all of the activities on his iPhone. Chided for being on the sidelines, the misunderstood teen delights his family at the end of the commercial with a heart-warming montage of the holiday celebration streamed via AirPlay to the living room television.
The award was shared with Apple's longtime ad agency, TBWAMedia Arts Lab, which allegedly now has a rocky relationship with the Cupertino company. Emails from Apple's head of marketing Phil Schiller hint at
discord
between the ad agency and Apple's executives following
a scathing criticism
from
The Wall Street Journal
. A more recent rumor
suggests
Apple is ready to sever its ties to TBWA/Media Arts Lab, with Beats co-founder Jimmy Iovine stepping in to help spearhead the company's future marketing campaigns.
Posted in iOS Blog | Comments Off
Saturday, August 16th, 2014
Some attendees of the Pokemon World Championships, which is slated to begin this weekend in Washington, D.C. are being shown a version of the trading card game that will be released on iPad,
according
to
Polygon
. Video personality
Josh Wittenkeller
took a photo of the game running on an iPad.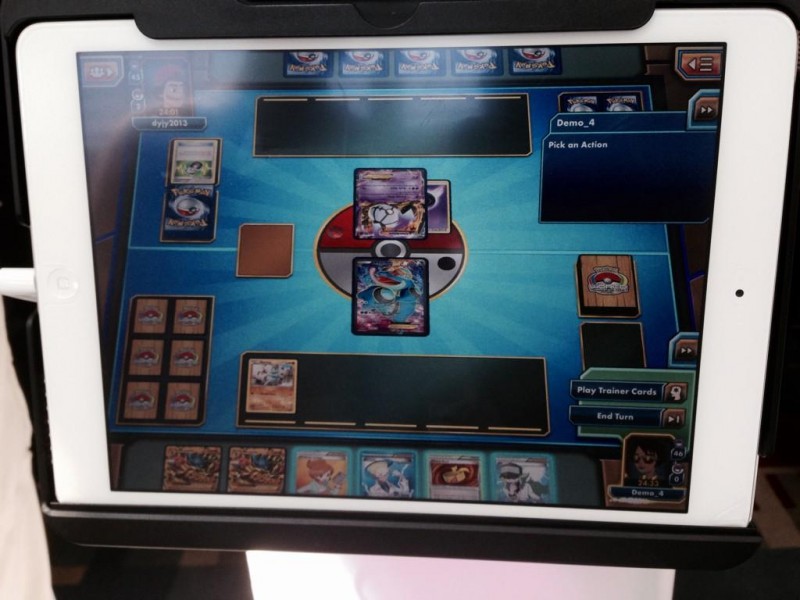 The Pokemon Company confirmed
Polygon
that the game is real, but it does not yet have a timetable for release. The Pokemon Company has already released many apps for iOS, including the
Pokedex for iOS
app, however this would be the first full game the company will release for iOS.
Posted in iOS Blog | Comments Off
Thursday, August 14th, 2014
Beats Music, now owned by Apple, has created a documentary to celebrate the 25th anniversary of
Do The Right Thing
, a Brooklyn-based
film
created by Spike Lee. The 22-minute short features Spike Lee and Danny Aiello revisiting some of the original spots where the movie was shot, contrasted by shots from the film itself.
It also delves into some behind the scenes information on the building of the set and the creation of the movie, revisiting many of the actors who starred in the film and getting details on the making of the movie from the original crew.
Towards the end, the documentary features a huge block party thrown by Beats Music in the Brooklyn neighborhood where
Do The Right Thing
was filmed, with celebrity attendees like Erykah Badu, Dave Chapelle, Wesley Snipes, and Mos Def. The family-friendly event featured a performance of "Fight the Power" by Public Enemy along with activities for kids and adults alike.
As noted by
Variety
, Beats Music's new documentary suggests the company remains dedicated to expanding the Beats Music brand even after its purchase by Apple. According to rumors, one of the many potential reasons Apple purchased Beats was to
up its "coolness" factor
among younger consumers, a position Beats has earned with both edgy advertising campaigns like the
Do the Right Thing
documentary and celebrity endorsements.
Posted in iOS Blog | Comments Off
Wednesday, August 13th, 2014
Popular email app
Mailbox
was today
updated to version 2.1
, adding several new email management features. It's now possible to print emails, mark them as spam, or mark them as unread by tapping on a new options menu denoted by three dots on the app's thread view or within individual messages.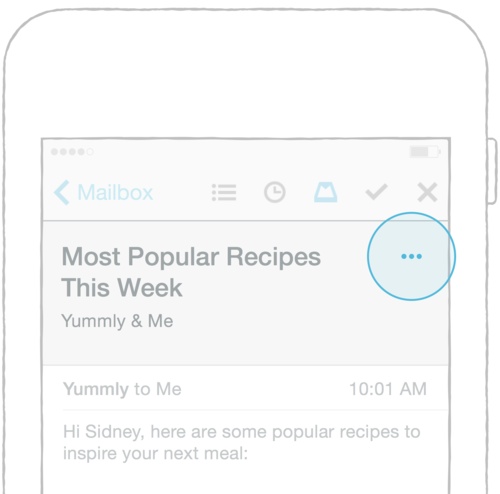 Along with these new management tools,
Mailbox
has gained Passbook integration. Users can select a ticket or other attachment in the inbox, which will then be added directly to Passbook.
The app will also permanently delete messages that have been swiped to the trash and it has been updated to support 19 different languages and 24-hour time.
Now translated into 19 languages, including Chinese (both Simplified and Traditional), Danish, Dutch, French, German, Indonesian, Italian, Japanese, Korean, Malay, Polish, Brazilian Portuguese, Russian, Spanish (both European and Latin American), Swedish, Thai and English

- View spam and mark messages as spam
- Passbook support
- Permanent delete from trash and spam
- Bug fixes and performance improvements
First
introduced
in early 2013,
Mailbox
proved to be ultra popular, requiring a reservation system that restricted access to a limited number of users for several weeks. Shortly after its release, however,
the app was acquired
by file-sharing and storage service Dropbox, and has seen
several major updates
since then.
Though initially limited to supporting Gmail,
Mailbox
now
supports email services
like Yahoo and iCloud.
Mailbox
is a universal app that can be downloaded from the App Store for free. [
Direct Link
]
Posted in iOS Blog | Comments Off
Wednesday, August 13th, 2014
Amazon today launched the
Amazon Local Register
, a new iOS compatible card reader made to compete with
Square's Square Reader
and
Paypal's Here
card reader. Feautring an anti-swivel design and integration with Amazon payments, the Local Register accepts Visa, MasterCard, American Express, and Discover as Amazon is offering a special flat rate of just 1.75% per swipe until January 2016.
Amazon Local Register's companion app for iOS offers a number of features to manage payments, allowing users to add items and discounts as well as the ability to track cash transactions, add staff accounts, change tax rates, and more. The app and the card reader can also connect with a number of cases, stands, receipt printers, cash drawers, and more.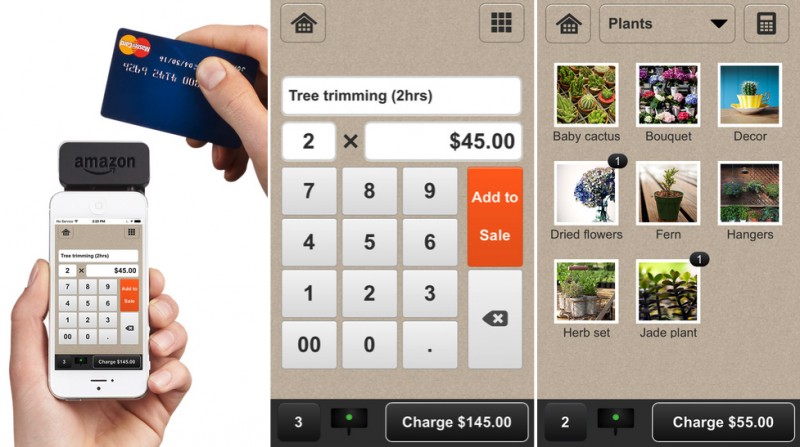 The Amazon Local Register Secure Card Reader is
avaliable
now for $10 through Amazon's website. The card reader's
companion app
can be downloaded through the App Store today. [
Direct Link
]
Posted in iOS Blog | Comments Off