Archive for the 'Front Page' Category
Monday, March 27th, 2017
Today Apple released iOS 10.3, and OS X 10.12.4. To all of you who are inclined to upgrade as quickly as possible, I recommend that you wait a while.
All updates include changes that might introduce bugs, but these two in particular introduce a completely new disk filing system that replaces the extremely reliable HFS+ filing system we've all used on Macs, iPhones, iPads, and Apple TV for many, many years.
The filing system is what allows you to store data on a hard disk, or in the Flash RAM on your phone, pad, watch or TV, and allows the device to find that data. Anytime you replace a whole filing system with something new, it's a major change. Major changes often introduce bugs.
That's why I recommend delaying any upgrade. There's no point in being the earlier adapter of anything brand new…if there are bugs, the early adapters are the ones that suffer with them.
Some Apple bugs have literally prevented iPhones from working at all. Even though Apple always fixes the bigs, they can't fix the lost time and inconvenience you'll suffer because of the bug.
Changing the filing system may interfere with the operation of certain apps. By waiting to upgrade, you'll be able to upgrade those apps before upgrading iOS or OS X itself.
Let others be the first upgraders. If there are no bugs, you'll have lost nothing but a little time, during which your Mac, phone, pad, watch, and TV will remain fully functional. If there are bugs, the early adapters will help Apple identify and fix them before they victimize you.
Posted in Apple, Front Page, Mac Blog | No Comments »
Monday, September 19th, 2016
Recently, many of our clients have reported seeing popup alerts while in their web browser. Hackers have found ways to force your browser to display these windows, and the alerts might appear to come from Apple, Microsoft, Adobe, or other recognizable computer corporations. In reality, the window is a scam, and this article will tell you how to avoid being scammed.
What all these scams have in common is that they say viruses or spyware has been found on your computer, and they tell you to call a toll free number for help removing it.
Even if your computer actually has viruses or spyware, it has nothing to do with this window…nobody has scanned your computer for viruses. It's just a fake window trying to scare you into calling the toll free number and pay an exorbitant fee to "fix" this non-existent problem. Don't call.
If you call, the "support agent" first gets you to give them remote access to your computer…which usually involves implanting a tiny piece of remote access software that allows them to connect. Then they'll quote somewhere between $99 and $299 for the virus removal service. Of course there's really no service to perform…there's nothing wrong with your computer.
However, once you've given them remote access, they can control your computer and access all your files…their secondary goal after scamming you for cash. Some clients have even reported that the "support agent" doesn't take credit cards, so they require your bank account and routing number to charge you…which also gives them everything they need to clean out your bank account.
This is an easy problem for you to fix without any help.
What you should do
1. Click Force Quit… in the Apple menu.
2. Select your web browser in the window, then click the Force Quit button at the lower right corner of the window.
3. Hold down the Shift key while reopening your browser. Your browser will go to its normal home page. Problem solved, and it didn't cost a dime!
Posted in Front Page, Mac Blog, Tech Notes, Troubleshooting by Symptom, Troubleshooting Knowledge Base, Web Hosting Knowledgebase | No Comments »
Wednesday, March 23rd, 2016
The most common reason people replace computers is that they get too slow. When you get a new computer, the specifications tell you it's 2, 3, or 4 times as fast as the old computer, but when you actually use it it seems a little faster…hardly twice as fast. Why?
The operating system (OS X), programs, and your files are all stored on the hard disk. The processors and RAM in your computer can't do any processing until the hard drive sends them the data to process…and hard drive technology hasn't changed much in the 29 years we've been around. Until a few years ago, that is.
Hard drives work a lot like turntables. A motor spins a disk, and another motor moves the "tone arm" (the read/write head) back and forth across the surface of the disk. The mechanical limitations of the motors also limit how fast the drive can find and send data needed by the processors and RAM…so they spend most of their time waiting to get the data they need instead of actually processing.
A few years ago, we began to see the first solid state drives…with no moving parts, just flash RAM chips similar to those used in iPhones and other smart phones. With no moving parts, the mechanical speed limitations are gone. Solid State Drives (or SSDs) do what hard drives do many, many times faster…just replacing the mechanical hard drive in your existing computer with an SSD will change the entire personality of the computer. It won't seem a little faster…it will seem much, much faster.
As side benefits, SSDs aren't magnetic like traditional drives…magnets don't affect them. And they're also much more shock resistant.
Roughly two years ago, the price for a 1TB SSD would have been about $1600. Last year, perhaps $800. But, like all technology, prices always start outrageously high and fall quickly. Today, you can get 1TB SSDs for about $240, and prices are continuing to fall. Smaller sizes are cheaper.
So if you have an iMac, MacBook, MacBook Pro that's gotten way too slow, you can rejuvenate it rather than replacing it by replacing the traditional hard drive with an SSD.
Note that many of the very latest Apple models already come with SSDs instead of traditional drives…which is how Apple made them faster than models from 2010, 2011, 2012, and early 2013. So this article primarily applies to models from those years. Once you replace the hard drive with an SSD, your older Mac will run about as fast as the newest Macs…at much less cost.
Posted in Front Page, Mac Blog | No Comments »
Tuesday, March 8th, 2016
Are hosting companies colluding to make email unusable. Here's why I think that may be true.
Over the past few months, we've had increasing reports d our clients that email messages they send to others are not received.
The bounce messages they forward to me look like this:
A message that you sent could not be delivered to one or more of its recipients. This is a permanent error. The following address(es) failed:
Domain everythingmacintosh.com has exceeded the max emails per hour (500/500 (100%)) allowed. Message discarded.

Reporting-MTA: dns; kompressor.websitewelcome.com
That bounce message says that the recipient's hosting company has decided that the will only accept the first 500 incoming messages each hour from any other mail server. Think about outgoing servers from Earthlink, AT&T, Verizon, Sprint, and all the other huge hosting companies whose servers handle thousands and thousands of outgoing email messages per hour, then think about incoming mail servers that will accept only the first 500 of those messages per hour. And think about all the people who don't even know they are not receiving the messages you send them unless you specifically tell them…using a different mode of communication.
The whole point of email is communication. Anything that interferes with communication sabotages the usefulness of email, which is exactly what some hosting companies seem to be doing. I specifically cite RoadRunner, Yahoo, and now RackSpace.
When a hosting company is hosting your email, that company is obliged to send the messages you send, and receive the messages sent to you. Period. Otherwise what's the point of having them host your email?
If you're actually paying the hosting company to host your email and not delivering email sent to you, they're ripping you off. You're paying the money, but not getting the very service for which you're paying.
If you find that your hosting company is refusing to deliver your messages to you, start by calling them and complaining loudly that they are ripping you, and demanding that they stop censoring your incoming email. If they're unwilling to fix the problem, find a new email hosting company that actually delivers what it promises.
Posted in Front Page, iOS, iOS Blog, iPhone, Mac Blog, Mac OS X | No Comments »
Tuesday, September 29th, 2015
Despite the fact that Apple's Tim Cook stated that pretty much any software that runs on the current Yosemite version of OS X (10.10.x) will also run on the upcoming El Capitan version (10.11.x), Quark is warning that if you'r using QuarkXPress for production, you should not upgrade now. The current version of QuarkXPress 2015 is not yet supported on El Capitan.
In addition, Quark will not support any prior version of QuarkXPress (versions 3 through 10) on the El Capitan version of OS X.
Posted in Front Page, Mac Blog, Mac OS X | No Comments »
Monday, July 13th, 2015
Apple Watch online sales in the United States are estimated to have totaled 3,039,353 at an average price of $505 through July 10, exactly three months after Apple began accepting pre-orders for the wrist-worn device, according to the latest data from market research firm
Slice Intelligence
obtained exclusively by
MacRumors
.
The entry-level Apple Watch Sport has been the most popular model among early adopters by almost a two-to-one margin, with an estimated 1,950,909 units sold at an average price of $381 since April 10. Meanwhile, stainless steel Apple Watch sales are estimated at 1,086,569 units to date, at an average price of $695.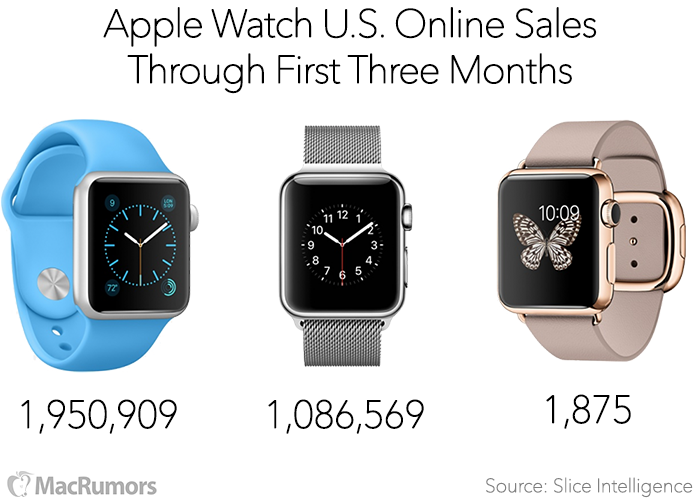 Apple has also sold 1,875 Apple Watch Edition models to date, at an average price of $13,700, according to Slice Intelligence. The 18-karat gold Apple Watch models, seen on the wrists of celebrities such as Beyonce, Drake, Kanye West, Katy Perry and Pharrell Williams, cost between $10,000 and $17,000 in the U.S.
Slice Intelligence's data does not include Apple Watch sales in Australia, Canada, China, France, Germany, Hong Kong, Italy, Japan, Mexico, Singapore, South Korea, Spain, Switzerland, Taiwan and the United Kingdom, nor does it account for walk-in purchases made through the Apple Store.
A Recap of Slice Intelligence's Previous Estimates
Last week, Slice Intelligence
released new data
that showed Apple Watch online sales in the U.S. steadily declined throughout June. Specifically, the survey revealed that Apple Watch sales in the U.S. remained consistent at around 20,000 per day in May before dropping to less than 10,000 per day last month.
The research firm previously estimated that Apple received
1 million Apple Watch pre-orders
at launch, averaged
30,000 Apple Watch sales per da
y in late May and had
topped 2.8 million
total Apple Watch sales as of mid June. It also found that around 17% of online shoppers buy at least one extra band for the Apple Watch.
A Closer Look at Slice Intelligence's Methodology
Given that Apple has not publicly disclosed any official Apple Watch sales figures, and will be grouping the wrist-worn device under its "Other Products" category in quarterly earnings reports, the accuracy and methodology behind the Slice Intelligence data has been called into question -- so we went looking for answers.
MacRumors
spoke with Slice Intelligence's Chief Data Officer Kanishka Agarwal and VP of Marketing and PR Jaimee Minney to learn more about
Slice Intelligence's methodology
. The details below should provide a better understanding of how its Apple Watch sales estimates were calculated over the past three months.
Slice Intelligence tracks e-receipts from 2.5 million online shoppers in the U.S., which it claims is the largest panel anywhere, that sign up for the company's value-added services such as
Slice
and
Unroll.me
. Slice, for example, is a free app for tracking packages, receipts, price drops, product recall alerts and more.
The research firm had a sample size of about 22,000 Apple Watch customers among its panel of 2.5 million online shoppers in the U.S. through July 10, more than double the sample size of about 9,000 shoppers it had when it estimated Apple Watch pre-orders reached nearly 1 million on launch day in the U.S. on April 10.
Slice Intelligence also offers an
API for developers
to provide users with their purchase history and can aggregate e-receipt data through some of these third-party apps and services. The research firm claims to be the only one to provide direct measurement of all digital commerce activity and customer loyalty.
Slice Intelligence says it is "very confident" that its Apple Watch sales estimates are within proximity to what Apple has actually sold, noting that its data is measured against third-party sources such as Amazon and the U.S. Department of Commerce with between 97% and 99% accuracy. Slice and Apple have not been in contact.
The research firm claims to have a diversified pool of consumers that is highly representative of the online shopping population and balanced to eliminate biases. Agarwal says that his firm's panel lines up nicely with the overall market and is supplemented by detailed competitive insight and data from clients.
Apple's Q3 FY 2015 results are scheduled to be released on July 21 at 2:00 PM Pacific.
Posted in Front Page | Comments Off on Apple Watch Sales Estimated at 3 Million Through First 3 Months
Saturday, July 11th, 2015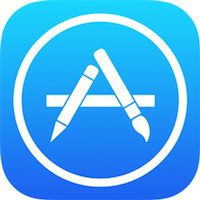 On Wednesday, Spotify sent emails to subscribers asking them to
cancel
their App Store subscriptions to the service to resubscribe on the web to avoid a $3 surcharge because of Apple's App Store policies. The Federal Trade Commission is now looking into Apple's policies, which include a 30 percent fee that it collects on all app and subscription revenue routed through the App Store,
reports
Reuters
.
U.S. government antitrust regulators are looking into claims about whether Apple's treatment of rival streaming music apps is illegal under antitrust law, according to three industry sources.
The antitrust concerns stem from certain App Store restrictions placed on streaming companies, which include a prohibition that the company is on other platforms, a ban on advertising how users can subscribe on a company's website and the ban on links to the company's website. While users can still subscribe to the service of their choice outside of the App Store, avoiding the 30 percent fee for the respective companies, sources tell
Reuters
that many users do not realize its an option.
That 30 percent fee reduces margins for those streaming companies in an industry with already thin margins and makes it difficult for them to compete, Deezer CEO Tyler Goldman tells the news organization. The news also comes after the FTC and other government bodies
began looking into
Apple's efforts to set up deals with music labels.
While the FTC is looking into the App Store rules, there's no guarantee they launch a formal investigation as antitrust lawyers that spoke to
Reuters
were split on whether Apple is breaking the law. This isn't the first time Apple has gotten in trouble for its 30 percent subscription cut, as it landed in hot water with the Department of Justice during the
e-book price fixing case
. In June, it was
reported
that Apple was considering changing the 30 percent cut for media apps like Netflix, Hulu, Spotify and more.
Posted in Front Page | Comments Off on FTC Looking Into App Store Rules Regarding Subscription Services
Saturday, July 11th, 2015
Earlier today Apple Music
exclusively debuted
a new music video from Drake, titled "Energy" from his latest album "If You're Reading This It's Too Late". Previously, Apple has exclusively debuted the music videos for Pharrell's "
Freedom
" and Eminem's "
Phenomenal
". These music videos may be developed in-house at Apple,
reports
Pitchfork
.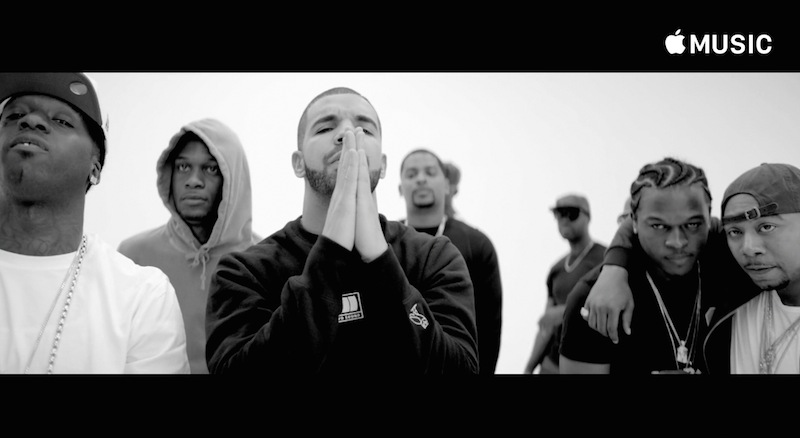 The launch of Apple Music hasn't only included a new radio station, social network, and streaming service. Apple have also started creating their own original content. The company made Drake's amazing "Energy" video in-house, as well as Pharrell's "Freedom" and Eminem's "Phenomenal". Next up: M.I.A.'s "Matahdatah Scroll 01 Broader Than a Border", coming to Apple Music on Monday, July 13.
In addition to M.I.A.'s forthcoming music video,
Pitchfork
, which is an Apple Music Curation Partner, says rumors indicate that Apple Music has projects in the works with artists like Purity Ring, Diddy and James Bay. However, M.I.A.'s music video has been in the works since before May, when the artist
insinuated
that her label was holding up her "Matahdatah" music video because of potential controversy around its cultural appropriation of African culture.
Pitchfork
claims that when they reached out to Larry Jackson, Apple Music's head of content, for comment he responded with a
tweet
consisting of a dig at Spotify CEO Daniel Elk's
"Oh ok" tweet
when Apple Music was announced in addition to the hashtags "Content", "Curation", "Culture" and a link to Drake's music video on Apple Music.
Apple has been trying to secure exclusive content for its new streaming service in an effort to lure customers away from rival services like Spotify and Tidal. That effort continues with Drake, who today
announced
he'll have a radio show on Beats 1 that'll start on Saturday, July 11 at 6 PM EST.
Posted in Front Page | Comments Off on Apple May Be Producing Exclusive Apple Music Content In-House
Friday, July 10th, 2015
MacRumors
has learned that a high-level executive at Barclays, one of the largest banks in the United Kingdom, anticipates "imminent" support of Apple Pay in the country.
Apple Pay in the U.K.
is expected to go live on Tuesday, although it remains unclear if Barclays will be a first wave launch partner because of its delayed negotiations with Apple about the mobile payments service.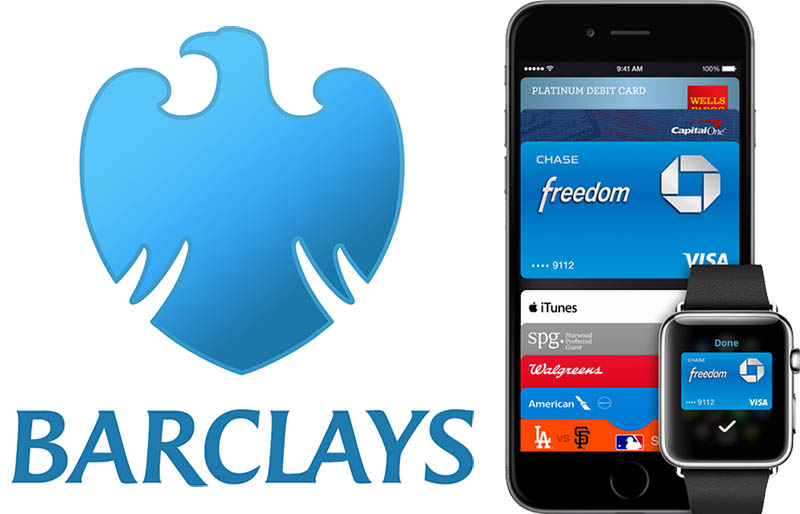 Apple
confirmed at WWDC
last month that Apple Pay will be available in the U.K. in July, but stopped short of providing a specific launch date. Recently released employee
training documents
have suggested the launch could come next week, on July 14, and some Santander customers were able to
add their cards to Passbook
for use with Apple Pay and make purchases ahead of that date.
Barclays was notably absent from Apple's list of banks that will support Apple Pay in the U.K. at launch or soon after, which presently includes HSBC, Lloyds Bank, Bank of Scotland, Royal Bank of Scotland, First Direct, Halifax, M&S Bank, MBNA, NatWest, Nationwide, Santander, TSB and Ulster Bank. The bank's subsidiary Barclaycard has offered an
Apple Rewards Visa Card
for several years.
Barclaycard recently
expanded its "bPay" lineup
of wearable solutions for contactless payments to include a wristband, key fob and sticker, leading to speculation that Barclays may be electing to use its own mobile payments services as opposed to Apple Pay, similar to how some retailers maintained exclusivity to the
CurrentC
platform last year. Today's confirmation, however, indicates otherwise.
Posted in Front Page | Comments Off on Barclays Anticipating 'Imminent' Support for Apple Pay in United Kingdom
Friday, July 10th, 2015
Apple will announce a refreshed lineup of iPod touch, iPod nano and iPod shuffle portable media players around July 14, according to oft-reliable French website
iGen.fr
. The report claims the new iPod touch (codenamed "N102") should be a more significant update, likely including a bump to a 64-bit A-based processor, while the iPod nano ("N31A") and iPod shuffle ("N12D") may be refreshed with new colors only.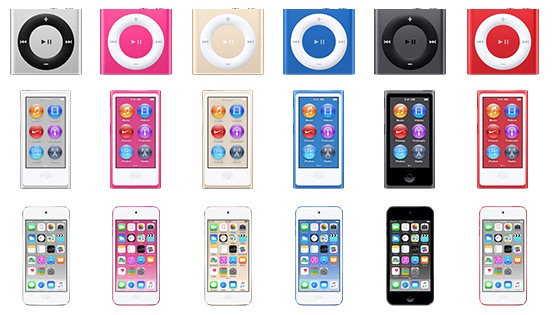 iPods in unreleased colors were
spotted in iTunes 12.2
earlier this month, including a darker blue for the iPod touch, a new gold or beige color for the iPod nano and a brighter pink color for the iPod shuffle.
MacRumors
subsequently discovered a
full lineup of six new colors
for the iPod touch, nano and shuffle hidden within iTunes resource files, including silver, space gray, red, bright pink, deep blue, and light gold.
Posted in Front Page | Comments Off on Apple Rumored to Announce New iPod Touch, Nano and Shuffle Around July 14