Archive for the 'Front Page' Category
Saturday, March 7th, 2015
Back in January,
WayTools
, a company known for its high-quality
NextEngine 3D laser scanner
, surprised the world with a collapsible, magnetic keyboard unlike anything we had seen before. Called the
TextBlade
, the keyboard garnered a significant amount of attention from the media and from prospective buyers who were intrigued with its unique design.
Commenters
here on MacRumors
and across the Internet were immediately curious about the TextBlade, and had several questions. How does it work? How easy is it to use? What's the learning curve? How does it feel?
Today we're going to answer all of those questions and more. Yesterday, WayTools invited
MacRumors
to visit its headquarters in Santa Monica to get an exclusive hands-on first look at the TextBlade. We met with WayTools CEO Mark Knighton, and a group of engineers who helped develop the product to get details on how it works and to try it out for ourselves.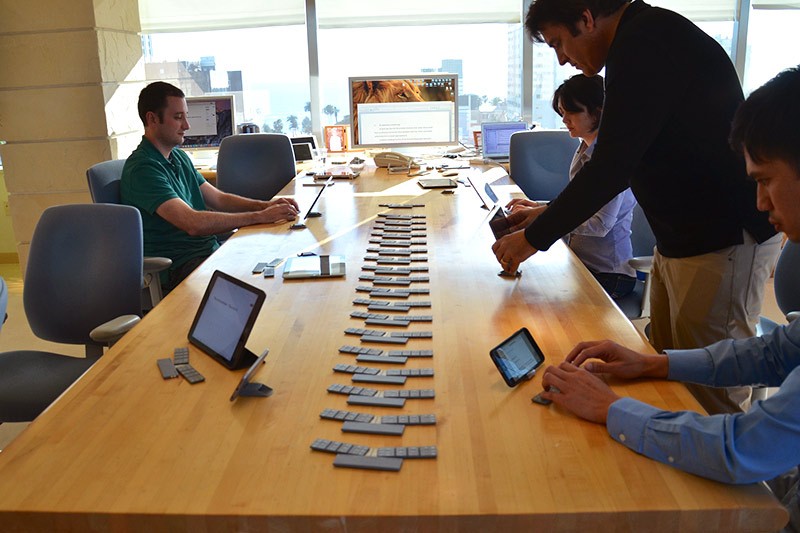 Design
The first thing that's important to know about the TextBlade is that its design, which is the culmination of years of work and experimentation, has been engineered to be completely different from any keyboard that's on the market today.
According to Knighton, the company did not set out to develop a keyboard for the iPhone or the iPad, they set out to develop a keyboard that's a better experience, overall, than any available keyboard, mobile or desktop.
Portability is one of the key qualities that dictated the design of the TextBlade. The team at WayTools firmly believes that an accessory designed for the iPad or the iPhone should be smaller than the device itself. The TextBlade is approximately 1/3 of the size of an iPhone and it weighs an ounce and a half, so it's barely noticeable in a shirt or pants pocket.
(more…)
Posted in Front Page | Comments Off
Friday, March 6th, 2015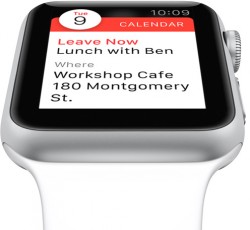 Apple Watch will take approximately two hours to fully charge and deliver all-day battery life with normal on-and-off usage, according to
TechCrunch
. Those estimates corroborate a
previous report
that also claimed the Apple Watch will deliver all-day battery life and support up to five hours of heavy usage per charge.
The report also claims that the Apple Watch will only deliver notifications while worn on the wrist. The smartwatch will not ping you for notifications without being in contact with skin so that the device is not disruptive at unnecessary times. Apple Watch will also stop delivering notifications when the battery reaches 10% or lower in an effort to conserve the remaining power.
"Here's a tidbit you might not know — in order to receive notifications from apps, the Watch must be on your wrist and locked. They require contact with your skin. There will be no in-app dropdown notifications or constant pinging while it's off your wrist. Push notifications also cease when the battery reaches 10 percent. Those decisions speak to the care with which Apple is handling notifications."
Apple continues to tweak Digital Crown on the Apple Watch, giving the button a "weightier, higher-end feel." Pressing and holding down the Digital Crown activates Siri, which the report claims works well and can be used for labeling, directions and commands using a paired iPhone. The goal of the Apple Watch, the report describes, is to return some of your attention away from your smartphone by allowing you to communicate from your wrist on the go.
While both reports this afternoon have provided a closer look at the Apple Watch, there are still several question marks surrounding the wrist-worn device. That will change in less than three days, when Apple provides more details about the Apple Watch at its highly-anticipated "Spring Forward"
media event
in San Francisco. The keynote begins on Monday at 10 AM Pacific and
MacRumors
will be providing live coverage of the event.
Posted in Front Page | Comments Off
Friday, March 6th, 2015
Apple will be making significant changes to iPad deployment for education during the upcoming school year that should eliminate some of the hurdles that school districts face when adopting iPads for use in the classroom. In an email obtained by
MacRumors
, the company outlines plans to make app distribution easier by eliminating the need for an Apple ID to load apps, tweaking the Apple ID for Students program and unifying several deployment programs into one.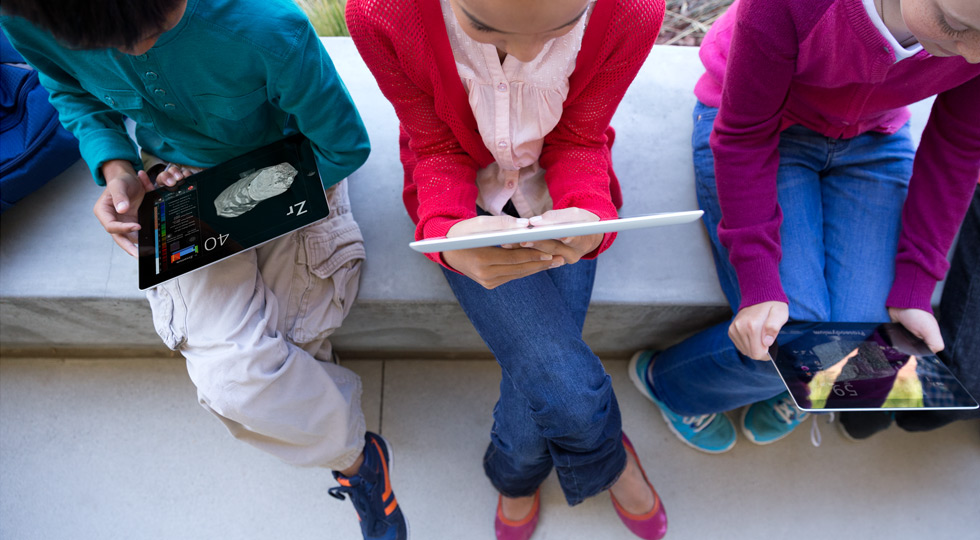 Apple plans to simplify app distribution by allowing schools to assign and distribute apps to a device without an Apple ID this fall, reducing the number of steps needed to set up an iPad. Schools will no longer be required to create generic Apple IDs solely to load content on the tablet, and teachers and administrators will have the option to block students from making personal purchases without approval.
"To simplify large deployments, including one-to-one and shared use, we want to make app distribution even easier. Today, Apple IDs are required in order to deliver apps and books to students. We are working to change this in the fall by allowing schools to assign and distribute apps to a device without an Apple ID. As currently planned, this will greatly reduce the number of steps needed to setup a device. This change should eliminate the need to create generic Apple IDs solely for the purposes of getting content onto iPad. Schools will also have the option to prevent students from making personal purchases without approval."
The email also outlines changes to the Apple ID for Students program to roll out during 2016, including schools gaining the ability to create and manage Apple IDs for students that can be used to access iCloud. System administrators will also have be able to reset student passwords. The new approach will continue to meet
COPPA
requirements for children's online privacy in the United States.
Apple will also be improving its Apple Deployment Programs by unifying several programs into one for a simplified administrative experience, making it easier for school districts to enroll, manage, and support large iPad deployments. Apple hopes the changes will continue to result in increased student engagement, better attendance and higher test results at all grades and levels of education.
Posted in Front Page | Comments Off
Friday, March 6th, 2015
With just over two days to go until Apple's big March 9 "Spring Forward" event that's said to be heavily focused on the Apple Watch, information on the device is leaking out at a rapid pace. Apple's been relatively quiet about battery life, stating only that the Apple Watch will need to be charged on a daily basis, but
9to5Mac
has a few more details on how long we can expect the Apple Watch to last between charges.
According to the site's sources, final software tweaks and optimizations to the device have led to a battery life of approximately five hours of heavy application usage. The device reportedly will not run out of battery life "during a typical day of mixed and passive use," but it will need to be charged on a nightly basis as Apple has previously said. There's also been little said about how the Apple Watch will affect the battery of the iPhone, but
9to5Mac
's sources say that there is no "meaningful" observed battery drain while using the device.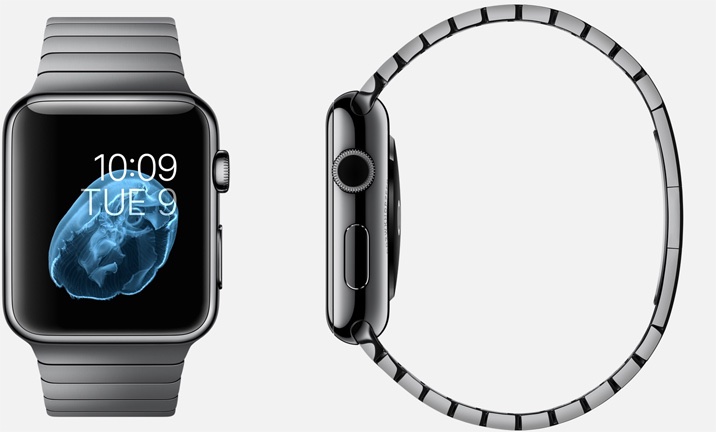 A
Power Reserve Mode
can be activated within the watch when the battery in the device becomes critically low, ensuring that it's primary function -- telling the time -- is always available. Power Reserve Mode can be activated at any time via a Battery Life Glance screen.
Power Reserve Mode can even be accessed when the Watch has a full 100% charge, and it is not solely activated when the Watch's battery life is low. The mode noticeably dims the display, slows down communication with the iPhone to an on-demand level, and puts the display to sleep after roughly two seconds of inactivity. One unit tested allowed access to all Apple Watch functions while in Power Reserve mode, while another unit was limited to the Clock face.
The Apple Watch is also said to have an interesting method of displaying remaining battery life. At 20 percent, the Battery Life Glance (which is just one of many default glances on the watch) will turn an orange/amber color to let users know that battery life is running low, and at 10 percent, it will turn from amber to red.
Along with battery life, there are also some new details on onboard storage. We've
known for awhile
that the device will have dedicated storage for features like music storage, but the exact amount of storage has not yet been shared. It appears that prototype devices have 8GB of storage, suggesting at least some devices will ship with that amount of storage space. Like with the iPhone, there may be several storage options that are available at an additional cost.
In just a few short days, we'll have a wealth of information on the Apple Watch. Apple is expected to share more details on battery life, storage space, pricing tiers, and accessory options at its upcoming March 9 event. Apple is
planning to live stream the event
, and
MacRumors
will also provide live coverage, both on MacRumors.com and through the
MacRumorsLive Twitter account
.
Posted in Front Page | Comments Off
Friday, March 6th, 2015
Apple has quietly listed the
MagSafe to MagSafe 2 converter
as discontinued on the Apple Online Store in the United States and Canada this week. The converter is required to charge a MagSafe 2-equipped MacBook Air or MacBook Pro when the notebook is connected to a Thunderbolt Display or Cinema Display. The converter still appears to have in-store availability, although for how long remains unknown.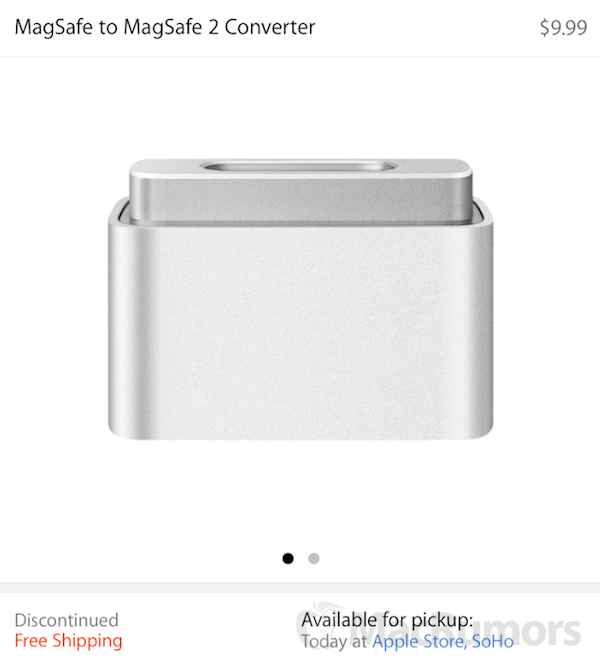 Apple discontinuing the MagSafe to MagSafe 2 converter would prove problematic for Thunderbolt Display and Cinema Display users. The company does include the converter in the box for the Thunderbolt Display, but not being able to purchase a replacement if you misplace one would be an issue. We have reached out to Apple for comment and will update this story if we hear back.
(Thanks, Chris!)
Posted in Front Page | Comments Off
Friday, March 6th, 2015
MacBook Air and 13" Retina MacBook Pro shipping times have slipped on the Apple Online Store from "in stock" to "1 business day" ahead of Apple's upcoming "
Spring Forward
" media event on Monday. Earlier this week, we reported that a MacBook Air refresh with the latest Intel Broadwell processors and Intel HD 6000 graphics
appears imminent
, and it is plausible that Apple also updates the MacBook Pro with similar hardware.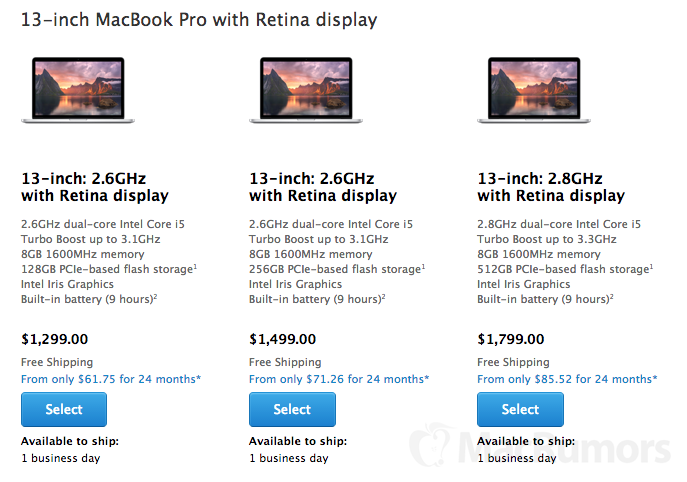 The shipping dates have slipped across North America, with the Apple Online Store in the United States, Canada and Mexico showing the longer "1 business day" estimate. A spot check of the United Kingdom and Australia online storefronts still shows regular shipping times. In-store availability of the MacBook Air and MacBook Pro in the also appears unaffected in the United States based on Apple Stores in New York and California.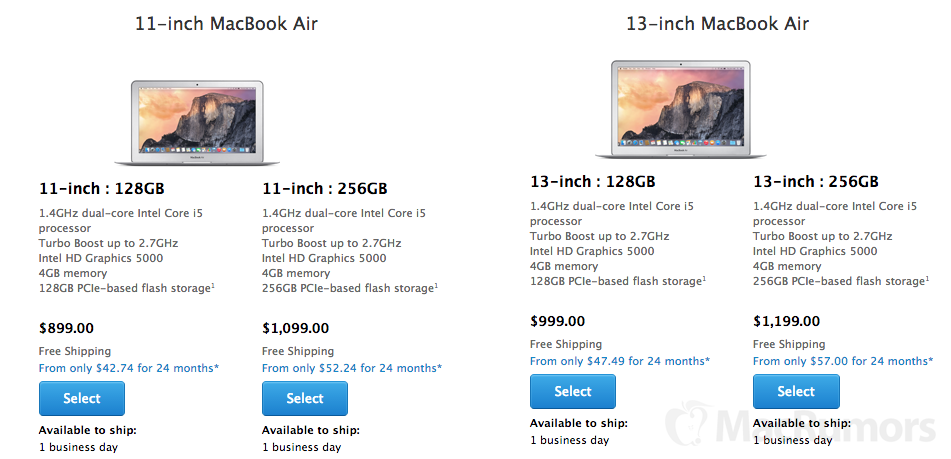 Intel's Broadwell processors are available for all MacBook Air models and the 13-inch MacBook Pro, although more powerful chips for the 15-inch MacBook Pro are
not expected until later this year
. Nevertheless, Apple may choose to focus its March 9 media event solely on the Apple Watch and could hold off on refreshing its MacBook Air and MacBook Pro lineups until a later date.
Posted in Front Page | Comments Off
Friday, March 6th, 2015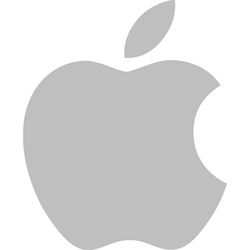 Apple will be joining the Dow Jones Industrial Average, according to S&P Dow Jones (via
The Wall Street Journal
). Apple will be added to the Dow Jones at the close of trading on March 18, replacing AT&T as one of 30 members on the major price-weighted index. Apple is currently listed on Nasdaq with a pre-market share price hovering around the $128 mark as of writing.
"Apple is the clear choice for the Dow Jones Industrial Average, the most recognized stock market measure," says David M. Blitzer, chairman of the Index Committee at S&P Dow Jones Indices.
The addition of Apple on the Dow Jones Industrial Average will occur just weeks after the iPhone maker recorded the most profitable quarter of any company ever, posting record-breaking quarterly revenue of $74.6 billion and quarterly net profit of $18 billion on sales of 74.5 million iPhones during the first quarter of the fiscal year. Apple is currently the world's most valuable company with a market cap exceeding $735 billion.
The Dow Jones Industrial Average provides a price-weighted average of 30 significant stocks traded on the New York Stock Exchange and the Nasdaq, which offers valuable insight into how the stock market is performing at any given time. Other members of the Dow Jones include American Express, Boeing, Chevron, Coca-Cola, Disney, Exxon Mobil, Goldman Sachs, IBM, Intel, JPMorgan and Chase, Microsoft, Verizon and Visa.
Posted in Front Page | Comments Off
Friday, March 6th, 2015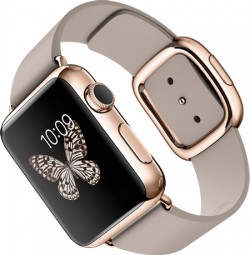 Apple design chief Jonathan Ive recently discussed the design process behind creating the Apple Watch in a new profile with
Financial Times
. Ive describes the Apple Watch as "the most personal product" that Apple has ever made, with "thousands and thousands of hours of evaluation and testing" invested into the device.
"Even now, when the design of the Apple Watch is incredibly mature and has gone through thousands and thousands of hours of evaluation and testing, we're still working and improving. You are trying to keep everything fluid for as long as possible because everything is so interconnected. The best products are those where you have optimized each attribute while being very conscious of other parts of the product's performance."
The iconic designer adds that he appreciates the convenience afforded by the Apple Watch, describing the wrist as the perfect place for this technology. Apple Watch will have a
Glances
feature on the watch face that delivers real-time information such as weather, stock quotes and upcoming calendar events.
"One of the things that struck me," says Ive, "was how often I'd look at my watch and have to look again quite soon afterwards, because I hadn't actually comprehended what the time was. If I had looked at something on my phone, because of the investment involved in taking it out of my pocket or my bag, I would certainly pay attention. I quite like this sense of almost being careless and just glancing. I think for certain things the wrist is the perfect place for this technology."
Ive's meticulous level of detail extends beyond the Apple Watch to the packaging of the wrist-worn device. The box for the Apple Watch Edition in particular will be crafted from premium materials including aniline-dyed leather on the outside and an ultra-suede material on the inside. The small white box's bottom half can slide out based on friction, similar to past iPhone, iPad and iPod packaging.
"We didn't want the packaging to be a sort of shorthand for value, where the box needs to be big and we have to include expensive materials. We've always liked the idea that if we are heavy in our thinking, we can be much lighter in the implementation. So there's huge virtue, I think, in keeping the packaging small: at least, it is the right choice environmentally, it's easier to move things around and you don't end up with your wardrobes full of large watch boxes that you don't use."
Apple is expected to provide more details about the Apple Watch at its highly-anticipated "
Spring Forward
" media event on March 9th in San Francisco. Ahead of time, the company has been
working closely with developers
in a top-secret lab to create what will be some of the first apps for the wrist-worn device. Apple Watch will be available in April starting at $349 for the entry-level model.
Posted in Front Page | Comments Off
Friday, March 6th, 2015
Three weeks ago, it was
reported
that Apple was inviting developers to the company's Cupertino headquarters to receive help finalizing Apple Watch apps. A
new report
from
Bloomberg Business
provides a look into the secret lab where Apple is helping developers, offering a look at Apple's strategy for Apple Watch apps as well as the security around the project.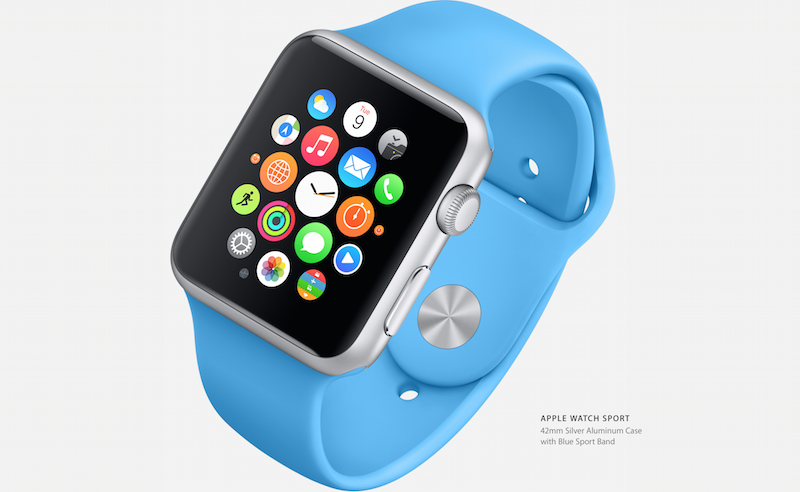 Developers from Facebook, BMW, Starwood Hotels and others have been making multiple trips to Cupertino, with each visit requiring confidentiality.
Apple, which will share more details about the gadget at a March 9 event, uses extreme measures to keep the work secret. Internet access is blocked inside the rooms, and no outside materials can be brought in to the labs with the test watches, a person who attended said. The companies, sometimes sharing a room, must bring in source code for their apps on a computer hard drive that can't leave Apple's headquarters. To prevent information from leaking out, Apple is storing the code and sending it to the companies closer to the watch's introduction date, the person said.
The unreleased Apple Watch is also available for the developers to test out their apps, allowing them to check for glitches and optimize user experience for the Digital Crown and Force Touch, two of the watch's unique interface options.
One of the challenges for both Apple and its developers has been to balance the apps so that they are useful but not annoying. Apple has recommended that developers be "judicious" about interrupting users with alerts that would constantly buzz or drain the battery. Instead, they suggest that apps should be used for no longer than 10 seconds at a time.
Another challenge for developers has been working on an unreleased product, as developers have noticed problems that still need to be worked through. One developer tells
Bloomberg
that the Bluetooth connection between the iPhone and Apple Watch caused lag with some applications. Additionally, some developers like Starwood have had to use computer simulations and cardboard cutouts to explain to the designers who weren't invited to Cupertino how its app would work.
Apple is expected to show off the Apple Watch apps developers have been working on, as well as more information about the new device, at its
"Spring Forward"
event on Monday, March 9 at 10:00 a.m. Pacific Daylight Time. Apple plans to
provide live coverage
for the event on its website and through a channel on Apple TV, and MacRumors will also be covering the event with both a live blog on
MacRumors.com
and through our
MacRumorsLive Twitter account
.
Posted in Front Page | Comments Off
Friday, March 6th, 2015
For years, Oracle has been bundling an Ask.com search toolbar with Java for Windows, relying on what some call deceptive methods to get users to install the add-on to their browsers. Now, the company has extended its adware strategy to Java for Mac,
according
to
ZDNet
.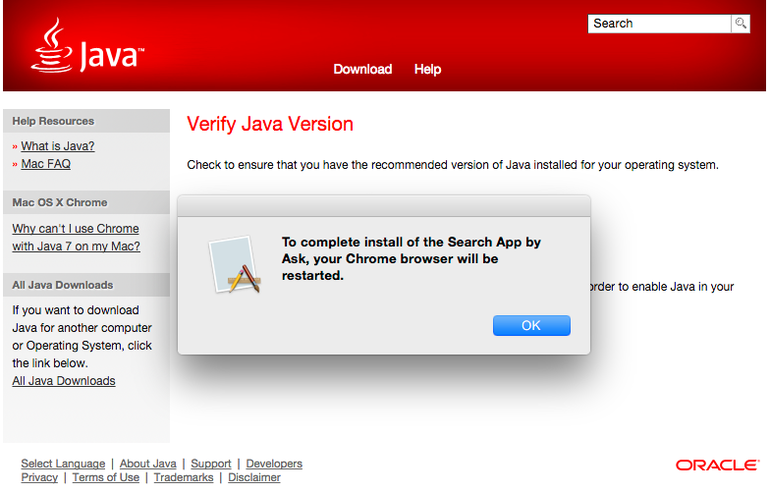 Image via ZDNet
The unwelcome Ask extension shows up as part of the installer if a Mac user downloads Java 8 Update 40 for the Mac. In my tests on a Mac running that latest release of OS X, the installer added an app to the current browser, Chrome version 41. (In a separate test, I installed Java using the latest version of Safari, where it behaved in a similar fashion.)
The Java installer selects the option to install the Ask extension by default, which means that users casually clicking through the dialogue boxes would find the extension installed and enabled on their browser of choice. Oracle has also updated its
installation instructions
for Mac to account for the change.
As noted by
ZDNet
, Ask.com typically provides low-quality search results and numerous ads with little distinction between ads and organic results. Ask.com parent company IAC pays a commission to Oracle and other companies that bundle the Ask extension with its products.
Users who want to remove the Ask toolbar can do so from the Help menu for the Ask toolbar on Chrome. Alternatively, users can go to the Chrome menu bar, then Preferences, then the settings page, then Manage Search Engines to remove Ask, followed by removing the extension from the Extension tab. Safari users can do so by going to Extensions in the Safari preferences and turning it off.
Posted in Front Page | Comments Off