Archive for the 'Front Page' Category
Wednesday, July 23rd, 2014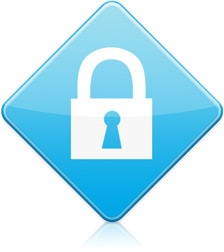 Earlier this week, forensic expert Jonathan Zdziarski attracted attention for his disclosures of what appeared to be
"backdoors" in iOS
that could allow for covert data collection of users' information from their devices. While Apple issued a statement denying that anything nefarious was involved, the company has now posted a
new support document
(
via Cabel Sasser
) offering a limited description of the three services highlighted in Zdziarski's talk.
Each of these diagnostic capabilities requires the user to have unlocked their device and agreed to trust another computer. Any data transmitted between the iOS device and trusted computer is encrypted with keys not shared with Apple. For users who have enabled iTunes Wi-Fi Sync on a trusted computer, these services may also be accessed wirelessly by that computer.
The three processes include:
-
com.apple.mobile.pcapd
: Diagnostic packet capture to a trusted computer, used for diagnosing app issues and enterprise VPN connection problems.
-
com.apple.mobile.file_relay
: Used on internal devices and can be accessed (with user permission) by AppleCare for diagnostic purposes on the user's device.
-
com.apple.mobile.house_arrest
: Used by iTunes for document transfer and by Xcode during app development and testing.
Security experts will undoubtedly have additional questions about just how these services work and whether there are better and more secure ways of accomplishing the tasks they handle. At the very least, however, today's disclosure demonstrates a willingness by Apple to share information about the legitimate need for these services and should help quell unsupported speculation that Apple has worked with security agencies to implement these tools to allow for covert surveillance.
Note: Due to the political nature of the discussion regarding this topic, the discussion thread is located in our
Politics, Religion, Social Issues
forum. All forum members and site visitors are welcome to read and follow the thread, but posting is limited to forum members with at least 100 posts.
Posted in Front Page | Comments Off
Wednesday, July 23rd, 2014
While iOS and Mac OS X have traditionally followed different release schedules, Apple's recently announced Continuity features suggested it was possible for Apple's two operating systems to debut at the same time. However, Apple is planning to stagger the releases of both iOS 8 and Mac OS X Yosemite,
reports
9to5Mac
, citing sources with knowledge of Apple's plans.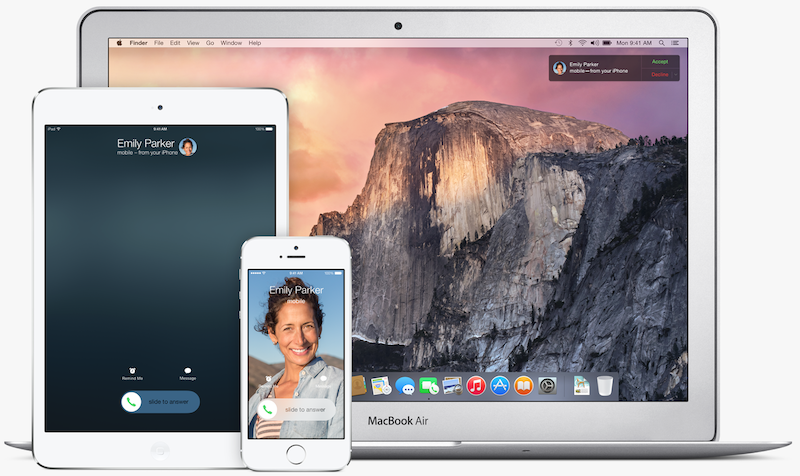 iOS 8 is expected to launch in September alongside the iPhone 6 while OS X Yosemite will not launch until October. Apple used the same release schedule last year, launching iOS 7 alongside the iPhone 5s in September and OS X Mavericks one month later in October.
Continuity allows users to work seamlessly between iPhone, iPad and Mac, with the ability to start emails on one device and easily finish it on another, or using Macs and iPads to answer phone calls and "green bubble" text messages. Because iOS and OS X have never been designed to work better together than with iOS 8 and OS X Yosemite, many saw a dual release as a good opportunity for Apple to cross-promote both its iOS devices and Macs with a stand-out new feature like Continuity.
Apple is planning on using engineering and user interface design members from the iOS team to help complete OS X Yosemite in time for a fall release, with a public beta planned as early as 
later this month
.
Posted in Front Page | Comments Off
Wednesday, July 23rd, 2014
Apple is facing a class action lawsuit in California over a number of alleged Labor Code violations, with the company being accused of not providing timely meal breaks, timely rest breaks, and timely final paychecks, reports
TechCrunch
.
Plaintiffs bring this Class Action against Defendants to recover for, among other things, failure to provide meal and rest periods, failure to furnish accurate itemized wage statements, and failure to pay timely wages on the end of employment, interest, attorneys' fees, penalties, costs, and expenses on behalf of themselves, the Plaintiff Class, and the Plaintiff Subclasses.
Originally filed in December of 2011 by four former Apple retail and corporate employees in San Diego, the lawsuit was certified as class action yesterday and could affect up to 20,000 current and former Apple employees in the state of California.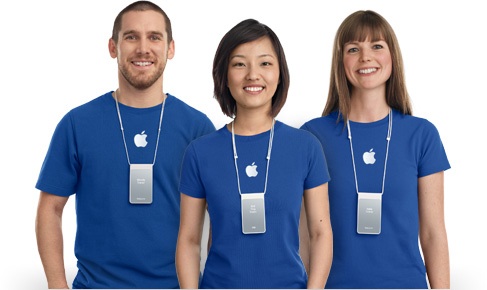 According to the filing, which demands a jury trial, employee complaints cover a wide range of possible labor code violations. One complaint, for example, cites employees having to work for five hours straight without a meal break, while another complaint suggests that Apple took several weeks to send out a final check to multiple employees.
The lawsuit asks for compensatory damages and restitution of all monies due to affected employees from unlawful business practices, along with interest, but it does not specify a damages amount.
Along with this new class action lawsuit, Apple is embroiled in a class action lawsuit with Apple retail employees who allege that
Apple's bag checking policies
have resulted in lost wages, a suit that also accuses Apple of violating state labor laws.
Posted in Front Page | Comments Off
Tuesday, July 22nd, 2014
During
today's earnings call
, Apple CEO Tim Cook shared new information on the state of the iPad, including details on overall sales since the product launched a little over four years ago, recent growth in different markets, and hints at future plans. It was revealed earlier that sales of the iPad were down for the second straight quarter in a row, as the company sold a total of 13.3 million iPads, down from 14.6 million in the year-ago quarter.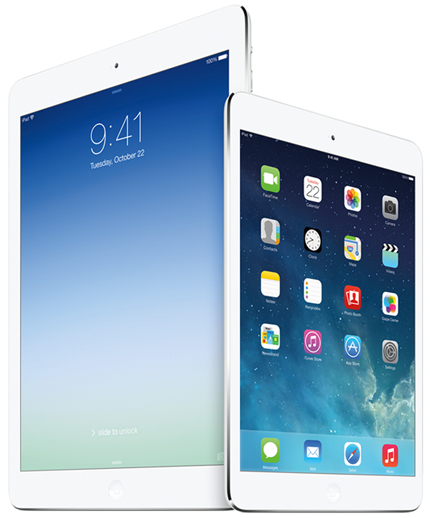 Cook said that iPad sales have totaled to 225 million units since 2010, as the current iPad Air and iPad mini have hit 98% and 100% customer satisfaction, respectively. According to recent market studies, 63% of customers planning to buy a tablet are planning to buy an iPad, while half of all iPad buyers were planning to buy their first iPad.
Additionally, Apple noted that 2.5 iPads are being sold for every Mac, as the tablet now holds an 85% share of the U.S. education market. Internationally, the iPad also experienced a 50% growth in China and 60% growth in the Middle East year-over-year.
In reaction to iPad sales being down, Cook noted "significant innovation can be brought to the iPad", stating "[Apple] plans on doing that" and that the tablet category as a whole is still "in its infancy." Recent reports have pointed to Apple launching updated models of the
iPad Air
and
Retina iPad mini
later this year, with each likely to come with the
Touch ID fingerprint sensor
and a faster A8 processor.
The company is also rumored to be preparing a larger "iPad Pro" which is said to feature a 12.9-inch ultra high-definition display. KGI Securities analyst Ming-Chi Kuo reported that the iPad Pro
in 2015
, but a
recent report
noted that Apple's plans may be on hold for the foreseeable feature.
Posted in Front Page | Comments Off
Tuesday, July 22nd, 2014

Apple today
announced
financial results for the second calendar quarter and third fiscal quarter of 2014. For the quarter, Apple posted revenue of $37.4 billion and net quarterly profit of $7.7 billion, or $1.28 per diluted share, compared to revenue of $35.3 billion and net quarterly profit of $6.9 billion, or $1.07 per diluted share in the
year-ago quarter
.
Gross margin for the quarter was 39.4 percent compared to 36.9 percent in the year-ago quarter, with international sales accounting for 59 percent of revenue. Apple also declared an upcoming dividend payment of $0.47 per share, payable on August 14 to shareholders of record as of August 11. The company currently holds $164.5 billion in cash and marketable securities.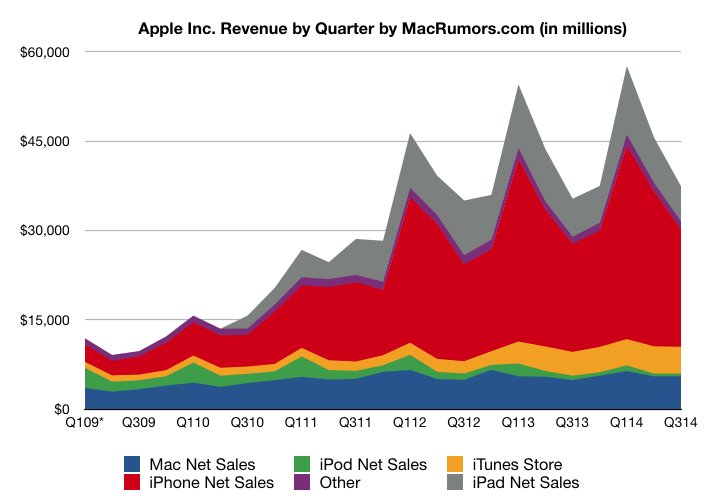 Quarterly iPhone unit sales reached 35.2 million, up from 31.2 million in the year-ago quarter, and the company sold 13.3 million iPads, down from 14.6 million in the year-ago quarter. Apple sold 4.4 million Macs, up from 3.8 million in the year-ago period.
"Our record June quarter revenue was fueled by strong sales of iPhone and Mac and the continued growth of revenue from the Apple ecosystem, driving our highest EPS growth rate in seven quarters," said Tim Cook, Apple's CEO. "We are incredibly excited about the upcoming releases of iOS 8 and OS X Yosemite, as well as other new products and services that we can't wait to introduce."
Apple's guidance for the fourth quarter of fiscal 2014 includes expected revenue of $37-40 billion and gross margin between 37 and 38 percent.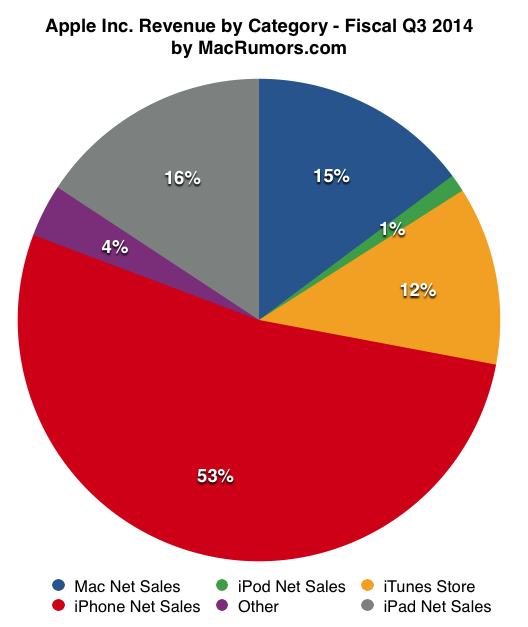 Apple will
provide live streaming
of its fiscal Q3 2014 financial results conference call at 2:00 PM Pacific, and MacRumors will update this story with coverage of the conference call highlights.
Earnings call highlights are available after the jump.
(more…)
Posted in Front Page | Comments Off
Tuesday, July 22nd, 2014
With the 4.7-inch iPhone
entering mass production
this month, part leaks and rumors surrounding the device are beginning to pick up. Several different internal and external parts said to be destined for the iPhone 6 have surfaced and today,
Apple.club.tw
[
Google Translate
] has shared images depicting the flex cable for the Lightning and headphone parts along with another image of the iPhone 6 rear shell.
The flex cable said to be for the iPhone 6 includes the headphone jack on the far left, a microphone next to that, and the Lightning port located on the middle of the part. It looks very similar to the Lightning/headphone flex cable designed for the iPhone 5s, but the headphone jack has dual screw holes towards the top of the part, a variation from the iPhone 5s design.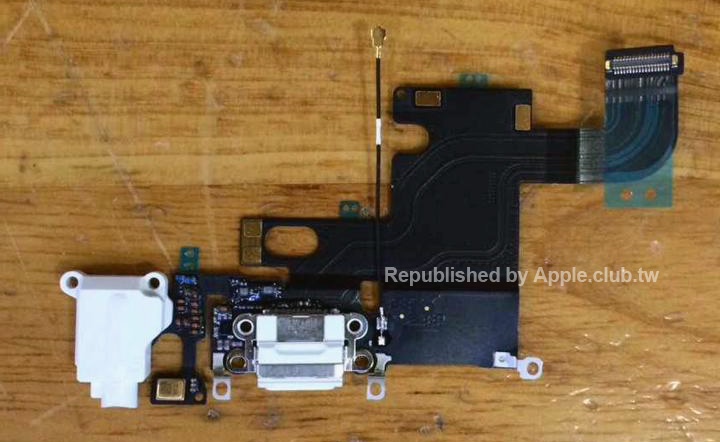 These two holes appear to accurately line up with the dual holes in the bottom left of the rear shell of the device, suggesting the headphone jack would fit correctly into the iPhone 6 rear shell and lending credence to the authenticity of the part.
As for the rear shell, it appears very similar to
previously shared images
of the iPhone 6 rear shell, including a near-completed rear shell with embedded Apple logo that
surfaced yesterday
. Like that shell, this one features an iPad-style embedded Apple logo, clear cutouts for the camera and flash, and very prominent antenna breaks.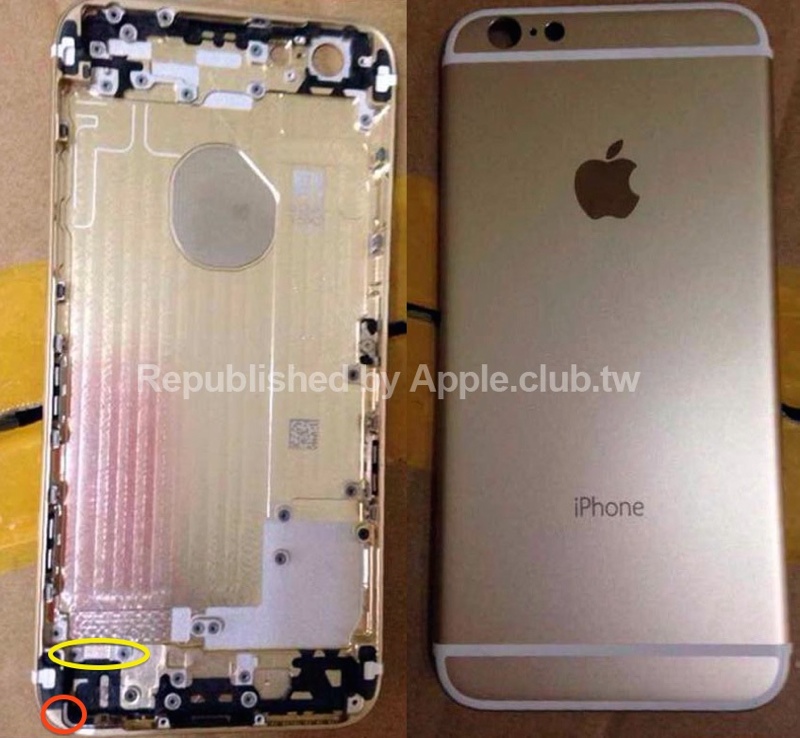 Yellow circle indicates two holes that match the holes on the headphone jack of the flex cable, red circle indicates the difference in screw hole location between iPhone 5s/iPhone 6.
Some reports have speculated that the embedded Apple logo is designed to light up, but it is more likely that the embedded logo is for aesthetic and/or radio transparency purposes.
As we creep closer to the prospective September launch date of the iPhone 6, part leaks may grow even more frequent. Thus far all part leaks have centered around the 4.7-inch iPhone, and this is because it is believed to be entering mass production ahead of the 5.5-inch version. The 5.5-inch iPhone 6
may enter production
in August or September according to rumors, which means 5.5-inch part leaks could pick up over the next month or two as well.
Posted in Front Page | Comments Off
Tuesday, July 22nd, 2014
According to a
new report
from Taiwan's
Economic Daily News
, Apple's third-generation iPad mini will be an "Air"-like model, featuring a design that shaves 30 percent off the thickness of the device. This thinness along with a powerful new A8 processor will be among the main selling points for the next generation iPad mini, claims the Asian sources (via
GforGames
).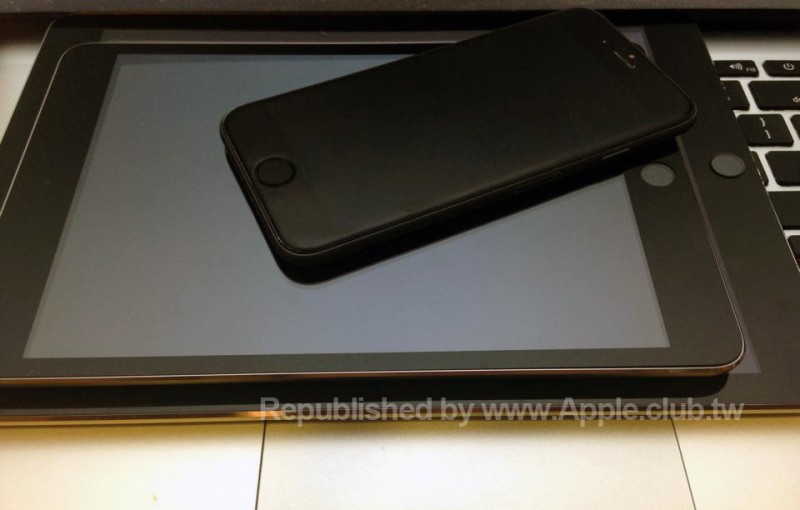 Mockups of the next generation iPhone, iPad Mini, and iPad Air from Apple.club.tw
While the sources of the rumor are given only as from the supply chain, the claim of a 30 percent thinner iPad mini seems to be an overly optimistic one. The original iPad mini measured 7.2 mm thick, and the device saw a slight increase to 7.5 mm with the move to a Retina display last year. The larger iPad Air moved in the opposite direction last year, slimming down from 9.4 mm in the fourth-generation iPad to match the Retina iPad mini at 7.5 mm.
A 30 percent reduction in thickness for the iPad mini would put it in the range of 5.25 mm, and how Apple would achieve such a reduction is unclear, especially given the increase in horsepower seen with the move to a Retina display last year. That move made the iPad Air and Retina iPad mini essentially identical with the exception of display size.
Apple is expected to release the updated iPad mini in the third quarter of 2014, likely following the iPhone 6 launch in September. Besides a possible thinner form factor and A8 processor, the next generation iPad mini also is expected to include
a more durable Touch ID fingerprint sensor
containing tin. Similar to the iPhone, the next generation iPad is expected to support iOS 8's new SDK that allows third-party developers to access the fingerprint scanner for verification purposes.
Besides the iPad Air and iPad mini, Apple is rumored to be expanding its iPad lineup with a larger 12.9-inch iPad. Dubbed the "iPad Pro," the larger model may not be released until 2015, claims DisplaySearch analyst David Hsieh. This prediction echoes
a earlier report
from KGI Securities Ming-Chi Kuo who also predicted a 2015 launch date for the oversized tablet device.
Posted in Front Page | Comments Off
Tuesday, July 22nd, 2014
The U.S. Patent and Trademark Office today granted Apple
a patent
that describes a wrist-worn device containing sensors and wireless radios that allow it to communicate with other devices such as the iPhone, iPad or Mac (Via
AppleInsider
). It is a comprehensive patent that describes some of the core features of Apple's
rumored iWatch device
.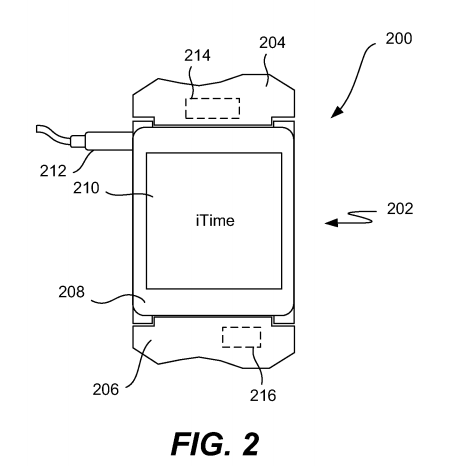 Front view of a device similar to a sixth-generation iPod nano docked into wristband
The invention details a modular device, identified in the patent as the "iTime", that features a wrist-worn, sensor-laden strap and potentially removable modules. The modules, such as a media player, can snap into a wristband, which contains add-ons like GPS and a Wi-Fi radio that increase the functionality of the device. The system is reminiscent of the sixth-generation iPod nano, which fits a wristband to become a wearable media player.
The invention pertains to an electronic wristwatch. According to one embodiment, an electronic wristband can provide additional electrical circuitry or devices that can be made available for use as or with an electronic device. In one embodiment, the electronic device can be a mobile electronic device that can be removably coupled to the electronic wristband which provides the additional circuitry or devices. Advantageously, the electronic device can utilize the additional electrical circuitry or devices provided within the electronic wristband to augment the capabilities of the electronic device. In another embodiment, the electronic device can be integrally formed with the electronic wristband which provides the additional circuitry or devices.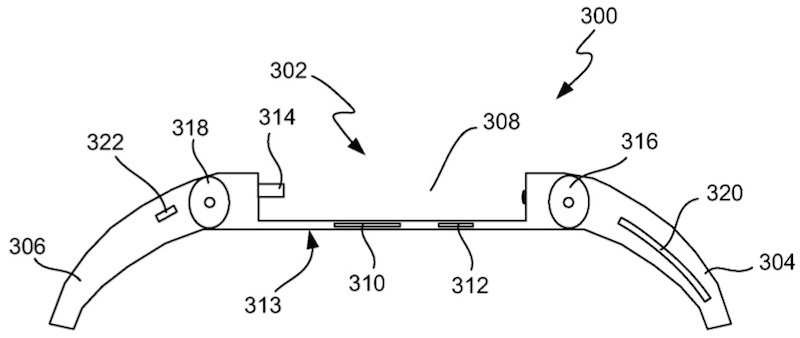 Side view showing wristband with docking connector (314)
Apple also describes a method of connecting the smartwatch to a mobile device that allows for the display of incoming calls, text messages and other alerts on the wrist-worn display. In another embodiment, the device can alert the user when it is out of range and thus at risk of being lost or stolen. The patent also contains provisions for movement-based controls of the wristwatch device.
Apple is rumored to be working on
the iWatch
, a smartwatch device that could debut later this year. Rumors suggests the wristband may include sensors to monitor activity levels, heart rate and other vital health functions. The device likely will share its data with iOS via
the new Health app
in iOS 8.
Posted in Front Page | Comments Off
Tuesday, July 22nd, 2014
Apple is asking its suppliers to manufacture a massive number of 4.7 and 5.5-inch iPhones in anticipation of high consumer demand, reports
The Wall Street Journal
. The company is seeking between 70 and 80 million units combined of the 4.7 and 5.5-inch iPhone 6 by December, its largest order to date and a major jump from last year, where it ordered between 50 and 60 million iPhone 5s and 5c models.
Its forecast for what is commonly called the iPhone 6 is significantly larger than the initial order last year of between 50 million and 60 million versions of the iPhone 5S and 5C--which had a display measuring 4-inches diagonally, these people said. Both of the coming models are expected to feature metal cases similar to the iPhone 5S and likely come in multiple colors, these people said.
With high iPhone 6 numbers, Apple is likely hoping to avoid the supply/demand crisis it saw last year with the iPhone 5s. After the iPhone 5s launched in September of 2013, Apple saw unexpectedly high demand for the flagship device, likely due to its new Touch ID fingerprint sensor. The phone was in short supply for much of 2013, and Tim Cook
later admitted
that Apple had expected a more balanced demand between the iPhone 5s and the iPhone 5c.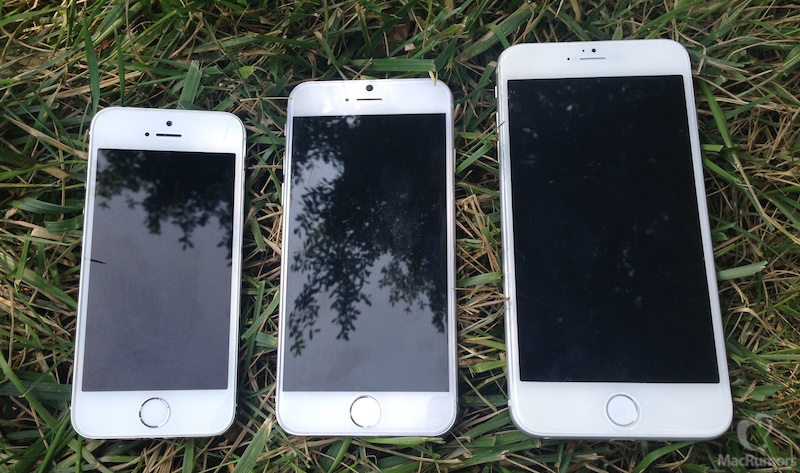 4.7 and 5.5-inch iPhone 6 mockups compared to iPhone 5s
Demand for the iPhone 6 will likely be extremely high, as it marks both a redesign and the introduction of a larger screen, a long-awaited feature that could cause a
massive spike in upgrades
from both iPhone upgraders and
those switching from Android
. According to analyst estimates, Apple could see a 15 to 20 percent jump in unit sales year over year.
Apple partners Foxconn and Pegatron are said to be hiring massive numbers of new employees to help assemble the iPhone 6, with main supplier Foxconn taking on an
additional 100,000 employees
and Pegatron adding 10,000.
The 4.7-inch iPhone 6 is
expected to enter production
in July, while production on the 5.5-inch version will begin in August or September. At this time, it remains unclear if the two iPhone 6 models will launch simultaneously, as rumors have suggested
production issues
may push back the launch of the 5.5-inch iPhone to late 2014 or early 2015.
In-cell display technology for the 5.5-inch iPhone 6 has been said to be causing significant problems and
The Wall Street Journal
suggests there may be additional complications if the larger device also uses a sapphire display. Apple is reportedly asking component makers to prepare enough parts for up to 120 million iPhone 6 models in order to compensate for high failure rates.
Posted in Front Page | Comments Off
Monday, July 21st, 2014
Apple has launched a new television ad for the MacBook Air, "Stickers," showing off an array of customizable decals placed over the Apple symbol on the back of the notebook.
Decals shown include various sunglasses, hats, and headphones, along with nods to Breaking Bad, Peanuts, Ice Age, Snow White, Pac Man, Chi the Cat, The Simpsons, Batman, Wonder Woman, the Tasmanian Devil, Hello Kitty, Catwoman, and Mickey Mouse.
There are also cameras, record players, trees, faces, cityscapes, planets, scuba divers, 8-bit games, a variety of abstract designs and patterns, and more, plus a Beats logo. The new spot ends with a side view of the MacBook Air and the tagline "The notebook people love." Apple has also
posted a "Stickers" page
on its website detailing some of the decals in the video.
A celebration of all the many ways people love the MacBook Air, featuring music from artist/producer, Hudson Mohawke.
Apple's MacBook Air, last refreshed in April of 2014, is known for its portability and ultrathin size, weighing in at 2.38 pounds for the 11-inch model and 2.96 pounds for the 13-inch model. The MacBook Air is also Apple's most affordable notebook, with
prices beginning at $899
.
Posted in Front Page | Comments Off