Archive for the 'Front Page' Category
Friday, April 18th, 2014
Apple is
offering some developers a chance
to buy unclaimed WWDC tickets, according to a report from
9to5Mac
and several Twitter users. Apple has emailed certain developers to offer them WWDC tickets, giving them 24 hours to pay the $1,599 ticket fee.
This year, because of nearly immediate ticket sellouts in past years, Apple decided to offer WWDC tickets to registered, paid iOS and Mac developers
through a lottery system
. Developers who won the ticket lottery had until April 14 to complete their purchases.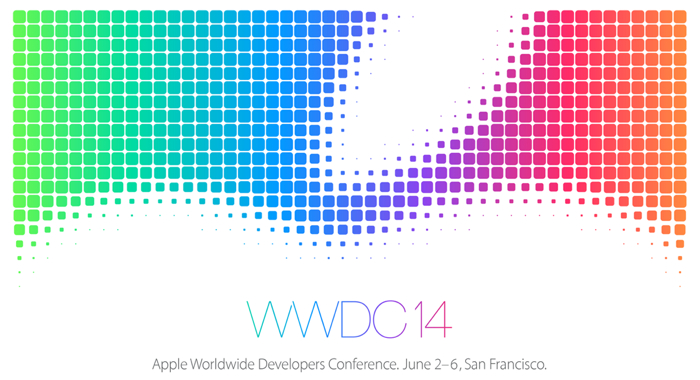 Now Apple is reportedly reaching out to developers who didn't win the lottery and offering them a chance to buy unclaimed tickets. Some developers are starting to get phone calls from the company informing them that they have been randomly selected to buy one of the tickets that winners failed to claim before the 14th.
It is unknown how many WWDC tickets went unclaimed by lottery winners, nor how the company is choosing developers to receive a second chance at tickets.
The annual
Worldwide Developers Conference
will be held from June 2-6 at the Moscone West convention center in San Francisco
Posted in Front Page | Comments Off
Friday, April 18th, 2014
Earlier this week,
Bloomberg
reported that Apple has plans to
integrate song identification features
into iOS 8 through a partnership with audio discovery platform Shazam, but as suggested by media professor Aram Sinnreich, Apple's ambitions may go beyond simple music recognition capabilities.
Speaking with
Computerworld
, Sinnreich, a media professor at Rutgers University, points out that Apple could use Shazam's audio recognition abilities to gather information on the media that iPhone and iPad users are consuming, including music, television shows, movies, and more, for targeted advertisements.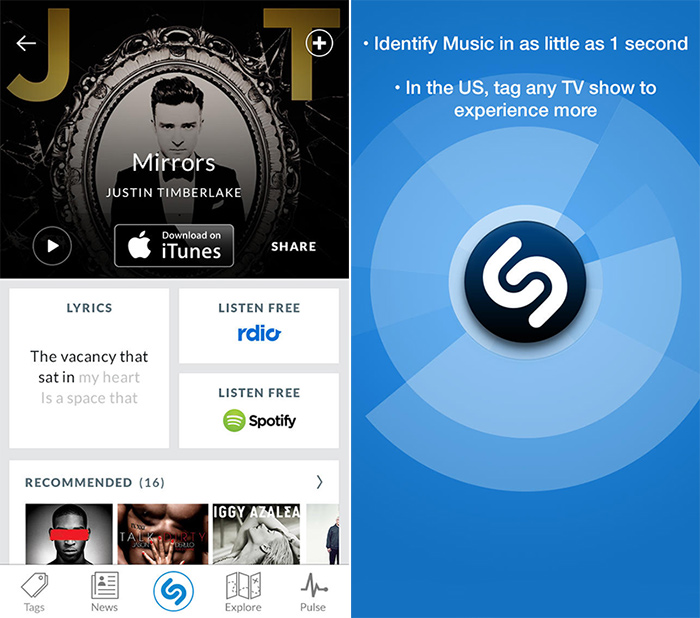 While Shazam is known for identifying songs that are playing on the radio or through other sources, the service is also capable of
identifying and tagging
television shows and advertisements. Shazam works by analyzing captured sound and comparing its acoustic fingerprint to an audio database, which began
including television content
in 2012.
Shazam's technology could, of course, be used to deliver music and television information to consumers, providing identification along with additional content like news, facts, and iTunes purchase links, but at the same time, Apple could also use it to gather information on consumer preferences each time a song, television show, or advertisement is "tagged" or identified by a user, allowing the company to use those preferences to deliver more targeted ad suggestions across iOS.
Sinnreich pointed out that Shazam has been indexing advertisements broadcast on television, as well as the pre-show ads shown in movie theaters, and in some cases, has stuck deals with advertisers to provide metrics of those who "tag" an ad. In some cases, tagging an ad presents the consumer with additional information, or even a special offer.
Currently, the existing
Shazam
app is able to run in the background of iOS, continually cataloging and identifying all of the music, television shows, and TV ads that a user watches. Apple could potentially integrate the feature in the same way into iOS 8, allowing it to run in the background to continually listen for various audio content.
This functionality would allow Apple to know what a user prefers to watch and listen to. For example, if someone was watching
Downton Abbey
or
Game of Thrones
, Apple's media recognition capabilities could theoretically automatically identify what's being watched, cataloging it for future use in advertisements. Sinnreich likens this functionality to an audio QR code.
"Apple could do whatever a QR code is used for now, but sonically," said Sinnreich of the audio fingerprinting technology. "Someone tags a commercial, and that's entered into a database, effectively targeting [that consumer] for further ads," he said.
While Sinnreich's theory is mere speculation at this point, it does fit in with Apple's current advertising methods, which the company says include "exceptional targeting." Apple has been working to expand its iAd platform in recent months, moving beyond app advertisements to
encompass iTunes Radio
ads as well. Further improving its targeting methods could entice major advertisers, which has been the company's goal -- recently, Apple made it simpler for advertisers large and small to sign up for the platform,
eliminating
the need for a developer account.
Apple's audio recognition capabilities are said to be coming alongside iOS 8, which is expected to make its debut during the company's Worldwide Developers Conference in June. The operating system will likely be released to the public later in the year, in September or October.
Posted in Front Page | Comments Off
Friday, April 18th, 2014
Following the leak of an alleged
iPhone 6 front panel
earlier this week, the iPad is now getting its turn with a pair of photos showing what is said to be a front panel for the next-generation iPad Air,
shared
by Dutch site
One More Thing
[
Google Translate
]. Notably, the part appears to include an integrated display in contrast to the separate panel and display parts used on the current model. A move to an integrated front panel/display would reduce overall thickness, potentially allowing Apple to further slim down the iPad Air or make room for other components such as a slightly larger battery.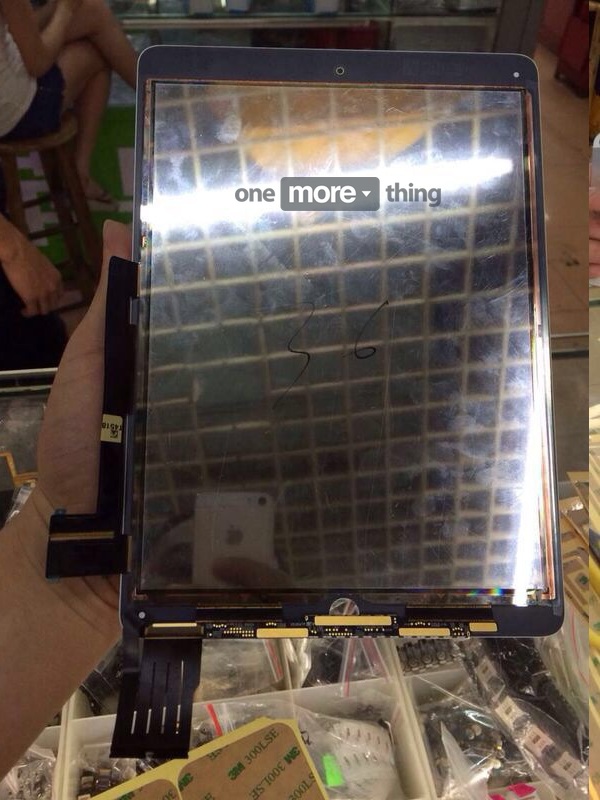 MacRumors
spoke with
iFixit
co-founder Kyle Wiens, who noted that the assembly could indeed be legitimate and use a manufacturing process similar to that seen on the Retina MacBook Pro. The move to an integrated panel/display would increase repair costs, but ease of repair has not been a particularly major focus for Apple and the company already uses an integrated display on the iPhone.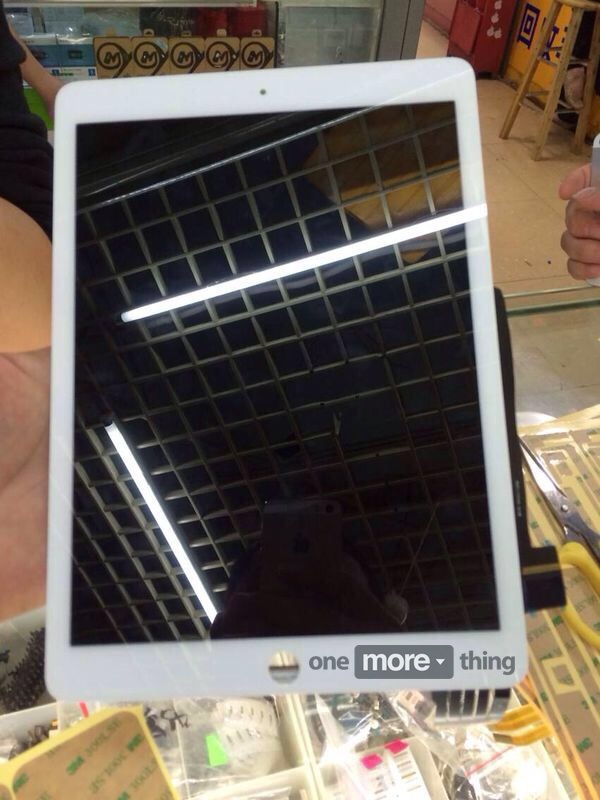 The next-generation iPad Air is expected to launch later this year, with notable analyst Ming-Chi Kuo predicting that upgraded iPad Air and Retina iPad mini models will
debut in the third quarter
of this year and
adopt the Touch ID system
introduced on the iPhone 5s last year.
(Thanks, Rogier!)
Posted in Front Page | Comments Off
Friday, April 18th, 2014
Sales of Apple's iPad and iPhone remained strong during the holiday season with record quarterly sales
reported
in Q1 2014. Analyst predictions for Apple's second quarter of its fiscal year suggest iPhone sales
may rise slightly
, while iPad sales may decline slightly,
reports
Philip Elmer-DeWitt of
Fortune's
Apple 2.0 blog.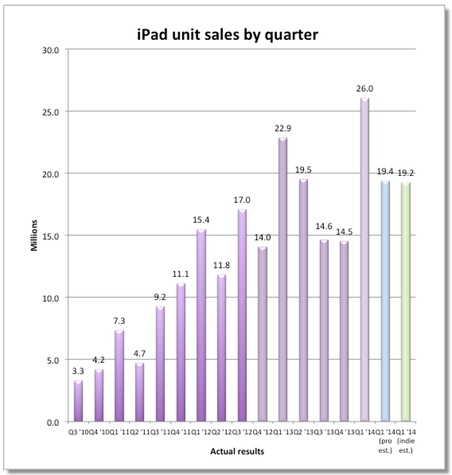 The consensus estimate from 21 Wall Street professionals and 13 amateur analysts predict iPad sales of 19.3 million, a 0.7 percent decline in Q2 2014. This is a significant change from Q2 2013, which saw a 55 percent year-over-year increase.
The consensus estimate, at 19.3 million, would represent a 0.7% decline, with the pros slightly more optimistic (at 19.4 million) than the amateurs (19.2 million). Dragging down the amateur numbers is the 15 million estimate submitted by the Braeburn Group's Matt Lew. Tugging in the other direction is Horace Dediu's 21.8 million. One represents a year-over-year decline of 23%, the other an increase of 12%.
This dip in sales may only be temporary as Apple is expected to launch
updated model
s of the iPad Air and iPad mini with Retina Display later this year, and may launch a larger-screen iPad Pro sometime in future after
production issues are solved
.
Apple will
announce
its earnings for the second fiscal quarter (first calendar quarter) of 2014 on Wednesday, April 23. The earnings release is posted just after 4:30 PM ET following the close of regular stock trading, and the conference call is scheduled to follow at 5:00 PM Eastern / 2:00 PM Pacific.
Posted in Front Page | Comments Off
Friday, April 18th, 2014
After
showing off
a concept for a sapphire-glass backed "iPhone Air" earlier this month, French Apple website
Nowhereelse.fr
[
Google Translate
] and graphic designer Martin Hajek have teamed up once again to create a set renders for the 4.7-inch iPhone 6 and accompanying cases in a variety of colors, which are based on
leaked schematics
posted by Japanese magazine
MacFan
and the dimensions of an
alleged case
that surfaced earlier this week.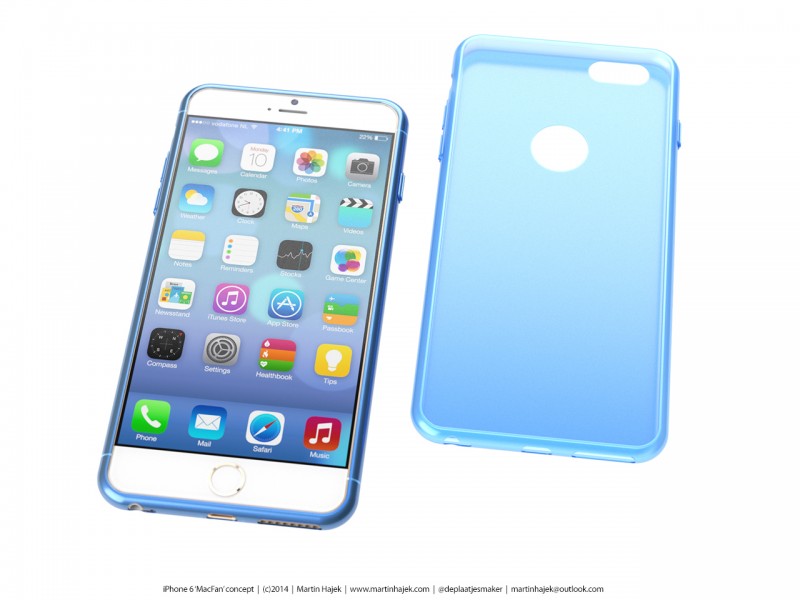 The renderings depict the iPhone 6 as a thin device with rounded corners, with the power button located along the upper right side of the device and rectangular volume controls similar to that of the fifth-generation iPod touch. The case rendered to compliment the phone also contains cutouts for each new design change, along with holes for the camera, flash, and Apple logo on the rear.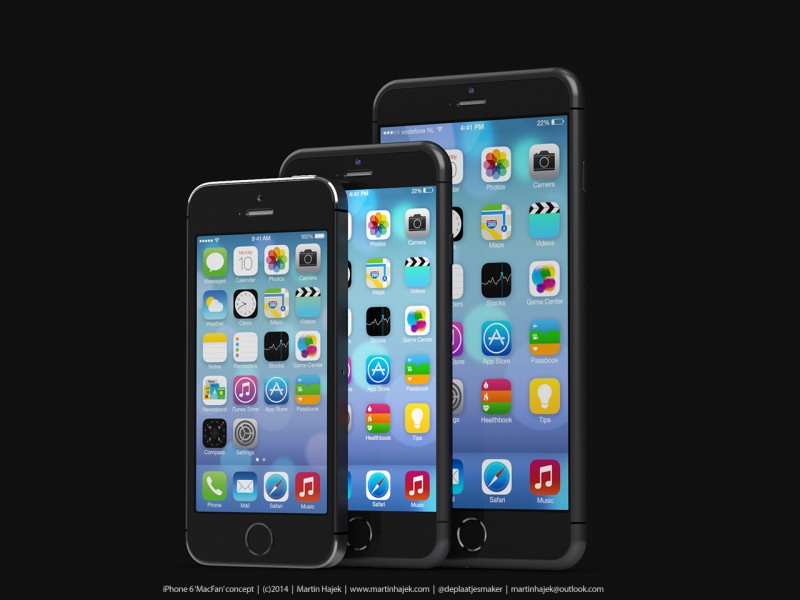 Notably, a bigger 5.5-inch iPhone 6 is also rendered alongside the 4.7-inch iPhone 6 and 4-inch iPhone 5s, retaining the same design properties as the 4.7-inch version. Apple is expected to launch both sizes of the iPhone 6 in the near future, however
reports
have indicated the 4.7-inch version will launch first this fall as the company will likely delay the launch of the 5.5-inch version due to
production issues
.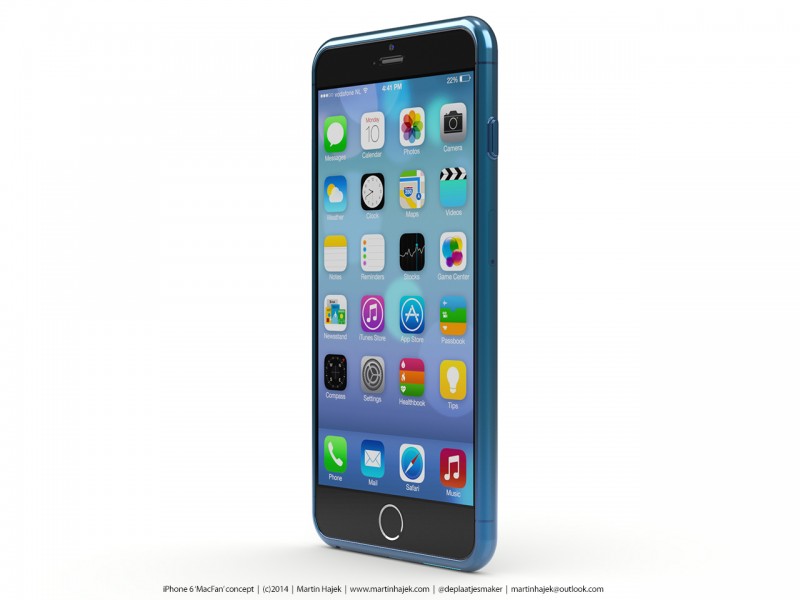 Along with a larger display, Apple's next-generation iPhone is
expected to include
a thinner design, new A8 processor, Touch ID fingerprint sensor, and an upgraded camera in the form of optical image stabilization. Apple is also reportedly
negotiating
with carriers to increase the price of the iPhone 6 by $100.
Posted in Front Page | Comments Off
Thursday, April 17th, 2014
Apple's FaceTime appears to be malfunctioning for iPhone and iPad users with devices running iOS 6, according to multiple tips received by
MacRumors
as well as a
MacRumors
forum post
and a thread on the
Apple Support Communities
.
It appears that users who are running iOS 6 are unable to place or receive FaceTime calls, with reports of problems dating back to yesterday. Devices running iOS 7 appear to be functioning as normal, and Apple's
System Status page
is not reporting any outages.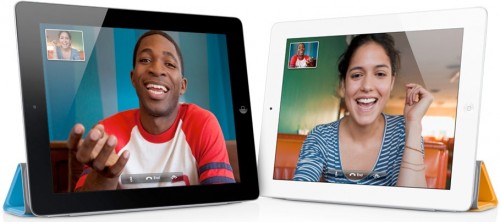 One user
mentioned
being able to FaceTime with a device running iOS 6.1.6, while a device with iOS 6.0.1 was not able to access the service. Another has
reported
that Mac users running OS X 10.8 Mountain Lion may also be experiencing problems with FaceTime.
Users who have had issues have contacted Apple Support and several Apple representatives have recommended an update to iOS 7 to fix the problem. It is likely the iOS 6 FaceTime outage is only temporary, however, and will presumably not necessitate an update to iOS 7.
Update 4/18 3:20 PM PT:
Apple has
updated and reordered its FaceTime troubleshooting page
to give more prominence to a suggestion that all users update their devices to the latest version of iOS. While Apple has always recommended that FaceTime users install the latest operating system, the updated support page lists upgrading as the first troubleshooting step.
Posted in Front Page | Comments Off
Thursday, April 17th, 2014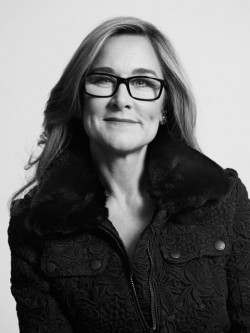 Burberry chief executive Angela Ahrendts
resigned
last October from the British luxury fashion house to join Apple as the head of its retail division. According to
The Guardian
, Ahrendts is free to leave Burberry this month, having fulfilled her six-month notice period, but her actual exit date is not yet known.
Ahrendts may be staying longer at Burberry to help smooth the transition over to her successor Christopher Bailey, who is currently serving as the company's chief creative officer. Money also may be a factor in Ahrendts leaving as she is slated to receive a two million pound bonus in June for her recent performance as Burberry CEO.
"It's a big sum of money. In some ways it would be good to see the business moving on after six months of handover time. You want to see clarity," said Rahul Sharma, an analyst at Neev Capital.

But he said investors were also likely to feel reassured by Ahrendt's presence ahead of some big moves for Burberry and continuing concerns about Bailey's ability to combine his creative role with that of a chief executive.

"That is a big concern in the back of investors' minds and Ahrendt's presence delays that point of judgment," he said.
Another factor may be Ahrendts' critical role in Burberry's revamped Japanese business strategy, which involves severing long-term apparel licensing agreements in 2015 and creating its own distribution system in the important Asian market. Burberry is expected to confirm this plan as part of the company's annual report next month.
Ahrendts will join Apple as the Senior Vice President of Retail and Online Stores, a position that has seen significant turnover in the past several years. In 2011, Ron Johnson
left Apple
for J.C. Penney, after building up Apple's retail presence during his 11-year tenure. Johnson was replaced by Dixons CEO John Browett, who
served
less than a year at Apple.
Posted in Front Page | Comments Off
Thursday, April 17th, 2014
Amidst the
flurry of iPhone 6 rumors
coming from KGI Securities' report last week, Ming-Chi Kuo presented the first possible screen resolution for Apple's 4.7" iPhone 6. Kuo lists it as a 1334x750 Retina display with a pixel density of 326 pixels per inch.
Historically, Apple has been very cautious with resolution changes in their iOS devices. The original iPhone was launched with a 320x480 resolution. Eventually, Apple moved to 640x960 Retina display, doubling the linear resolution in each dimension. That allowed existing apps to simply be pixel-doubled to fill the entire screen. Developers could then take their time to update their apps to fully support the higher resolution display. When Apple moved from 3.5" to 4" screens in the iPhone 5, they simply added vertical resolution. This allowed existing apps to run in a letterboxed format with black bars at the top and bottom of the screen.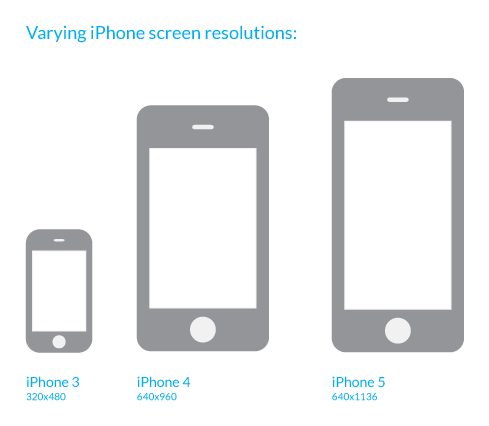 Relative iPhone display sizes by Redtech
Right before the 4" iPhone releases, Apple began encouraging developers to use
AutoLayout
in designing their apps:
Auto Layout is a system that lets you lay out your app's user interface by creating a mathematical description of the relationships between the elements. You define these relationships in terms of constraints either on individual elements, or between sets of elements. Using Auto Layout, you can create a dynamic and versatile interface that responds appropriately to changes in screen size, device orientation, and localization.
AutoLayout paves the way for apps to more easily adapt to changes in display sizes and resolution in the future.
If Apple were to adopt a 1334x750 4.7" display as predicted by Kuo, it would preserve the same pixel density (326 ppi) as the iPhone 5s. That means that all existing user interface elements, such as icons, would be the same size but would allow for more screen space.
Our designer found that using the exact same icons and spacing them out to fill the screen, 1334x750 pixels allows Apple to fit exactly one extra row of icons onto the iPhone home screen. This mockup shows the relative size of the 4.7" iPhone screen and how much extra room there would be using the exact same icons as on the current iPhone: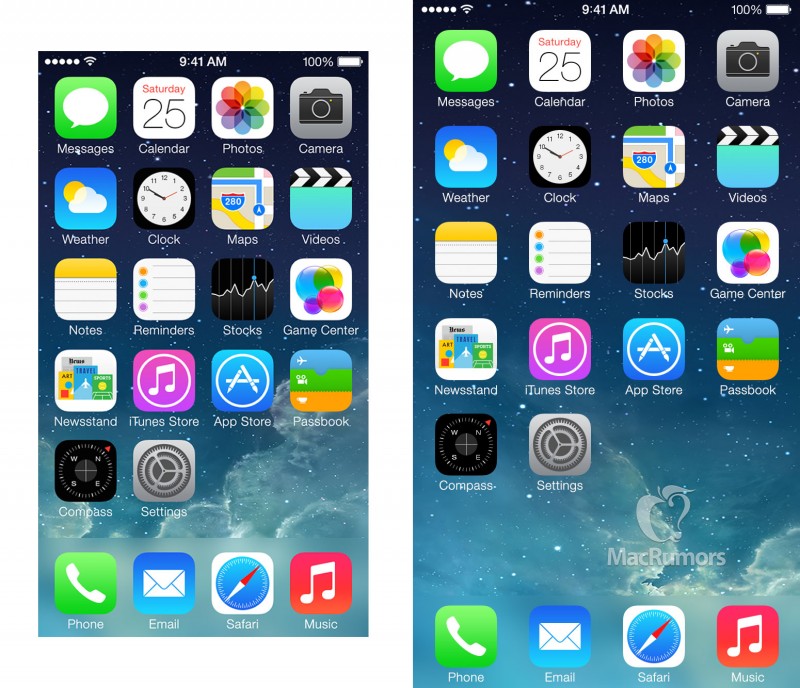 4" home screen (left) vs 4.7" home screen (right)
Meanwhile, existing unoptimized apps could function in a "letterbox" style with black borders for unused screen space.
TheVerge
forum user Pi is exactly 3
created a mockup showing this exact scenario. This image shows how an "unoptimized" app would appear (left) compared to one that has been optimized for the 4.7" display (right):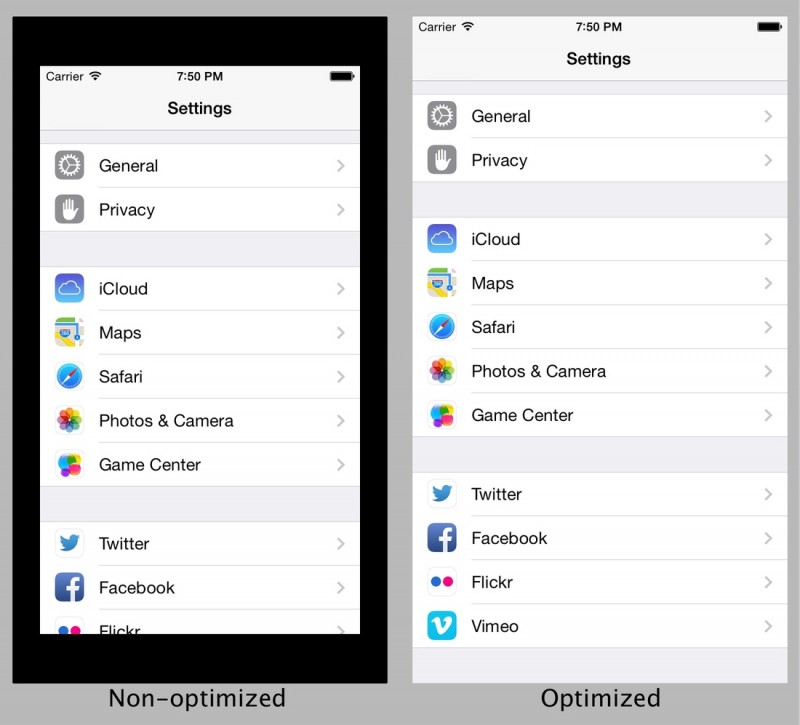 Mockup by Pi is exactly 3
Given Apple's past reluctance to blur or break existing apps, it seems that this resolution choice could provide Apple and developers a reasonable upgrade path for a larger factor iPhone. Apple has
acknowledged
that customers want larger iPhones and all
iPhone 6 rumors
are pointing to a larger iPhone device this year.
Posted in Front Page | Comments Off
Thursday, April 17th, 2014
Apple will be celebrating Earth Day 2014 next Tuesday, April 22 throughout its various retail locations and at its main campus,
reports
9to5Mac
.

The company will color its logos in green for the occasion, as employees will wear special shirts with an event planned at Apple's headquarters at 1 Infinite Loop in Cupertino, California. Apple last
celebrated
Earth Day in 2006 by holding a free computer takeback program in honor of the event.
Apple has remained active in its
environment efforts
throughout the past few years, which include powering its data centers with 100% renewable energy, expanding its recycling program, and reporting on its carbon footprint. Last May, Apple also
hired
former Environmental Protection Agency chief Lisa Jackson to
lead the company's
environmental responsibility efforts.
Environmental activist group Greenpeace also
featured
Apple as a "green energy innovator" in its latest report earlier this month, praising the company for its commitment to renewable energy after taking issues with previous efforts.
Posted in Front Page | Comments Off
Thursday, April 17th, 2014
Apple is working on a song identification feature as a new addition to iOS 8, reports
Bloomberg
. The company has plans to partner with music discovery service Shazam to offer users a way to discover a song that is playing on the radio or from another source, such as a TV, using a small music clip.
The company is planning to unveil a song-discovery feature in an update of its iOS mobile software that will let users identify a song and its artist using an iPhone or iPad, said two people with knowledge of the product, who asked not to be identified because the feature isn't public. Apple is partnering with Shazam Entertainment Ltd., whose technology can quickly spot what's playing by collecting sound from a phone's microphone and matching it against a song database.
Along with
Shazam
, several other apps, including
SoundHound
, offer music and media identification capabilities. The apps use the iPhone's microphone to listen to short sound clips, matching songs against a database and providing additional information like lyrics and purchase links.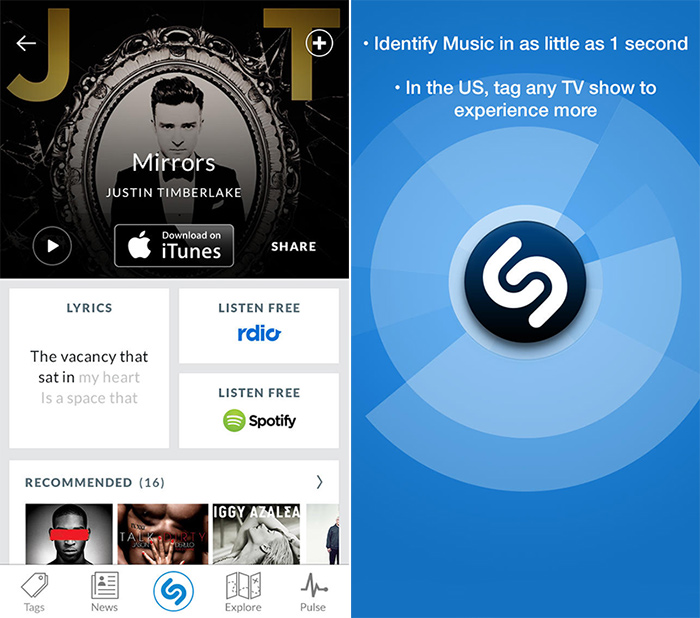 The existing Shazam for iOS app
Shazam
is also capable of recognizing television shows and other media, so it is possible Apple's iOS identification feature could offer similar capabilities. According to
Bloomberg
, the feature will be directly integrated into iOS and will not need to be downloaded as a standalone app. It will function with Siri, allowing users to ask what song is playing.
The song-identification feature will be integrated into the mobile software in the same way that Twitter's service is currently incorporated, meaning consumers don't need to separately download it. Among the ways it can be used will be through Apple's voice-activated search feature, Siri. An iPhone user will be able to say something like "what song is playing," to find out the tune's details, one person said.
Earlier this month, it was reported that Apple has plans to
revamp its iTunes music store
in order to boost flagging digital music sales. The company is said to be considering iTunes for Android and an on-demand streaming music service similar to Spotify. A song identification feature could be released as part of the same iTunes overhaul, and it's also possible that
high resolution song downloads
are in the works.
Apple traditionally previews its operating system updates during its annual Worldwide Developers Conference and iOS 8 is expected to make its initial debut on June 2, during the 2014 conference.
Posted in Front Page | Comments Off