Archive for the 'Front Page' Category
Friday, March 7th, 2014
Just released
earlier tonight
, Apple's OS X Mavericks 10.9.3 beta appears to have built-in support that enables all compatible 4K displays to be set at a "Retina" resolution, with an option for 60Hz output. The compatibility was first discovered by Twitter user
@KhaosT
, and was tested with both the Late 2013 Retina MacBook Pro and redesigned Mac Pro in conjunction with
Dell's UltraSharp 24 Ultra HD Monitor
.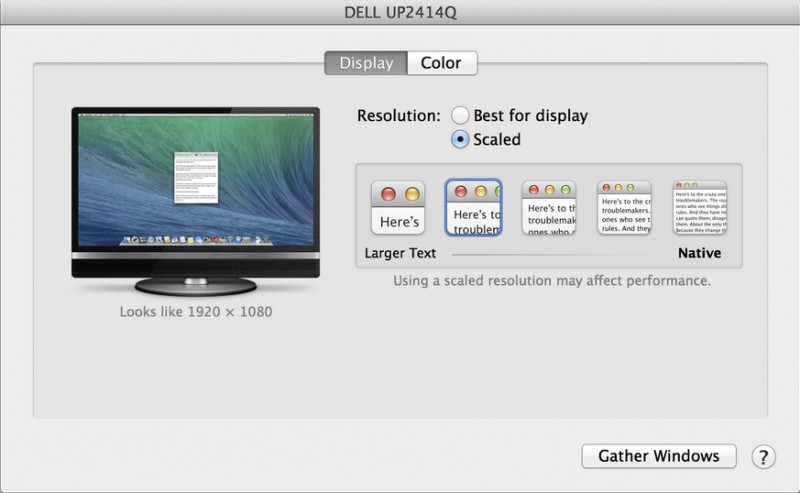 To this point, OS X compatibility with 4K displays has been known to be
somewhat erratic
, as
AnandTech
revealed in December that
Sharp's 32'' 4K display
supported only one scaled resolution at 2560 x 1440. Furthermore, it was discovered that Apple had chosen to render text, menu and UI elements in the same manner as the Retina MacBook Pro, resulting in small and difficult to read on-screen elements on a 4K display. Various other 4K monitors were also found to be not properly supported.
Native support for 4K displays could also indicate that Apple is gearing up to release a higher-resolution
Thunderbolt Display
, as Apple last
refreshed
the monitor over two years ago. A number of other companies also
introduced
more affordable 4K displays at CES 2014 in January, with options from the likes of
Lenovo
,
Asus
,
Seiki
, and
LG
expected to hit the market throughout this year.
Posted in Front Page | Comments Off
Friday, March 7th, 2014
Apple today
seeded
the first test build of OS X 10.9.3 to registered Mac developers, just over a week after
releasing OS X 10.9.2
. The new beta, which has a build number of 13D12, is available through the Software Update mechanism in the Mac App Store as well as through the Mac Dev Center.

Apple is currently asking developers to focus on Graphics Drivers and Audio, and there is no word yet on specific fixes and changes included in the update.
The last Mavericks update, OS X 10.9.2, added FaceTime Audio, the ability to block iMessage users on the Mac, and a fix for a critical SSL vulnerability. 10.9.2 saw a beta testing period of approximately two months, and it is likely 10.9.3 will also see several beta iterations before a public release.
Posted in Front Page | Comments Off
Thursday, March 6th, 2014
Apple today updated its iTunes Festival app to version 5.0, ahead of next week's SXSW iTunes Festival, which kicks off on Tuesday, March 11. As noted by
MacStories
, the
iTunes Festival
app shows up in the iTunes Store with a revamped icon and is listed as having a "refreshed design" and support for SXSW, but the app isn't available for download in the U.S. just yet.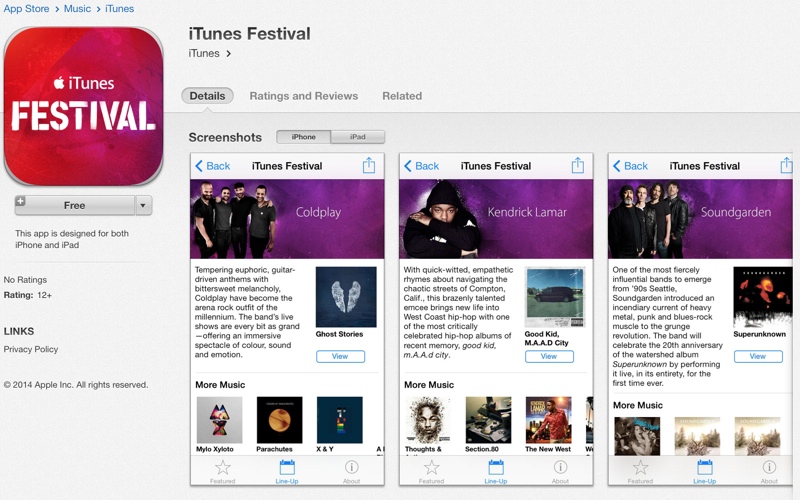 Clicking on the download link results in an error message that asks users to try again later, but it will presumably be downloadable shortly. Users in
other countries
have been able to download the app with iOS 7.0.6, suggesting SXSW streaming does not require iOS 7.1 as was
reported earlier this week
.
Apple's SXSW iTunes Festival is the first it has hosted in the United States, with previous iTunes Festivals occurring annually in London. The festival will offer five free nights of music, beginning on March 11 at Austin City Limits Live at the Moody Theater in Austin, Texas.
Featured artists
include Coldplay, Imagine Dragons, Kendrick Lamar, Soundgarden, Pitbull, Keith Urban, and more.
All of Apple's iTunes Festival concerts are presented for free, with tickets available via a lottery system. Live and on-demand streams of the shows will be available through the revamped iTunes Festival app and the Apple TV.
Update 2:07 PM PST:
The
iTunes Festival
app can now be downloaded from the App Store. [
Direct Link
]
Posted in Front Page | Comments Off
Thursday, March 6th, 2014
Apple's CarPlay feature, introduced
earlier this week
, may be able to be installed in older vehicles, according to new information from Mercedes-Benz. The car company has told
9to5Mac
that it is working on "an after-market solution for previous cars," that would allow CarPlay to function in older models.
We've confirmed that at least Mercedes-Benz is looking into aftermarket installations of CarPlay that will allow older models of vehicles to access the feature. While the company confirmed that it is trying to get an "an after-market solution for previous cars" it couldn't confirm when the option might become available. While there is no info yet on how the aftermarket installation would work, we'd imagine it will be a dealer installed accessory for select older models like Honda and others already offer for Apple's Siri Eyes Free feature.

While it is unclear how an aftermarket solution might be implemented, information uncovered earlier this week indicates that CarPlay
works in conjunction
with BlackBerry's QNX car operating system. The QNX Car Platform is what powers many of the existing in-car infotainment systems installed in a wide variety of automobiles.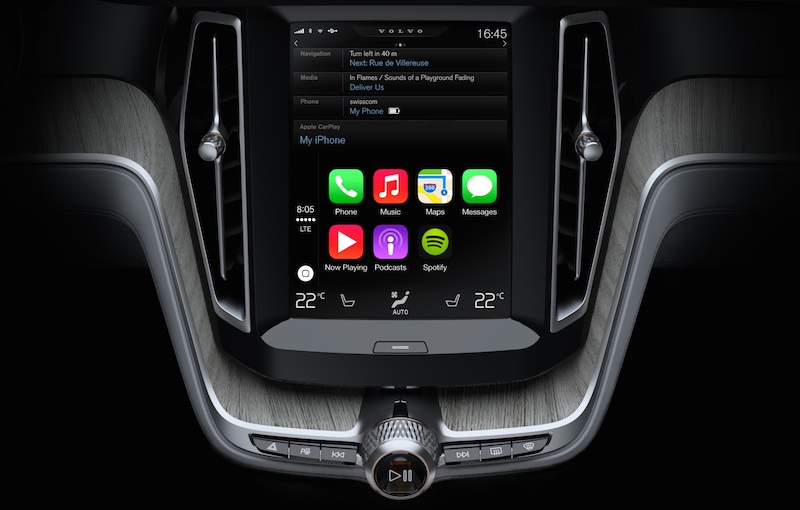 CarPlay can be likened to Apple's AirPlay, utilizing in-car infotainment systems to mirror the iPhone's display and functionality, which indicates that it is a technology that can possibly be installed in older vehicles as well as new ones. It will be up to both individual manufacturers and Apple to decide whether aftermarket options will be available for older cars, however. Mercedes-Benz is thus far the only manufacturer that has indicated an aftermarket solution might be possible.
The majority of CarPlay's functionality is supplied by the iPhone, including Siri voice control, Maps and GPS and access to features like messages, phone calls, and third-party apps. While CarPlay does currently require a hardware interface and a wired connection in the form of a Lightning connector, Volvo
has indicated
that Wi-Fi connectivity is coming in the future.
At the current point in time, CarPlay has only been demoed in cars from Volvo, Ferrari, and Mercedes-Benz, but Apple has struck deals with several other manufacturers including Honda, Ford, GM, Jaguar, and Hyundai, all of which are expected to launch vehicles with CarPlay support in 2014.
Update 1:32 PM
: Mercedes-Benz has clarified that its "goal is to offer an after market solution by the end of the year."
Posted in Front Page | Comments Off
Thursday, March 6th, 2014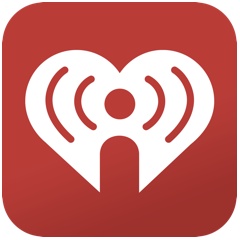 Apple
announced
CarPlay earlier this week at the Geneva Auto Show, bringing Siri-powered messaging, voice calling and streaming music to the car dashboard. Brian Lakamp, president of Digital for Clear Channel Media and Entertainment,
talked with
Michael Grothaus of
Fast Company
about iHeartRadio's experience as an early adopter of Apple's new in-car technology.
iHeartRadio is an internet radio service that pulls music programming from 800 Clear Channel radio stations across the US along with other sources. It was one of only four streaming music products that Apple selected as a launch partner for its CarPlay service.
"Apple is pretty selective about how they disclose information," says Lakamp. "Apple made us aware of the opportunity. We were enthusiastic to participate and then worked closely with them to build the demo that they just demoed in Geneva."
iHeartRadio, along with the other launch partners, had early access to Apple's private CarPlay API. Lakamp didn't provide a timeframe for how long it took the company to add CarPlay integration to its app, but did confirm the process was "fairly quick." He also noted that it could add CarPlay to its existing iOS app without having to create a new app dedicated to the Apple technology.
"The way that Apple constructed this is a relatively thin layer that we need to build to copy existing apps that move some of the control and command structure to the console," Lakamp says. "Then the console simply acts as a remote control to your app. It was a relatively light integration." [...]

"Apple provided twin lanes for the UI and a framework for the UI to operate within, and so made that part of it relatively easy as well. It's a relatively straightforward directory structure and a player structure that has a limited set of controls, or limited set of things you can do. They've got a consistency of feel on the platform, as you might expect from Apple, and a simplicity around how you browse through a menu of choices," says Lakamp.
Clear Channel, which owns and operates terrestrial AM and FM media stations, is not afraid of the competition presented by Apple, even if CarPlay does provide "a simple, clean, elegant approach" to connecting an iPhone to an automobile. These new technologies are "additive, and they've extended the opportunity."
Apple's
CarPlay initiative
is supported by several major automobile manufacturers, including Ferrari, Mercedes-Benz, Volvo, BMW, Ford, GM, Honda, Hyundai and others. It will debut in select 2014 models and will work with any iOS device that has a Lightning port, including the iPhone 5s, iPhone 5c and iPhone 5.
Posted in Front Page | Comments Off
Thursday, March 6th, 2014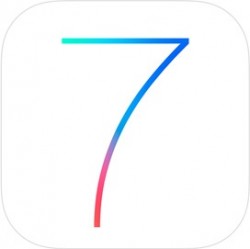 Apple may be rushing to make changes to its App Store in order to comply with
an earlier FTC agreement
that requires it to modify its in-app billing system, reports
ZDNet
. Apple has until March 31 to make the changes required by the FTC and may be trying to roll them out in the company's forthcoming iOS 7.1 update.
As part of this FTC settlement, Apple must modify its billing practices to obtain consumers' express consent before billing them for an in-app purchase. Apple also must provide customers with a way to easily withdraw this consent for future purchases.
While it might sound trivial, changing the App Store to obtain "consumers' express, informed consent" before billing them is a significant change. It involves fundamental changes to the App Store order flow and there are a lot of dependencies involved.

One source I spoke to says that it's taking Apple longer than expected to make the required changes. In order to meet the government's second criteria (the option to withdraw their consent at any time) Apple must require a password for all IAPs by default, and perhaps make a no-password window an option via settings.
These requirements likely necessitate some changes to Apple's iTunes payment processing system, which now needs to verify that consent was given before processing a payment. It may also require some modifications to iOS 7, including its
Restrictions
feature that already provides limits on in-app purchases by children, although some aspects of the update may be able to be deployed remotely.
These new in-app purchasing requirements have not been spotted in
any iOS 7.1 beta releases
, suggesting Apple is still implementing any necessary changes on the operating system side.
ZDNet
's source says the company would like to roll out the changes as part of iOS 7.1, but given word that iOS 7.1 is due
"any day now"
in order to support streaming of next week's SXSW iTunes Festival, it is possible that the in-app purchase changes could be pushed back to another minor iOS update before the end of the month if required.
Posted in Front Page | Comments Off
Wednesday, March 5th, 2014
Earlier this week, Apple
announced
its new CarPlay technology, which opens the door for easier hands-free calling, text messaging and navigation while driving. Consumers may be enthusiastic about this in-car technology, but auto safety experts are concerned about its contribution to distracted driving, reports
CNN Money
.
"The idea that people want to be on their phones, and therefore let's give them a way to do that -- that's not putting safety first, that's putting convenience and the desire to be in touch first," said Bruce Hamilton, manager of research and communications at the AAA Foundation for Traffic Safety."
Siri may allow for hands- and eyes-free interaction with a phone, but experts argue it still contributes to "cognitive distraction," which moves a driver's attention away from their driving and onto their phone. Recent studies
have shown
that the voice-to-text features included in personal assistant software such as Siri carry an "extensive risk" of distracted driving and
have the potential
to double driver reaction times.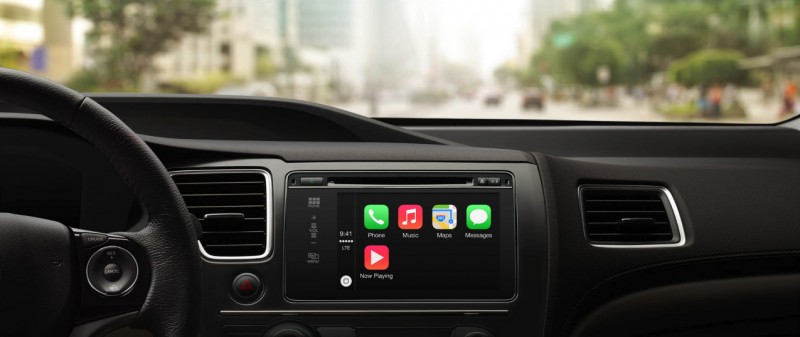 Apple is aware of these distracted driving concerns and notes in
a press release
that Siri minimizes distraction by allowing drivers to keep their eyes on the road.
"CarPlay has been designed from the ground up to provide drivers with an incredible experience using their iPhone in the car," said Greg Joswiak, Apple's vice president of iPhone and iOS Product Marketing. "iPhone users always want their content at their fingertips and CarPlay lets drivers use their iPhone in the car with minimized distraction."
Apple's CarPlay technology is similar to existing in-dash smartphone systems in terms of driver attention, but these concerns over distracted driving are getting renewed attention because of Apple's high-profile launch.
Apple's CarPlay will be available as an update to iOS 7 for iPhone 5s, iPhone 5c and iPhone 5 owners. It will debut in 2014 models from major automobile manufacturers such as Ferrari, Mercedes-Benz, Volvo, BMW, Ford, GM, Honda, Hyundai and others.
Posted in Front Page | Comments Off
Wednesday, March 5th, 2014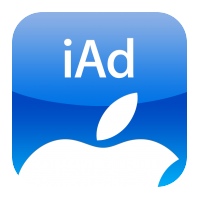 Apple plans to introduce full-screen video iAds for apps on the iPhone and the iPad later this year, reports
AdAge
. The new ads, described as "interstitials," will allow developers to opt into ads that play in between levels within a game or in between articles in a news-style app.
Full screen ads will mark a departure from Apple's typical advertising style, which has limited iPhone iAds within the App Store and iTunes Radio to less obtrusive banners that must be clicked for a video ad to be played. iTunes Radio also features audio ads, but full video ads within apps are arguably more interruptive.
Some free-to-play apps already feature full-screen third-party video ads. Zynga's
Draw Something
on iPad, for example, requires users to watch a video ad before allowing them to move on to the next level, a task that takes several seconds away from gameplay. Apple
currently permits
full-screen video iAd advertisements within some iPad apps, but today's report suggests the ads could also be extended to other iOS devices.
Since its 2010 introduction as a way for developers to make money on the iOS platform, iAd has been
largely unsuccessful
attracting developer interest and revenue. Apple has, however, been attempting to
revive iAd
with a new focus on iTunes Radio.
The in-app video ads may be a way for Apple to rekindle advertisers' interests in its fancy-but-flawed iAds. The ad product line was unveiled in 2010 with all the pomp and circumstance of a new iPhone, but they've struggled to gain traction in the market. Advertisers were initially asked to drop $1 million for the rich-media units, which more closely resemble a mobile microsite than a banner. That price tag has dropped to $100,000 over the years, even as Apple has added features like maps.
Few details are available on the video ads, including how Apple plans to sell and price the spots, but they may be positioned as a way to further entice new advertising partners to advertise via the service. The introduction of iTunes Radio, which has the potential to bring in
quite a bit of revenue
, already garnered Apple several
major advertising partners
, including McDonald's, Nissan, Pepsi, and Procter & Gamble.
Apple's ad sales, which were at just $125 million in 2012 according to
IDC
, have lagged significantly behind those of other companies, including Google, but the new video ads along with revenue from iTunes Radio may shift those figures considerably in the years to come.
Posted in Front Page | Comments Off
Wednesday, March 5th, 2014
Cloud gaming company
OnLive
was revived today with the announcement of two new gaming services, including CloudLift and OnLive Go. CloudLift is a subscription service that allows users to play digital games, such as those from Steam, on any device, while OnLive Go for developers is designed to bring MMOs to mobile devices.
With CloudLift, OnLive is able to link games purchased from Steam or other services to OnLive, uploading the games and their metadata to the cloud to be played anywhere on any PC, TV, or mobile device, continuing where a save left off.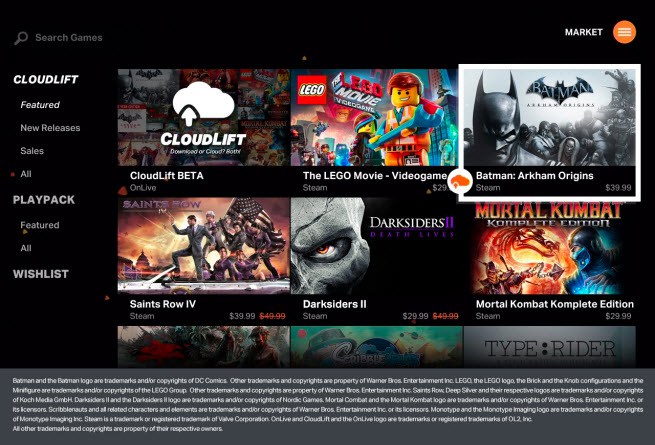 Users only need to purchase a game from a distributor once in order to play it with the OnLive service, which streams the games as a video of game imagery from the cloud to the device. Games are delivered in 720p at 60 frames per second.
At the current time, CloudLift is limited to 20 launch titles such as The LEGO Movie Videogame, Batman: Arkham Origins, Scribblenauts Unlimited, LEGO Lord of the Rings, and Saints Row IV.
OnLive Go is similar to CloudLift, but it is designed to allow massively multiplayer games such as War Thunder or Second Life to be accessible on any device without having to wait for long installs. Players can access MMOs on mobile devices and can launch cloud versions of games while waiting for downloads on Macs or PCs.
OnLive's first Game Service was introduced in 2010, but issues with Internet connections, latency, and video compression caused it to receive unfavorable reviews. In 2012, the company was forced to lay off most of its employees, later
being sold
to Lauder Partners for just $4.8 million.
The company has now hired former IGN Chief Mark Jung as executive chairman and hopes to make a comeback with its new services and an expanded set of data servers. In an interview with
VentureBeat
, Jung said the company is aiming to deliver a higher value service to users.
"In this last year, we have been repositioning the company and redesigning our services for a positive business going forward," Jung said. "We have rearchitected it to deliver a much higher value proposition for the users."
The CloudLift service is currently available on Macs, PCs, and Android devices. OnLive has plans to bring connectivity to iOS devices, but the company told
Pocket-Lint
that getting the technology right around Apple's limitations is a difficult task.
"iOS is a big platform. We're not sitting here ignoring it," he said. "It's the same thing with Surface. We want to be platform agnostic. We continue to grow and we'll focus on growing across all of those."
OnLive's new CloudLift service is available for $14.99 per month, while OnLive Go is variably priced with Second Life gaming available for $3 per hour. Both CloudLift and OnLive Go require a solid Internet connection of at least 2 megabits a second.
OnLive is also offering its PlayPack subscription service, which provides users with 250 games, for $9.99 per month.
Posted in Front Page | Comments Off
Wednesday, March 5th, 2014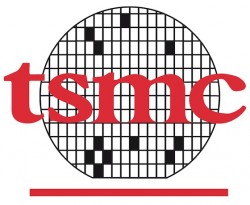 Apple's new chip partner Taiwan Semiconductor Manufacturing Company (TSMC) has begun production on the next-generation A8 chip destined for the iPhone 6 later this year, according to a
report
[
Google Translate
] from Taiwan's
Commercial Times
picked up by AFP
.
The world's leading contract microchip maker last month started producing the A8 chip, which is tipped to power the expected iPhone 6, the Commercial Times reported.

The report, which cited supply chain sources, said TSMC had won most of the manufacturing orders for logic and power management integrated chips for the new handset.
The report claims that the new 20-nanometer A8 will include a quad-core 64-bit processor and quad-core graphics, and that an earlier start to chip production compared to the previous years could give Apple the flexibility to comfortably launch the new iPhone in the third quarter of this year.
Samsung has been Apple's exclusive manufacturing partner for A-series chips, but Apple has long been reported to be trying to shift orders to TSMC. After years of rumors, Apple and TSMC reportedly
struck a deal
in mid-2013 to begin chip production in early 2014. TSMC and Samsung were initially reported to be splitting the production load for the A8, but Samsung is now said to have
dropped out
due to low yields.
Posted in Front Page | Comments Off