Archive for the 'Front Page' Category
Tuesday, September 29th, 2015
Despite the fact that Apple's Tim Cook stated that pretty much any software that runs on the current Yosemite version of OS X (10.10.x) will also run on the upcoming El Capitan version (10.11.x), Quark is warning that if you'r using QuarkXPress for production, you should not upgrade now. The current version of QuarkXPress 2015 is not yet supported on El Capitan.
In addition, Quark will not support any prior version of QuarkXPress (versions 3 through 10) on the El Capitan version of OS X.
Posted in Front Page, Mac Blog, Mac OS X | No Comments »
Monday, July 13th, 2015
Apple Watch online sales in the United States are estimated to have totaled 3,039,353 at an average price of $505 through July 10, exactly three months after Apple began accepting pre-orders for the wrist-worn device, according to the latest data from market research firm
Slice Intelligence
obtained exclusively by
MacRumors
.
The entry-level Apple Watch Sport has been the most popular model among early adopters by almost a two-to-one margin, with an estimated 1,950,909 units sold at an average price of $381 since April 10. Meanwhile, stainless steel Apple Watch sales are estimated at 1,086,569 units to date, at an average price of $695.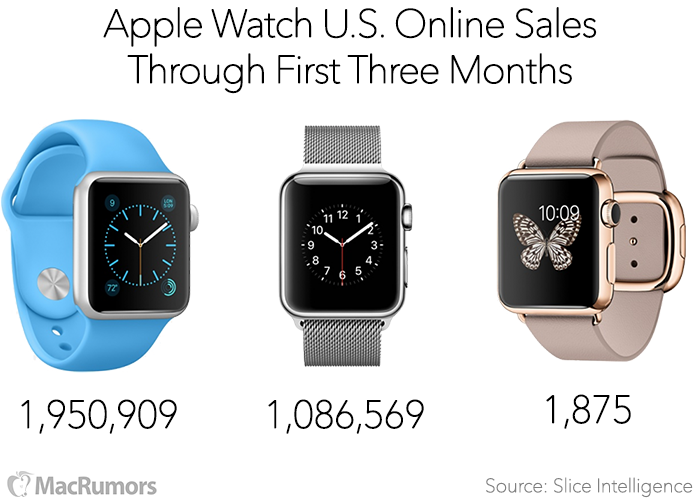 Apple has also sold 1,875 Apple Watch Edition models to date, at an average price of $13,700, according to Slice Intelligence. The 18-karat gold Apple Watch models, seen on the wrists of celebrities such as Beyonce, Drake, Kanye West, Katy Perry and Pharrell Williams, cost between $10,000 and $17,000 in the U.S.
Slice Intelligence's data does not include Apple Watch sales in Australia, Canada, China, France, Germany, Hong Kong, Italy, Japan, Mexico, Singapore, South Korea, Spain, Switzerland, Taiwan and the United Kingdom, nor does it account for walk-in purchases made through the Apple Store.
A Recap of Slice Intelligence's Previous Estimates
Last week, Slice Intelligence
released new data
that showed Apple Watch online sales in the U.S. steadily declined throughout June. Specifically, the survey revealed that Apple Watch sales in the U.S. remained consistent at around 20,000 per day in May before dropping to less than 10,000 per day last month.
The research firm previously estimated that Apple received
1 million Apple Watch pre-orders
at launch, averaged
30,000 Apple Watch sales per da
y in late May and had
topped 2.8 million
total Apple Watch sales as of mid June. It also found that around 17% of online shoppers buy at least one extra band for the Apple Watch.
A Closer Look at Slice Intelligence's Methodology
Given that Apple has not publicly disclosed any official Apple Watch sales figures, and will be grouping the wrist-worn device under its "Other Products" category in quarterly earnings reports, the accuracy and methodology behind the Slice Intelligence data has been called into question -- so we went looking for answers.
MacRumors
spoke with Slice Intelligence's Chief Data Officer Kanishka Agarwal and VP of Marketing and PR Jaimee Minney to learn more about
Slice Intelligence's methodology
. The details below should provide a better understanding of how its Apple Watch sales estimates were calculated over the past three months.
Slice Intelligence tracks e-receipts from 2.5 million online shoppers in the U.S., which it claims is the largest panel anywhere, that sign up for the company's value-added services such as
Slice
and
Unroll.me
. Slice, for example, is a free app for tracking packages, receipts, price drops, product recall alerts and more.
The research firm had a sample size of about 22,000 Apple Watch customers among its panel of 2.5 million online shoppers in the U.S. through July 10, more than double the sample size of about 9,000 shoppers it had when it estimated Apple Watch pre-orders reached nearly 1 million on launch day in the U.S. on April 10.
Slice Intelligence also offers an
API for developers
to provide users with their purchase history and can aggregate e-receipt data through some of these third-party apps and services. The research firm claims to be the only one to provide direct measurement of all digital commerce activity and customer loyalty.
Slice Intelligence says it is "very confident" that its Apple Watch sales estimates are within proximity to what Apple has actually sold, noting that its data is measured against third-party sources such as Amazon and the U.S. Department of Commerce with between 97% and 99% accuracy. Slice and Apple have not been in contact.
The research firm claims to have a diversified pool of consumers that is highly representative of the online shopping population and balanced to eliminate biases. Agarwal says that his firm's panel lines up nicely with the overall market and is supplemented by detailed competitive insight and data from clients.
Apple's Q3 FY 2015 results are scheduled to be released on July 21 at 2:00 PM Pacific.
Posted in Front Page | Comments Off on Apple Watch Sales Estimated at 3 Million Through First 3 Months
Saturday, July 11th, 2015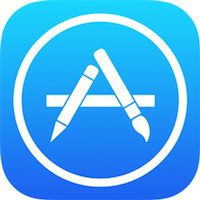 On Wednesday, Spotify sent emails to subscribers asking them to
cancel
their App Store subscriptions to the service to resubscribe on the web to avoid a $3 surcharge because of Apple's App Store policies. The Federal Trade Commission is now looking into Apple's policies, which include a 30 percent fee that it collects on all app and subscription revenue routed through the App Store,
reports
Reuters
.
U.S. government antitrust regulators are looking into claims about whether Apple's treatment of rival streaming music apps is illegal under antitrust law, according to three industry sources.
The antitrust concerns stem from certain App Store restrictions placed on streaming companies, which include a prohibition that the company is on other platforms, a ban on advertising how users can subscribe on a company's website and the ban on links to the company's website. While users can still subscribe to the service of their choice outside of the App Store, avoiding the 30 percent fee for the respective companies, sources tell
Reuters
that many users do not realize its an option.
That 30 percent fee reduces margins for those streaming companies in an industry with already thin margins and makes it difficult for them to compete, Deezer CEO Tyler Goldman tells the news organization. The news also comes after the FTC and other government bodies
began looking into
Apple's efforts to set up deals with music labels.
While the FTC is looking into the App Store rules, there's no guarantee they launch a formal investigation as antitrust lawyers that spoke to
Reuters
were split on whether Apple is breaking the law. This isn't the first time Apple has gotten in trouble for its 30 percent subscription cut, as it landed in hot water with the Department of Justice during the
e-book price fixing case
. In June, it was
reported
that Apple was considering changing the 30 percent cut for media apps like Netflix, Hulu, Spotify and more.
Posted in Front Page | Comments Off on FTC Looking Into App Store Rules Regarding Subscription Services
Saturday, July 11th, 2015
Earlier today Apple Music
exclusively debuted
a new music video from Drake, titled "Energy" from his latest album "If You're Reading This It's Too Late". Previously, Apple has exclusively debuted the music videos for Pharrell's "
Freedom
" and Eminem's "
Phenomenal
". These music videos may be developed in-house at Apple,
reports
Pitchfork
.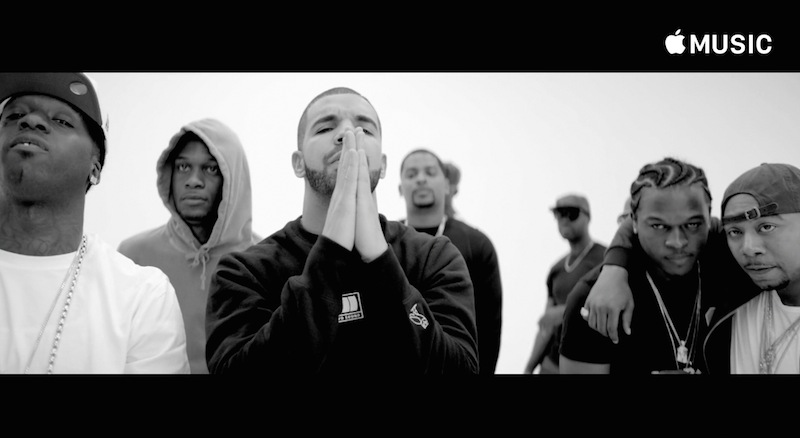 The launch of Apple Music hasn't only included a new radio station, social network, and streaming service. Apple have also started creating their own original content. The company made Drake's amazing "Energy" video in-house, as well as Pharrell's "Freedom" and Eminem's "Phenomenal". Next up: M.I.A.'s "Matahdatah Scroll 01 Broader Than a Border", coming to Apple Music on Monday, July 13.
In addition to M.I.A.'s forthcoming music video,
Pitchfork
, which is an Apple Music Curation Partner, says rumors indicate that Apple Music has projects in the works with artists like Purity Ring, Diddy and James Bay. However, M.I.A.'s music video has been in the works since before May, when the artist
insinuated
that her label was holding up her "Matahdatah" music video because of potential controversy around its cultural appropriation of African culture.
Pitchfork
claims that when they reached out to Larry Jackson, Apple Music's head of content, for comment he responded with a
tweet
consisting of a dig at Spotify CEO Daniel Elk's
"Oh ok" tweet
when Apple Music was announced in addition to the hashtags "Content", "Curation", "Culture" and a link to Drake's music video on Apple Music.
Apple has been trying to secure exclusive content for its new streaming service in an effort to lure customers away from rival services like Spotify and Tidal. That effort continues with Drake, who today
announced
he'll have a radio show on Beats 1 that'll start on Saturday, July 11 at 6 PM EST.
Posted in Front Page | Comments Off on Apple May Be Producing Exclusive Apple Music Content In-House
Friday, July 10th, 2015
MacRumors
has learned that a high-level executive at Barclays, one of the largest banks in the United Kingdom, anticipates "imminent" support of Apple Pay in the country.
Apple Pay in the U.K.
is expected to go live on Tuesday, although it remains unclear if Barclays will be a first wave launch partner because of its delayed negotiations with Apple about the mobile payments service.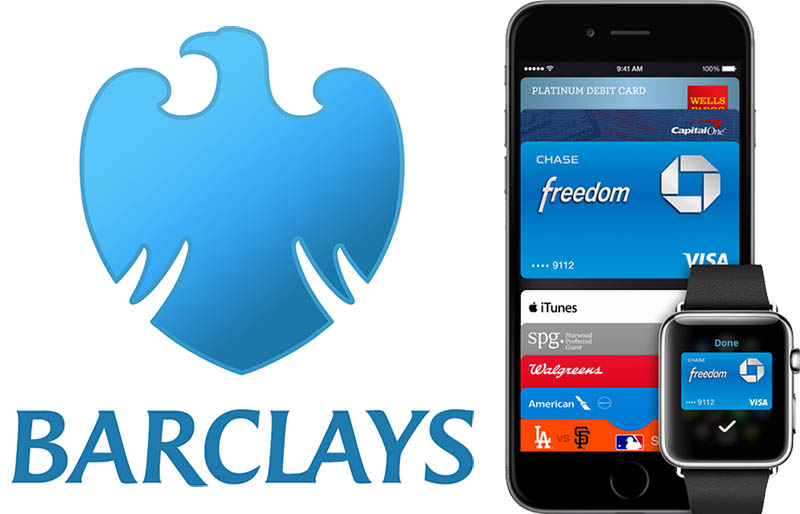 Apple
confirmed at WWDC
last month that Apple Pay will be available in the U.K. in July, but stopped short of providing a specific launch date. Recently released employee
training documents
have suggested the launch could come next week, on July 14, and some Santander customers were able to
add their cards to Passbook
for use with Apple Pay and make purchases ahead of that date.
Barclays was notably absent from Apple's list of banks that will support Apple Pay in the U.K. at launch or soon after, which presently includes HSBC, Lloyds Bank, Bank of Scotland, Royal Bank of Scotland, First Direct, Halifax, M&S Bank, MBNA, NatWest, Nationwide, Santander, TSB and Ulster Bank. The bank's subsidiary Barclaycard has offered an
Apple Rewards Visa Card
for several years.
Barclaycard recently
expanded its "bPay" lineup
of wearable solutions for contactless payments to include a wristband, key fob and sticker, leading to speculation that Barclays may be electing to use its own mobile payments services as opposed to Apple Pay, similar to how some retailers maintained exclusivity to the
CurrentC
platform last year. Today's confirmation, however, indicates otherwise.
Posted in Front Page | Comments Off on Barclays Anticipating 'Imminent' Support for Apple Pay in United Kingdom
Friday, July 10th, 2015
Apple will announce a refreshed lineup of iPod touch, iPod nano and iPod shuffle portable media players around July 14, according to oft-reliable French website
iGen.fr
. The report claims the new iPod touch (codenamed "N102") should be a more significant update, likely including a bump to a 64-bit A-based processor, while the iPod nano ("N31A") and iPod shuffle ("N12D") may be refreshed with new colors only.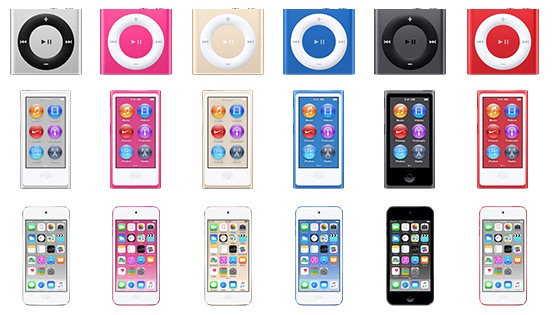 iPods in unreleased colors were
spotted in iTunes 12.2
earlier this month, including a darker blue for the iPod touch, a new gold or beige color for the iPod nano and a brighter pink color for the iPod shuffle.
MacRumors
subsequently discovered a
full lineup of six new colors
for the iPod touch, nano and shuffle hidden within iTunes resource files, including silver, space gray, red, bright pink, deep blue, and light gold.
Posted in Front Page | Comments Off on Apple Rumored to Announce New iPod Touch, Nano and Shuffle Around July 14
Friday, July 10th, 2015
Samsung is planning to move up the launch of the Galaxy Note 5 by one month to avoid competing with Apple's annual iPhone event in September, according to
The Wall Street Journal
. The South Korean handset maker will reportedly unveil the next Galaxy Note in mid-August instead of announcing the smartphone at the IFA Berlin trade show in early September as it has done for four consecutive years.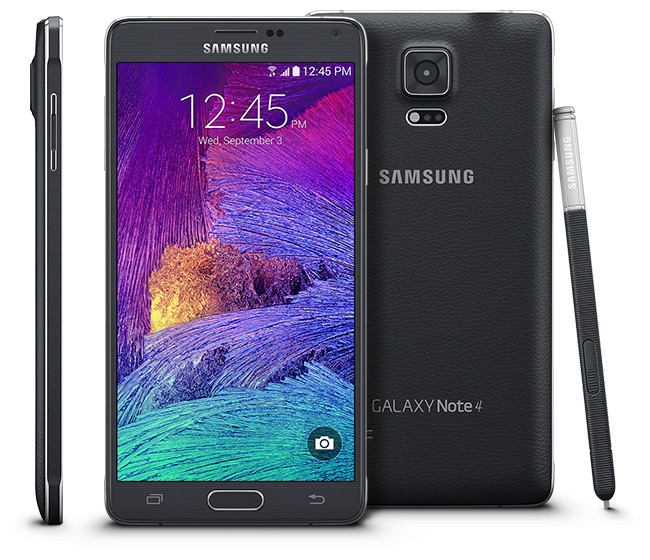 Apple introduced the iPhone 6 and iPhone 6 Plus just six days after the Galaxy Note 4 was announced on September 3 last year, shifting much of the media coverage and consumer attention away from Samsung. After experiencing poor Galaxy S6 sales, Samsung will reportedly look to avoid that same fate by unveiling the Galaxy Note 5 about one month earlier to maximize awareness of the new smartphone.
Posted in Front Page | Comments Off on Samsung May Announce Galaxy Note 5 in August to Beat iPhone Launch
Friday, July 10th, 2015
Apple tonight debuted two brand new iPhone 6 ads that appear to be a part of a new marketing campaign. The ads feature a voice over detailing what makes an iPhone unique compared to other smart phones and smart phone platforms while showing off multiple iPhones doing different things on a white background. Both ads end with a new tagline: "If it's not an iPhone, it's not an iPhone."
The first ad, "Loved", talks about the iPhone's high user satisfaction rate, claiming that 99% of people who have an iPhone love their device. It shows off people messaging, sending emojis, FaceTiming and having a good time on a multitude of iPhones before cutting to the new tagline.
The second ad, "Hardware & Software", explains how Apple is one of the few smart phone manufacturers to design both the hardware and software parts of the device. It goes on to say that this allows the device to function as a whole better than other smartphones can. It shows off games, intensive apps like GarageBand and iPhone-exclusive features like Apple Pay and FaceTime.
The new ads mark the third campaign centered around Apple's flagship device after the Jimmy Fallon and Justin Timberlake ads
explaining the differences
between the iPhone 6 and iPhone 6 Plus and Apple's
award-winning
"
Shot on iPhone 6
" campaign.
Posted in Front Page | Comments Off on Apple Debuts Two New iPhone 6 Ads: 'Loved' and 'Hardware & Software'
Thursday, July 9th, 2015
Amid a decline in both U.S. and worldwide PC shipments, Apple has also seen a slight drop in its U.S. PC shipments in 2Q15, according to shipping estimates released today from
Gartner
. Apple shipped 1.92 million PCs during the second quarter of 2015, down from 1.97 million in 2Q14, marking a 2.5 percent decline.
Overall PC growth in the United States during the quarter was down 5.8 percent, with total estimated shipments at 15.1 million, down from 16 million in the year-ago quarter. With the exception of Lenovo, all of the top U.S. PC vendors saw declines in growth.
In the U.S., PC shipments totaled 15.1 million units in the second quarter of 2015, a 5.8 percent decline from the second quarter of 2014 (see Table 2). The decline was led by a double-digit decline of desk-based shipments, which offset single-digit growth of mobile PCs. Based on preliminary results, the desk-based PC shipment decline was the steepest since 2009 when the market was hit by the economic crisis.
During the quarter, Apple captured 12.7 percent of the market, down from 12.3 percent in 2Q14. Apple was ranked as the fourth largest PC vendor in the United States in 2Q15, based on Gartner's estimates, trailing behind HP, Dell, and Lenovo.

Market leader HP shipped nearly 4 million PCs during the quarter for a 26.2 percent share of the market, while Dell shipped 3.9 million for a 25.6 percent share of the market. Lenovo came in just ahead of Apple with 2 million PC shipments and 13.3 percent of the market, while Asus brought up the rear with shipments of 767,000 and a 5.1 percent share of the market.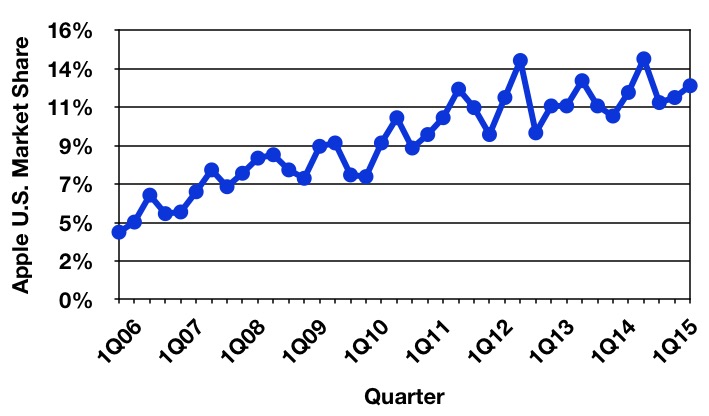 While U.S. PC shipments were down 5.8 percent, worldwide PC shipments saw an even steeper drop. Worldwide PC shipments during 2Q15 totaled 68.4 million units, a 9.5 percent decrease from 2Q14.
It's important to note that data from Gartner is preliminary and that the numbers can shift somewhat, sometimes dramatically. Last year, for example, Gartner predicted Apple
shipments
of 1.68 million and 10.6 percent market share in 2Q14, a number that was later revised to 1.97 million shipments and 12.3 percent market share.
Posted in Front Page | Comments Off on Apple Sees U.S. Mac Sales Drop 2.5% in 2Q15 Amid Larger Worldwide PC Shipment Decline
Thursday, July 9th, 2015
Apple today updated its "
Shot on iPhone 6
" site to add five new videos to the
film section of the gallery
. First
added to the site in early June
, the gallery showcases videos that were created using the iPhone 6 and 6 Plus, incorporating camera features like Slo-Mo, Time-Lapse, and more.
Shot on iPhone 6 video taken in Papua New Guinea
In addition to featuring these videos on its site, Apple also uploads them to YouTube and shows them on television. At least one of the videos added to the site today was previously used in a television commercial. Videos that Apple uploads come from iPhone users around the world, and today's videos are from
Bolivia
,
Alaska
,
Hawaii
, and
Papua New Guinea
, with
two videos
coming from the last location.
The first video features a car racing across salt flats in Salar de Uyuni, Bolivia, while the second depicts a train in Anchorage, Alaska. All of the videos have music playing in the background, which is listed in the videos description, and they each end with the tagline "Shot on iPhone 6."
A third video features a massive wave cresting in Haleiwa, Hawaii, while two videos from Papua New Guinea depict a Time-Lapse sunrise and an underwater shot of a school of fish near a coral reef.
Apple's Shot on iPhone 6 series has
been running since March
and has featured photographs and videos from more than 70 photographers in 24 countries. The image have been used in print media, transit posters, billboards, and television commercials around the world.
Just recently, Apple's Shot on iPhone 6 campaign won an
Outdoor Lions Grand Prix award
in advertising during the Cannes Lions International Festivity of Creativity, with one of the judges saying, "It's not just a great idea. It's a game changer. It's really opening a new way of doing things and changing behavior.
Posted in Front Page | Comments Off on Apple Adds Five New Videos to 'Shot on iPhone 6' Gallery