Archive for the 'iPhone 6s Smart Battery Case' Category
Thursday, December 10th, 2015
iFixit has completed a
Smart Battery Case teardown
, providing a closer look at the case's brushed aluminum inner shell, rechargeable lithium-ion battery and tiny logic board housing two Lightning connectors.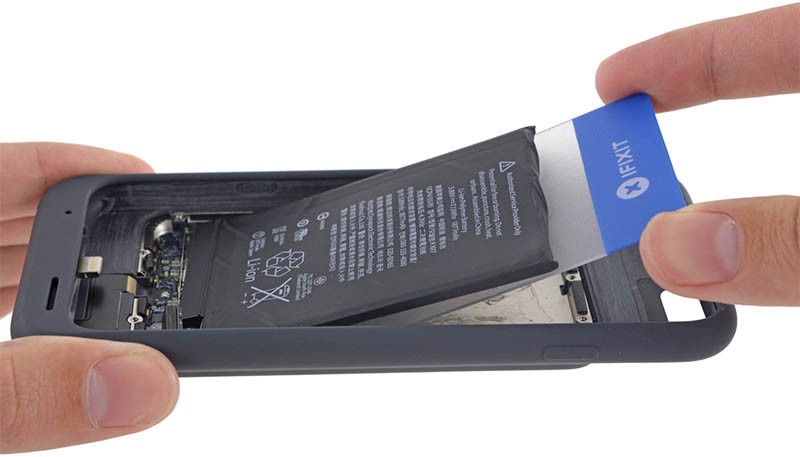 The inner aluminum plate serves as a door for the battery compartment, which houses a 1,877 mAh battery (7.13 Whr) that more than doubles the iPhone 6s battery capacity of 1,715 mAh. iFixit says the battery is "very strongly adhered in place" with a connector rather than soldering.
Much of what makes Apple's Smart Battery Case "smart" is powered by the iPhone, as the case only has a few other components, including a NXP NX20P3 load switch, also found in Lightning to USB cables, and a NXP 1608A1 charging chip.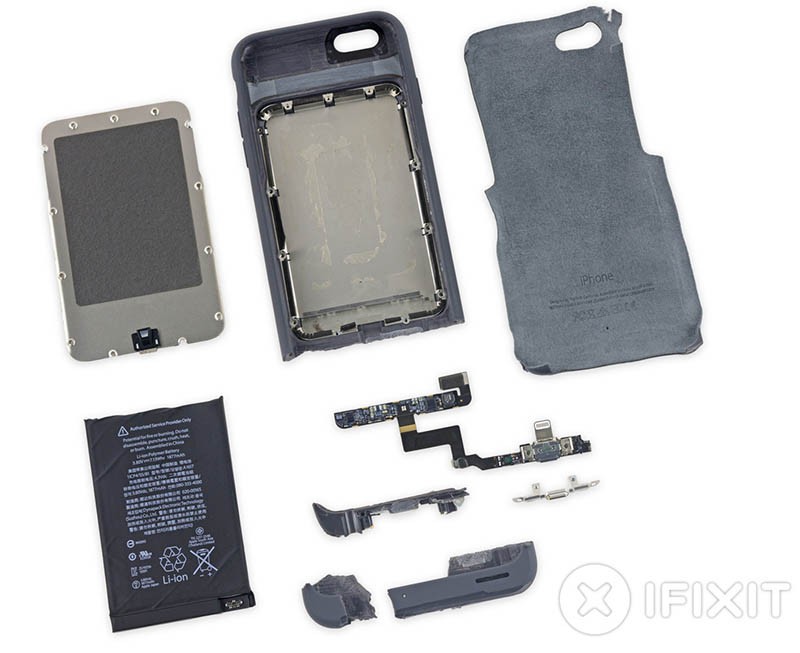 iFixit awarded the Smart Battery Case a repairability score of 2 out of 10, with ten being the easiest to repair. While the battery pack can technically be replaced, the case has a strong adhesive lining, and all other repairs would destroy the accessory.
Discuss this article
in our forums
Posted in iFixit, iPhone 6s Smart Battery Case, teardown | Comments Off on Smart Battery Case Teardown Confirms Battery is Difficult to Replace
Wednesday, December 9th, 2015
Apple CEO Tim Cook attended one of Apple's Hour of Code events in New York this afternoon, where he spoke to
Mashable
's Lance Ulanoff about the new iPhone 6s Smart Battery Case,
which debuted yesterday
.
Ulanoff asked Cook if he was excited about the "hump," a mocking nickname people have given to the battery case due to its distinctive shape. In response, Tim Cook said he was aware of the comments people were making about the case. "You know, I probably wouldn't call it 'the hump,'" Cook said.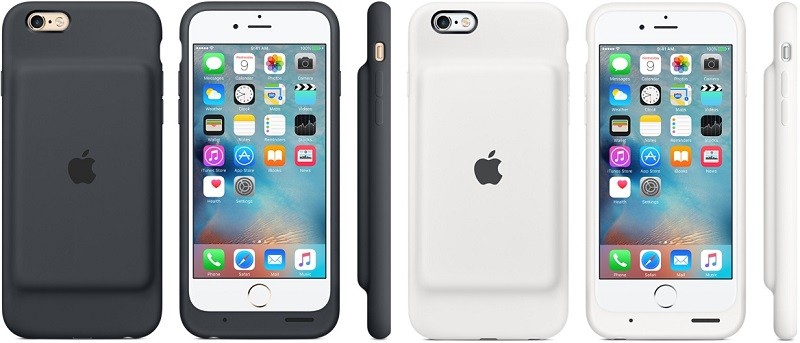 Cook went on to point out the malleability of the new Smart Battery Case in comparison to other battery cases. It's made of a soft silicone that makes it easy to put on and remove, unlike more rigid cases from third-party companies.
Cook was pointing out the issue with cases, like those from Mophie, that are so rigid it takes considerable strength and patience to put them on and take them off.

"If you make this solid all the way across," said Cook, indicating the spots where the Apple case's embedded battery stops and you just have the soft fluoroelastomer casing, "in order to get it on, you'd find it very difficult to get it on and off."

"So the guys had this great insight to put the bend in along with making it a smart case," Cook explained.
Cook also commented on the viewpoint that the case is an admission the iPhone 6s battery is too small, saying most people who charge their iPhones every day won't need the case. "But if you're out hiking and you go on overnight trips... it's kind of nice to have," he said.
Apple introduced its iPhone 6s Smart Battery Case yesterday morning, and its distinctive humped design quickly led to derision and
negative comments
from iPhone users.
Reviews of the Smart Battery Case
were also not overly positive as the case doesn't have enough capacity to fully recharge an iPhone and it's missing some features that are found in third-party battery cases.
Apple's Smart Battery Case for the iPhone 6s is priced at $99 and is available from the
online Apple Store
and Apple retail locations.
Discuss this article
in our forums
Posted in iPhone 6s Smart Battery Case, Tim Cook | Comments Off on Tim Cook on New iPhone 6s Battery Case: 'I Wouldn't Call it the Hump'
Tuesday, December 8th, 2015
Apple's new first party iPhone 6s Smart Battery Case
launched quietly overnight
onto the company's
online store
, and now this morning a handful of sites around the web are publishing reviews for the new accessory. Most reviewers agree that it's time Apple acknowledged the lesser battery life of the 4.7 inch iPhone 6s, when in comparison to its 5.5 inch iPhone 6s Plus alternative, but some still aren't convinced that the case's design, power, and price point are justified.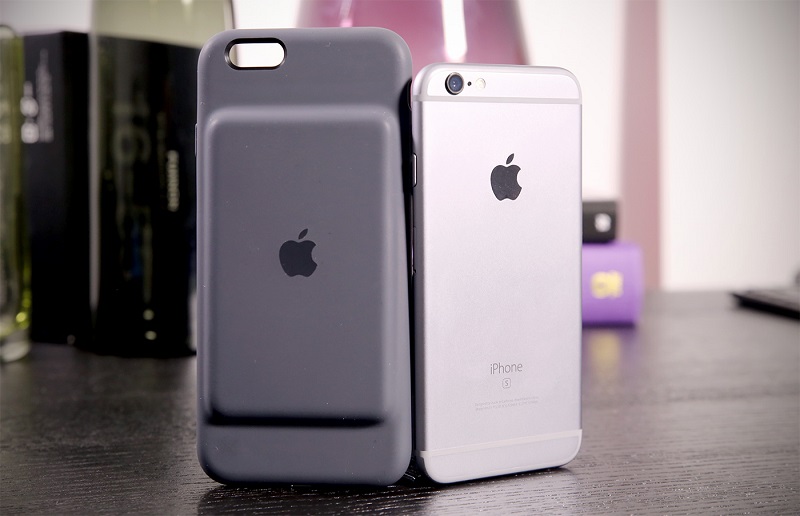 Image via Engadget
The Verge
appreciated Apple's attempts at expanding the case's functionality beyond a simple battery extension, like its built-in antennas to improve cellular performance or the iOS integration that showcases the accessory's current battery level. Still, the site had issues with the protruding lump on the back of the case and the fact that it doesn't fully charge a dead iPhone from 0 to 100 percent due to its slightly weaker (when in comparison to comparable third party cases) 1,877 mAh battery.
The Verge
also noted that the Smart Battery Case doesn't allow users to choose when the case begins or ends charging, it just starts the moment you plug the iPhone 6s into the case's Lightning adapter, perhaps a downside for more intensive iPhone users. In the end, they noted that casual, passive users who want to stay within the Apple family will get what they need out of the case, but that there are cheaper alternatives with more battery life selling points on the market.
Apple's smart battery case is good, then, if you want a softer case or a "passive" battery charging experience, with zero control over or understanding of how the case actually charges your phone. Maybe that's what Apple is hoping: that buyers of this thing will slip it on and never take it off, charging their iPhones entirely through the case's Lightning port going forward, forgetting about its big ol' bump in the back. They will be pleased, finally, with their iPhone 6's or 6S's battery life, and the memory of spending an extra $99 for it, rather than having it just work that way in the first place, will eventually fade away.

It's fine if you don't want exterior indicator lights, or a even a case that gives you a 0 to 100 percent charge. After all, this one was designed for the iPhone, by the same company that made your iPhone. For some people, that's a big draw.
As opposed to
The Verge
's dislike over any lack of outward LED indicator lights regarding the Smart Battery Case's charge level,
The Wall Street Journal
appreciated Apple's attempt at discreetness. The site was overall more positive on the new product, noting that while the case's fully charged battery only brought an iPhone from 0 to 83 percent, it still provided about 5 hours more use time in a standard looping video battery test and alleviated most battery life quibbles the reviewer had with the iPhone 6s previously.
After five days of living with the Smart Battery Case wrapped around my iPhone, I no longer feel so powerless. Even better, Apple fixes many of the issues I've had with cases over the years. It uses the same Lightning cable as the iPhone to charge, and it tells you how much power is remaining right on the phone's screen. Besides, the case doesn't feel like the stuff plastic forks are made of.

For all its virtues, the Smart Battery Case is still a Band-Aid for Apple's iPhone battery problem. We need longer-lasting batteries and easier ways to charge them—not silly battery backpacks. I plan to spend the $99, but I hope one day the Smart Battery Case will just be an artifact from a time before iPhones could run for days.
Engadget
admitted to disliking the design of the case's battery bump upon initially viewing it, but grew to become familiar with the battery protrusion. The site noted that while some may dislike the visual design of the accessory, it "isn't cumbersome" to hold for extended periods of time and is "actually pretty comfortable," although the usual stickiness of silicone in tight jean pockets will remain an issue for some. In a similar vein to other reviews,
Engadget
ended with stating that those tied into the Apple ecosystem will benefit from the Smart Battery Case's iOS integration, but most others can find cheaper alternatives.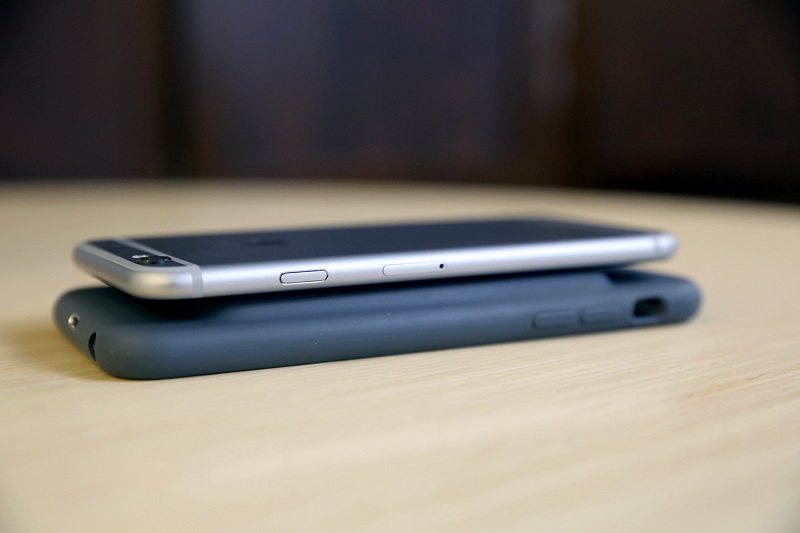 Image via Engadget
Apple's first battery case works, and it works well. Here's the rub, though: There are plenty of cheaper, more capacious options, and some of those are prettier too. What the Smart Battery Case offers over its rivals is a sense of cohesiveness that stems from Apple controlling both the hardware and software experience. The convenience of a Lightning pass-through for easy data transfers and power reminders in iOS might make the case's $99 price worth it for some of you, but everyone else could spend half that on a third-party case.
Those interested in trying out the
iPhone 6s Smart Battery Case
for themselves, or purchasing it for someone as a Christmas present, can visit the Apple online store to order the new accessory. Shipping estimates currently sit at 1-3 business days, and those who live near an Apple Store will be able to select a personal pickup option, as well.
Discuss this article
in our forums
Posted in iPhone, iPhone 6s Smart Battery Case | Comments Off on Apple's iPhone 6s Battery Case: iOS Integration Is Nice, but Better Options Exist
Tuesday, December 8th, 2015
Apple today quietly launched a new accessory for the iPhone 6s, called the
iPhone 6s Smart Battery Case
, that will enhance the talk time and internet use of the smartphone by up to 25 and 18 hours, respectively (via
Cnet
). The case's outside material compares similarly to the company's previous line of
silicone accessories
, with an added hump sitting in the middle of the backside where the extra battery rests.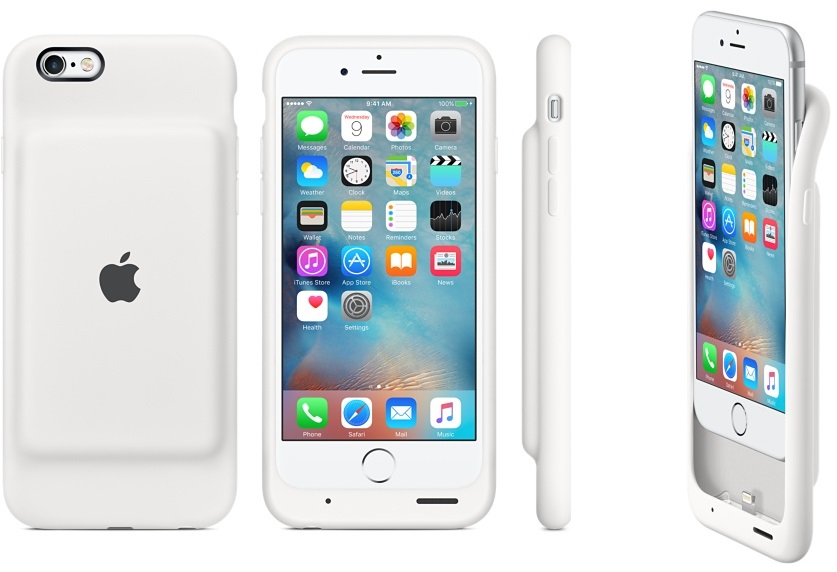 Charge your iPhone and battery case simultaneously for increased talk time up to 25 hours, Internet use up to 18 hours on LTE, and even longer audio and video playback.* With the Smart Battery Case on, the intelligent battery status is displayed on the iPhone Lock screen and in Notification Center, so you know exactly how much charge you have left.
As the first official Apple-made iPhone battery case, the new product comes in Charcoal Gray and White color options and costs $99 on Apple's online store. A new feature will allow the case's battery life status to be displayed for users on both the lock screen and in Notification Center, so it's easy to determine how much life the accessory has left. The company also promised that the Smart Battery Case supports all Lightning products, including the iPhone's bundled-in Lightning cable and the official
iPhone Lightning Dock
.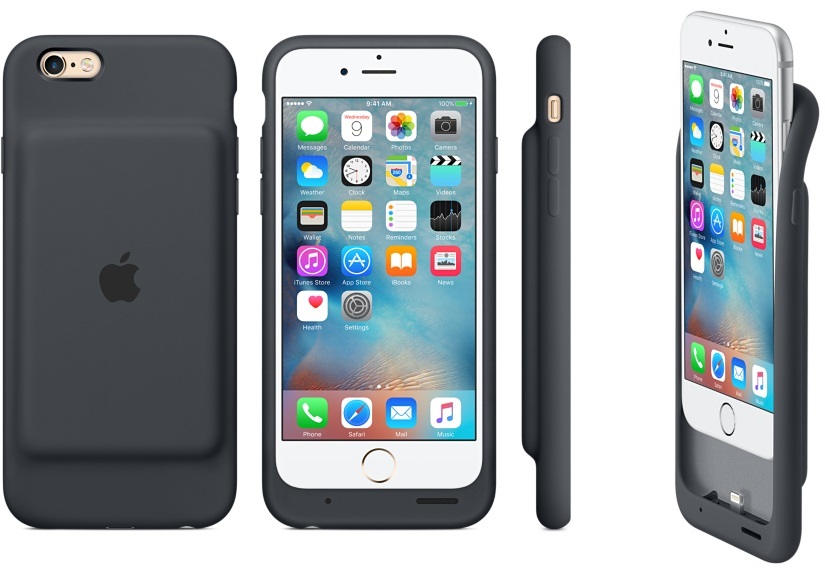 The company's storefront doesn't specifically disclose the mAH capacity of the Smart Battery Case, aside from the estimated hours given to tasks like talking on the phone and browsing the internet. There's also no version for the iPhone 6s Plus currently announced, but users of last year's 4.7 inch iPhone 6 model will be able to use the new case due to its design similarities to the iPhone 6s.
Discuss this article
in our forums
Posted in iPhone, iPhone 6s Smart Battery Case | Comments Off on Apple Launches Official Battery Life Enhancing Case for the iPhone 6s