Archive for the 'GoPro' Category
Thursday, July 27th, 2017
GoPro today
announced
a new feature for its iOS and Android applications called "
QuikStories
," launching within a rebranded app that's now simply called "
GoPro
" [
Direct Link
], which works in conjunction with another app called "
Quik
" [
Direct Link
]. The company described QuikStories as way for users to easily share cool experiences to social media that they captured on a HERO5 camera.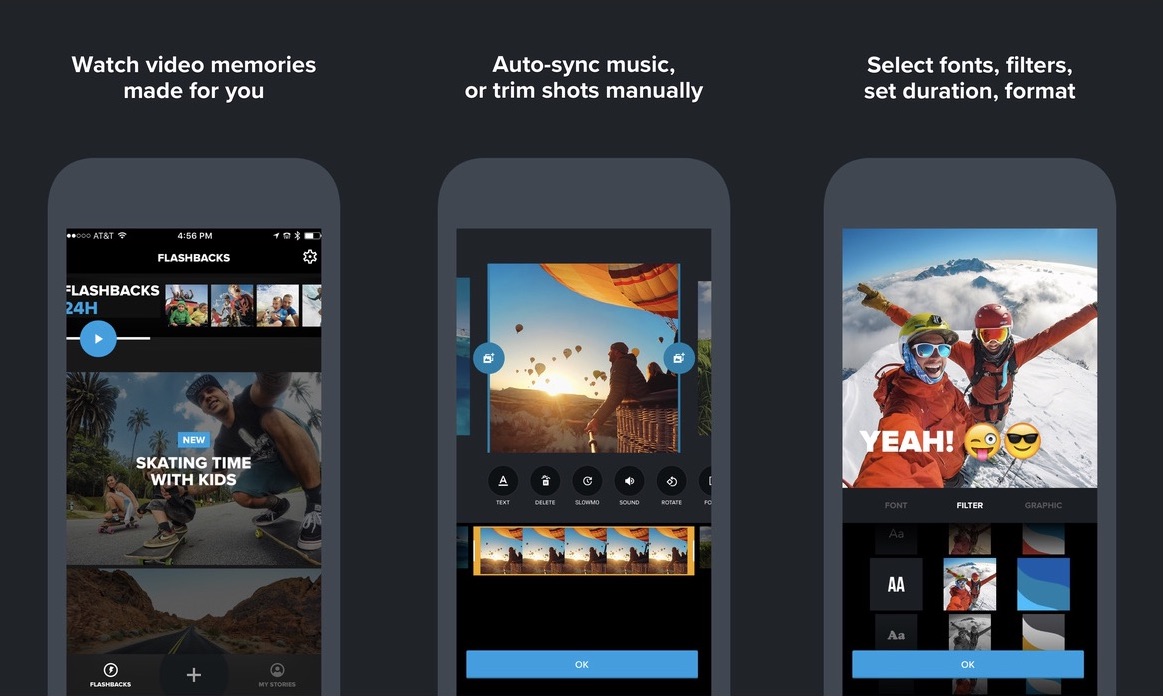 Similar to Apple's Memories feature in the iOS Photos app, QuikStories accumulates recent footage captured by the user and generates easily-shareable videos on the user's smartphone. This removes the need for users to go through a cumbersome editing process for shorter-length footage that they just want to share to social networks like Instagram and Snapchat.
To make a QuikStory, users have to pair a HERO5 Black or HERO5 Session GoPro device with their smartphone, open the main GoPro app, and pull down on the home screen, which begins the process of copying the latest footage to create the QuikStory. The main app communicates with the Quik app so users don't have to jump between the two.
"QuikStories is our biggest leap forward since the invention of the GoPro itself," says GoPro founder and CEO, Nicholas Woodman. "QuikStories is the simple storytelling solution our customers have been dreaming about for years. It's an absolute game changer."
If deeper customization is desired, users can also add their own text, slow motion and speed effects, alternate filters and soundtracks, edit the video's length, and more. On the Quik app's description within the App Store, the company said that transitions are automatically synced to the beat of the chosen song, with users able to import their own music from iCloud Drive, Dropbox, Google Drive, and more.
Users can leave the app while GoPro creates their QuikStory, and then a push notification will alert them when it's ready. From there, it can be shared on Instagram, WhatsApp, Snapchat, Facebook, and via text and email directly from the GoPro app.
The main
GoPro app
, formerly known as Capture, is available to download from the iOS App Store for free [
Direct Link
].
Discuss this article
in our forums
Posted in GoPro | Comments Off on GoPro iOS App Launches 'QuikStories' With Automatic Video Editing Features
Thursday, December 10th, 2015
GoPro today
announced an update
to its iOS app that will bring Apple Watch integration to users of the popular outdoor recording hardware. The new Apple Watch features will give users access to a GoPro camera's controls, letting them preview their shot, toggle between capture modes, begin and end recording, and even add HiLight tags to important moments in a video.
Also introduced in the 2.11 version of the GoPro app is the ability to browse frame-by-frame through a video and capture still images from it. The company has streamlined media browsing in the app as well, with easier-to-discover photos, videos, HiLights and clips, along with some expanded iOS abilities that make "nearly everything" available on the Apple version of the software that was previously restricted on mobile.
New and Improved:
+ Now compatible with Apple Watch: Preview shots, control your camera, and add HiLight Tags all from your watch.
+ Pull still images from videos: Quickly flip through a video frame-by-frame to find that epic moment and download a high-quality still image.
+ Find your media faster: Locate that awesome shot by filtering your media to display only photos, videos, HiLights, or clips.
+ Nearly everything is viewable on iOS: Enjoy your shot on the spot with a generated preview that allows you to view high frame-rate video on your phone.
The
GoPro App
is available to download from the App Store for free [
Direct Link
].
Discuss this article
in our forums
Posted in GoPro | Comments Off on GoPro Updates iOS App With Streamlined Design and Apple Watch Integration