Archive for the 'Google Earth' Category
Wednesday, August 2nd, 2017
Google Earth for iOS today
received a major update
that brings a collection of new features to the interactive mapping app, as well as introducing 64-bit app support so it can run on iOS 11 devices. Apple
reminded developers over the summer
that once iOS 11 launches to the public, it will cease support of 32-bit apps altogether and only allow 64-bit apps and app updates to be submitted to the App Store.
In its announcement, Google positioned the updated app as a way for users to discover new travel destinations. With the new add-ons, users will now be able to explore locations around the world with a 3D button that refocuses Google Maps and begins circling around a city chosen by the user, similar to Flyover in Apple Maps. All of the updates coming to iOS previously debuted on Android in April.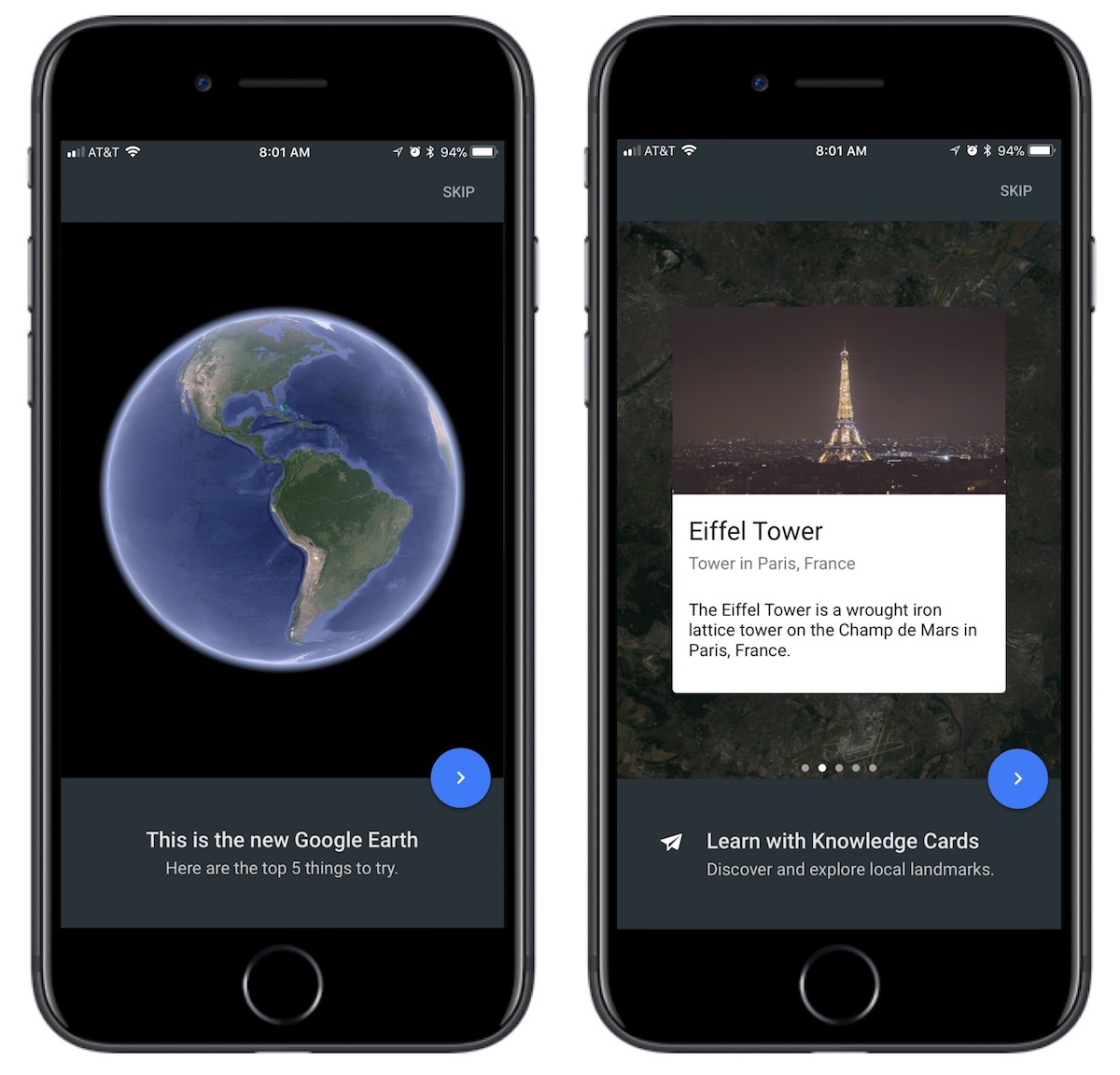 Summer is one of my favorite seasons. It's a time to travel with my family, for discovering new places and creating new memories. Google Earth is where I turn to for travel ideas. Just last month I was exploring Canada's National Parks. Inspired by the beautiful outdoor imagery, I'm planning to hit the road with my wife and kids in a couple weeks, up the coast to Hoh Rain Forest in Washington, and then onward to beautiful Victoria, Canada, home of the Pacific Rim National Park Reserve.

And starting today, if you're an iOS user, you can download Google Earth and discover your next travel destination, too.
There's also a new feature called "Voyager" that brings up interactive stories from places around the world with information like the best museums, parks, and landmarks broken down in categories including editor's picks, travel, nature, culture, history, and education.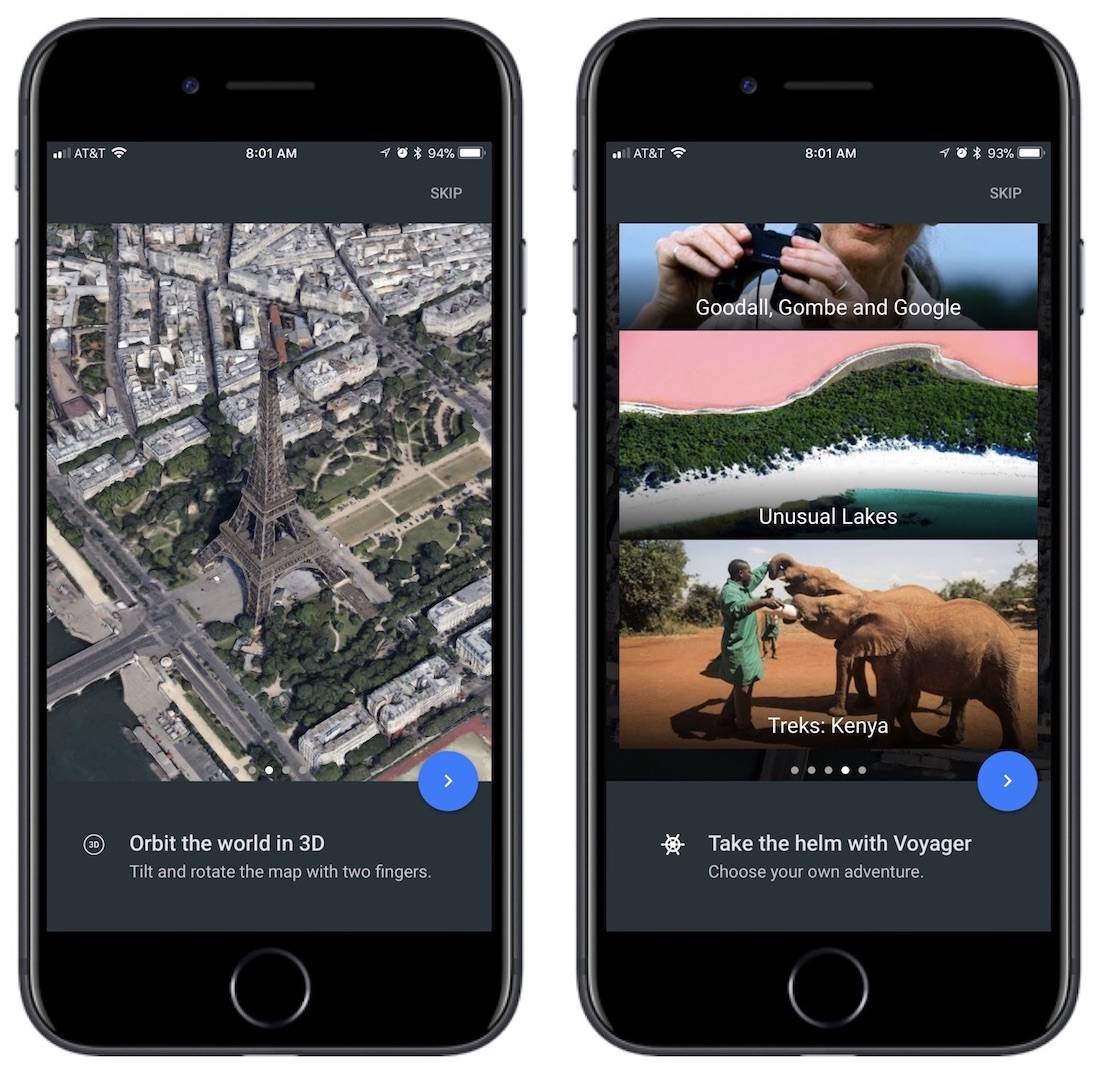 To discover a random new destination on the planet, there's a new dice rolling button that surfaces a new location for users to read up on each time it's pressed. Google also added an in-app screenshot, or "Postcard," feature that lets users take pictures of the locations they explore with the new 3D mode.
Google Earth
is available to download from the iOS App Store for free. [
Direct Link
]
Discuss this article
in our forums
Posted in Google, Google Earth | Comments Off on Google Earth iOS App Updated With Flyover-Like 3D Views and 64-Bit Support
Tuesday, June 28th, 2016
Google
announced
yesterday that it has begun rolling out new high-definition satellite imagery of Earth to its Google Earth and Google Maps apps.
The company said it was introducing a new cloud-free mosaic of the Earth's surface made up of high-resolution images taken by Landsat 8, a satellite deployed by the USGS and NASA in 2013.

Google Earth image of New York City before update

New Google Earth image of the same area after update
In a
blog post
announcing the update, Google explained that the seamless mosaic uses new processing techniques for sharper pictures, and was composed out of a mind-blowing amount of open access digital data:
To produce this new imagery, we used the same publicly available Earth Engine APIs that scientists use to do things like track global tree cover, loss, and gain; predict Malaria outbreaks; and map global surface water over a 30 year period.

Like our previous mosaic, we mined data from nearly a petabyte of Landsat imagery—that's more than 700 trillion individual pixels—to choose the best cloud-free pixels. To put that in perspective, 700 trillion pixels is 7,000 times more pixels than the estimated number of stars in the Milky Way Galaxy, or 70 times more pixels than the estimated number of galaxies in the Universe.

Some users are reportedly still seeing old images in the app, and Google hasn't offered a specific timeline for completion of the update, which began on Monday. Users can check the
blog post
for more images and information on the satellite's history.
Google Maps
is a free download from the
App Store
for iPhone and iPad. [
Direct Link
]
Google Earth is available to download for the Mac
here
.
Discuss this article
in our forums
Posted in Google Earth, Google Maps | Comments Off on Google Maps Satellite View Gains High Definition Landsat 8 Imagery