Archive for the 'enterprise' Category
Monday, June 26th, 2017
Apple CEO Tim Cook took the stage at Cisco Live in Las Vegas today, sitting down with Cisco CEO Chuck Robbins to discuss the
ongoing partnership
between the two companies that has leveraged Apple's expertise in devices and apps and Cisco's strength in networking and enterprise tools.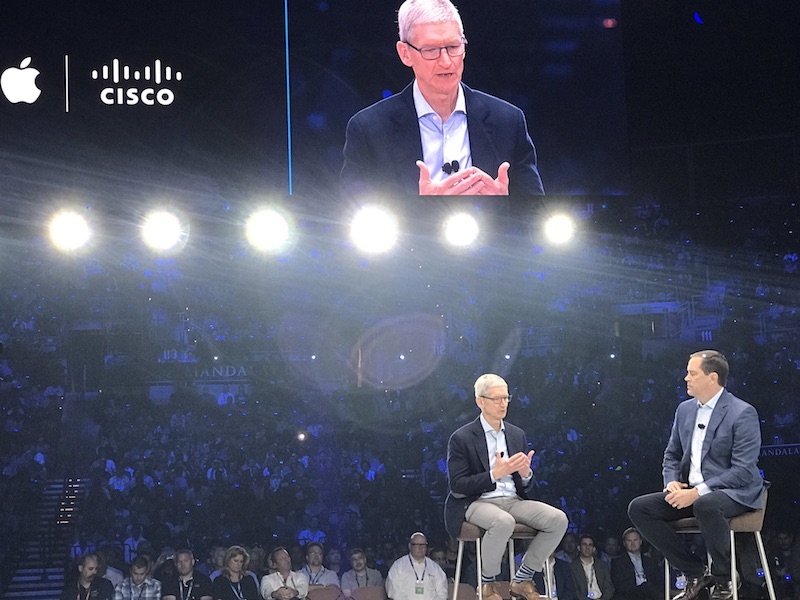 Wow! @tim_cook and @ChuckRobbins announcing our IOS security partnership at #CLUS! https://t.co/izPv9neWvZ pic.twitter.com/AD1LUjhwBa

— ☁ David Ulevitch ☁ (@davidu) June 26, 2017
During the session, Cook argued that business customers who use the integrated Apple-Cisco ecosystem should be granted a benefit in the form of lower cybersecurity insurance premiums,
reports Reuters
.
"The thinking we share here is that if your enterprise or company is using Cisco and Apple, that the combination of these should make that (cyber-security) insurance cost significantly less," Cook said. "This is something we're going to spend some energy on. You should reap that benefit."
Cisco also announced its upcoming
Cisco Security Connector
program for iOS devices, launching later this year.
Expected to be released in the fall of 2017, the Cisco Security Connector is designed to deliver the deepest visibility, control, and privacy for iOS devices. The Cisco Security Connector offers organizations the most granular view of what is happening on enterprise-owned mobile devices and provides the best protection for users, anywhere they travel. With the Cisco Security Connector, businesses will now have the ability to meet risk and compliance requirements from auditors and ultimately expand iOS adoption in new ways. [...]

With the Cisco Security Connector, organizations gain the following:

- Visibility: Ensure compliance of mobile users and their enterprise-owned iOS devices during incident investigations by rapidly identifying what happened, whom it affected, and the risk exposure.
- Control: Protect users of iOS devices from connecting to malicious sites on the internet, whether on the corporate network, public Wi-Fi, or cellular networks.
- Privacy: Safeguard corporate data and users by encrypting internet (DNS) requests.
Cisco says it collaborating with insurance companies on "more robust policies" for customers taking advantage of continuous security monitoring based on technologies from Apple and Cisco.
Discuss this article
in our forums
Posted in Cisco, enterprise, Tim Cook | Comments Off on Tim Cook Appears Onstage at Cisco Live to Debut New Enterprise Security Partnership
Thursday, March 30th, 2017
Back at
Mobile World Congress
in February, Apple and enterprise application software company SAP, which first
teamed up in 2016
announced plans to launch the SAP Cloud Platform SDK for iOS in March, and as of today, the SAP Cloud Platform SDK for iOS has been made available.
The platform features a toolset that is designed to help developers quickly and effortlessly build "enterprise-grade" apps for iOS devices. It uses Apple's Swift programming language to present developers and designers with a collection of pre-built UI components and easy access iPhone features for accelerated app development.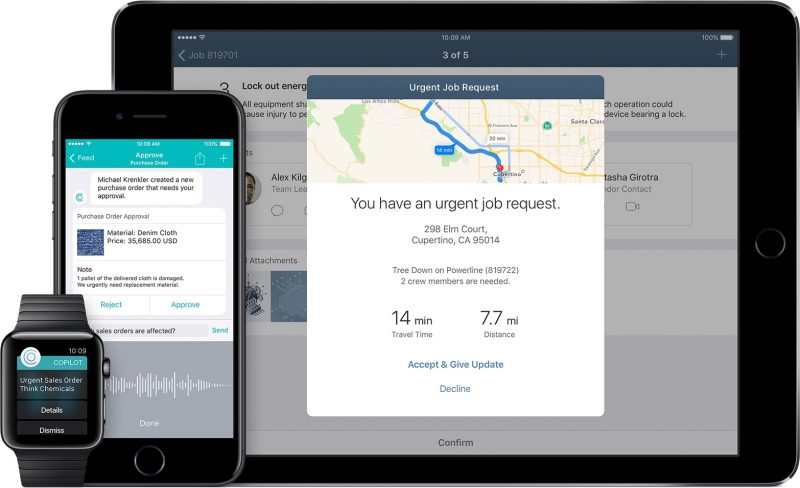 Apple announced the launch of the SAP Cloud Platform SDK for iOS on its developer website.
Apple and SAP are working together to make it easier than ever to reinvent business processes and workflows everywhere. With the new SAP Cloud Platform SDK for iOS, you can build powerful native iOS apps that integrate seamlessly with the SAP Cloud Platform.
Apple's
dedicated SAP page
better explains the partnership between the two companies and the benefits of the SAP Cloud Platform SDK for iOS for enterprise customers.
Discuss this article
in our forums
Posted in enterprise, SAP | Comments Off on Apple and SAP's Enterprise Cloud Platform SDK for iOS Now Available
Tuesday, February 7th, 2017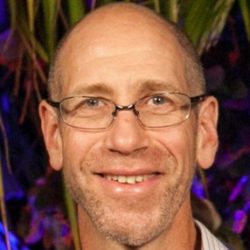 John Solomon, Apple's vice president for enterprise and government, left the company recently, Apple confirmed to
Reuters
. Solomon sold Apple products to major businesses and government entities.
Prior to joining Apple in 2015, Solomon was a longtime Hewlett-Packard executive who ran the company's global consumer printing business. According to
Reuters
, it is not immediately clear if Solomon's departure will have an impact on Apple's enterprise business, nor is it known why he left the company.
Since 2014 when it
inked a deal with IBM
, Apple has been
ramping up
its enterprise efforts to sell more products to big businesses. By partnering with IBM, Apple has been able to help businesses build custom iOS applications, and through a
2016 partnership with Cisco
, Apple's iPhones work better on commonly used Cisco networking gear.
Apple has also inked enterprise deals with
SAP
and
Deloitte
, with both partnerships aimed at developing the tools and integrations necessary to make it easy for companies to adopt iOS devices and Macs.
Discuss this article
in our forums
Posted in enterprise | Comments Off on Key Enterprise Executive Leaves Apple
Wednesday, September 28th, 2016
Apple today
announced an enterprise partnership
with Deloitte, which will see Deloitte creating an Apple practice with more than 5,000 "strategic advisors" focused on providing businesses with guidance on how to "change the way they work," updating technology on all of their systems, from retail to R&D to inventory management.
The two also plan to create a new service from Deloitte Consulting called "EnterpriseNext," which will help Deloitte clients "fully take advantage" of the iOS ecosystem, from hardware to software.

"As the leader in digital transformation strategy, Deloitte is an ideal partner that brings a team of Apple-dedicated strategic advisors to help clients truly revolutionize how they work using iOS, iPhone and iPad," said Tim Cook, Apple's CEO. "iPhone and iPad are transforming how people everywhere get work done. And through this partnership, we're able to help even more businesses tap into the incredible capabilities that only the Apple ecosystem can deliver."
EnterpriseNext will offer expertise to businesses across more than 20 industries, providing guidance on how to take advantage of iOS devices, offering workshops on creating iOS solutions, and developing full native apps for businesses from Deloitte Digital Studios.
- EnterpriseNext Value Maps for iOS to help them discover the highest impact possibilities for iPhone and iPad within their industries, align their mobile opportunities and prioritize digital resources;
- EnterpriseNext Workshops for iOS to quickly take ideas from prototype to custom-built iOS solutions; and
- iOS architects, designers and engineers - housed within Deloitte Digital Studios around the world - to help produce easily deployable, high-quality native apps that integrate seamlessly with existing business platforms including ERP, CRM, analytics and HR.
Apple has been ramping up its efforts in the enterprise market over the past few years, first
teaming up with IBM
to get iPads and iPhones into the hands of businesses and help them to develop a range of custom apps. Apple has also
partnered with Cisco
and
SAP
to offer the necessary tools and integrations to make it easy for companies to adopt iOS devices.
Discuss this article
in our forums
Posted in Deloitte, enterprise | Comments Off on Apple and Deloitte Partnering on Consulting Service to Promote iOS Devices in Enterprise