Archive for the 'emoji' Category
Friday, November 3rd, 2017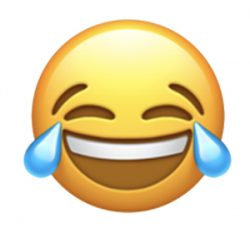 Apple has revealed that "face with tears of joy" is the most popular emoji among English speakers in the United States.
The face topped Apple's list of the top 10 emoji, ahead of a red heart, loudly crying face, heart eyes face, face throwing a kiss, face with rolling eyes, skull, smiling face with smiling eyes, weary face, and thinking face.
Apple's chart isn't labeled, much to the disappointment of anyone who was desperately seeking emoji statistics.

Apple's list of the top 10 emoji is mostly consistent with public data available from
Emojipedia
and
EmojiTracker
, with the skull being an exception, according to Unicode's Emoji Subcommittee vice-chair Jeremy Burge.
Apple shared the chart in a recently published
overview of its differential privacy technology
on macOS Sierra and iOS 10 and later, which allows the company to collect and aggregate anonymized data from a large number of users while preserving the privacy of individual users.
The differential privacy technology used by Apple is rooted in the idea that statistical noise that is slightly biased can mask a user's individual data before it is shared with Apple. If many people are submitting the same data, the noise that has been added can average out over large numbers of data points, and Apple can see meaningful information emerge.
Apple says it uses local differential privacy to help protect the privacy of user activity in a given time period, while still gaining insight that improves the intelligence and usability of iOS and macOS features such as:
• QuickType suggestions
• Emoji suggestions
• Lookup Hints
• Safari Energy Draining Domains
• Safari Autoplay Intent Detection (macOS High Sierra)
• Safari Crashing Domains (iOS 11)
• Health Type Usage (iOS 10.2)
Apple has specifically developed a technique known in the academic world as "local differential privacy":
Local differential privacy guarantees that it is difficult to determine whether a certain user contributed to the computation of an aggregate by adding slightly biased noise to the data that is shared with Apple. But before adding this noise, it's necessary to define a data structure that captures a sketch of user input with a small number of bits. Apple currently makes use of two specific techniques.
In iOS, information being shared with Apple for the categories of data that are protected using Differential Privacy is visible under Settings > Privacy > Analytics > Analytics Data, in entries that begin with "DifferentialPrivacy."
In macOS, users can launch the Console app and view the information under the Differential Privacy category of System Reports.
Apple's
differential privacy overview
provides many more technical details about the technology, including info about the Count Mean Sketch technique that allows Apple to determine the most popular emoji.
Discuss this article
in our forums
Posted in Differential privacy, emoji | Comments Off on Apple Says 'Face With Tears of Joy' is Most Popular Emoji in United States Among English Speakers
Friday, August 4th, 2017
While the
new emojis of Unicode 10
have yet to launch, Unicode President Mark Davis this week
revealed
a collection of new emojis have been added as "draft candidates" for potential release in
Unicode 11
in 2018 (via
Emojipedia
). The news came out of the quarterly Unicode Technical Committee meeting, and up next the Unicode Consortium will decide on the list of final candidates at its Q4 2017 meeting in October, followed by naming the new characters at a meeting in Q1 2018.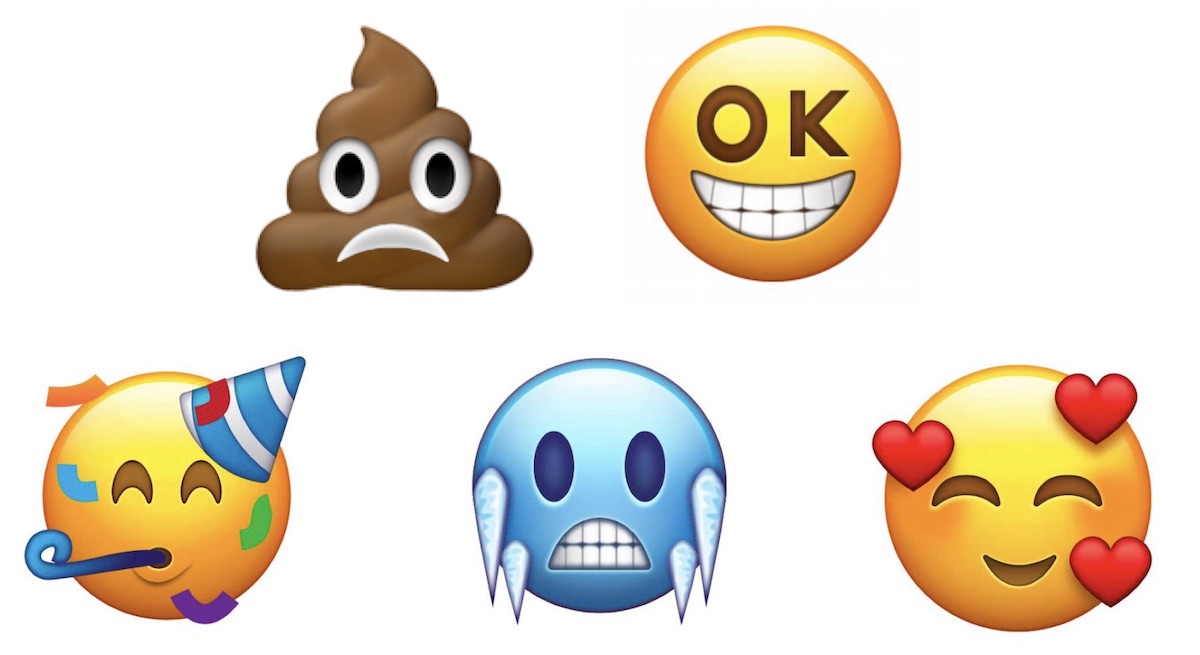 Emoji images via Emojipedia and Unicode.org
The 67 new characters proposed for inclusion in Unicode 11 include smiling face with three hearts, smiling face with party hat, blue face with icicles, grinning face with OK as eyes, and an inversion of the well-known poo emoji called "frowning pile of poo."
There's also kangaroo, cupcake, llama, bagel, broom, skateboard, softball, smiling face with cape, and serious face with eye mask and cape. Since Unicode 11 is still so far from release, the list of its included characters and their designs are subject to change.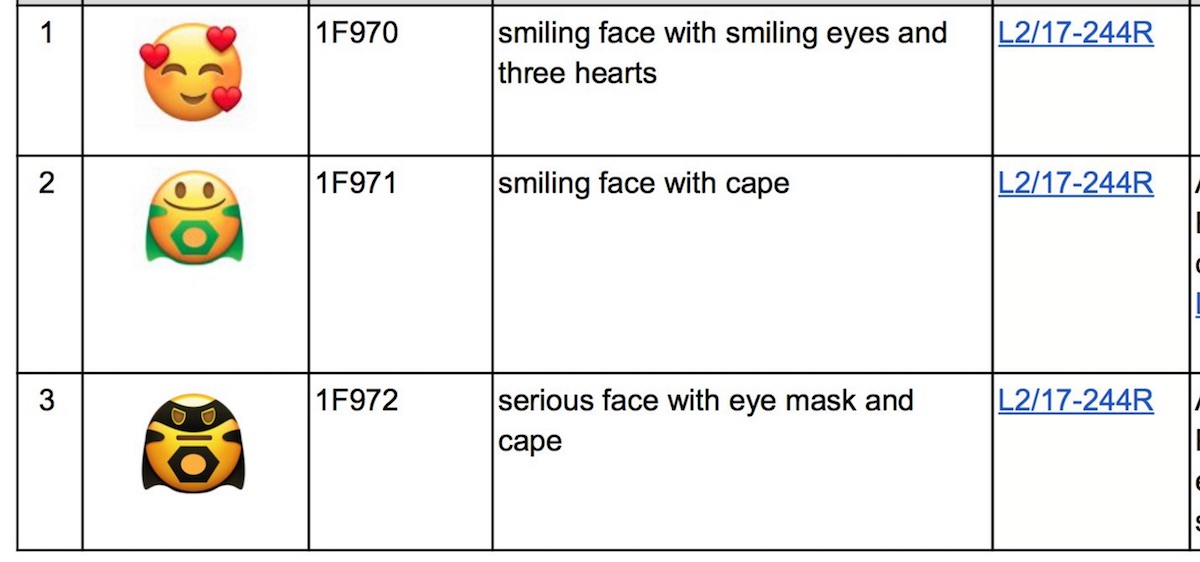 📝 🌱 Recommendations from the Unicode Emoji Subcommittee for 2018 #UTC152 https://t.co/NQmEZzmkqt pic.twitter.com/I86zmDbWjn

— Jeremy Burge 🐥 (@jeremyburge) August 4, 2017
Closer to release is
Unicode 10
, which Apple
highlighted last month during World Emoji Day
by looking at a few of the emojis coming to iOS, macOS, and watchOS later in 2017. New emojis include Woman with Headscarf, Bearded Person, Breastfeeding, Sandwich, Coconut, T-Rex, Zebra, Zombie, Elf, Star-Struck, Exploding Head, and more.
Apple didn't specify a date for the launch of the Unicode 10 characters, but they should appear around the public debut of iOS 11 or soon after. It traditionally takes Apple a few months to include support for new emoji. Last year, the Unicode Consortium released
Unicode 9 in June 2016
, and then Apple debuted those characters in
iOS 10.2 in October 2016
.
For a full list of the 67 new emoji candidates in Unicode 11, visit
Emojipedia
.
Discuss this article
in our forums
Posted in emoji, Unicode 11, Unicode Consortium | Comments Off on Frowning Poo and 66 Other New Emojis Proposed for Potential Release in 2018's Unicode 11
Monday, July 17th, 2017
After first
giving iTunes an emoji-themed makeover
, Apple is continuing its celebration of World Emoji Day with a
preview of all-new emoji characters
coming to iOS, macOS, and watchOS later in 2017.

The new emoji previewed today by Apple include Woman with Headscarf, Bearded Person, Breastfeeding, Sandwich, Coconut, T-Rex, Zebra, Zombie, Elf, Star-Struck, Exploding Head, and more. All of the emoji shared today were previously included in the
new Unicode 10 standard
released in June.
The new emoji make it easier for users to express themselves with greater diversity, additional animals and creatures, new smiley faces and more.
Apple didn't specify a launch date for the new line of emoji characters coming to iPhones, iPads, Macs, and Apple Watches this year, but it's expected that they will arrive sometime around the public launch of iOS 11 this fall, or soon thereafter. World Emoji Day celebrations are also extending to the iOS App Store, where Apple said that it has highlighted apps that showcase fun things to do with the smartphone characters.
Discuss this article
in our forums
Posted in emoji | Comments Off on Apple Highlights New Batch of Emoji Coming to iOS, macOS, and watchOS Later This Year
Monday, July 17th, 2017
Today, July 17, is celebrated as World Emoji Day thanks to this day being marked on the iOS "calendar" emoji. In celebration, Apple has updated the iTunes Movies storefront with a new emoji-filled carousel that uses the popular smartphone characters to describe recent film releases, as well as older movies.

Some of the films referenced include
Kong: Skull Island
,
Beauty and the Beast
,
Get Out
,
Stephen King's It
,
Logan
,
Arrival
, and more. The iTunes emoji makeover is simply a visual overhaul of the store with no sale prices appearing on any of the participating films.

Apple often updates the iTunes Movies storefront to coincide with new film releases, most recently offering a
LEGO makeover
to celebrate the digital release of
The LEGO Batman Movie
. Earlier in June, a few
decade-based film collections were put on sale
on iTunes to give users the chance to get bundles of films together at lower prices.
(Thanks, Kenneth!)
Discuss this article
in our forums
Posted in emoji, iTunes | Comments Off on Apple Celebrates World Emoji Day With an Emoji-Themed Makeover for iTunes Movies
Tuesday, June 20th, 2017
The Unicode Consortium today
released version 10.0.0
of the Unicode Standard, introducing
56 new emoji characters
ranging from crazy face and face with monocle to t-rex, pie, and pretzel.
Emoji site Emojipedia has details on all of the new emoji that are included in the update, and has
shared a sample image
featuring visual representations of the new additions.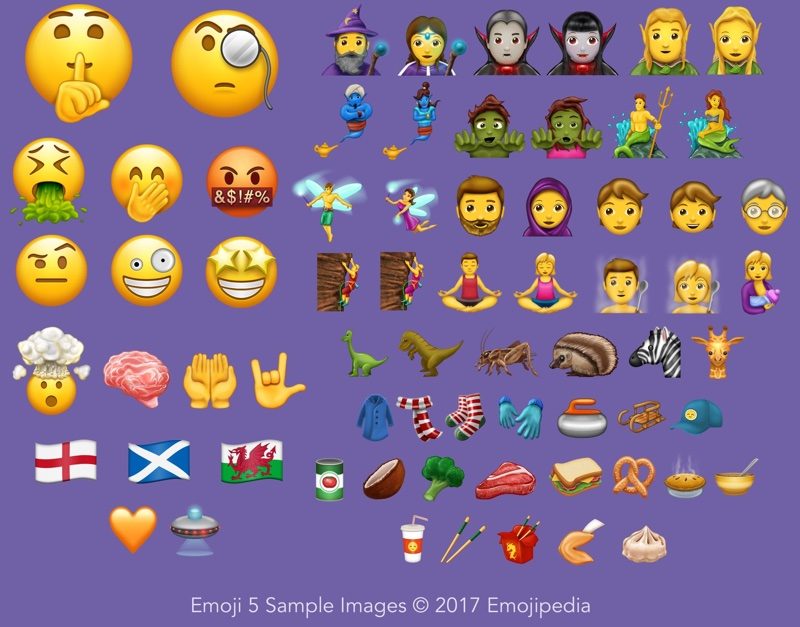 Some of the new emoji include star-struck, face with raised eyebrow (which Emojipedia says is also known as the "Colbert" face), exploding head, face vomiting, shushing face, face with hand over mouth, love you gesture, palms up together, brain, orange heart, scarf, gloves, coat, socks, zebra, giraffe, hedgehog, sauropod, cricket, coconut, broccoli, dumpling, fortune cookie, pie, cup with straw, and chopsticks.
New child, adult, and older adult emojis in a range of skin tones
are included
, as are options for person in steamy room, bearded person, mage, fairy, vampire, merperson, elf, genie, person climbing, person in lotus position, and more, with all of those emoji available in multiple skin tones and genders. While there are 56 distinct new emoji characters, gender/skin tone modifiers and flags bring that total to 239.
These new emoji will not be available for Apple products until Apple adds support for Unicode 10, and the actual artwork for each emoji on iOS and Mac devices will be up to Apple to provide.
It typically takes Apple several months to implement support for new emoji, so the Unicode 10 options could be implemented in the fall of 2017. Emoji in
Unicode 9
, which was released in June of 2016, were added to iOS
in iOS 10.2 in October
.
Discuss this article
in our forums
Posted in emoji, Unicode 10, Unicode Consortium | Comments Off on T-Rex, Vampire, Crazy Face, Zombie, Giraffe, and Pie Among Emoji Included in New Unicode 10 Standard
Monday, December 12th, 2016
The Unicode Consortium has
announced
a
proposed update
to its emoji documentation that provides support for regional flag emojis.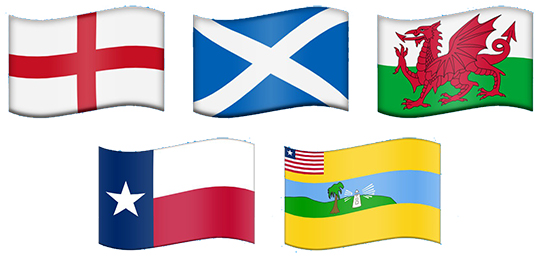 As noted by
Emojipedia
, the new functionality and guidelines would allow for Apple and other vendors to implement emojis for regions such as U.S. states, Canadian provinces and territories, or countries of the United Kingdom.
Flags representing California or Texas, for example, or England, Scotland, Wales, and Northern Ireland, could be added in a future iOS update.
The Unicode Consortium stopped short of recommending specific flags for vendors to support, and it said there is no requirement that any of the regional flags be supported. In other words, Apple in particular would be free to choose which regional flags to add to its iOS and macOS platforms if any.
Emojipedia
said the Emoji 5.0 update is likely to be released in the first half of 2017, although an official date has not been specified. The proposed update is currently available for public review and feedback until January 16, 2017.
Some apps such as WhatsApp have already worked around the existing Unicode standards to support flags for England, Scotland, Wales, and other regions.
Discuss this article
in our forums
Posted in emoji, Unicode Consortium | Comments Off on Unicode Proposes Regional Emoji Flags for Next Year
Thursday, November 10th, 2016
The Unicode Consortium today published the
list of proposed emoji
that could potentially be included in Unicode 10, set to be released in 2017, giving us a first glimpse at the emojis we might see included in future iOS updates.
Today's proposal includes 51 emoji candidates [
PDF
], including flying saucer, shocked face with exploding head, face with open mouth vomiting, grinning face with star eyes, coconut, broccoli, pie, pretzel, sandwich, t-rex, giraffe face, sauropod (basically a brontosaurus), hedgehog, mage, vampire, fairy, elf, genie, zombie, and tons more.

Image via Emojipedia
Emoji candidates are often chosen for multiple reasons, ranging from expected high frequency of use to requests from online communities. Others fill in gaps in existing emoji sets or are compatible with current emoji characters.
The Unicode 10 emoji candidates are not yet finalized, so it is possible some of the characters on the list could be eliminated. We may also see new emoji additions before Unicode 10 is finalized in 2017.
With emoji growing in popularity, Apple has started adopting new emojis more frequently.
iOS 10
.2
includes support for Unicode 9 emoji
, introducing characters like clown face, drooling face, selfie, face palm, fox face, avocado, bacon, and croissant, along with dozens of profession emoji.
Unicode 9 was first approved in June of 2016, so we can perhaps expect to see Apple adopt Unicode 10 within six months of its release.
Discuss this article
in our forums
Posted in emoji, Unicode 10 | Comments Off on T-Rex, Hedgehog, Sandwich, Vampire and Zombie Among Emoji Proposed for 2017's Unicode 10
Thursday, June 2nd, 2016
The Unicode Consortium recently approved
72 new emoji
for inclusion in Unicode 9, set to be released on June 21. New emoji range from expanded smileys and people to new animals, food, and sports.
Notable smileys include rolling on the floor laughing, drooling face, and nauseated face, while the people/body category gains shrug, selfie, and face palm. New animal emoji include gorilla, fox face, deer, shark, and owl, and some of the new foods include avocado, potato, croissant, pancakes, salad, and bacon.
There are a line of new medals, objects like a scooter and a canoe, and emoji to represent boxing gloves, martial arts uniforms, wrestlers, fencing, juggling, and more. Emojipedia
has shared mockups
and a full list of upcoming emoji.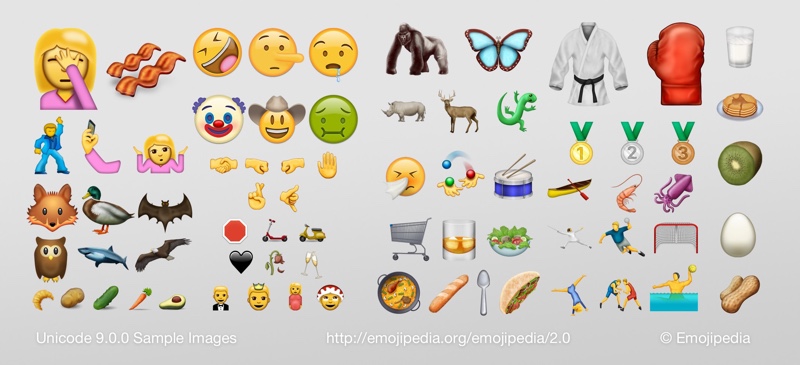 The emoji above serve as simple mockups and are not representative of what the actual emoji will look like on various devices, but Emojipedia has created them in the Apple style. Apple and Google's designers will actually custom design emoji based on the Unicode Consortium's guidelines for each character, crafting them to fit in with existing emoji.
Though the Unicode Consortium is releasing Unicode 9 on June 21, the new emoji will not be available on iOS and Mac devices until Apple implements support for them, which can sometimes take several months. Apple currently supports Unicode 8, which introduced emoji like taco, burrito, unicorn face, and popcorn, along with emoji skin tone modifiers.
With the release of Unicode 9 on the horizon, the Unicode Consortium has already begun
considering candidates for Unicode 10
, with dumpling, takeout box, fortune cookie, orange heart, sled, and more under consideration.
Discuss this article
in our forums
Posted in emoji, Unicode 9, Unicode Consortium | Comments Off on 72 New Emoji Including Bacon, Shrug, Selfie and Face Palm Coming in Unicode 9