Archive for the 'eBay' Category
Monday, November 6th, 2017
If you're looking to start stocking up on iTunes gift cards for the holidays, PayPal's Digital Gifts storefront on eBay today has the
$100 iTunes gift card at $85
for customers in the United States. You'll need to be logged into a PayPal account, and once you complete the purchase the digital gift card will be emailed to you with a code to add the credit to your iTunes account.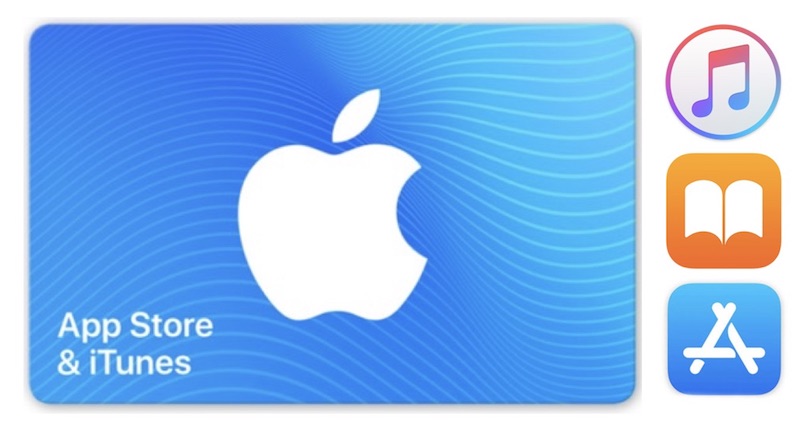 Discounts on iTunes gift cards are getting more frequent as holiday shopping nears, with most deals marking $50 and $100 cards off by 15 percent. As Black Friday gets closer, you can expect larger discounts -- of around 20 percent off -- to begin popping up at various retailers. We'll be sure to notify you when these holiday deals begin happening; you can also keep an eye on our
Black Friday Roundup
and
Deals Roundup
for even more of the latest Thanksgiving and Christmas sales.
Note: MacRumors is an affiliate partner with eBay
Discuss this article
in our forums
Posted in deals, eBay, PayPal | Comments Off on PayPal Offering $100 iTunes Gift Card for $85 on eBay While Supplies Last
Thursday, October 26th, 2017
Following an
announcement earlier in the summer
, eBay this week launched an "Image Search" feature in its iOS application. Image Search uses computer vision technology powered by AI to let you search the popular auctioning site by snapping a picture -- or uploading one from your Camera Roll -- and receive similar results based on image recognition abilities.
Live now in the eBay iOS app, you can tap the camera icon in the search bar at the top of the home screen, choose "Image Search," then take a picture or upload one from Photos. You'll have to grant eBay access to both your iOS Camera and Photos apps for the feature to work properly.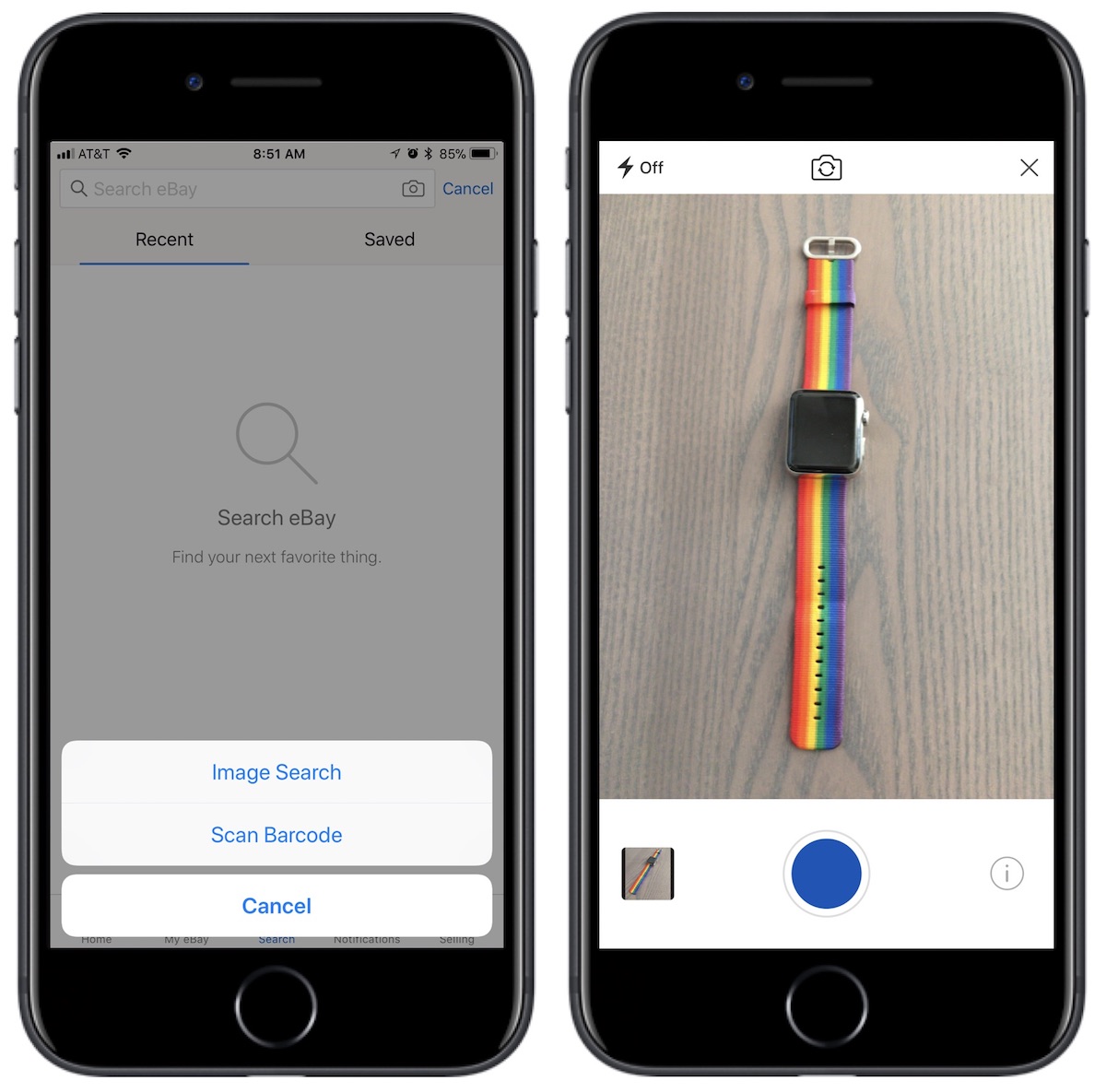 After you take a picture or choose one, you can crop it so it focuses on the item you want to search, and then tap "Search." eBay will then show you listings for items that are a "close match" or "visually similar" to the product in your picture. Image Search takes into account all of eBay's over one billion listings, according to the company.
Leveraging the latest advances in two core parts of artificial intelligence -- computer vision and deep learning -- these new features make it easier to find and buy the things that inspire you. When you upload images to run Find It On eBay and Image Search, we use a deep learning model called a convolutional neural network to process the images.

The output of the model gives us a representation of your image that we can use to compare to the images of the live listings on eBay. Then, we rank the items based on visual similarity and use our open-source Kubernetes platform to quickly bring these results to you, wherever you are in the world.
eBay also launched "Find It On eBay" for Android smartphones only, which lets users start an image search on another social platform, like Facebook. Using a share extension on an image, Android users can tap eBay and the retailer's app will open to show similar listings.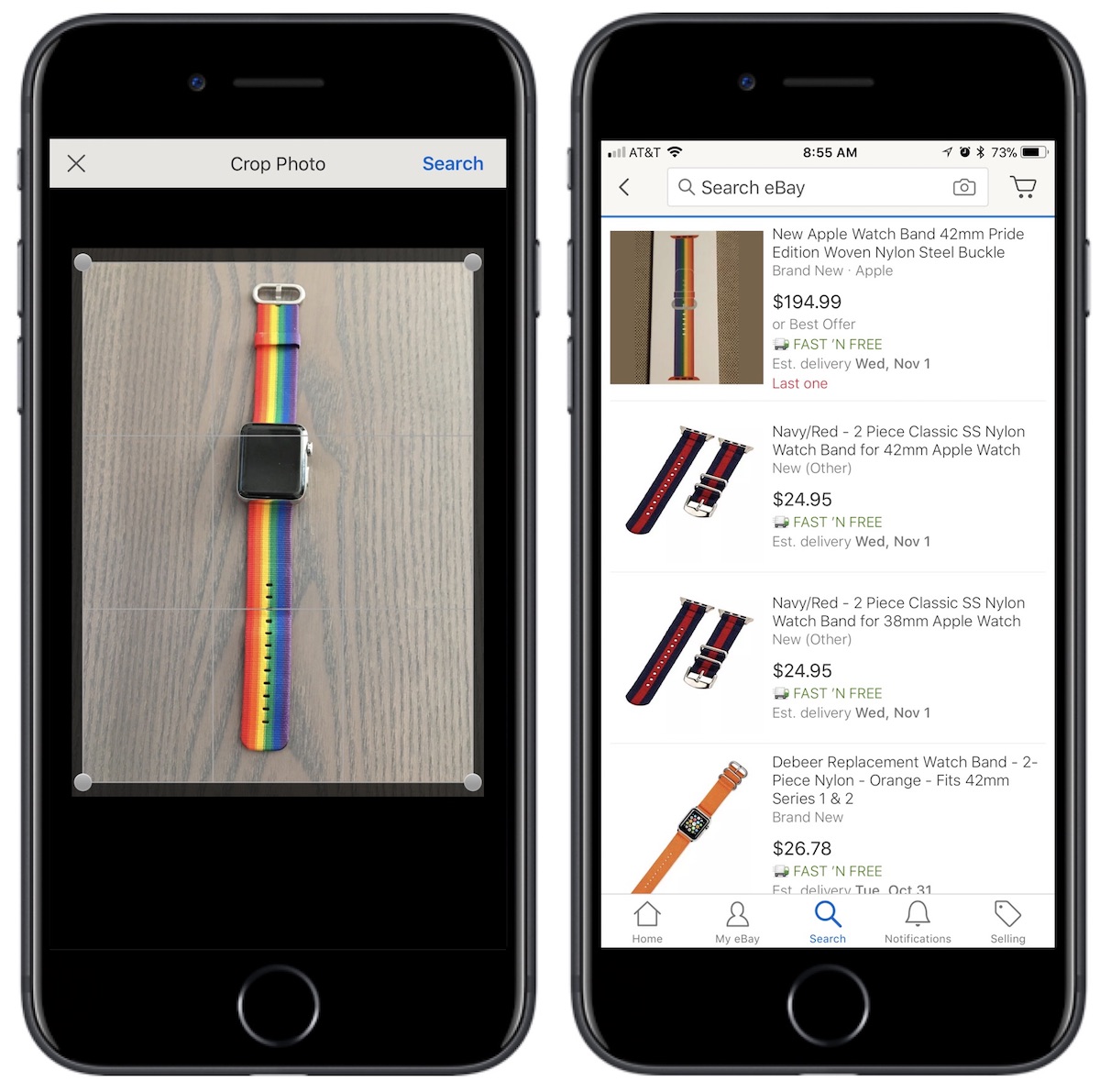 We've performed a few quick Image Searches today and found mostly solid results for some items (an Apple Watch and band), although other products stumped the software so much we got an error (Nintendo Amiibo, Apple Watch dock). eBay still hasn't said if some products are more reliable than others, but it did mention that Image Search will gain intelligence as customers use it more, as is typical with machine learning technology.
Image Search is live now on iOS and Android, and Find It On eBay has also launched on Android this week. The eBay app on iOS doesn't require an update for Image Search, so it appears the company is rolling out the feature through over-the-air installs.
Discuss this article
in our forums
Posted in eBay | Comments Off on eBay's New Image Search Feature is Now Live Within iOS App
Wednesday, July 26th, 2017
eBay today
announced
two new features coming to its mobile apps this fall, called "Image Search" and "Find it on eBay," both of which leverage photography and images to fuel the discovery of new products on eBay. The company said that both new features use computer vision and deep learning to be able to find matching product listings using only images.
Image Search will be coming to iOS and Android, and allows users to take a picture of something they want to buy -- or upload an existing image from the Camera Roll -- and use it as a search tool that sifts through more than 1.1 billion eBay listings to find items that match. Find it on eBay will be Android-only at launch, and it allows shoppers on other social networks to tap a "share" card and upload the image of a product, crop it, and use it as a search tool within the eBay app.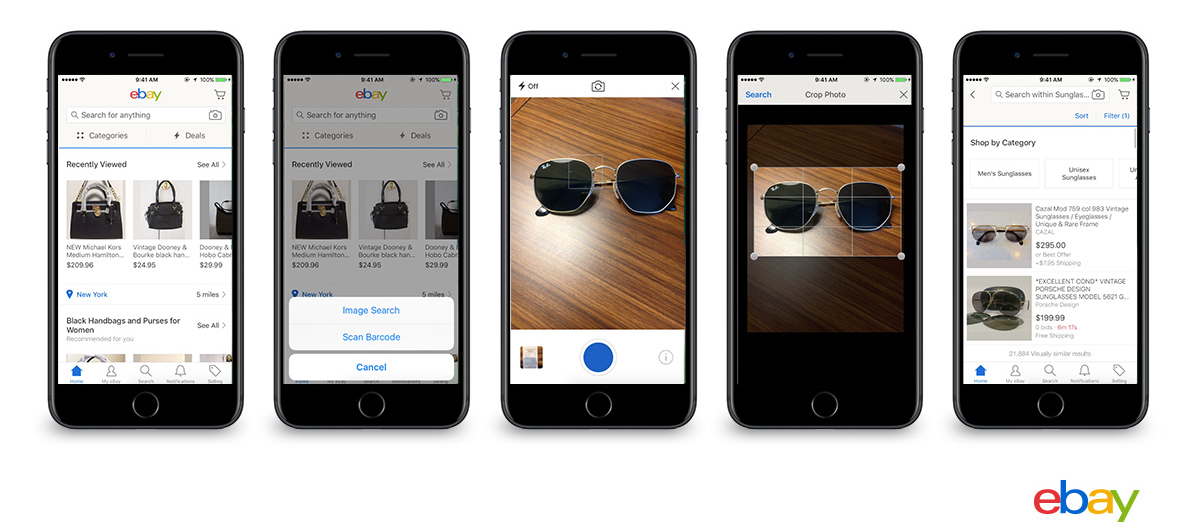 "Moments of shopping inspiration can come at any time, whether you're walking down the street or browsing your social media feed," said Mohan Patt, Vice President of Buyer Experience, eBay. "At eBay, we're focused on creating new complementary technology that helps our millions of shoppers easily find the things they love at the best value. eBay Image Search and Find It On eBay make it possible for people to shop eBay using any image or photo that inspires them."
The company said it developed Image Search during its internal "Hack Week," an annual company-wide challenge that pits employees against one another in a friendly competition to discover ways to bolster eBay's marketplace using new technology. The team that had the idea for Image Search won Hack Week in 2015 and has added more members and built upon its original features in the subsequent years, with eBay noting it expects "to launch more computer vision products in the coming months."
eBay hopes the new image-focused search features will help reduce the time users spend searching for items on its marketplace with a more seamless solution, as well as occasionally present buyers with new and unexpected items that wouldn't have been discovered using traditional text searches.
Pinterest
launched a similar feature
earlier this year called "Lens," letting users take pictures of real-world objects to use as a search tool for related products and images on the Pinterest website and app. At the time, Pinterest noted that Lens worked best with home decor, clothing, and food, but the company said it will make continual improvements so the app can learn to recognize new items.
For its app, eBay didn't say whether specific items work best with Image Search and Find it on eBay, but today's press releases are
heavily focused on clothing items
. Both features will begin rolling out to eBay's mobile apps sometime this fall.
Discuss this article
in our forums
Posted in eBay | Comments Off on eBay Announces Image Search Feature Coming to iOS App This Fall