Archive for the 'Apple Watch 3' Category
Monday, May 1st, 2017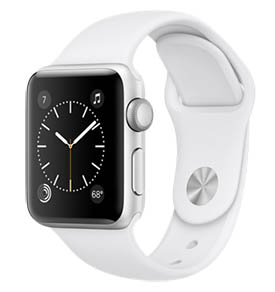 Samsung is rumored to be looking into a potential acquisition deal with Taiwan-based PlayNitride, specifically for the company's micro-LED technology, as Apple's micro-LED ambitions for the Apple Watch stretch into 2018.
According to sources speaking with
OLED-Info
, Samsung is willing to offer up to $150 million for the company, and would use the micro-LED tech for VR applications and television sets in the future.
Another potential reason behind Samsung's interest in PlayNitride might be related to Apple and an upcoming version of the Apple Watch.
Apple has been predicted to switch its wearable device over from an OLED display to micro-LED
as soon as 2017
, but it's more likely that micro-LED screens will hit an Apple Watch device in 2018,
according to reports
from sources in Apple's Longtan District plant in Taiwan.
Apple Inc is expected to crank out a small volume of next-generation Micro-LED displays from a plant in Taoyuan by the end of this year for its wearable devices, an IDC analyst said yesterday.

The US technology giant is forecast to begin mass production of Micro-LED displays at the plant in Longtan District (龍潭) next year, ahead of rival display makers, IDC analyst Annabelle Hsu said.
If accurate, a late 2017 ramp-up for a 2018 product launch would align with Samsung's entry in the micro-LED supply chain thanks to PlayNitride. Reports surrounding PlayNitride state that the company doesn't plan on beginning to produce micro-LED chips until later in 2017, meaning that the display maker and Samsung -- if it acquires PlayNitride -- wouldn't be added as potential Apple Watch supply sources until 2018 or later.
According to an industry insider in Taiwan, Samsung is set to acquire Taiwan's PlayNitride for the company's micro-LED technology for around $150 million. Our inside says that Samsung aims to develop micro-LED based displays for VR applications, but may also look into micro-LED based TVs using PlayNitride's technology.

All this means that Samsung may be just hedging its bets and gaining a foothold in an interesting and promising next-generation display technology. A $150 million investment is substantial - but Samsung is also spending billions of dollars to expand its OLED production capacity so it's unlikely that Samsung actually considers micro-LED as a replacement for OLEDs, unless maybe for specific applications.
In regards to advantages of micro-LED, devices with the screen technology have the chance to be thinner, lighter, see an improved color gamut with increased brightness, and sport higher resolutions.
Still, there remain numerous technical challenges that make micro-LED difficult to mass produce, making some analysts believe that true commercialization of the technology won't be reached until 2020. If Apple tries to build an Apple Watch with micro-LED this year or next, the company could face potential hurdles with the new technology, similar to what is rumored to be happening with the
iPhone 8
and its
switch to the new OLED screen
.
A few years ago Apple itself
acquired a micro-LED display maker
, LuxVue, but the company hasn't given any updates on the progress of its micro-LED development since then. At the time, a LuxVue investor said that the company had made "a technical breakthrough in displays." Also believed to be a focus of Apple's micro-LED efforts is a
facility in northern Taiwan
.
While Apple's timing for micro-LED technology remains unclear, Apple Watch Series 3 is rumored to come with an
all-new glass-film touchscreen
in place of the current touch-on-lens solution, although it's not certain how such an update would affect users. Rumors still conflict as to whether or not the Series 3 edition will mark the Apple Watch's first major design change, or be another
iterative addition to the lineup
with a focus on battery life improvements.
Discuss this article
in our forums
Posted in Apple Watch, Apple Watch 3, Samsung | Comments Off on Samsung May Acquire Micro-LED Company PlayNitride as Apple Aims for Micro-LED Apple Watch in 2018
Tuesday, January 3rd, 2017
Apple's third-generation Apple Watch is expected to be unveiled in the third quarter of 2017 and will focus on improving battery life and overall performance, according to a new report out of China.
On Tuesday, the Chinese-language
Economic Daily News
(
EDN
) claimed the next iteration of the wearable device will be manufactured by Taiwan-based Quanta, which was also responsible for the production of Apple's
first and second-generation smartwatch
.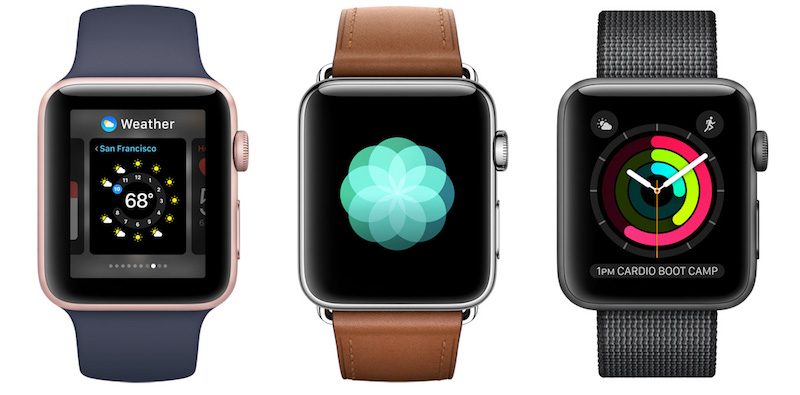 Citing market watchers with knowledge of Quanta's plans, the paper said improving battery life is the manufacturer's "main task", but beside general performance improvements, the device's other hardware would not see much change. Quanta declined to comment on the report, calling it "market speculation".
The claims represent the first tentative indication of Apple's launch timeline for its third-generation Apple Watch, pointing to a possible fall unveiling of the new wearable alongside this year's
iPhone 8
.
The report also narrows Apple's rumored ambitions for the third-generation device, with previous reports suggesting it could introduce the first significant design changes for the timepiece, such as more advanced sensors that Apple was
not able to include
in the first and second-generation models.
Other previous rumors have claimed Apple plans to add
cellular connectivity
to the next Apple Watch, after battery life concerns prevented the feature from being included in the Series 2 device. Also suggested is a potential
switch to micro-LED displays
, which are thinner and lighter than current screens and offer improved color gamut and brightness.
Filed patents by Apple show other possibilities for future versions of Apple Watch, including the ability to determine a user's identity through their
heart rate and unique cardio rhythms
. Future models could also potentially
integrate haptic feedback into Apple Watch bands
, freeing up internal space for other components and allowing for a thinner body design.
(Via DigiTimes.)
Discuss this article
in our forums
Posted in Apple Watch, Apple Watch 3, Quanta | Comments Off on New Apple Watch to Launch in Fall 2017 With Improved Battery Life But no Major Design Changes