Archive for the '1Password' Category
Thursday, November 2nd, 2017
AgileBits today is releasing 1Password 7 for iOS with several new features, just one day before the iPhone X launches around the world.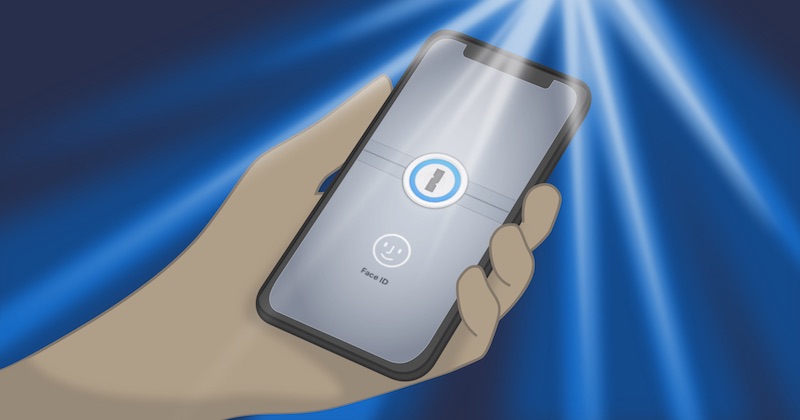 1Password has been redesigned with the iPhone X's new screen size and dimensions in mind. The app now supports Face ID for unlocking with the iPhone X's facial recognition system, in addition to the existing options of using Touch ID on older iPhone models or manually typing in a master password.
An all-new feature called Quick Copy makes it quicker to copy and paste usernames, passwords, and one-time passwords into apps that don't support the 1Password extension. Simply open 1Password, copy the username for an app, switch to that app, paste your username, and then switch back to 1Password.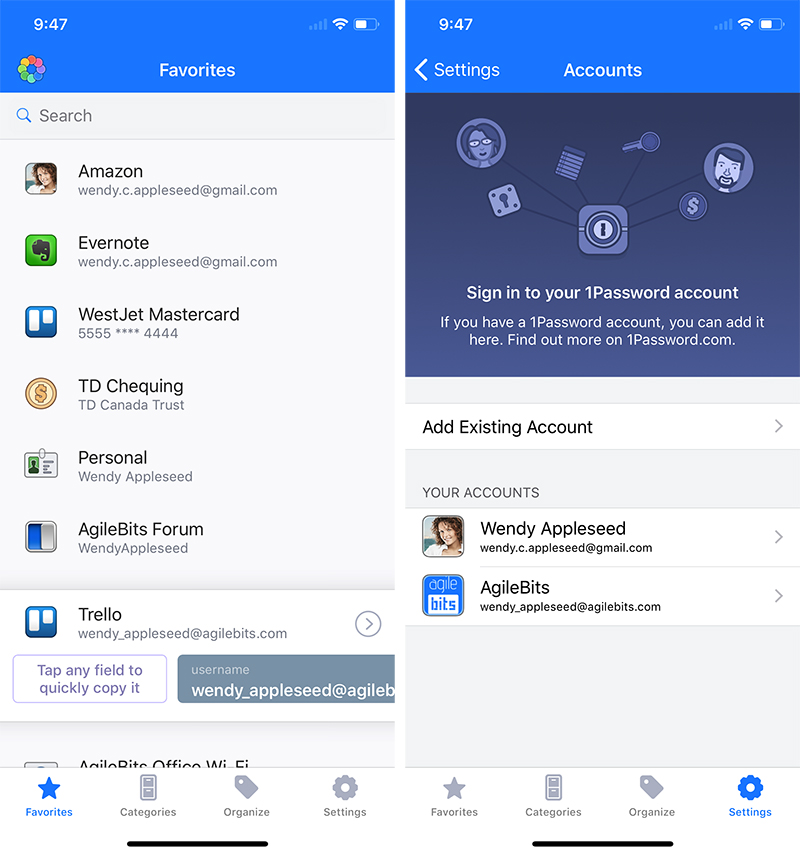 Without needing to do anything else, 1Password will put the password on the clipboard, meaning you can switch immediately back to the other app and paste it. If you're logging into a site or service that supports one-time passwords, you can repeat the same app switching process to quickly get the one-time password.
1Password 7 also has a redesigned Favorites tab with drag and drop support on iPads running iOS 11 or later, support for Handoff across iOS devices, keyboard shortcuts for external keyboards, and a slightly refreshed app icon.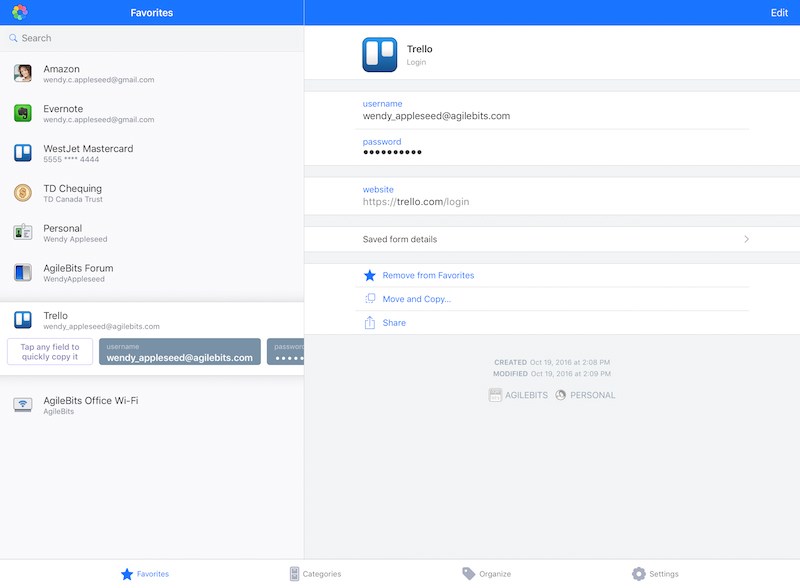 1Password is a popular password manager for securing usernames, passwords, credit cards, addresses, notes, bank accounts, driver's licenses, passports, and more behind one master password, with end-to-end encryption. A built-in password generator lets you create strong, unique passwords and memorizable pass-phrases.
1Password 7 will be available today as a
free update on the App Store
for iPhone and iPad. An individual subscription costs $2.99 per month, which includes hosted service across Mac, iOS, Android, Windows, and 1Password.com.
Discuss this article
in our forums
Posted in 1Password, Face ID, iPhone X | Comments Off on 1Password 7 Launching With Support for iPhone X, Face ID, Drag and Drop on iPad, Quick Copy, and More
Tuesday, July 18th, 2017
AgileBits today updated
1Password for iOS
, introducing a new auto copy feature that's going to make it a lot easier to use two-step authentication for various apps and services.
Whenever you use 1Password to sign into a service on your iPhone that features 1Password integration, the app will now automatically copy any one-time passwords you have associated with that login. That speeds up the login process, because you can have 1Password fill in your account details, and then at the two-factor verification step, the requisite short-term password is already copied to your clipboard.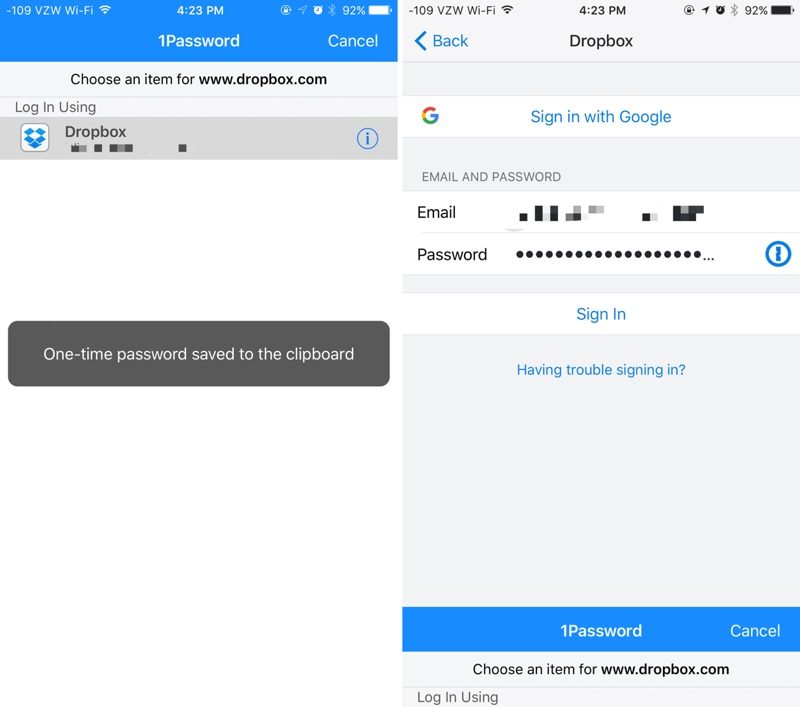 In the screenshot above, for example, I used 1Password to log in to my Dropbox app. Dropbox has 1Password integration, so I just need to tap the 1Password button to fill in my account details and then choose the appropriate account. As 1Password is adding my details, my one-time password for Dropbox's two-step verification process is also copied, so it's super simple to log in.
Prior to this change, to log in to Dropbox, I'd have to open the 1Password app separately to get the one-time password, negating the usefulness of the integrated login feature.
The update also features the ability to create vaults for 1Password.com accounts, support for Korean, and a tweak that causes item creation and modification dates to now appear in item details. There are also several minor bug fixes and other small improvements, like better translations and the addition of previously used passwords for all categories that support them.
We can't think of anything better to beat the heat than a nice cold ice-cream in the sunshine ... with extra sprinkles, of course. We'd like to think of your one-time passwords as the sprinkles that complete your Login items. Now 1Password automatically copies those one-time passwords when you fill an item with the 1Password Extension, saving you a step and a giving you more time to enjoy that ice cream. Yummy!
1Password
can be downloaded from the App Store for free, but will
require a subscription
to unlock the app's full feature set. [
Direct Link
]
Discuss this article
in our forums
Posted in 1Password | Comments Off on 1Password for iOS Updated With Auto Copy Feature to Make One-Time Passwords Easier to Use
Wednesday, July 12th, 2017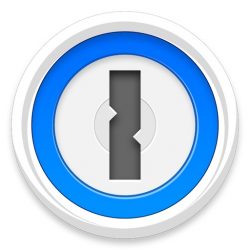 Password manager app
1Password
caused consternation in some quarters of the security community over the weekend when it emerged that the service's new subscription-based model will push users to adopt a cloud-based password storage system over locally stored password vaults.
Previously, 1Password was offered as a one-time license purchase that enabled users to store their passwords in an encrypted local vault, which security researchers say is more secure than keeping user data in a remote server because hackers are forced to break into a specific device.
Going forward, the service will push customers to monthly subscription plans that serve up remotely stored password vaults through the 1Password.com website. This allows users to access their passwords from any computer by logging into their account, but as noted
Motherboard
, the change has not been universally welcomed.
Unfortunately, @1Password is betraying their users and moving to a subscription-only service. This is unfortunate. We cannot recommend them.

— Crypto Village (@CryptoVillage) July 10, 2017
1Password
responded to criticism on Twitter
by saying that it had no plans to remove support for locally stored vaults for users who had purchased the app, but that it was advocating subscription-based memberships because "we feel it's the best way to use 1Password".
"We want our customers to get the best. Some people won't agree with that (which is fine!) so we'll work with them to get set up how they want, but for 99.9 percent of people, 1Password.com is absolutely the way to go," Connor Hicks, an engineer at 1Password, told
Motherboard
.
1Password's new cloud-based option costs $2.99 per month (or $4.99 for an account for up to five people). However, 1Password developer AgileBits reiterated it had no immediate plans to remove support for local/Dropbox/iCloud vaults, and that it was open to speaking with customers to "help them determine if a one-time license is really what's best for them".
Discuss this article
in our forums
Posted in 1Password | Comments Off on Security Experts Wary as 1Password Subscriptions Push Users to Cloud-Based Vaults
Tuesday, May 23rd, 2017
AgileBits
recently introduced
a new 1Password feature called Travel Mode, which is designed to protect password vaults from unwarranted searches when traveling.
When activated, Travel Mode will remove every password vault from all of a user's iOS and Mac devices except for vaults that have been earmarked as "safe for travel," effectively hiding a user's most sensitive information. Travel Mode is available to all customers who have a 1Password membership.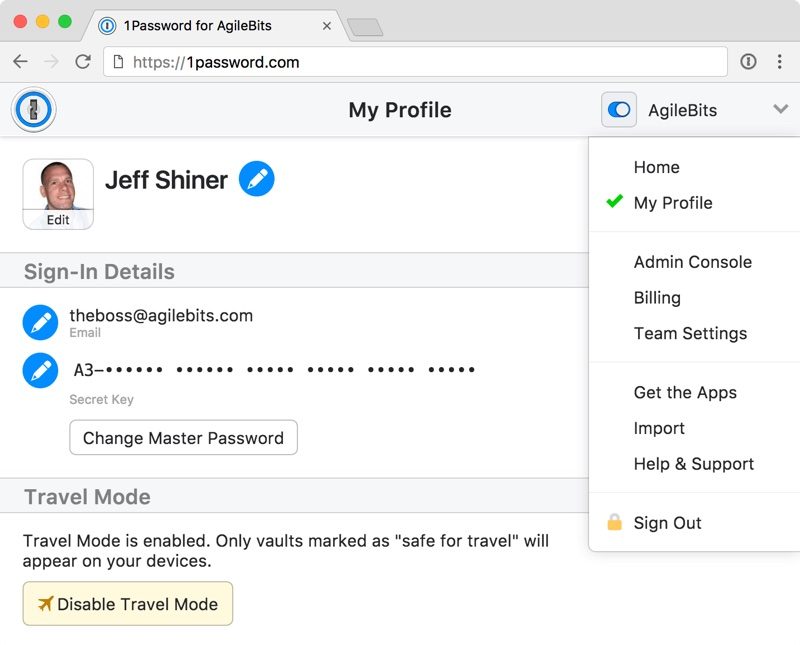 Before Travel Mode, I would have had to sign out of all my 1Password accounts on all my devices. If I needed certain passwords with me, I had to create a temporary travel account. It was a lot of work and not worth it for most people.

Now all I have to do is make sure any of the items I need for travel are in a single vault. I then sign in to my account on 1Password.com, mark that vault as "safe for travel," and turn on Travel Mode in my profile. I unlock 1Password on my devices so the vaults are removed, and I'm now ready for my trip.
Once a user arrives at their destination, Travel Mode can be toggled off and the vaults return to all of a user's devices. AgileBits has a
detailed support document
outlining how to use Travel Mode.
Vaults are not hidden with Travel Mode, but instead are completely removed from all devices as long as Travel Mode is turned on. AgileBits says that there are no traces left for anyone to find, and there are no signs that a special mode has been enabled.
With 1Password for Teams, Travel Mode allows the team administrator to turn Travel Mode on and off for employees, giving companies a way to make sure their data stays safe.
1Password can be downloaded from the
App Store
for free, but there is an in-app fee to access the service. A standard 1Password account is priced at $2.99 per month and a multi-user family account is priced at $4.99 per month. There is an additional fee when purchasing a subscription through the App Store, and there are also separate subscription options for teams.
-
1Password for Mac
[
Direct Link
]
-
1Password for iOS
[
Direct Link
]
Discuss this article
in our forums
Posted in 1Password, AgileBits | Comments Off on 1Password Gains 'Travel Mode' to Protect Sensitive Data When Traveling
Friday, December 23rd, 2016
MacRumors
is holding a series of software giveaways in celebration of the holidays, and for today's giveaway, we've partnered with AgileBits to give
MacRumors
readers a chance to win a three-year subscription to
1Password for Families
.
For those unfamiliar with 1Password, it is password management software, which is essential in an era where critical website hacks occur on a near-daily basis. With 1Password, you can store all of your passwords, credit cards, and other sensitive information, all protected in a vault by a master password.

1Password generates complicated, secure single-use passwords for each website or service you use, so in the event that a hack does happen, there will be no compromised shared passwords. The software even alerts you when a password has potentially been compromised so you can change it right away.
With a 1Password for Families subscription, which is priced at $5 per month, a family of five can access the 1Password service for Mac, Windows, iOS, and Android devices, with 1GB of document storage and unlimited passwords, notes, credit cards, and more. Password information syncs between devices so your passwords are always right at hand regardless of whether you're using a Mac or an iPhone.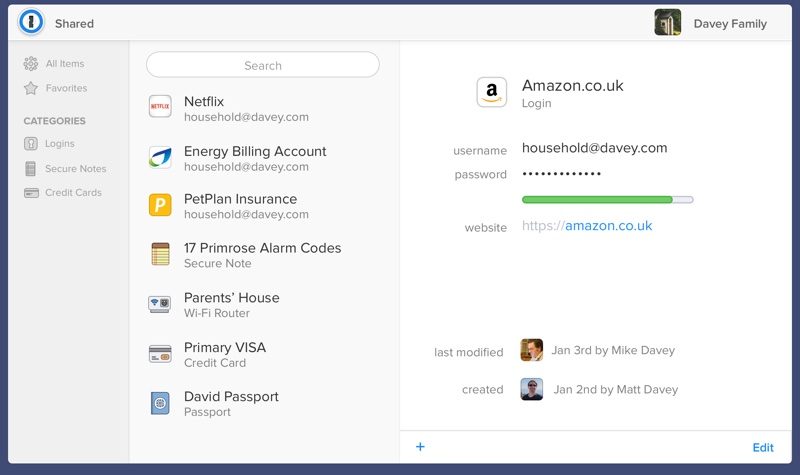 1Password for Families also gives families a safe way to share the passwords and logins for bills and other shared services with both personal and shared vaults.
AgileBits is giving 25
MacRumors
readers a three-year subscription to 1Password for Families. To enter to win, use the Rafflecopter widget below and enter an email address. Email addresses will be used solely for contact purposes to reach the winner and send the prize. You can earn additional entries by subscribing to our
weekly newsletter
, subscribing to our
YouTube channel
, following us on
Twitter
, or visiting the
MacRumors
Facebook page
.
Due to the complexities of international laws regarding giveaways,
only U.S. residents who are 18 years of age or older are eligible to enter
. To offer feedback or get more information on the giveaway restrictions, please refer to
our Site Feedback section
, as that is where discussion of the rules will be redirected.
a Rafflecopter giveaway
The contest will run from today (December 23) at 11:00 a.m. Pacific Time through 11:00 a.m. Pacific Time on December 30. The winners will be chosen randomly on December 30 and will be contacted by email. The winners will have 48 hours to respond and provide a shipping address before new winners are chosen.
Discuss this article
in our forums
Posted in 1Password, giveaway | Comments Off on MacRumors Giveaway: Win a Three Year Subscription to 1Password for Families
Friday, October 28th, 2016
Apple's
"Hello Again" event
has come and gone, leaving us with an abundance of
Apple-related news and updates
heading into the weekend. Below, we have shared some of the more interesting tidbits that have surfaced over the past 24 hours.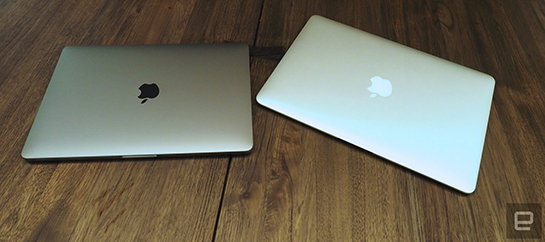 Image Credit: Edgar Alvarez, Engadget
Backlit Apple Logo Removed:
As it did with the 12-inch MacBook, Apple has removed the backlit Apple logo on new
MacBook Pro
models. In its place is a glossy Apple logo in black on the Space Gray model and in white on the Silver model. Apple's 13-inch
MacBook Air
is now its sole notebook with a backlit Apple logo that remains available for purchase. Apple's first notebook with a lit-up Apple logo was the third-generation PowerBook G3 released in 1999.
No Power Extension Cable:
In line with the 12-inch MacBook, new MacBook Pro models do not come with Apple's Power Adapter Extension Cable in the box. Previous MacBook Pro models included the extension cable in the box for several years. The extension cable, which provides extra length between the power brick and wall outlet, can be purchased as a
standalone product
for $19.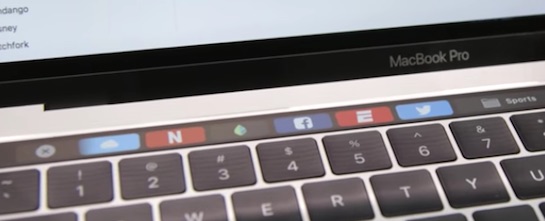 Touch Bar Has Automatic Brightness:
Jason Snell at Apple blog
Six Colors
spent time with the new MacBook Pro yesterday and discovered the Touch Bar's brightness is not manually adjustable. Instead, the mini Retina display's brightness varies based on lighting conditions, using the MacBook Pro's built-in ambient light sensor. Apple calls this feature Automatic Brightness on iOS devices. "I wasn't able to try and trick it or confuse it, but the entire time I was using it—in a dark room and in a much more brightly lit one—it seemed to match the keyboard well," he
explained
.
Price Changes:
Apple's price changes
extend beyond the United Kingdom
. The 12-inch MacBook, for example, has
increased $100 in price in Canada
, where the 256GB model now sells for $1,649 and the 512GB model retails for $1,999. Meanwhile, the reverse has happened in Norway, where 12-inch MacBook prices have
dropped by 1000 kroner
for each model. Likewise, in New Zealand, 12-inch MacBook prices are now
$200 to $250 lower
depending on the model. These adjustments are common as Apple keeps its pricing in foreign currencies in line with the U.S. dollar.

1Password Shares Touch Bar Concepts:
AgileBits was so excited about Apple's MacBook Pro event yesterday that it has
created some mockups
of how 1Password could work with the Touch Bar. 1Password users will be able to unlock the app with
Touch ID
, for example, while Touch Bar will make it easy to switch between password vaults, select new item types, and create website logins. 1Password also anticipates allowing users to slide their fingers across the Touch Bar to generate a strong password.
Know of an interesting Apple-related tidbit? Send an email to
tips@macrumors.com
or contact us on
Twitter
or
Facebook
.
Discuss this article
in our forums
Posted in 1Password, Retina MacBook Pro, Touch Bar | Comments Off on New MacBook Pros Don't Include Backlit Apple Logo or Power Extension Cable
Wednesday, August 3rd, 2016
Password managing app
1Password
today
announced
the launch of a new subscription plan for individual users priced at $2.99 per month. The new model will be added to 1Password's existing subscription tiers, including a
team plan
(beginning at $3.99 per month) and a
family plan
($4.99 per month). This will allow users not in need of enterprise- or family-related perks to join in on 1Password's various subscription benefits.
According to
AgileBits
, the company behind 1Password, the biggest advantage of signing up for a subscription on the password organizing app is that users will "get all the 1Password apps for every platform, along with Pro Features, free updates, and free upgrades to every new version of 1Password." The service allows its subscribers to cancel at any time and alleviates the worry of having to face licenses and paid upgrades down the line.

The individual subscription service runs on the same new hosted platform that AgileBits created for 1Password Teams and 1Password Families. The company said that using the $2.99 per month subscription model provides users with "the simplest and most feature-packed way to use 1Password."
Our new individual hosted service comes with everything you expect from 1Password, along with these new features:

-Built-in automatic sync across all devices
-Data loss protection
-Web access to your data on 1Password.com
-Item History for restoring deleted or changed items
-Secure Document storage
-Brand new multi-factor security model
As a launch special, anyone who signs up for the new individual plan will get the first six months of 1Password free, without needing to even add their credit card information into the app. To take advantage of the offer, users will need to sign up for the
$2.99 per month model
before September 21, 2016. The 1Password app is available to download from the iOS
App Store
for free [
Direct Link
] -- with the option to choose a one-and-done upgrade to 1Password Pro for $9.99 -- and the
Mac App Store
for $64.99. [
Direct Link
]
Discuss this article
in our forums
Posted in 1Password | Comments Off on 1Password Introduces $2.99/Month Plan for Individuals, With 6 Months Free at Sign-Up
Friday, June 3rd, 2016
AgileBits recently
announced
that its long-in-beta product "
1Password for Teams
" has officially launched, bringing an enterprise-focused version of the company's popular password management app to iOS, Mac, and Android. 1Password for Teams will let users in a designated team share secure passwords, documents, and other data through AgileBits' heavily encrypted infrastructure.
Announced
first in November
, and now just coming out of a seven month-long beta test period, the new team sharing service gives control over a group of users to one administrator, who can then ensure that their entire team remains safe from phishing scams and hacks. With end-to-end encryption, 1Password for Teams ensures that team members don't have to risk a security breach by emailing or texting passwords between one another.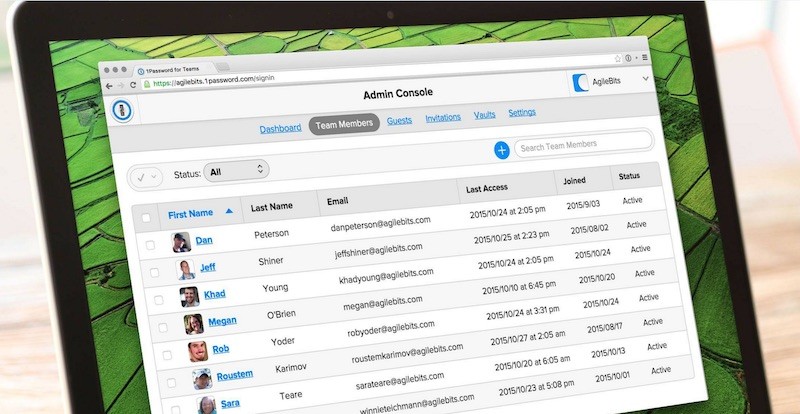 A team's administrator has access to 1Password for Teams' robust
Admin Console
, from which they can create password vaults and assign member access, restore a master password if a team member forgets their login information, and grant temporary access to guests.
AgileBits also promises that 1Password for Teams is backed by features that let members find "weak and reused passwords" so they can be changed proactively, a security alert system called Watchtower, a master password creator, and other various anti-phishing software. Through the service's security-minded automatic wireless syncing, users can share financial records -- like an office credit card or joint bank account -- and even various word and text documents.
Similar to its
1Password for Families plan
, AgileBits has created a
subscription model
for its new team service. Users can get a standard subscription for $3.99 per user per month when billed annually ($4.99 when billed monthly), and includes unlimited access to 1Password's desktop and mobile apps, offline access, 1GB of storage per person, and a 30 day item history to recover lost documents.
A pro subscription is also available for $11.99 per user per month at an annual rate ($14.99 at a monthly rate), upgrading users to 5GB of storage, priority email support from AgileBits, an unlimited item history recovery system, and other top-tier features. The company is offering these pro-level features at a standard-level rate until August 1, and the pricing will be locked-in forever, so moving forward any added team members will be able to subscribe at the lower cost instead of the premium rate.
Check out more information for 1Password for Teams on
AgileBits' website
.
Discuss this article
in our forums
Posted in 1Password | Comments Off on '1Password for Teams' Introduces Secure Password Sharing for Teams at Work
Tuesday, February 16th, 2016
In November, AgileBits announced
1Password for Teams
, giving 1Password users a way to share passwords with friends, family, and coworkers. As of today, 1Password for Teams is expanding to
1Password for Families
, introducing a special pricing plan designed to give all members of a family access to secure password options at an affordable price.

For $5 per month, a family of up to five people can have full access to the 1Password software, allowing them to keep individual secure vaults to store their private passwords and share household passwords using a family vault. 1Password for Families is available on all platforms, including Mac, Windows, iOS, and Android.
It's never been easier to share 1Password with your whole family. There's no sync service to set up, vaults appear automatically, and there's an Admin Console where you can invite people and manage sharing with your family.

Every family member gets their own copy of 1Password, and their own personal space to store private information. With this, you can give them the tools they need to stay safe without taking away their independence.
Early adopters who subscribe to 1Password for Families before March 21 will receive a $10 credit equivalent to two months of free access, double the amount of secure storage for documents (2GB), and the ability to invite two extra family members for a total of 7 users per family account.
Customers interested in signing up for a 1Password for Families subscription plan can do so on
the 1Password website
.
Discuss this article
in our forums
Posted in 1Password, AgileBits | Comments Off on '1Password for Families' Gives Up to 5 Users 1Password Access for $5 Per Month
Tuesday, January 12th, 2016
AgileBits today
announced
a new Mac version of
1Password
, its popular cross-platform password management app.
1Password
version 6.0 for Mac includes several new features like an All Vaults view, a new password generator, and iCloud sync for all versions of the Mac app.
1Password
's new "All Vaults" view allows users to see all of their passwords and password vaults at a glance, both in the main
1Password
app and the menu bar view. Many people use vaults to organize and share their passwords for different purposes, so this will be a handy feature for accessing the passwords from multiple vaults without needing to switch back and forth. All Vaults also incorporates information from the Teams Beta, and there's a new Teams-only mode.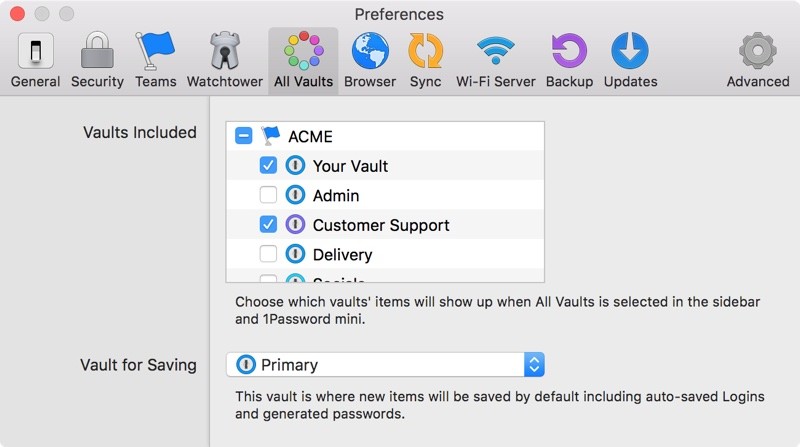 Along with a new vault view, the new
1Password
update introduces a revamped Strong Password Generator that brings it inline with the
1Password
for iOS app. Included is a new wordlist password generator with a "Words" option to create a password that is composed of random words. Wordlist passwords are useful because they're much easier to remember than a random assortment of characters, but are no less secure.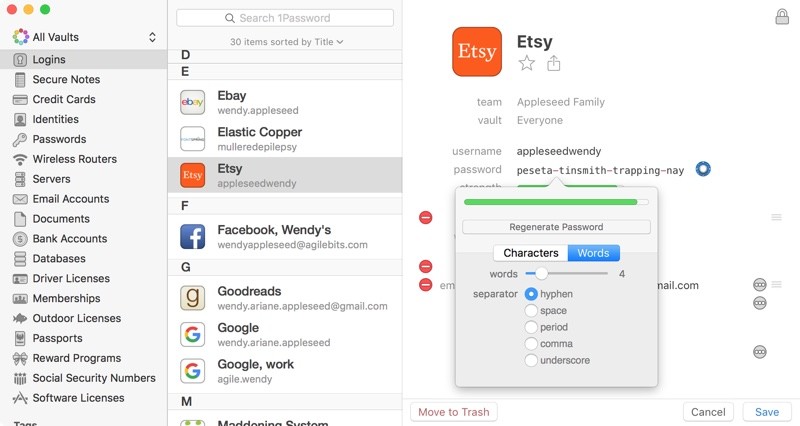 For people who use the non-Mac App Store version of
1Password
, there's an important new feature - iCloud syncing. Apple previously did not allow non-Mac App Store apps to sync with iCloud,
but changes to CloudKit
have now allowed AgileBits to implement iCloud syncing for the version of
1Password
purchased directly from the AgileBits Store.
Being able to sync a non-Mac App Store app with iCloud is an achievement that took quite a bit of work to implement, and it's something that other non-Mac App Store Apps don't yet feature. As
AgileBits explains
, the feature in
1Password
is built using CloudKit web services.
In addition to these new features, the
1Password
for Mac update includes a long list of bug fixes and feature improvements, which can be found in
AgileBits' full change log
.
Customers who own the non-Mac App Store version of
1Password
can update to
1Password
6 immediately. AgileBits is waiting for the Mac App Store version to be approved, at which point those customers will also be able to upgrade at no cost.
1Password
can be downloaded from the Mac App Store for $49.99. [
Direct Link
]
The accompanying
1Password
iOS app can be downloaded from the iOS App Store for free. [
Direct Link
]
Discuss this article
in our forums
Posted in 1Password, AgileBits | Comments Off on '1Password 6' for Mac Brings Revamped Password Generator, iCloud Sync for Non Mac App Store Version